I have used Garmin GPS V receivers in Touratech mounts for going on 10 years now and have always been pleased with the quality of the mount. So, when I recently purchased a new Montana 650 I was eager to see if Touratech had a mount for it.
Well, they do, and it is a marvel of engineering, but decided it was not for me. First, the cost is pretty steep at $180 and you still need to buy the Garmin power cradle for another $30 if you want to power it from the bike. Second, it seems big and unwieldy and the big key lock tumored onto it seems a bit unnecessary considering the Montana can be secured into the Garmin cradle. All in all, it seemed targeted to the large adventure bike folks and not a good fit for my use.
So, already having an investment in Touratech mounts I set out to see what I could do to make it work. I think the end result turned out pretty good.
I started with this mount, which is the "extra suspension" version of the Touratech GPS V mount: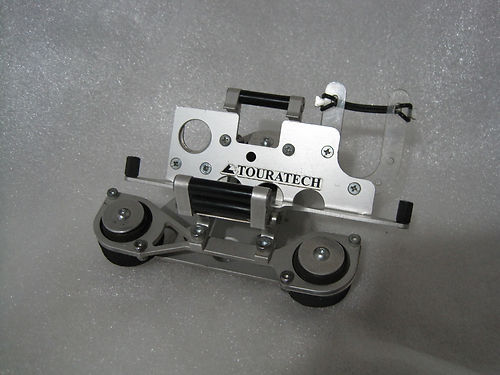 This mount is of two piece construction which made the project possible. I removed the GPS V specific portion of the mount, and was left with the suspension portion of the mount. All I needed to do was adapt the Garmin power cradle. This was fairly simple, requiring only a piece of aluminum to accommodate the upper two screws of the Garmin cradle. The bottom two screws matched up with holes already in the Touratech mount. The aluminum also needed a half circle cut out of it so it would clear the upper suspension portion of the mount.
I have tested it on some short rides and it seems to perform well. The Montana is well isolated from vibrations and shock but does not shake or move in any way that affects the viewing of the screen. The real test will be in Baja in a few weeks. I cannot say how it will fare in a crash, but my feeling is it will just spin around on the bar and the mount itself will take the brunt of the force. At least that is how it is gone when it was used with GPS V. As you can see there are a few "battle scars" on the mount I used.
I did not make any photos of the construction process, but in the pictures below you can see the end result.