The first ever Bob MIller Classic was held today at Mike Ryan's thousand acre ranch here on the beautiful California Central Coast. As an old friend and trials convert due to Bob Miller's coaxing and tutelage, Tim Pilg spearheaded the Classic in honor of our recently belated friend and trials guru.
What a fantastic event. I could flow superlatives all evening regarding:
the
location:
imagine one thousand acres of pristine hillsides covered with Digger pines, Valley, Live and Black oaks. Sand, limestone formations, did I mention fallen Digger pines in the middle of sections? Oh yeah, and the view from the top of the hills, and there were a few of those, encompassed at least 30 miles, and it was hazy today!
on the way to section 4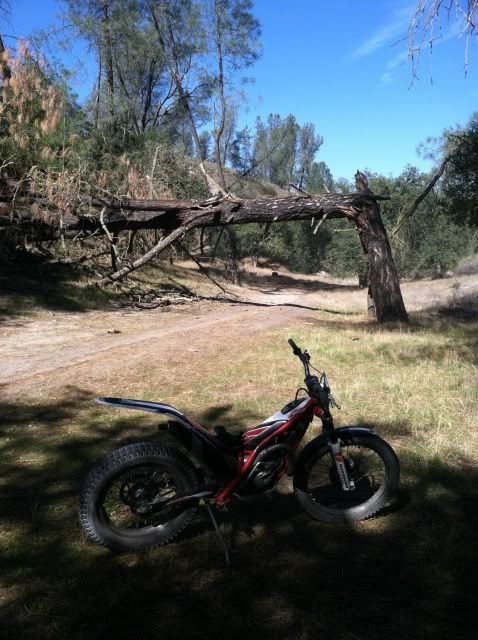 the
staff
: the observers attended a mandatory day learning rules pertaining to each section, they were estute, polite, helpful and fair, what else could you ask for? The kitchen staff served donuts, Starbucks coffee and fresh fruit in the morning and BBQ'd hamburgers, beans, chips and sodas for lunch and plenty of smiles!
great observers giving a rider the signal I unfortunately only saw as I entered the gates
the
riders/people
: this was my first trials since 1977 so I didn't know what to expect-people/riders-wise. Everyone was polite, helpful and generally fun to be around. There were many friends of Bob's from the "old days" which made it a ton of fun for me. I ran into Keith McLaughlin who was one of the best, most natural trials riders the Central Coast has ever seen. He showed up to honor Bob and show his two young boys a trials event. I met Larry who purchased his first Bultaco from Bob. John Moore was there riding his vintage TY250, John owns Moore and Sons Motorcycles in Santa Cruz and is a great trials rider. Adrian and Mandy Lewis (Lewisports USA) were there with their mini-shop of trials goodies.
the official practice area
the
sections
: designed by (local) national champion Scott Head and local motorcyle guru-Tim Pilg, the sections were both easy and hairy. Some (not all) of the Sportsman and Novice sections were cleanable if you had reasonable throttle and clutch control and a bit of balance (which I am sorely lacking) but these two guys must've had some bad blood regarding the Experts and Pros...holy mackeral, some of the rock faces and rock-top turns that riders like Cody Webb made look easy, were anything but! Oh yeah, lots of riders were talking about the loose dirt and leaves they had to contend with, seems granite has much better traction. Oh well, if dirt's what you have, dirt's what you ride.
some typical limestone...dirt!
I just wanted to let you all know what a great day we all had (over 60 riders in attendance!) at Mike Ryan's ranch thanks to Tim Pilg, Scott Head, the Central Coast Motorcyle Association, Beta Motorcycles and the untold (and largely un-thanked) number of staffers who made this a truly fantastic event.
What a great tribute to our old buddy Bob Miller-long may he ride!