Hi all,
I have been lurking for a while now and figured (spurred by a suggestion in one of the build threads I've been reading through) it was time to introduce myself and thank everyone for the awesome information and community I've found here.
I didn't initially come to advrider to join, read, or even because I can even say that I am an adventure rider, adventure rider in training might be more accurate. Instead, I bought a non-running 1971 TS-90 from a friend and every time I went googling for information on how to fix up this bike I ended here. Since then I have been inspired by the bikes and rides I've seen and am looking forward to adding my trip reports in the future.
A little more background on myself. I started riding a few years back when I got a "running" 1987 VT700C. I say "running" because by the time I had gotten it home (in the back of a truck) something in the ignition system had gone kaput giving me my first taste of motorcycle diagnostics. Sadly between the condition in which I acquired it, and the unskilled hands of a college-student/mechanic wannabe (me) the little honda cruiser managed it's best impression of the bluesmobile
Deranged by grief at the loss of that first love I flew into temporary insanity and found myself spiraling into temptation of the beautiful and deranged 2004 R6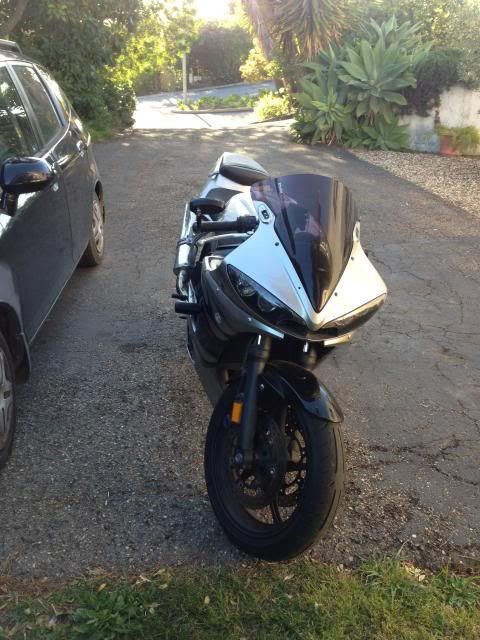 The next few years were a whirlwind of passion and abuse that put me in the hospital and in a mind for a quieter, simpler, and freer life than could be found with such a bike. Around this time my friend, who was moving to mexico for a few months to surf, asked me if I wanted to buy his 1971 TS-90. At this point I sold the R6 (to a guy who i see practicing wheelies.... across from the college... at morning rush hour.... don't get me started...) and fell for an older bike. Much older.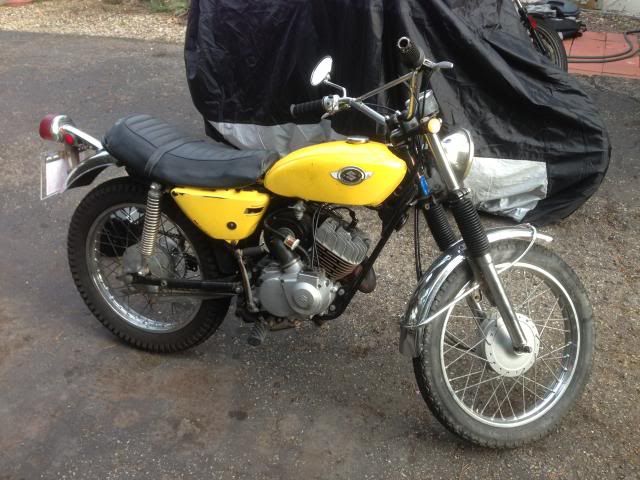 It was then that my love for the simplicity and challenges associated with older bikes was rekindled and I finally had the nerve to buy my dream bike, with a little push from my dream girl to go for it. A 1978 BMW R100/7.
(dream girl and dream bike featured)
The only downsides I've found to my rediscovered love for older bikes are:
1. It takes longer to get anywhere cause you get stopped and chatted with at the gas station, parking lots, or even stop lights.
and
2. My girlfriend likes them too. This means, if I'm wrenching on the BMW, I end up riding my bicycle to work so she can ride the Suzuki during the day. (speaking of which, she's in the market for an older bike in the 250-400cc range. If you know of something like this... PM me maybe?)
So, once again let me thank this community for playing a distinct part in my return from the dark side of EFI and plastic fairings.