I was downtown today on Florida Ave on the Vespa, and I look to my right, and there is a teenager on a Zuma, blasting down the sidewalk sans helmet, the very next second, another generic scooter comes buzzing next to me 2-up with teenagers.
The very next second I hear the "Whoop-Whoop" of the DC PD on their trusty HD steeds.
Three of them came thundering through traffic chasing down the scooter-gang. ( I assume the scoots were stolen) One of them was far ahead of the others, and he was doing pretty good in staying with the perps.
Of course, I'm sure if here were on a BMW, he'd have a lot more throttle to work with.
I was caught at a red light, and they all passed me by...I caught up to them in the next few blocks, and two of them couldn't find their partner, They did not have any sort of radio headsets, and instead relied on the handheld mic with a loud speaker to communicate. As you can imagine, that's a little difficult to do when negotiating DC traffic and chasing scooter thieves.
Fast forward a couple of hours...
Me & Mrs. BreadMan were down at an embassy near the State Department, going to a function.
There were DC PD and Secret Service out front, there to protect their charges, and they were kind enough to let me park the Vespa on the sidewalk.
One of the DC PD was there with his riding boots on, so I asked him about the scooter chase...amazingly, he knew about it, but did not know the outcome. I then asked him about the lack of gear that they had, he was somewhat quizzical about the whole idea, and I honestly believe he doesn't really know what good riding protection is...Anyway, his reponse to my question was, "We don't have good gear because we have really good health insurance..."
Went and had dinner at Leopold's in Georgetown...good European cafe BTW. (Pot 'O Mussells, yum!)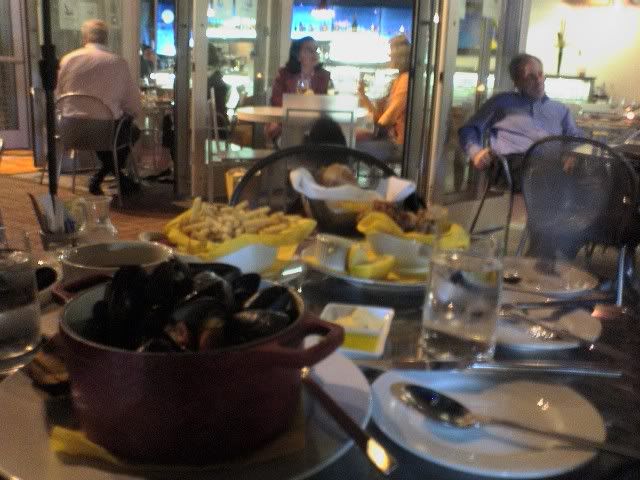 And then later, on the way home, we had a mid 30's female trying to race us on her 49cc Zuma.
It was a good day.