I've had these Knox Handroid gloves for several years now with two accidents on them. In the first accident, I broke my wrist, but that didn't have anything to do with the gloves. It was a head on collision with a SUV but the and the fracture occurred with the impact of my bike to the other vehicle and the sudden hyperextension of my wrist on the handlebar. I flipped over the SUV and landed on my back slamming my wrist on the floor but that didn't add further injuries. It was a small crush fracture of the tips of my radius and ulna. I'm also sooo glad I was wearing my back protector on that crash. If I wasn't I would have broken my shoulder blade or even my spine.
The second accident was on the track with a lowside at about 60mph. I slid on my back for quite a while and instinctively, I tried to slow myself down by pressing my palms to the ground. Thank goodness that tactic didn't work and the sliders on my palm and wrist just kept me sliding. This was the most peaceful crash I've ever had, BTW. So nice crashing on track. LOL.
The gloves are still wearable but the boa lacing system won't operate like it's supposed to anymore. I mean, I can still wear it, but it's pretty banged up. I remember wondering my my palms were getting so hot. that was because I was grinding down the plastics on the glove. Just imagine if that was only leather there. I'm sure it would have either worn through or caught and caused me to tumble or to bend the wrist under me.
I think I'll try a Held Titans this time. I think/hope that the stingray on the palms and wrist will do all the sliding that I need. I also hope that the Helds will be a bit more comfortable. I hope they won't be warmer and flow some more air. I want really good wrist protection because I'm a physical therapist and my hands are my bread and butter.
All in all, I was happy with the Handroids and they worked exactly as advertised. The things I didn't like about them:
- the bulk of the glove when carrying them around in between rides. Just took up a ton of space in the helmet (I know, I'm not supposed to do this) or backpack.
- the boa constricting system, even though it was cool, was kind of a pain sometimes. Velcro is actually quicker and easier.
- When I make a fist, I could feel tension on the tops of my distal knuckles (the second finger joint) and after long rides, I would feel some slight discomfort there. This would be worse after not wearing them for the winter season.
Glove 1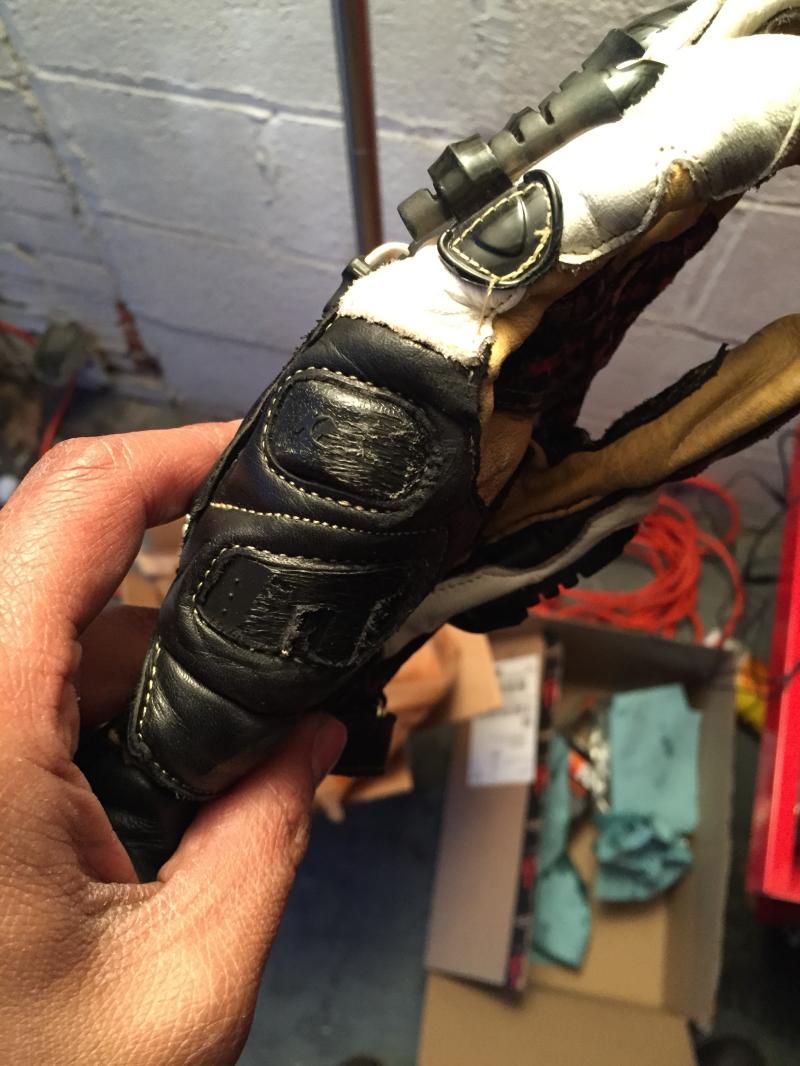 Glove 2