I looked for a comparison like this and didnít find much (itís kind of an odd one) so here are my impressions so far. I tend to be more interested in how bikes feel to ride and what a bike does well or not so well compared to another bike. Maybe someone else out there is wondering about these two.
Iíve learned so much on this site and am indebted to the experts who share their knowledge here. Iím not an expertólike most of us, I am somewhere in the middle in terms of experience and ability. Iíve ridden a pretty good amount in the last 8 years in a bunch of different conditions. Iíve never owned a motocrosser or true sport bike (Iíve ridden some) so my perspective on Ďperformanceí is coming from a very mild place.
Here is a shot from 2006 setting out from CA to NY and back: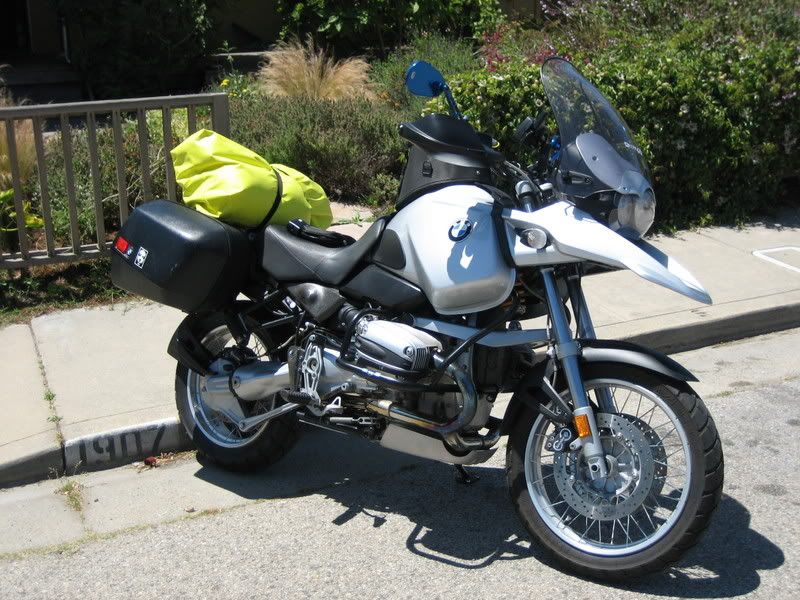 Here is one with the city cases:
In Big Sur coming home from Baja Feb. 2013: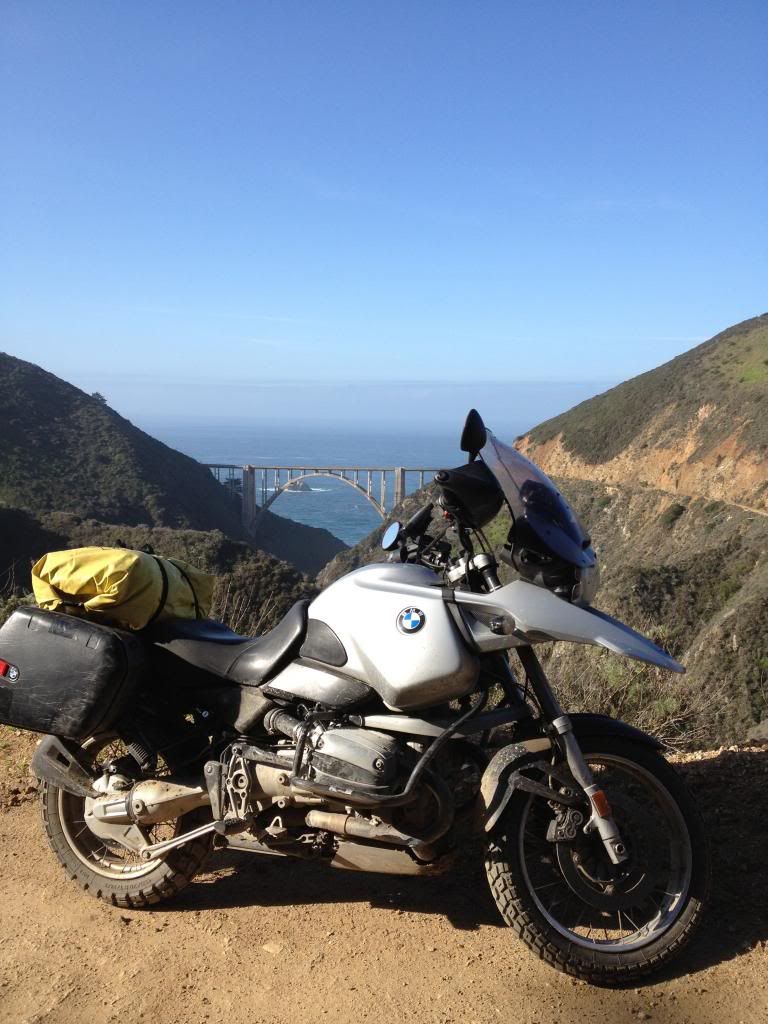 GS: I have had a 2000 1150gs (non-adventure model) since I bought a one owner bike with 15,000 miles in 2006. It has an aftermarket windscreen, Ohlins front, and rear, steel braided brake lines, Corbin seat and usually Metzeler Tourances but has some Heidenaus on it now. It also has a Staintune pipe and a Ďchipí (LazerÖ?), all installed by the original owner. There are few other additions but nothing that makes big differences to the character of the bike. It has non-servo, non-linked abs brakes. I have owned a few other bikes but this is the one that I have really lived with the most and I love it. As everyone says, itís not great at anything but itís very good at a lot of things and suits my needs and riding style. It has about 55,000 miles on it now.
Iím on the East Coast now and started lusting after the k75 a couple years ago (first the Ďsí, then in general), after reading about the reliable, smooth character of the bike. I also warmed to the 80s futurist aesthetic and the prices on the used market. I finally picked one up about a month ago and have put about 1500 miles on it.
K75: I found the bike, liked the condition, additions and price, so I went to check it out. This was a ĎCí or standard version k75 but had all the T bits added to it. These include a BMW clear windscreen, engine protection bars, handlebars and luggage. This bike also has a Progressive 465 rear shock, some LED lights on the front forks and I think it has a non-standard seat but Iím not sure. The tires are Metzeler Lasertecs. It has about 26,000 miles.
Before I owned it: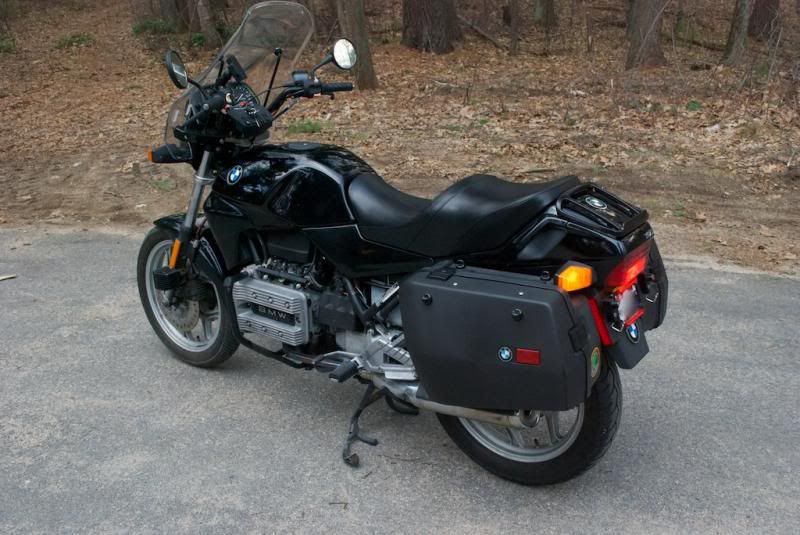 Last weekend: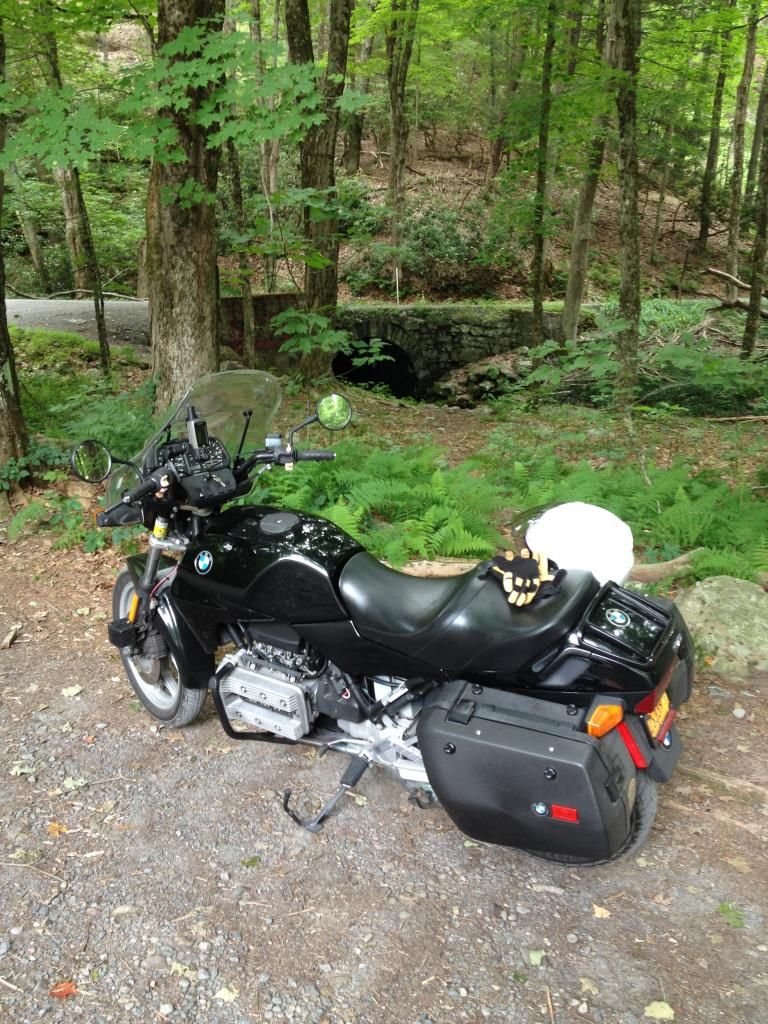 Impressions:
Having never ridden one before, the first things I noticed were that the ĎTí bars were narrower than I expected. They looked like cruiser bars to me but donít feel like it when seated on the bikeóat least compared to the GS bars. At 6í2Ē the height from the seat to the ground is just right for me. Iím able to flat foot easily but it is a little taller than what I expected. Being a Ďtouringí version, the air from the windscreen hits me right in the middle of my helmet visor. My posture on the bike is basically straight up; very similar to the GS with maybe even less reach to the bars. The distance from the seat to the pegs is a little less than the GS but not radically different in the distance or position relative to the seat. The seat limits forward and rear movement with a much smaller Ďpocketí than the Corbin on my GS. At my height, Iíd like to be able to slide back a little further and maybe have more distance between seat and pegs so I can stand up and down more easily and will probably explore seat options soon.
Performance:
Motor:
The character of the motors are quite different (obviously). Firstly, the GS feels and sounds thumpy at idle. Each fire is felt and I love how it sounds. The K bike starts easily and just sits there quietly whistling away to itself. The GS feels like a fairly flat torque curve from about 2800 rpm up to 4,500 and then there is a bit of a boost above 5,000 (maybe because of the chip?). I donít tend to rev it up to or above 6,000 very often because despite the chip, I donít find the performance up there too exciting. If I am slowly going up a hill in first, it pulls solidly almost from the bottom. It rarely feels like it is lugging or that it canít get going properly unless I am actually idling along in (the too tall) first gear and try to gas up the hill. Even then, it rattles, pulls itself up and gets going.
The K bike feels like riding two different bikes depending on the rpm range you are in. From idle to 4,800, itís like riding a scooter. Mild, smooth, quiet. If you are trying to accelerate up a hill, you have to wait a little to get going. Once you are up around 3k rpms, it feels about comparable to the GS in roll on acceleration. Above about 4,800 rpm, it actually comes alive and wants to keep revving to the redline. If you are reading this far, youíve read before that the k bikes are slowóuntil 5,000 rpm. This is right. Every ride, and in better and better roads, I find myself up above 5,000 more often, shifting between 6-7k rpms. There is so much more response both accelerating up and engine braking down, that it is addicting. And I love the sound it makes at this range. Unlike the GS, the higher revs are addicting both for the sound and the performance. The bike feels very connected as opposed to the lower rpm range where your inputs take longer to affect the speed of the bike. What I really like is that after riding through some curvy mountain roads, wringing the motor out, it is very comfortable to come in to town and whistle along under 4,500 rpms. This makes it feel like you almost have two bikes in one.
Handling/Brakes:
When I rode it the first time it felt really Ďtippyí. At slow speeds under 20 mph, I felt it fall into turns much more quickly than I was used to and when slowing at a light, under 5 mph, or creeping along in stop and go traffic, it was much more difficult to balance without dabbing my feet than the GS in similar situations. It also was quite stiff in the rear suspension and jarring on some of the rough roads in and around NYC (all of them are rough). Like ass knocked off the seat several times per mile rough. This past weekend, I fooled with the rear shock and got the sag adjusted much closer to how it should be for my weight (170 lbs.) and this seems to have improved both issues. I thought that the spring was way too stiff for me but in fact, the preload wasnít high enough and I was hitting the bump stop too easily. This is the first street bike that I have had so I am not in tune with how it should feel yet and Iím sure Iíll keep tweaking it a bit till it feels right. Already, it is handling bumps better and doesnít seem as twitchy as it did before. It feels much easier to throw into a corner than the GS and quicker to reach aggressive lean angles. I donít know how to describe it but on the GS, I know when I am at the edge of the tires and how I got there. With the K (maybe just because itís new to me), all of a sudden I think, ďshit, am I at the edge? I didnít think I was even going that fastĒ. It definitely feels lighter (less top heavy?) in tight, fast turns where the lean and weight of the bike is moving from one side to the other quickly. Now that the rear preload is set close to what it should be, I am easily over riding the front springs which are notoriously soft on these bikes. I have a set of Progressive springs that Iíll install soon to help with the front. The brakes work better than I expected them to except for the fork dive which is the springs fault, not the brakes.
Shifting:
The gear boxes feel similar in how they shift between gears and when downshifting. One difference is that with the GS, I can get really smooth shifts if I clutch and shift right as I am coming off the peak of the throttle input. In other words, I usually apply the clutch and shift just at the moment I am beginning to let off the gas. If I slightly mis-time, the revs will climb a bit as the clutch lets the motor go. For me, this gets the most seamless and quiet shifts with the GS. The K bike doesnít seem to like this, especially between first and second. If I use the GS technique, first/second shifts are hard and loud (normal BMW clunk loud, not anything scary). Iím learning that I have to let off the gas and let the revs fall a bit before shifting. Iím starting to get smoother with it and it definitely seems like technique rather than a fault of the transmission. Iím not missing any shifts and no false neutrals or sticky downshifts. Besides first to second, the shifting is as smooth as the GS if I let the revs fall a little before the shift.
Other impressions:
Heat: The K bike blows hot air right on your balls. If you are moving, you feel it on your right inner thigh. If you are stuck in traffic, you feel it most there and you also get it in your lap and on the left leg too but not as hot. I canít wait to enjoy this feature properly. In the winter.
Maintenance: K: Havenít done any yet but seems pretty straight forward. Valve checks and adjustments suck compared to the GS because the brick uses shims. You have to measure the gaps, do math and then buy the proper shims and install them. You also need some special tools. Luckily, the valve check was just done and there are longish intervals for this job. The GS valve adjustment is cake with screw type adjusters that can be accessed in <10 minutes. The other general maintenance seems comparable to the GS. Iíve done all my own maintenance on the GS and pretty much learned on this bike. I havenít had anything go terribly wrong so, it must be pretty easy. In the near future, I will replace the fork springs with Progressives, check and adjust/renew the steering bearings and balance the throttle bodies. These are the only things that seem to warrant digging in to at this point.
My girlfriend likes the passenger area of the k bike and says the seat is good compared to the GS and doesnít push her forward like the bigger BMW. She also said that the GS seats feel narrowerólike her legs are more closed on the GS than the K. She also commented that the k feels smootheróďless rumblyĒ, naturally.
Windscreen is about the same. I get some turbulence knocking my head around on the GS and I get some on the K. Iíd say the K maybe a little less and itís easy to hunch down to find some clean air if I need to.
Luggage and capacity: There is never worry about luggage space or weight on the GS because it seems like there is always more room to load stuff onto it. For that reason, it is easy to over load itóit isnít that the bike will not handle the weight, just that it wonít be as much fun if you carry as much stuff as the GS will allow you to carry. I have normal BMW ĎSystemí cases for the GS and City cases and I tend to use the city cases and a dry bag strapped to the back for 90% of my traveling. The normal casesí capacity is a little greater than the kbikeís ĎIntegralí cases but not by that much. The normal GS bags have the cutout for the exhaust on the left side so there is less capacity on the left but the right side definitely holds more than the k bike bags. The K bags are symmetrical (no exhaust cutout) so overall, they seem about the same. The latches and locking mechanism on the K luggage is waaaay more finicky than the GS bags. You have to lock and unlock each latch individually (two per bag plus the latch to remove it from the bike, if you are doing that), and the key, keyhole and keyhole cover arenít very easy to operate with gloves, in the dark or really, any time. Compared to the GS which has one keyhole (operated by the ignition key) and simple hand-grab latches, the k luggage is kind of a pain. And it is wearing out so it rattles and feels a little insecure back there. Not that big of a deal but day in day out, locking and unlocking those tiny locks gets old.
The helmet lock on the K stinks. I canít figure out how to actually fit my helmet in there and it might be impossible with the luggage on.
Fuel economy: I havenít had it long enough to really know but I start looking for gas at about 150 miles and the gas light comes on around 150-160 miles. I can reliably go 200 miles on the GS without worrying about whether Iím going to run out but I donít remember when the light comes on (itís been too long sweetheart).
So if anyone out there is wondering how these two great machines from different eras, with different intended purposes compare, there you go. The K feels a little smaller, (not much) lighter and more maneuverable both in town and in the twisties but doesnít feel as planted as or balanced as my GS. This may have more do with getting the suspension dialed in than the nature of the bikes. The way I ride, the performance differences are mainly visceral. Neither bike is exceptionally faster than the other in normal riding though the K is more exciting in the upper rpm range and is probably quicker through the turns if pushed. I am much more comfortable on my GS so can probably ride that bike faster on a given road but it feels like the k75 will win once the suspension is dialed and I have some more miles on it. I am really happy with both bikes, they seem to compliment each other well and Iím surprised at how similar they are, all things considered.