I spent most of yesterday riding through the Angelina National Forest in San Augustine County, Texas.
This area surrounds the Sam Rayburn Reservoir and the Attoyac River. I didn't get to see too much of the forest, but I explored every county road I felt comfortable with. The county roads are a real mix out there. Some are slightly paved, some are gravel, some are dirt, some are nothing but two track grass trails. My route map doesn't show every county road I went down, since I can't remember them all anyway. My bike isn't really equipped for some of these roads and it wasn't always an enjoyable experience. For you dual-sport guys, it could be quite fun.
I didn't get as many pictures as I wanted either, but I'll share what I took.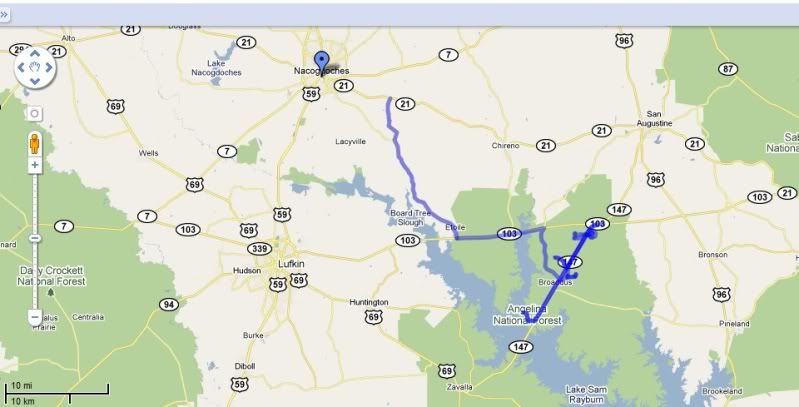 I left Nacogdoches around noon, heading east on Highway 21. Traffic was light and it isn't a long part of this ride. I turned south on FM226, which has some nice curves in it, and is pretty much deserted. However, past Woden the road has had recent construction. Much of the road is without a center stripe and has very slick new pavement. It wouldn't be so bad if the pavement was level but instead it is completely terrible. The surface is smooth, but not level, so you find your front end wobbling a bit.
Following FM226 you come into Etoile Texas and the junction with Highway 103. I took a left onto 103 East. This is a well maintained road with some light traffic, and it was real easy to just open up and tear down it. 103 follows the border of the national forest before you reach Highway 147. Taking a right onto 147 leads you into the heart of the forest.
I came out here with no real plan. I figured I'd just see the forest, explore some county roads and check out the reservoir. Parts of the forest are controlled by the Forest Service, with lots of private landowners throughout. (I think) Several of the county roads deadend into private property, and there are several private roads as well. I did my best to avoid entering anybody's property, and never set foot on a private road. A long haired hippie college kid like me doesn't feel too welcome around these parts.
After turning onto 147, I began pulling off on each county road that came up. These roads can be a lot of fun, with the appropriate tires. I did not have the appropriate tires. My R80 is merely a street bike, and I wasn't confident enough to attempt much speed on these gravel and dirt roads.
However, this was a nicer one, and one the first ones. Following it brought me into this lovely clearing with this old house. I don't know if it was private property or not, or if anyone was living there. I didn't go up to the house for fear of being on someone's land. There were no signs posted, so who knows. But, I felt the clearing and the house were quite a sight. I stopped at the edge of the road for a snack and a piss, and set off again.
The road I just came down: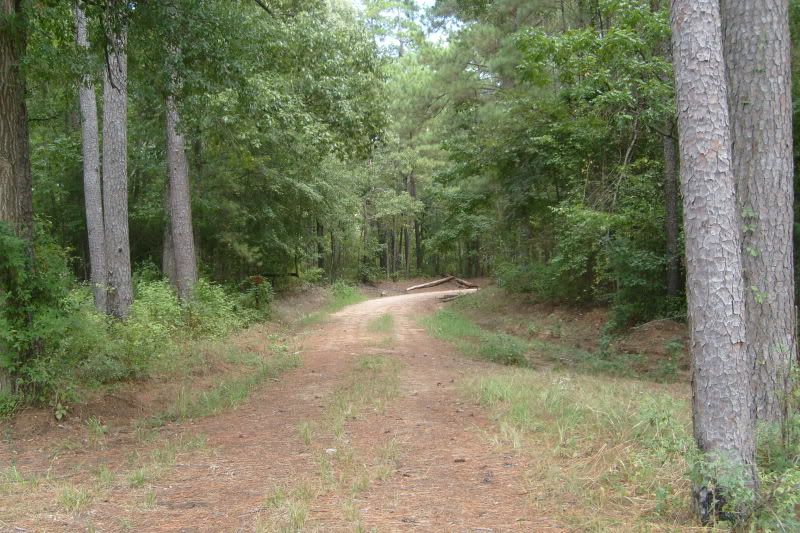 The clearing with house: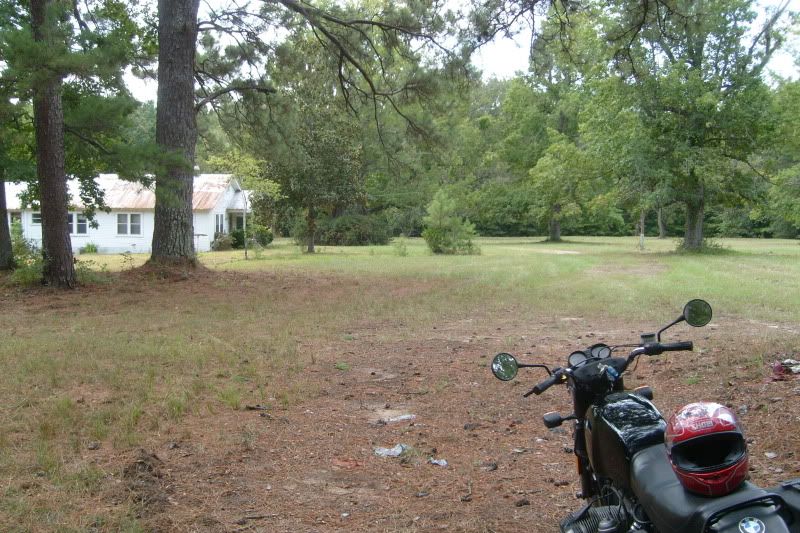 I went back out to the main road and turned off on another county road. This one was a lot rougher. I came around a bend in the road and came face to face with a large hillbilly looking man sitting in a lawn chair. Beside him was a Confederate flag and a rifle. Behind him were private property signs. I wish I could have snapped a pic but I was too busy turning around and getting out of there before he reached for the rifle. Seems his Saturdays are spent at his property line waiting for potential trespassers.
After getting the hell out of there, I came to the campsites near the reservoir. Not too many campers out there. I spied 4 tents, belonging to 2 parties. Both sites were flying the confederate flag (noticing a trend out here?) However, the campsites are nice and covered, but I do not believe there are any facilities, at least at the campground I saw.
Here's a view of the campground: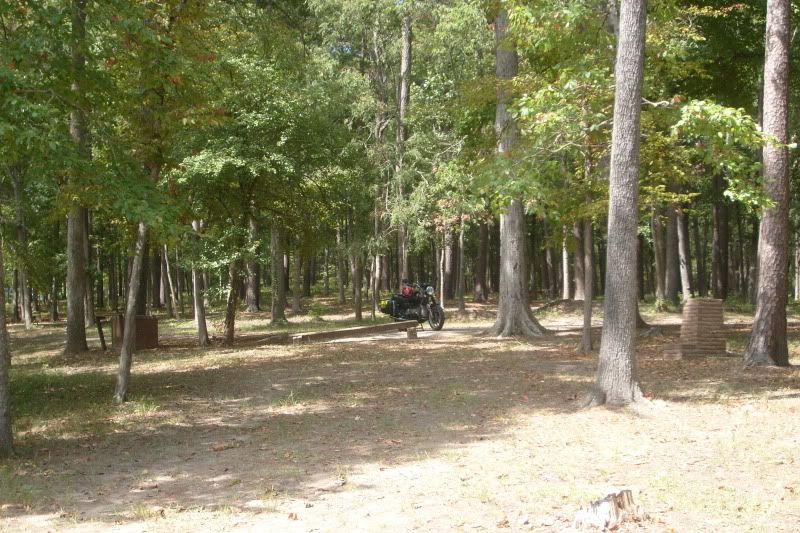 And here's some of the reservoir.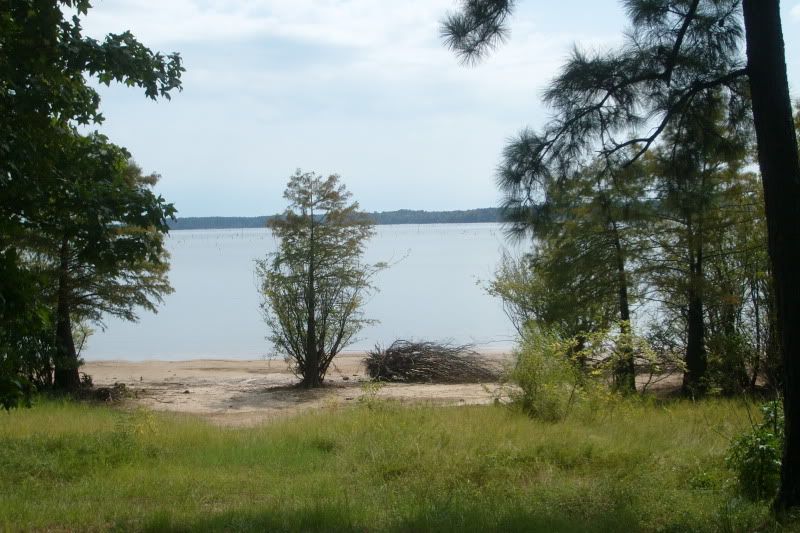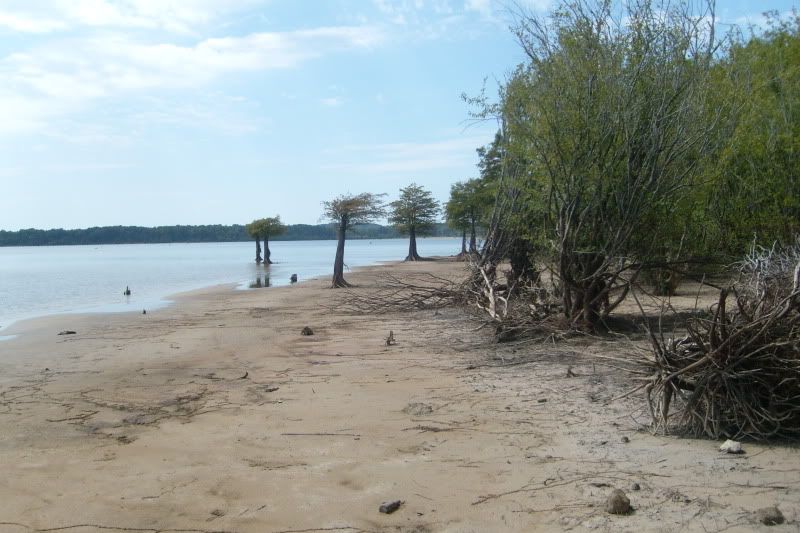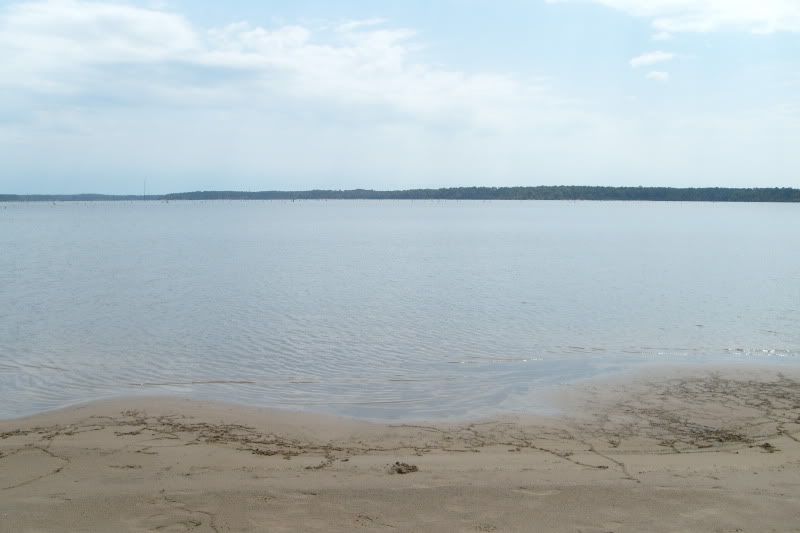 After this, I just went down more county roads and down 147. On 147 is a town called Broaddus. Seems they have a dirt track there, but I went down this road and never saw anything.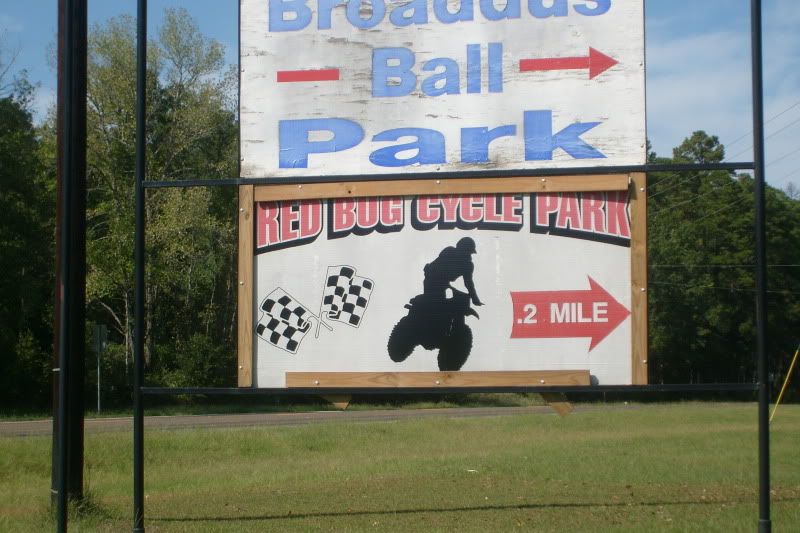 Outside of Broaddus is the Jackson Hill Marina/Park. Boat launches and all that. They also had a little store and BBQ restaurant. I had brought my own food so I didn't order there, but it sure smelled good.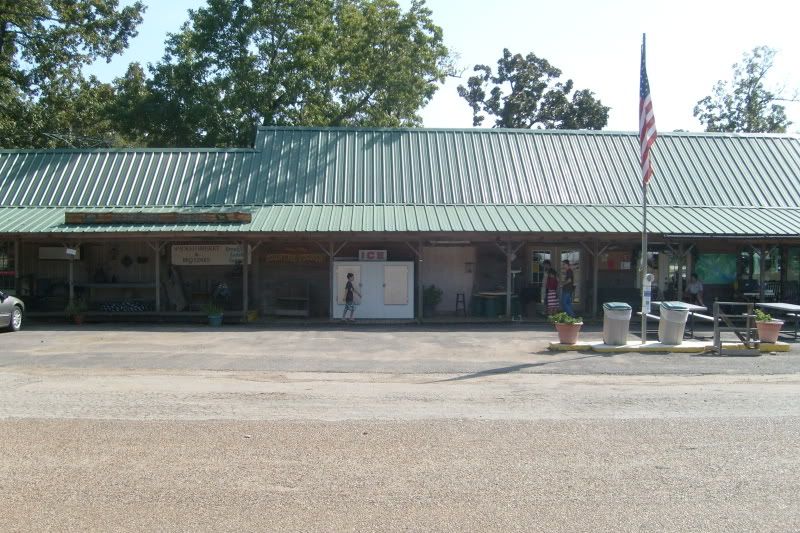 After this, I decided it was about time to head home. My back and butt were getting sore from all the bumpy county roads. However, I decided I wanted to check out this cemetery. And of course, the cemetery was practically at the very end of this road.
It's called the Macedonia Cemetery, sadly I didn't get a shot of the gate. From what I saw, its been in operation since the 1880s, and still has burials today. I've got a thing for old rural cemeteries, since I've worked in an archive, dealing with county funeral records.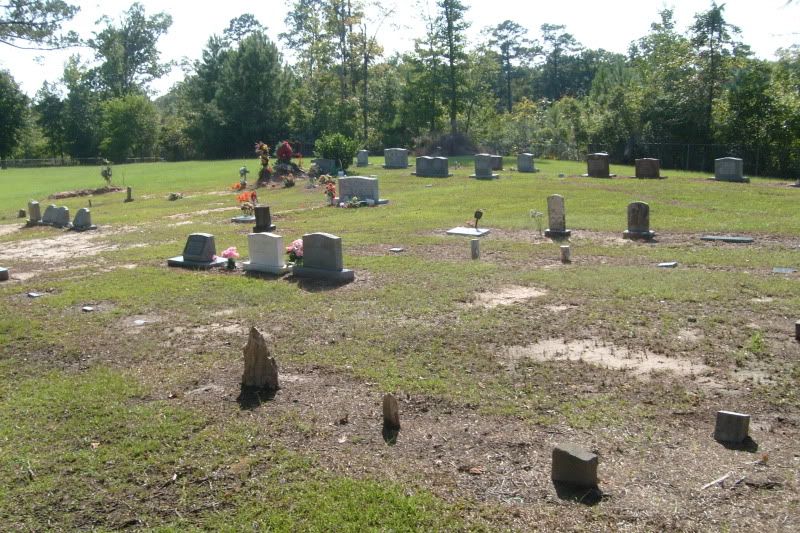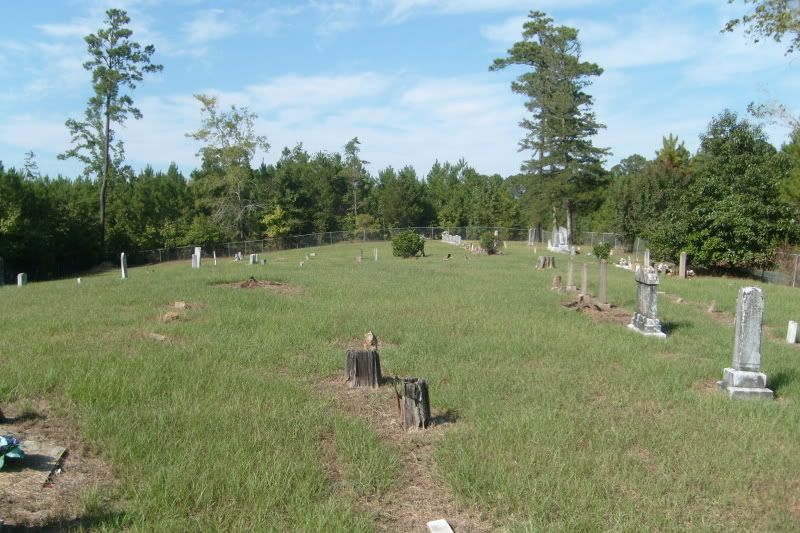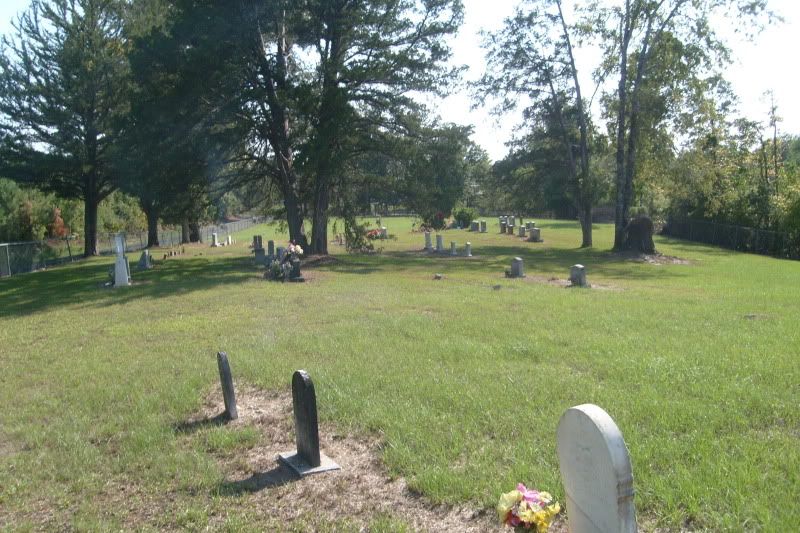 There were a few graves without a traditional headstone. Instead they had a huge piece of petrified wood. Really cool.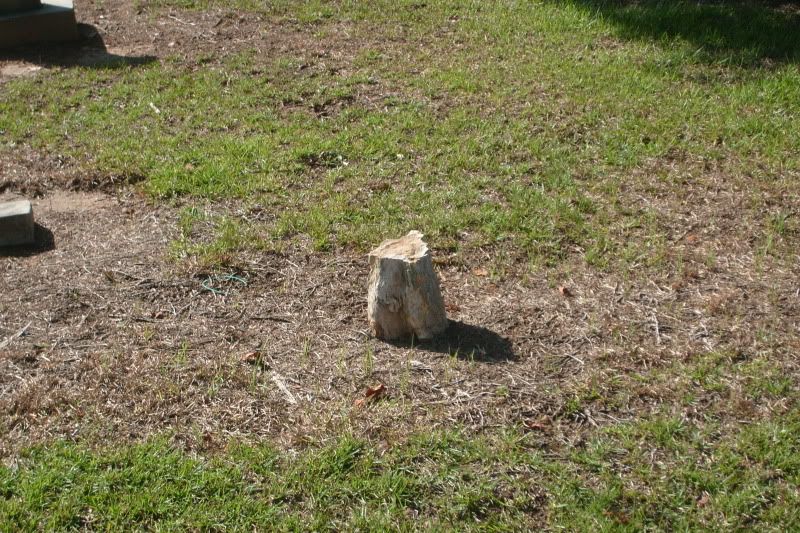 Anyway, I went back home following the same route. Sorry this little report isn't more interesting or more photo heavy.
Long story short, if you've got some knobbies, go check out the forest and its county/forest service roads. Some of them had some great turns in them I wish I could have hit with more speed. The surrounding forest and reservoir is great, and its empty as all hell. I saw maybe 3 trucks while on the backroads.