The first day is planned to be the longest one. We set out from Monterey when it was nice and sunny and somewhere in the mid-60s (read: awesome).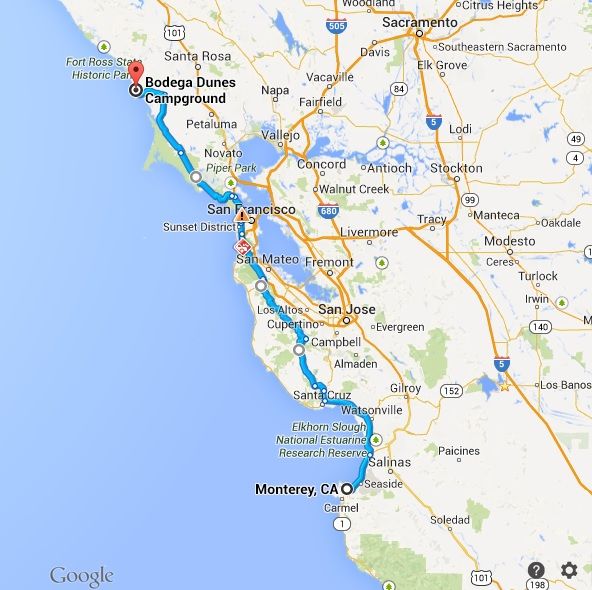 The ride up Highway from Monterey to Santa Cruz is mostly freeway and always boring. So while trying not to nod off I got comfortable with the bike's handling while fully loaded (it actually sits a lot lower than I expected).
From Santa Cruz we jumped onto the old Highway 9 up through Felton and Boulder Creek. It's a fun road that only gets better after getting onto Highway 35 past Alice's Restaurant. I didn't get any pictures or stop since I've done this ride several times but I may on the way back just because.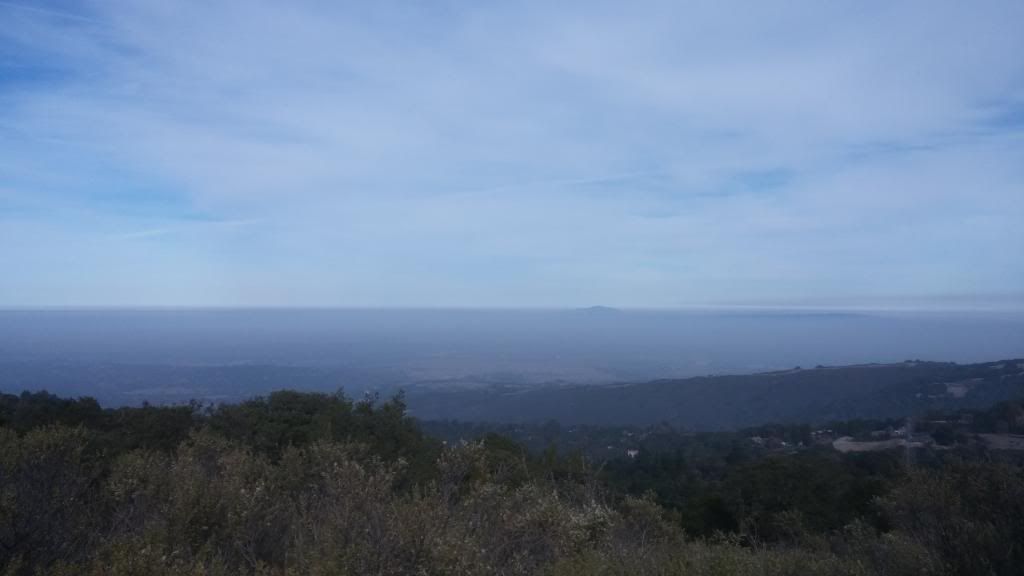 Overlooking Smokey San Jose
The worst part of this ride was getting through SF. The 280 was just a miserable ride, and the Highway 1 through the city has a lot of lights and traffic. But after crossing the Golden Gate Bridge, it all opened up again. The ride along the coast past Tomales Bay was awesome. Very few cars and the road seems to run right along the water (maybe 2 feet above the water line).
We finally get to Bodega Bay just before sunset. The campground at Bodega Bay Dunes was recommended so I figured we'd check it out. Besides the camp host, we were the only people in the camp ground. Pretty nice being able to camp in the middle of the week in the middle of December. So I picked a spot behind a dune. After getting the tent set, we hiked over the top just in time to catch sunset. At this point I was still in a t-shirt and feeling good. But since I didn't have any extra room on the bike, after unloading I had to ride to the store to get food and firewood.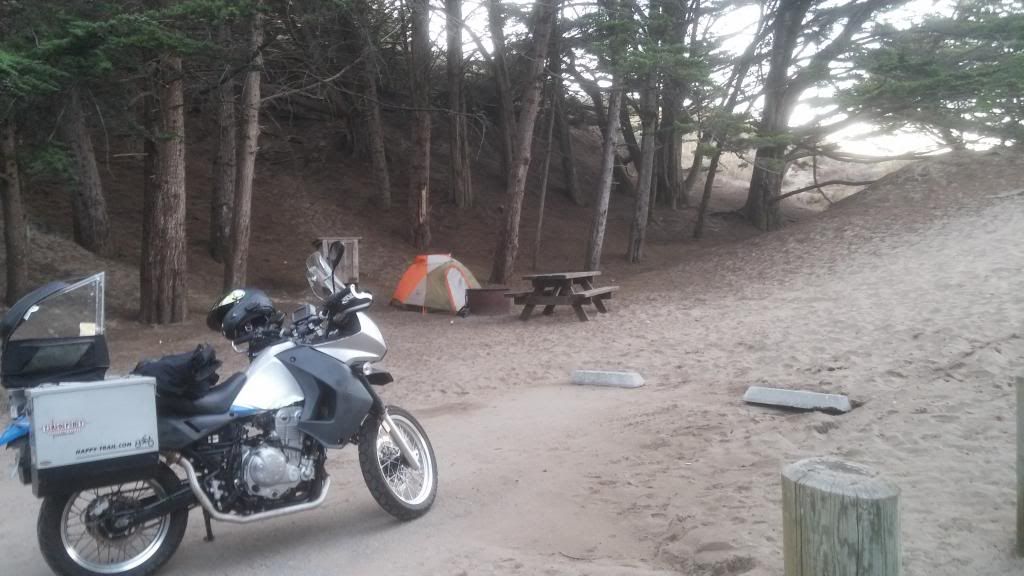 Camp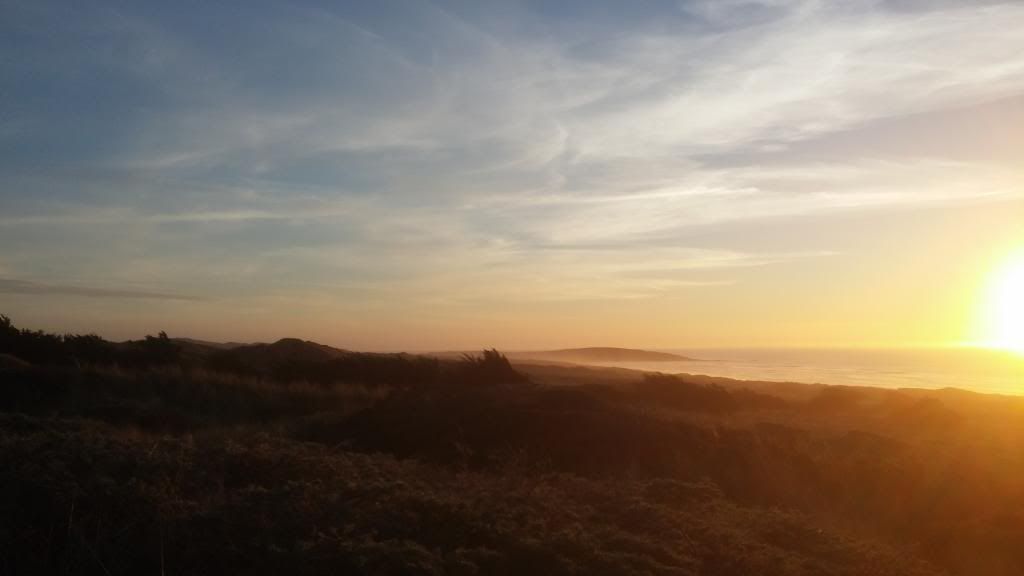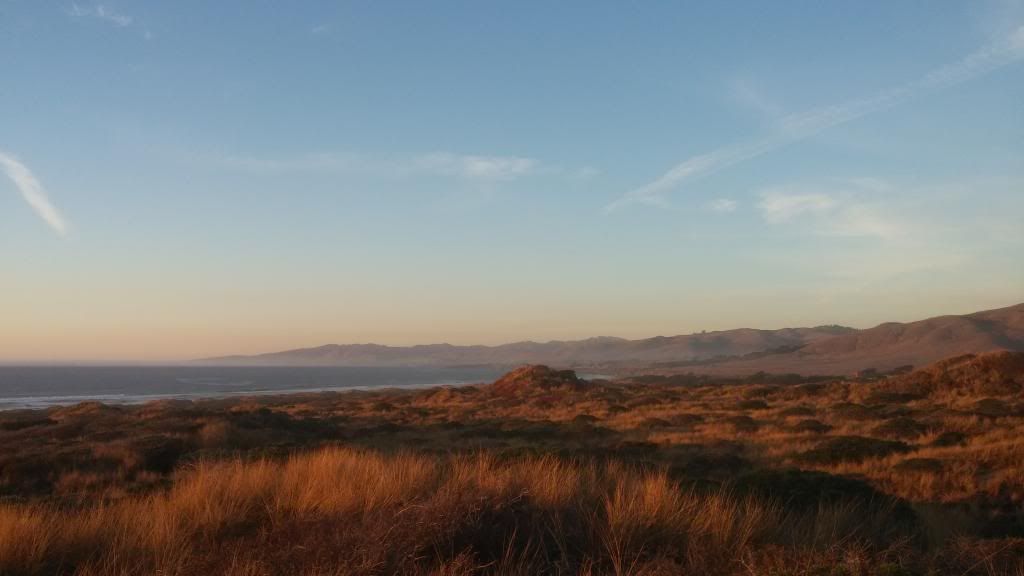 Sunset
By the time I got back it was cold. I grew up in Texas, lived in Hawaii, and live in "SoCalish" so I'm not equiped for this. Thank god for the fire. After eating, I called it a night (around 8pm) and got in the sleeping bag with the dog and the battery powered undershirt. Inside the bag I was mostly warm, but the dog was freezing his ass off on top of it (and refused to get in).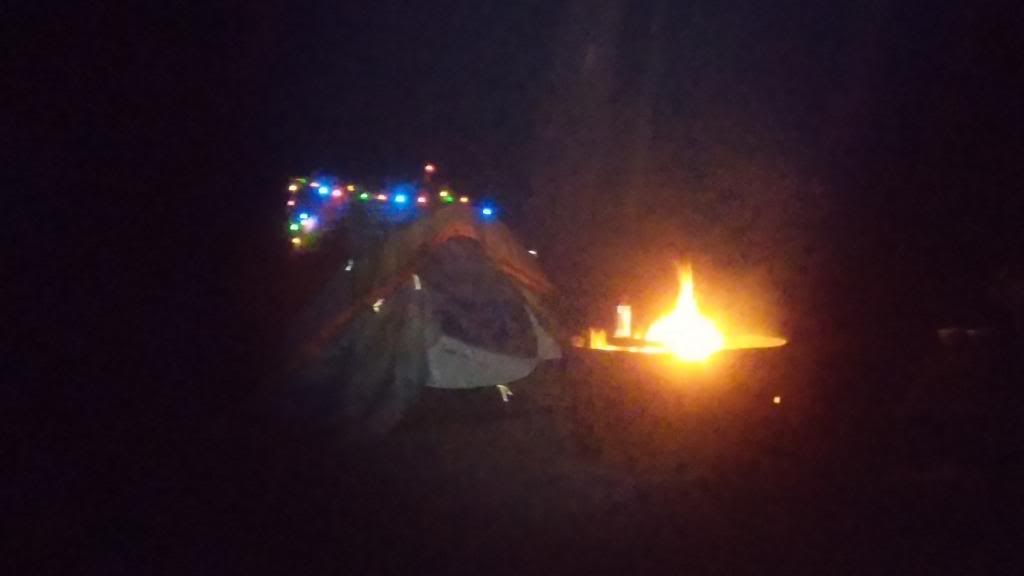 Some video of me from Highway 35 and Golden Gate
So for Day 2, I figure we'd ride a little less and find a pet-friendly hotel near Fort Bragg.