Ok, here we go:
A few close friends of mine and I have been talking for several years about taking a motorcycle trip. Things have always got in the way of making plans and going for it. Well, last spring I decided to set a date and come up with a destination!
My friend Rob and I live in Utah, just south of Salt Lake City. My friend Hamburger (Ham for short) lives in Green River Wyoming (where I grew up). They both commited and we decided to leave the first week in June.
A pic of Rob and Ham. Rob on the left, Ham on the right. Rob is riding a 1999 Yamaha 1100 and Ham is on a 1993 Harley Davidson.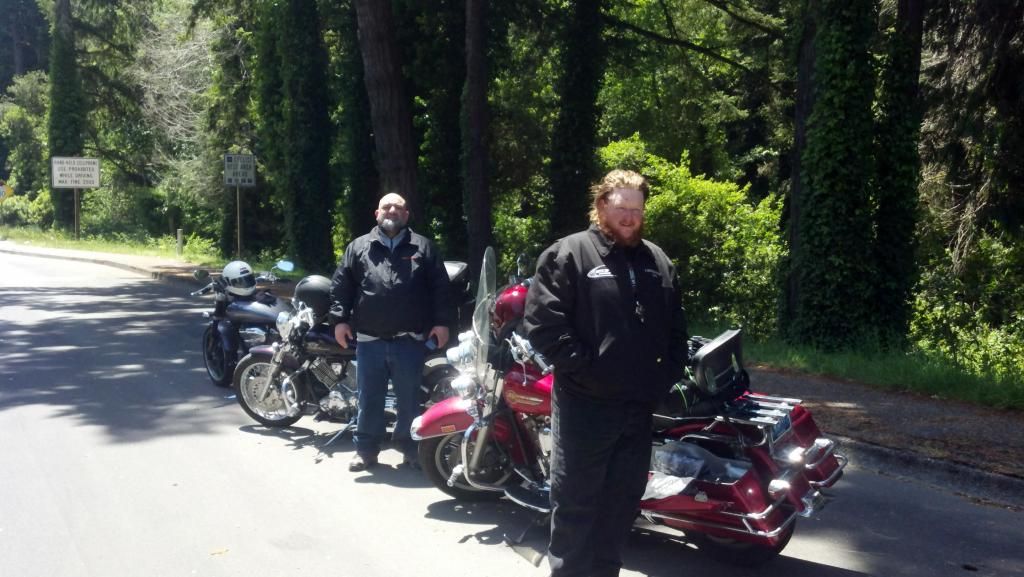 Ham rode down from Wyoming and we planned to leave as soon as he arrived. The destination we were aiming for was the Evergreen Air and Space Museum in McMinville Oregon. We were then planning on a ride down the coast, and finaly a visit to the redwood forest. None of us had traveled in this area of the U.S. before. We were excited!!
Here is the kicker; we planned to leave Sunday and be back sometime Thursday or Friday at the least!! That's a sore butt on a Warrior!
I will admit that I do have a modified seat (by a member of RSWARRIOR.COM) and I made a backrest modeled after some threads I read on RSWARRIOR.com.
I made a journal type of email to the guys when we returned, with hopes that we would have some record of our trip that would not get forgotten. I'll use that as my ride report, and I will include some pictures as well. Here is a Mapquest link to the route we took:
MapQuest Maps - Driving Directions - Map
Sunday
A to B (376 miles) Was our first day. We left my house in Orem Ut. at around 1 p.m. on Sunday and Arrived in Bosie Idaho that evening. We did stop in Brigham City for Chinese food for lunch (we are growing boys and need to eat). There was almost a fuel issue (runnig out), but we made it with not much to spare. It was at this point we decided to stop at every fuel stop along the way. Upon arrival we stayed in Motel 6 and ate at the Copper Kettle (really good food!).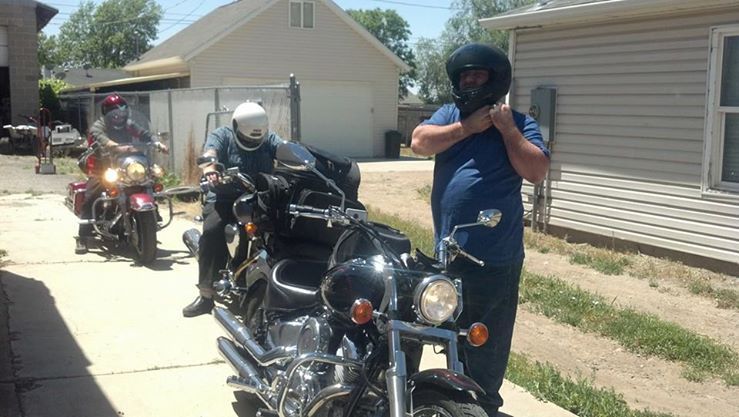 Here we are leaving my house. Rob in front, me in the middle and Ham bringing up the rear.
We are finally under way!! My 4 year old (Braxton) really wanted to go... maybe in a few years.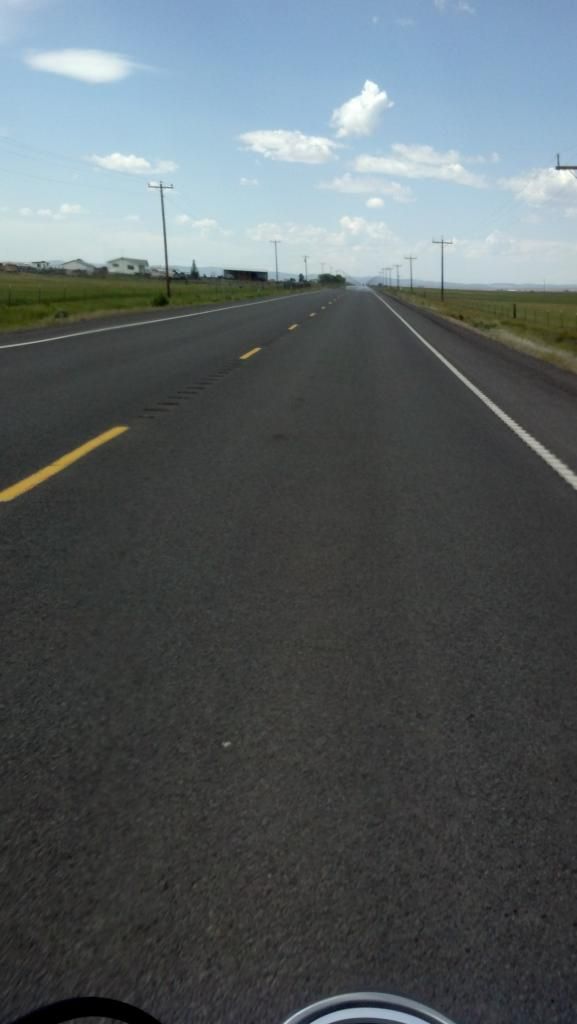 The road to Bosie
Monday
B to C (440 miles) was our second day. We left Boise early and crossed into Oregon. We ate lunch in Burns at a little cafe, got fuel and directions (we were worried about fuel). We were told that Bend was 155 miles but there were places to get fuel 60 miles out (Hampton??) and again at 80 miles out (Brothers???) from Burns. We arrived at the the first fuel stop (Hampton?), only to find that is was a gas stop/cafe that happened to be closed on Mondays. We pressed on to the second (Brothers?) only to find that they closed at noon(?). To add to our dismay, it started to rain. We waited an hour or so and decided to press on when it let up. Wet roads led us (on eggshells for fear of running out of fuel) to Bend. We all made it, but just barely. I rode 34 miles AFTER my fuel light came on!! I looked online and found a KOA that had a cabin close to McMinville. We agreed to try it, and I called and reserved a cabin (on Robs card :) ) We fueled up and pressed on over a beautiful mountain pass to come to Sweet Home Oregon. More fuel, as it started getting dark. We rode in conditions that kept getting darker and colder until we arrived at the KOA in Albany Or. Rob and I went for food. I returned with food while Rob found us blankets as I had forgotten that KOA cabins do not provide blankets/pillows.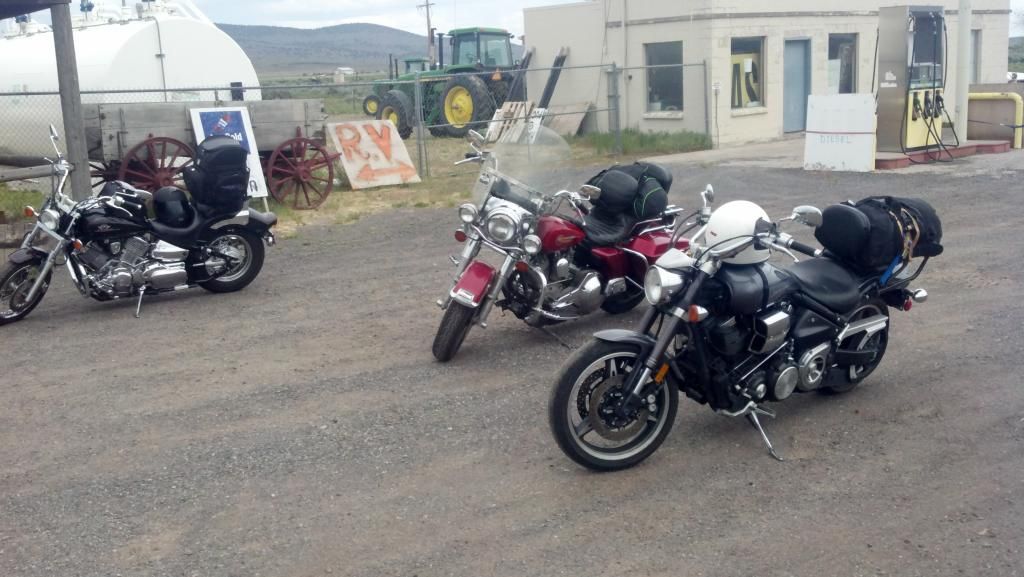 Here we are stopped in Brothers, just before the sky opened up.
There is some pretty country around Bend Or.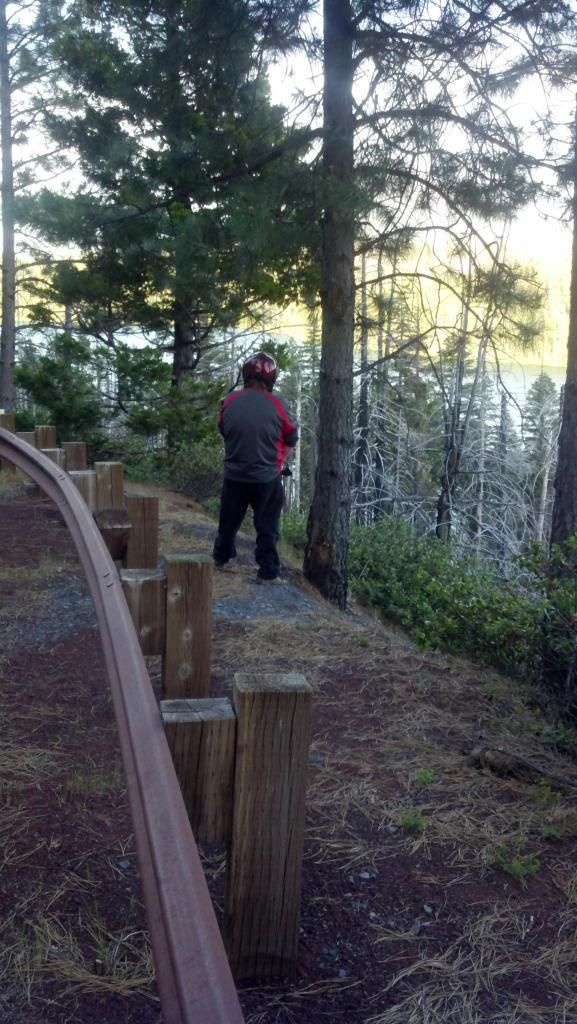 ... when somebody isn't ruining it :)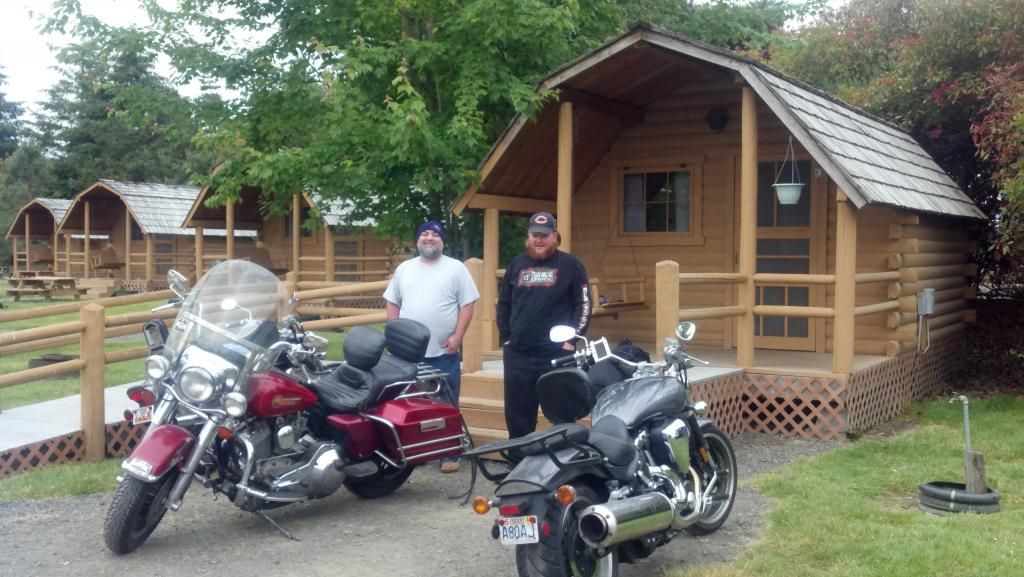 Here is our KOA and the bikes... I think we woke up a few campers coming in so late. Sorry...
Tuesday
C to D (51 miles) was a nice ride from Albany up to McMinville and the Evergreen Museum. We did make a pit stop at the local Autozone for some oil and then to a place to get some food before heading to the Museum. We spent several hours at the Evergreen Museum, seeing some incredible air and space displays including the Spruce Goose!! They have a great SR-71 display as well. The facility is amazing, great people, amazing displays and floors you could eat off of! I highly recommend taking the time to go there if you are ever in the area. I have LOTS of pics in my photobucket if you would like to look.
D to E (67 miles) on the map was our afternoon ride to the coast via another amazing and beautiful mountain pass. We came out of the mountains to be greeted by the ocean in Lincoln City. I believe we actually rode down to Newport and rented a room there for the evening?? We rented a room on the 5th floor of a hotel overlooking the Pacific Ocean. We could hear the waves crashing all night via the sliding glass door we left open. We did visit the beach, and had a good meal that evening as well. Later, we made a trip to the hot tub hoping for some muscle relief, as we were all pretty sore by then. Ham had spent some time at the bar, and I think that influenced his decision to jump from the hot tub to the pool and then to dive to the bottom. On one of his dives, his face had an untimely meeting with the bottom of the pool. This resulted in a decent cut, but he toughed it out. We woke up early the next morning and grabbed breakfast at a restaurant at the hotel and then headed south on the 101!
Bike parked at the hotel.
The view out of our room.
Wednesday
E to F (324 miles) We left Newport(?) and rode down the 101 crossing into California. Along the way we crossed over a large bridge spanning a inlet to a bay. I noticed an interesting train bridge and we stopped just after the bridge so that I could get some pics (and to pee). During our stop a State Police officer whipped around and pulled up behind our parked bikes. He got out, put on his hat and walked up to us. He proceeded to ask us if he could take our picture, so that we would all be in it (along with the bikes). That was cool, and we continued south. Somewhere along the ride at a fuel stop(Eureka??) I noticed my front tire was not looking so good :(. We started to head out of town, but I turned around the caravan to look for a tire. Rob and Ham were good to be patient as I tried several places looking for a tire. Humboldt Motorsports did not have one in stock (neither did the local Yamaha shop), but they were kind enough to source one for me. It was at the Local HD dealership, so we had to backtrack and wait for it to be installed. We hit the road again, stopping in Fortuna(??) for the night. Our room that night was HUGE, as it was the only one left with 3 beds. We ate at a restaurant attached to a bar that was in the parking lot of the motel and then crashed for the night.
Well, we made it this far!!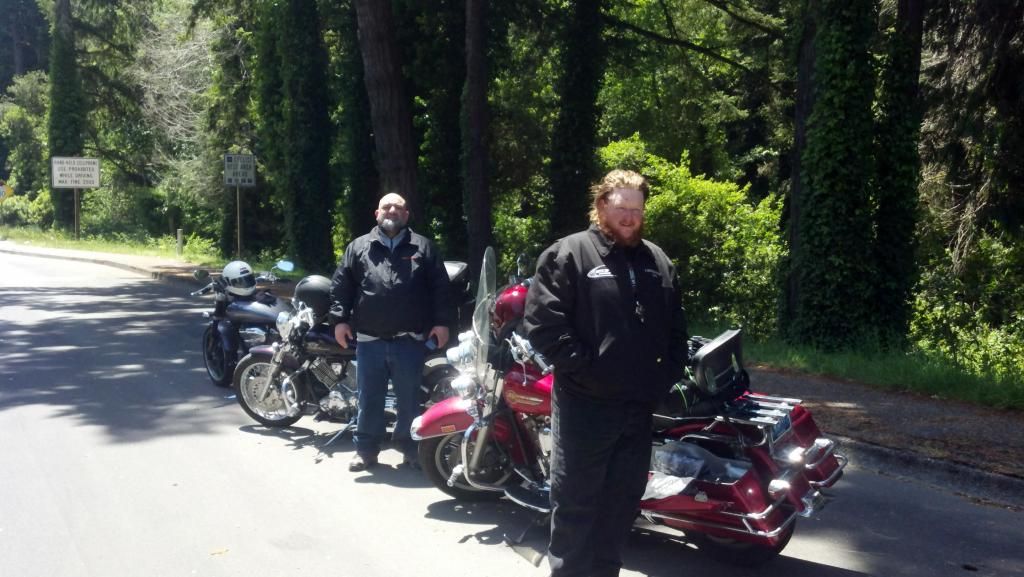 I don't have the picture the officer took (he used Robs camera), but this was the same place.
She is holding up well! I made the backrest and it worked nice! I re-purposed a rack from a 1981 Honda CB900C. Welded on a few brackets and a dash of powder coat and it worked perfectly!
Thursday
F to G (265 miles) We left knowing that we had some miles to cover as it was Thursday and we were due home Friday night! We still wanted to see the Giant Redwoods and agreed to ride through the Avenue of the Giants and then head east. The Avenue of the Giants is a pretty amazing and surreal place. I wish we wouldn't have been so pressed for time, so we could have stopped and investigated more. We did stop and get some pictures of us and the bikes by some large trees (although there were MUCH larger trees along the way) and Rob did try to ride through a hole cut into one of them. We pressed on and fueled in Ukiah. We had to back-track a few miles to catch the 20. We rode through some beautiful mountain roads, along some amazing lakes and were spit out in the central valley just north of Sacramento. We crossed I-5 and decided to make a run for Yuba , despite how late it was and how far we had come. We did know, that however many miles we didn't ride that day, we would have to ride the following day. We made it to Yuba at dusk and pulled into a parking lot to ask the trusty GPS for directions to a place to stay. We found a hotel just down the street and around the corner... most of us made it there the first try ;). Unfortunately, they were booked; but they directed us to another hotel nearby. We arrived there only to find out that there was one room left (apparently it was HS graduation that week). As we were deciding to just stay there or look elsewhere (not enough beds) another vehicle pulled in and rented the room. A quick call to my wife and Robs wife for their keen abilities on a laptop netted us a "place" to stay that was fairly close. This was the "least desirable" place we stayed during our trip, but it was a place to stay. After we checked in (and was checked out but the "guests" on the second floor) we decided to look for food. Even though there was a perfectly good (maybe even better than good) Weinerschnitzle next door, we walked (it was way past dark in a city we didn't know, so no riding) to a Wendy's. We set our alarms for early 'O-clock the next morning.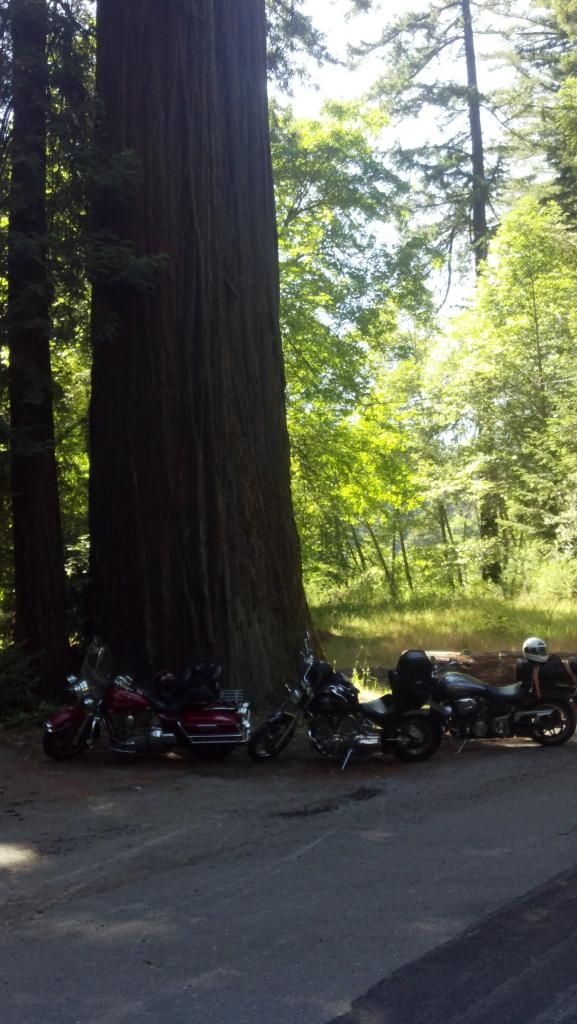 The bikes by a MEDIUM sized redwood tree! There were many that were LOTS larger!!
Ham is not a small man, but the tree sure makes him look tiny!!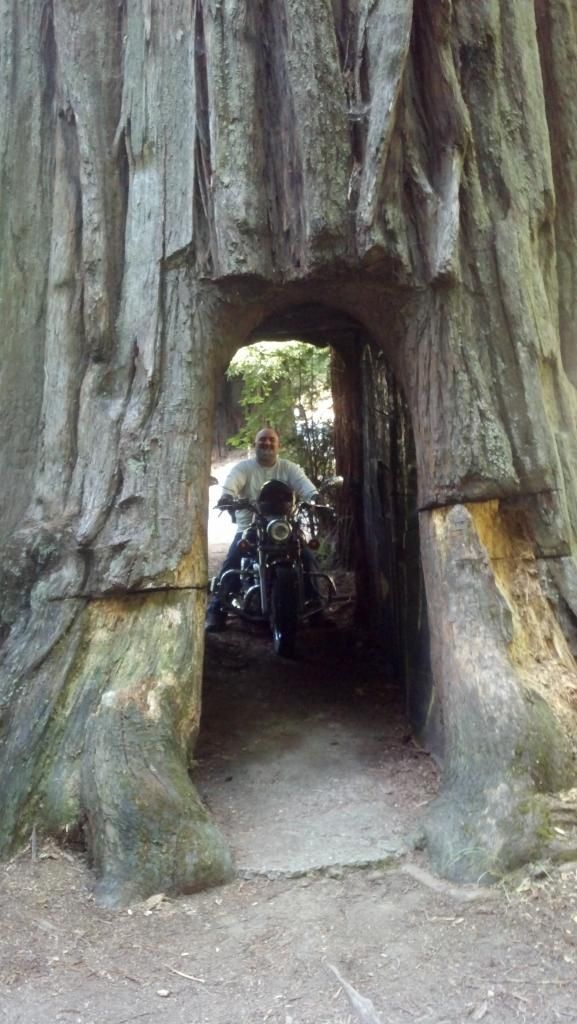 The mirrors and crash bars kept Rob from riding through!
G to H (675 miles) This day was the iron butt day as we rushed to get home. We left Yuba shortly after 7 a.m. heading east. We met up with I-80, and then fueled up in Truckee(??). Our next stop was Reno for some fuel, and then on to Lovelock(??). Next up was Winnemucca for more fuel and some food. Just before the exit, Ham came up to lead the pack and pulled us over on an exit ramp. His shifter had fallen off the shaft, and he was stuck in 5th. A few zip ties later, and he had mended his trusty steed. We ate at a really good BBQ place (The Pig BBQ and Pub), where the food and the service was good. It was also nice to get out of the saddle for a half hour/hour. Back on I-80 eastbound led us to Battle Mountain, Elko, Wells and finally Wendover. Our arrival in Wendover was about 7 p.m., so except for lunch and fuel stops, we had been in the saddle for 12 hours!! But, we could almost see home (it was just beyond the miles of nothing/saltflats). 110 miles later we were in Tooele for more fuel. Almost home. We hit I-80 one last time. Rob led us to the I-215 interchange and south to the I-15 interchange. It was dark by now, and the traffic (remember it was Friday night) was pretty heavy. We managed to (mostly) stay together and take the HOV lane to the Orem center street exit. We pulled into Robs house around 9:30 p.m. We were greeted by Lisa, Robs wife. We thought she had waited outside for us in her burning desire to see us again, but the swamp cooler had died in our absence and it was cooler outside than inside. After some jibber-jabbering, Ham and I headed to my place. We pulled in through the neighbors drive, as our driveway had both vehicles parked in it. As I proceeded to come up onto my concrete, my rear tire slid out on the weeds that had grown up while we were gone. The bike came out from under me (I was not moving forward, so it just tipped over) and I laid there thinking, " REALLY!!!" Ham jumped of his bike and helped me pick up mine. No major damage to me or the bike, but to have traveled 2200+ miles only to tip it in my driveway upon arriving home...
We were safe, and had a BLAST. We encountered some obstacles (fuel, rain, tire issues, small mechanical issues, etc...) but nothing major. We all got to see country we hadn't ever traveled to before (and on a bike to boot!!). We learned about ourselves and our bikes. We got along for the most part (gas issues did get between us a few times ;) (not the petrol type either!!) ).
I can't wait to go again!!
MapQuest says that we did 2200 miles (ham had 180 miles x 2 added on due to his home being in Wyoming). Total "driving" time is calculated to be 38 hours and 15 min, but my butt disagrees!!
You can tour on a Warrior. It takes a strong backside and frequent fuel stops, but it is possible!
We plan on taking another trip this summer. We are looking to head south.. 4 corners/Durango Colorado area.
Thanks for looking, Mike