http://
My Beast of Burden.
I had recently ridden to Austin, Tx from Seattle in three days starting from 4:00am July 25th wed. and arrived late friday 27th. Had great riding conditions, weather, hot and dry but not too hot, and very little traffic, as I was traveling at a little above the speed limit.
My route was I 90 to Yakima, Wa to I 82 to Hermiston, Oregon then picked up I 84 to Boise, Id. Somewhere along the way my clutch started making a horrendous noise when engaged coming to a stop, I figured it was the clutch rod and bearing.
I stopped at
www.bigtwincycles.com
to see if they could help me but when I demonstrated the problem it did'nt make a noise. So I ended up buying a qt of gear oil and a T-shirt. I pressed on to find camping, Stopped at KOA in Twin Falls, sat up camp and then went to an auto parts store to get tools to changee the transmission fluid. A good way to capture oil on the road is a cheep / disposable aluminum pan and a long piece of cardboard, you can change the oil, dump it at the store dump container then throw it away and you're out a couple of bucks. Left KOA early just before sunrise.
http://
]
Pressed on South through Salt Lake City, Ut then went East on St 40, this is where my GPS was taking me, I failed to memorize the map, I wanted to head South to Moab, I trusted my GPS for the fastest way to Texas. If I completely followed my GPS I would have ended up riding through Colorado then to Kansas then South to Texas. I wised up a little and got off St 40 at Craig, Co and headed South to Rifle, the Gun Lovers of America, I'm one, will Love Rifle, Co. all the streets and buildings are named after gun names and the like. Cool. I got on I 70 and headed toward Denver. I 70 is a fun ride through the canyon heading toward Vail, It reminds me of I 90 through Idaho/Montana. Nice twisties. I then stopped at a hotel outside of Denver as it was getting real late, like Dark. Riding at night sucks when your tired and not sure if your bike is ok. I blazed through Denver heading south on I 25 through New Mexico, I then go on to St 84 at Las Vegas, NM and stayed on that pretty much all the way to Austin, in the Dark again. Watchout for deer, I rode past a couple fresh hits in the middle of the road. This a brief discription of my ride. There are lots of things to see on the way that I didn't get to see, like Route 66, Roswell and Carlsbad caverns just to name a few. Beautiful land between here and there, "It does'nt matter where Here is or where There is." There's a Lot of Great things to see, I'm glad I did this ride unfortunately I had to ship my bike back home and fly back.
http://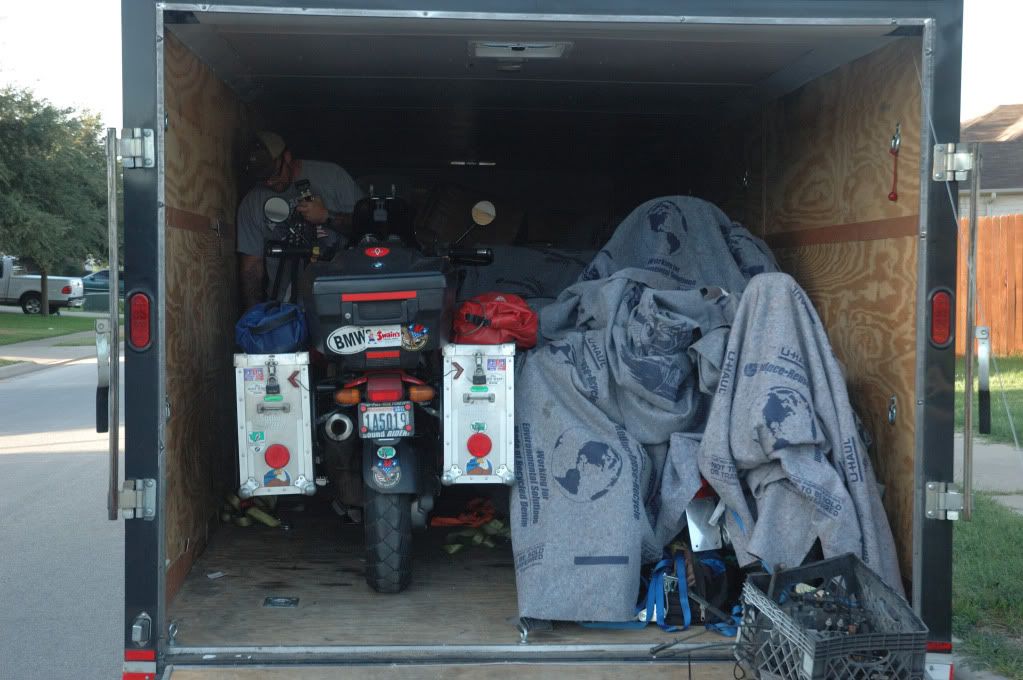 ]
__________________
Do you know how this bike came into being? It was a very nice R1100GS once. Taken by the dark powers; torchured and mutilated, by me.
A ruined and terrible form of life, and now perfected. This is my Fighting Uruk-Hai!"
!!!! If You Can't Modify, Hack or Repair It, You Don't Own It !!!!
http://www.scottsmtnco.webs.com/