Over the last few months, the American market has been thrown a curveball with the news about Held USA closing its doors. I'm crossing my fingers this gets sorted sooner rather than later, but in the meantime we (RevZilla) will be sourcing and supporting their staples in the U.S. ('merica).
2014 Held Collection
We're currently in the process of shooting video for each product and I will post them as soon as they're available.
For now, a few thoughts on my three favorite pieces, the Race-Tex, Air Stream 2, and Cold Champ gloves. More to come as I have more chances to spend time / ride with it.
As always, Held questions / comments welcome.
Held Race-Tex Gloves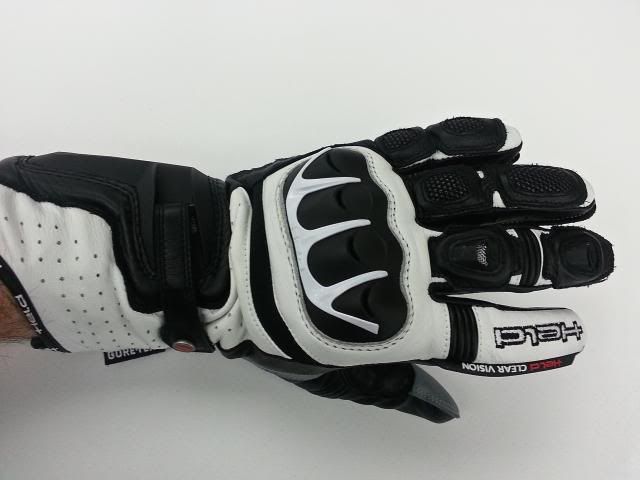 The Race-Tex gloves are my favorite out of the entire collection. They closely resemble the Air N Dry gloves, but don't have quite as much perforation (mainly on the palms). I'd wear these on my KLR for three seasons (Spring, Summer, Fall) of the year, then hunker down in the winter because I am too much of a wimp to ride below freezing. I would also wear these as trackday gloves on my ZX6R. Held designed the back halves of these gloves very well, in my opinion. The gauntlets go over the cuffs of my track suit, no problem. I expected that. However, I was concerned that the hard protection would get caught on internal liners or seams when worn underneath sleeves. I've worn these gloves while trying on the Klim Badlands Pro, Rukka Armas, and Rev'It Poseidon jackets. The sleeves were worn over the gauntlets. I didn't experience any "hang-ups" in the riding position, twisting the throttle, or fiddling around on the bike. My OCD was happy with the results.
Held Air Stream 2 Gloves
The Air Stream II gloves are a hybrid between my REVIT! Dirt gloves and the Held EVO Thrux gloves. Their ventilation properties and gauntlets remind me of my Dirt gloves, while their overall design, level of protection and feel, bring me back to the EVO Thrux. They were clearly designed to maximize ventilation and it's shown with the amount of perforation throughout. It's not easy trusting all-leather gloves to provide sufficient levels of ventilation, especially here in the North East, but they're some of the best all-leather summer gloves I've seen. Their gauntlets remind me of more robust versions of my Dirt gloves because they're mid-cuff and don't flare past the wrists. When tightened at the wrists, they run true against the arms. One of my favorite features of the gauntlets is their low profile hard plastic wrist bone protectors that are covered nicely with double stitched leather panels. In my opinion, from the wrists to the fingertips, the Air Stream 2s are the EVO Thrux gloves with additional perforation. If you stand back and look at them side by side, it's pretty clear. Held incorporated the same knuckle sliders, kangaroo palms, SuperFabric palm siders, and most of the seems even line up. I guess they went with the 'ol, "If it ain't broke, don't fix it" approach.
Held Cold Champ Gloves
The Cold Champs are my third pick for a few reasons. I become easily distracted, and in some cases aggravated, when I have to deal with bulky / bunched-up liners. X-Trafit's bonded liner technology has been my saving grace for gloves. It just works. The Cold Champ gloves also provide decent feedback from the controls (above average). Keep in mind, I've never received GREAT feedback from any winter gloves. It's the nature of the beast. They're a nice candidate for riders with heated grips because their insulation is thin on the bottom and "beefed-up" on top. I have the Klim Caldera gloves, which I like very much, but I'm having trouble deciding between the two. The Calderas are great overall, but a hair too wide for my paws. The Cold Champs have a much better fit.
I'm happy to answer questions if you'd like to dig deeper.
For the time being, we'll settle for these 12 new (to U.S.) products from Held and continue to be envious of those Europeans with access to their entire catalogue
.
Ride safely,
-Hi-Viz Brian