Also posted in Hacks.
Easter Sunday and the promise of a day without liquid-sunshine in the Pacific North-West. First order of business is to don the paternal Easter-Bunny hat and make a delivery to a very anxious 7-year-old: chocolate eggs notwithstanding, the arrival of bear-in-the-chair certainly brought some internal sunshine to this particular hack pilot and his chair-monkey.
Thus followed the obligatory neighborhood show-and-smile ride, which morphed into a quick tour of the surrounding countryside before heading back to the homestead to pack a picnic.
I love how quickly a Sunday Honey-do list can transform into a map-quest hunt for adventure...mmmm, We narrow down our selection based on some simple yet enduring criteria: Limit Freeway riding, find a place that is interesting, educational and far from the madding crowd.
This looks like it might be interesting enough to hold the attention of a curious little fellow:
http://www.reifelbirdsanctuary.com
After a family discussion, it's quickly decided upon to head North for the day; so it's all aboard and we are very soon heading up the Pacific coast, across the border and turning West (!) towards the Tsawwassen ferry terminal.
Taking the last exit from Hwy 17 leads through the Tsawwassen Indian Reservation and onwards towards the market town of Ladner. A picturesque 2 lane backroad (41) winds it's way through farms and vineyards before making a left turn towards our destination for the day.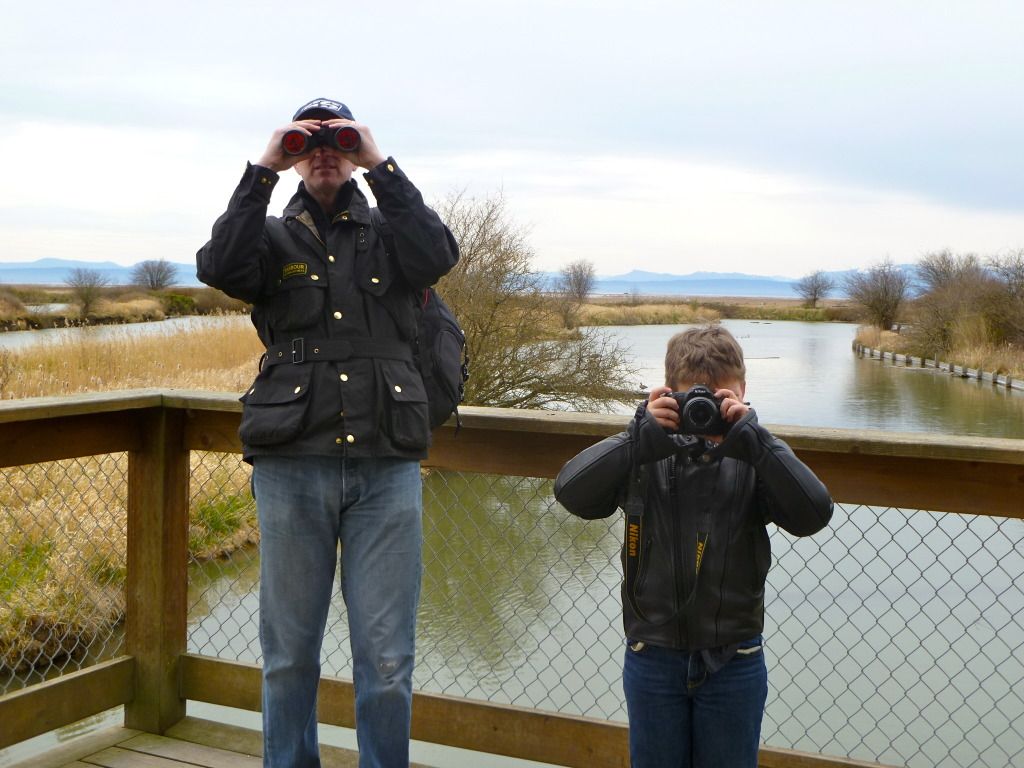 The Reifel Migratory Bird Sanctuary is situated on Westham Island, just west of Ladner in Delta, B.C. A rural remnant of the once vast Fraser estuary marshes, the sanctuary is comprised of 850 acres of managed habitat and estuarine marsh, preserving it as an area of crucial importance to the countless thousands of migratory birds which twice annually travel their age-old path along North America's Pacific flyway.
Many thousands of these birds land at the Reifel Migratory Bird Sanctuary to rest and feed, while others spend the whole winter in its protected habitat.
Others still, are year-round residents, and may be observed nesting and rearing their young in late spring and summer. In all, over 268 species of birds have been sighted at the sanctuary, from the plentiful Mallard Duck and Canada Goose to the uncommon Black-crowned Night Heron and Gyrfalcon, to the extremely popular Snow Geese.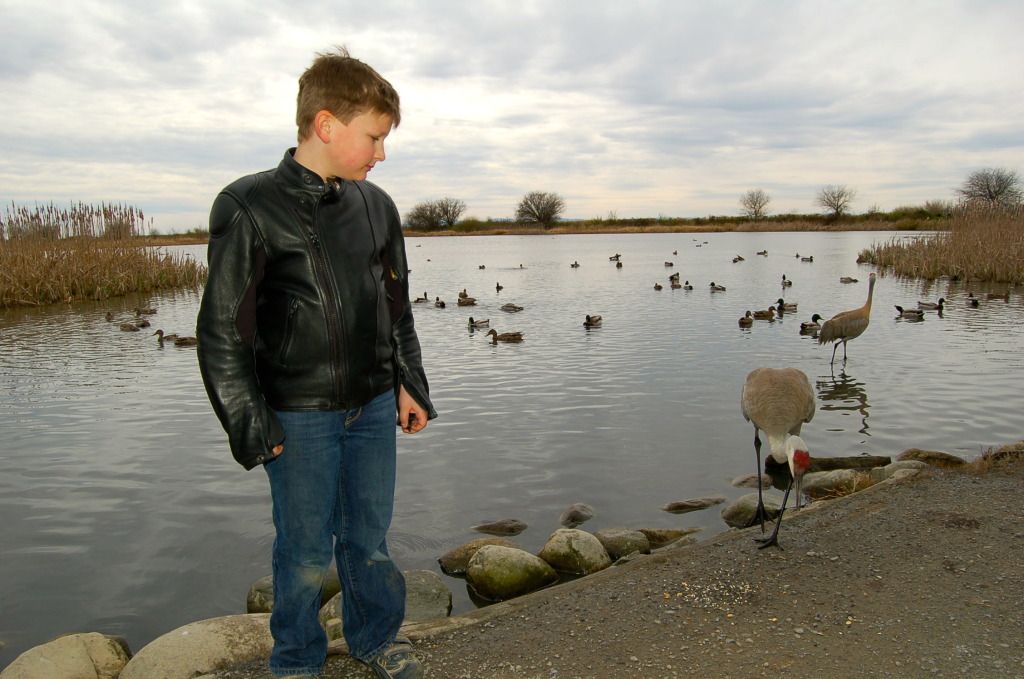 Given how spacious the sanctuary is, avoiding the small crowds (usually with younger kids) mingling at the entrance is a relatively short trail walk and is quickly rewarded with an unimpeded view of some spectacular scenery.
The visit was over all to quickly, but we left feeling rewarded at having 'discovered' a new family favorite destination, and the annual membership fee of $50 will more than see it's value realized this summer, I'm sure!
Photo ops were bountiful, but I felt compelled to explore a dirt track on the way back, with the promise of a disused barn and a backdrop of Mount Baker to die for.
And this is when the day went from being a scenic jaunt up the coast, to an unexpected adventure in the form of complete battery failure....
(Every picture tells a story):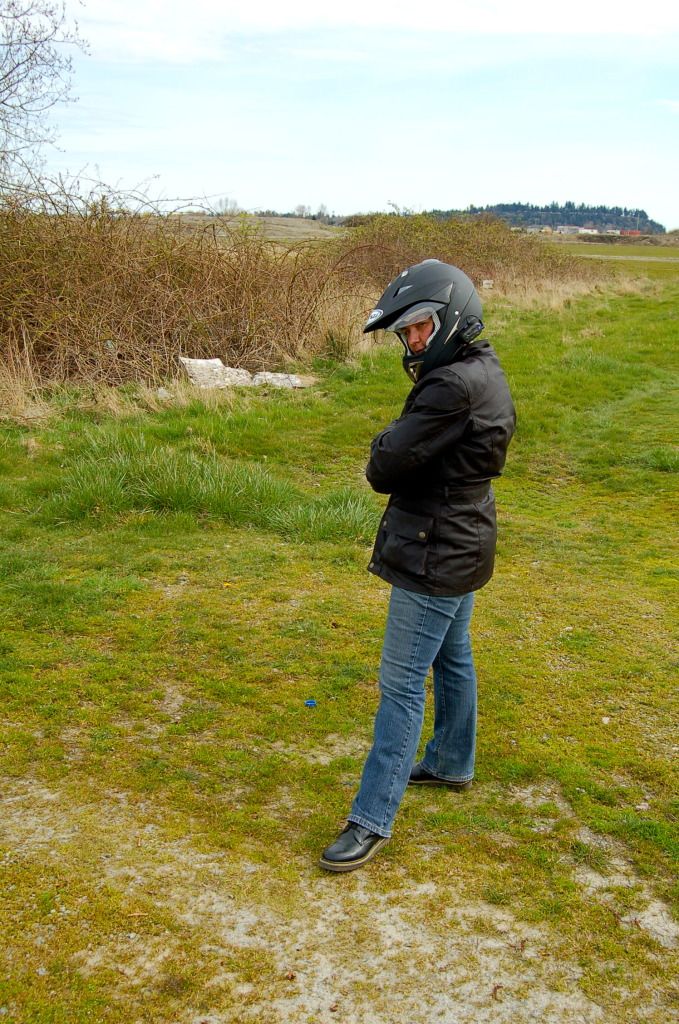 Here you see a much maligned "pusher", I will spare the nuances of the trip back along the dirt track, bearing in mind that this is a family-friendly outing. Regaining our footing on the (blessed) blacktop once again, the push back to civilization began in earnest.
Cell phone for help? Too easy: No signal.
We were passed by one car, then another, even a couple of motorcycles: not only did no-one stop, but we were barely afforded a second glance by one snooty cage. Not even a "everything OK" inquiry?
The "pusher's" tread was wearing thin.
With the Reservation in sight, our samaritan arrived in the form of Stu, plodding up the highway towards us with a gas can swinging nonchalantly at his side. He had seen us coming down the highway and figured we were out of juice, however after hearing of the demise of our battery he returned with truck, jumper-cables and a renewed sense of hope that we could still make it home for supper. After the rig roared back to life (an exaggeration, but at the time it felt like a roar!), Stu insisted that we take his jumper-cables because he wanted us to make it home safely.
As we sat on our deck and watched the sun setting on the distant Cascade mountain range later that evening, we remarked that of all the things we accomplished today; our faith in people was reaffirmed by an unassuming fellow named Stu on a lonely back-road in BC.
Happy Easter.