Want to take a ride to New Orleans in October? That was the question asked to me by my friend Bill in August.
Getting time off my job as a project manager is tough and he gave me plenty of time to do it. Honestly, I was more concerned that my wife would kind of balk at me being gone a week- but she said GO FOR IT! Wow - This was really gonna happen.
Cue the planning music - What to pack? where to stay? which routes to take? what about weather? - all those things came to mind.
Now the thing about traveling with Bill and his "crew" is they like to cover ground and they like to follow someone - especially in cities. Maybe that's why he asked me?
Here's Bill - 68 Years old and with a brand new Goldwing California Side Car Trike - less than 100 miles on take off. He sold his 2012 Road Glide to get the trike as he felt more safe on 3 wheels. This will be fun!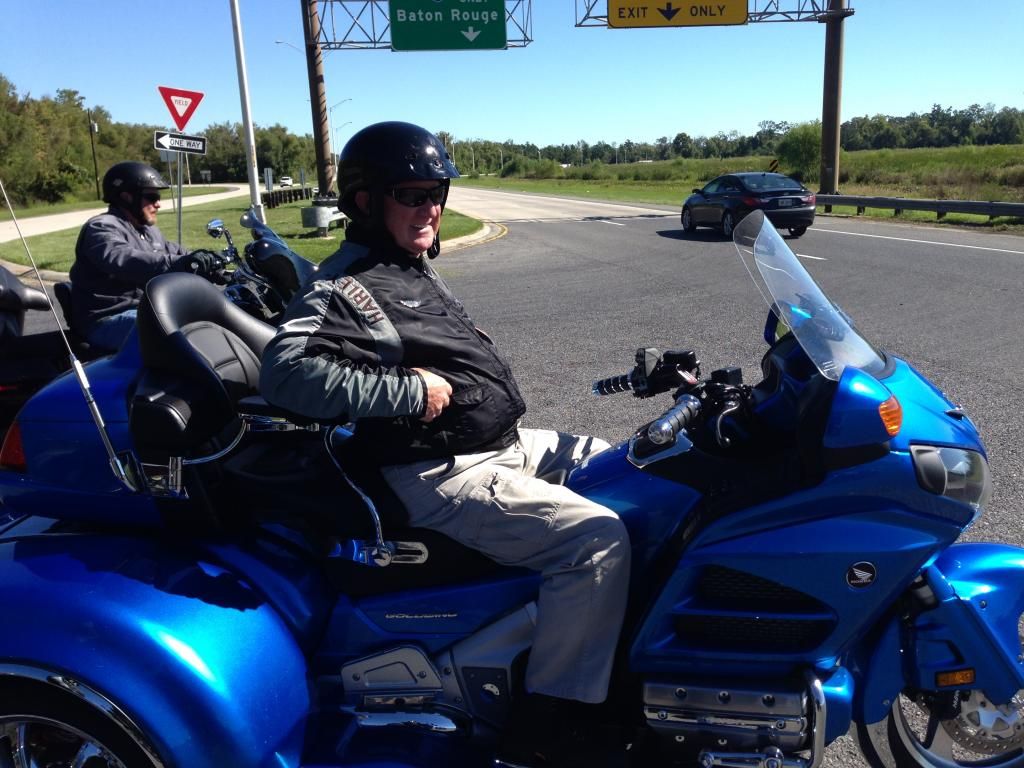 A little background on me also. I had just traded my 06 FZ1 which I only owned since April and was gonna cost me my license or worse for this 09 Versys and had about 100 miles of seat time on it.
Bills Harley and My FZ1.
I scrambled to find some soft luggage and bought an Airhawk. Both of which worked flawlessly. Changed the chain and both sprockets as the originals had 20k on them and didn't want to take a chance on them.
I like to trade bikes and have always liked to stay with Liter bikes or the like but thought this Versys was different and I said - What the Heck - Lets do it.
You know that feeling of planning something and then just waiting on that day to get here? Well I had that feeling for about a month. Pure torture.
Almost down to the day to leave and what happens? A TROPICAL STORM HEADED TOWARDS THE GULF? What? Didn't I just spend a month preparing?
We talked it over and decided that we were leaving Saturday - Tropical Storm or not. Turned out to be a great decision.
Day 1 - Abingdon VA to Birmingham AL -
We left around 10:00 AM on Saturday 10/5/13. Not in a hurry but not wanting to take all day. First destination - Barber Motorsports Museum!
Here's me packed and ready to leave -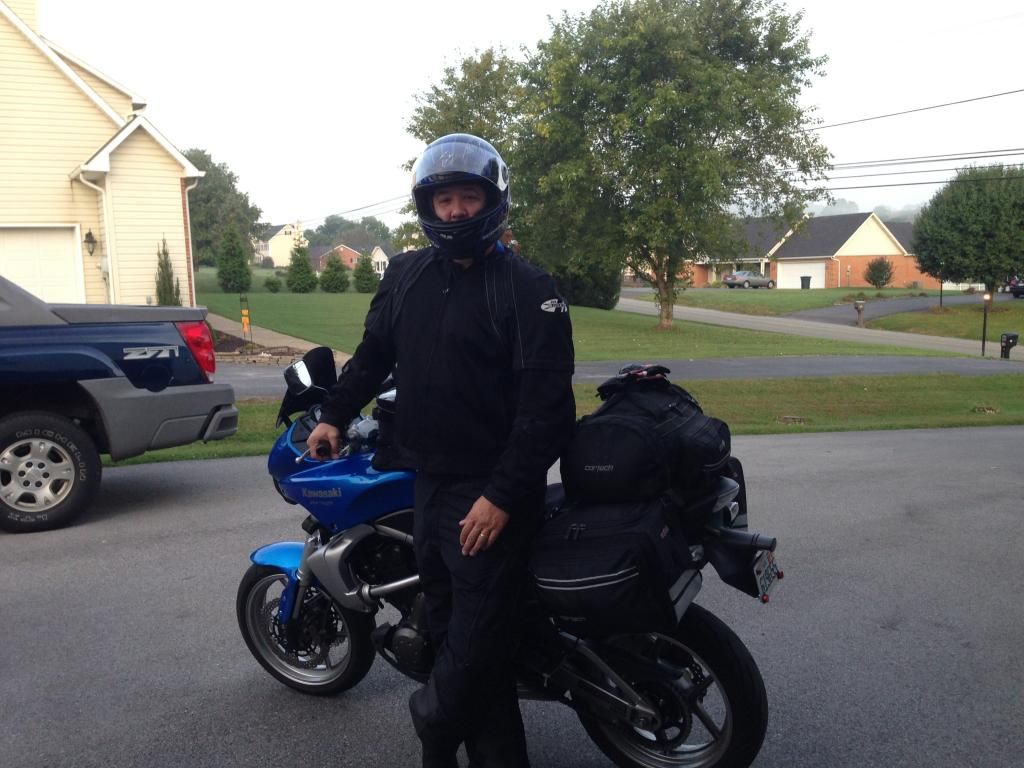 We meet at Bill's place to pick up our other two. Bill's son and his Brother in Law. Great guys and an absolute riot to talk to.
As with any trip with Bill- Hardee's breakfast is a must. Doesn't hurt my feelings so we head out toward Knoxville with biscuits on our mind.
No drama on this day - All slab riding - as will most of this trip - but I have my headphones in and its a beautiful morning. What storm?
Made it to the Alabama Welcome Center to realize that the time changed on us. That's great. The museum closes at 6 and its only 3 now! Woo hoo! We only have about 45 minutes to get there. Lets go boys!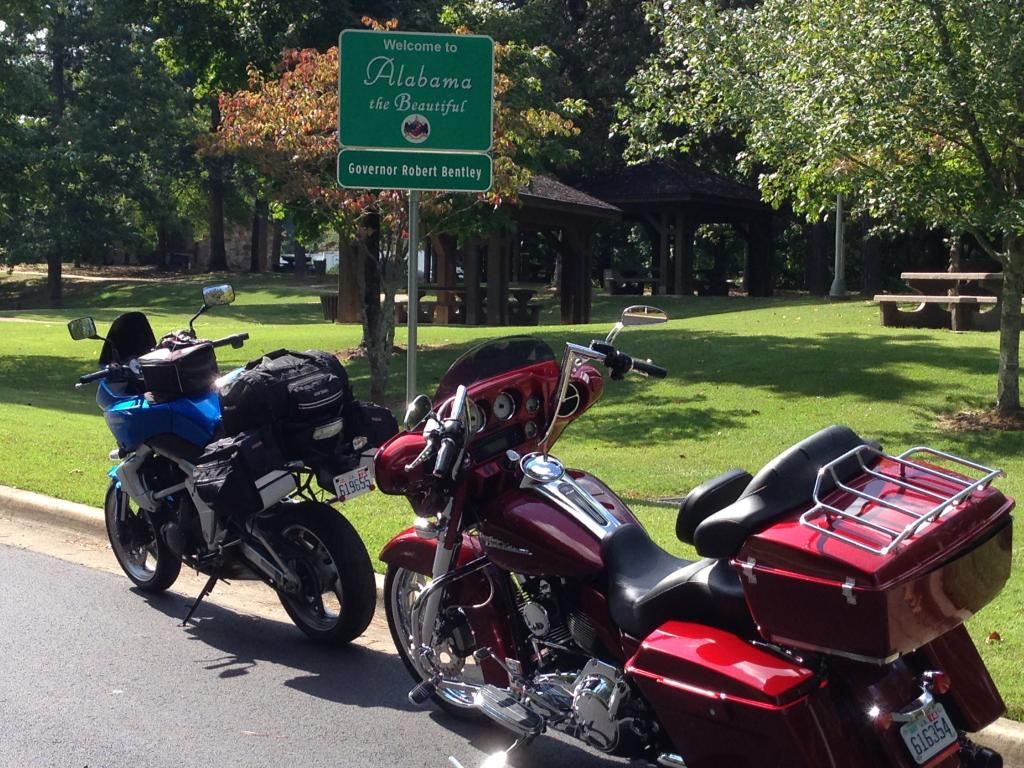 Stop smiling Richard and lets go!
Made it to the Museum around 4 Central Time. Whooo! We will have two hours to look around. That should be good.
Pay for my ticket and the lady says - We close at 5 beginning October 1 so you only have an hour? What ? This sucks. Oh well, we took a speed tour through the museum and saw some great bikes. Wish I would have taken more pictures, but time just wouldn't allow. Will definitely have to make a return trip.
Vincent Black Shadow !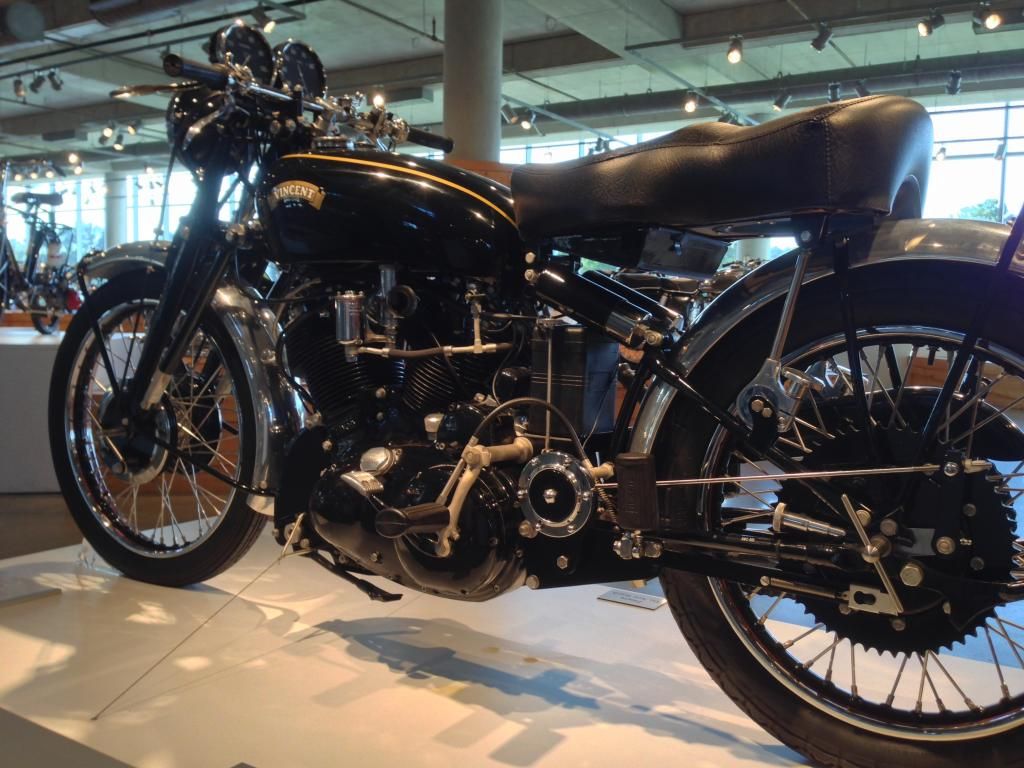 Cars on Track !
Ok. We got kicked out of the museum promptly at 5. We head east to ride till we get tired and find a place to stay.
Made it around/ through Birmingham - Barely. Had a hubcap come off a car in front of us and buzzed the tower so to speak. Ok. Let's stop.
Found a nice hotel and meal and settled in for the night.
Day 2.
Birmingham to Jackson MS.
Woke up early and went on a search of a Hardee's. found one in a not so welcoming part of town and quickly had our biscuit and headed out.
By the way - The Versys does great on the Interstate - it just gets blown around a bit by the trucks. All in all - great little bike so far.
Make it to Tuscaloosa Alabama. I love college campuses and made it a must to stop by Alabama's campus. I mean we were right there and I aint coming back anytime soon.
They wouldn't let us in the football stadium to take pictures so here is the one good picture I have of the campus. Look at those clouds!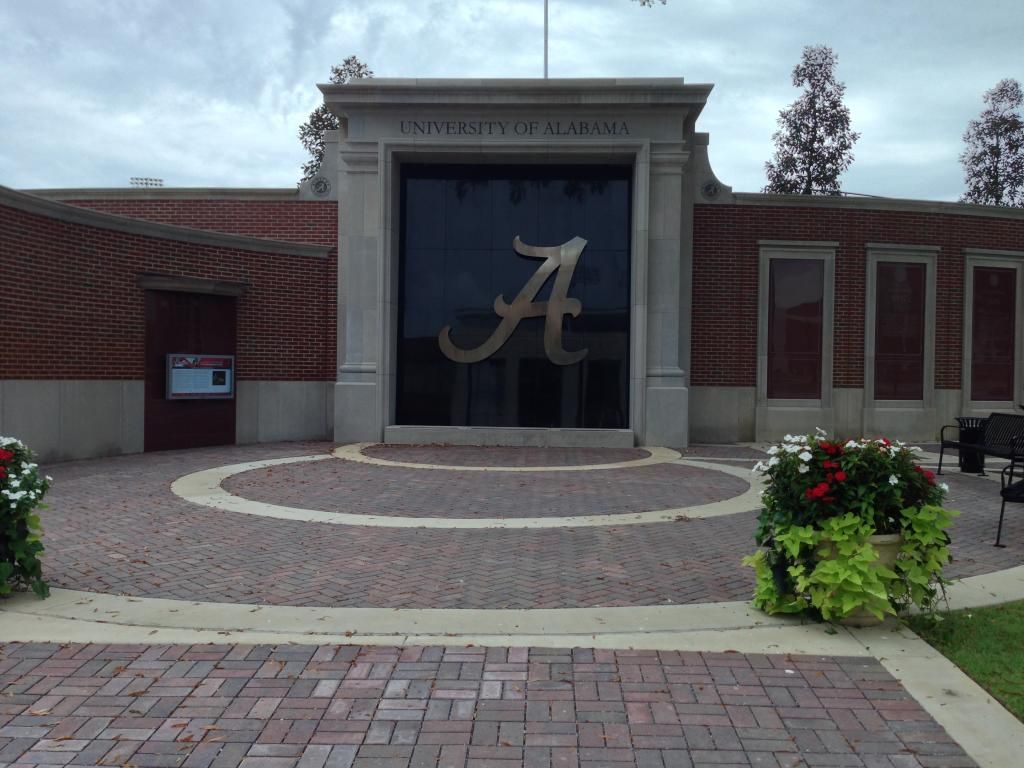 Leave town and head out after a stop at Krispy Kreme donuts. As soon as we left there we run into the rain. I mean hard rain! Found some shelter at a Sonic restaurant. Gave the people working at the Sonic a few donuts and we were able to hang there as long as we like. Even used their electricity to charge up my phone!
Waited about 3 hours on this tropical storm to pass and finally a break. Didn't make it far before more rain. This will be the theme of the day.
Mandatory Mississippi welcome center shot.
Finally make it to Jackson MS with a dead phone and wet gear. Its funny how cold 60 degrees can feel when you are soaking wet.
Another good meal and a night's rest.
Day 3 - Jackson MS to West Monroe LA -
When we started this trip we all decided that we would each pick a destination go to it.
Richard picked West Monroe LA - Duck Dynasty headquarters!
Now, mind you, I grew up in WV and some of my extended family make these folks look like rocket scientists! Especially my wife's family but that's another story.
We make it to Louisiana - My first time across the Mississippi River on the ground -
Duck Dynasty - Quite crowded for a weekday morning in October I thought.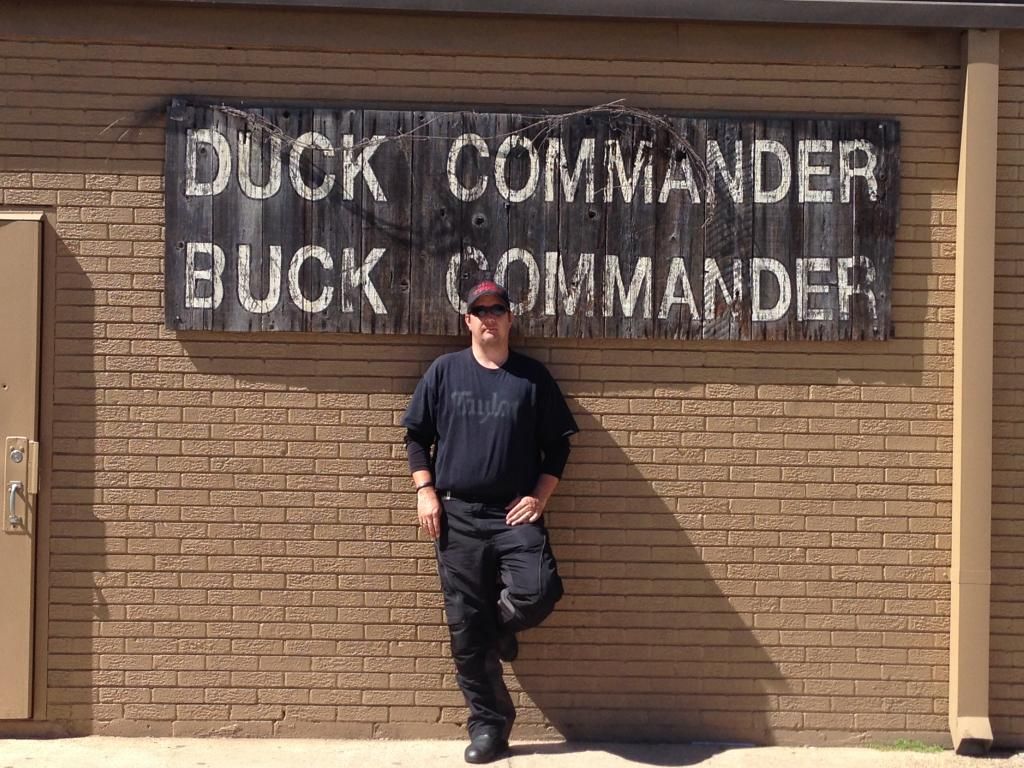 One thing about Louisiana is that it is HOT!
All the gear all the time is something my riding pals on this trip can't comprehend. Oh well. As you know, as long as we are moving, I am perfectly comfortable.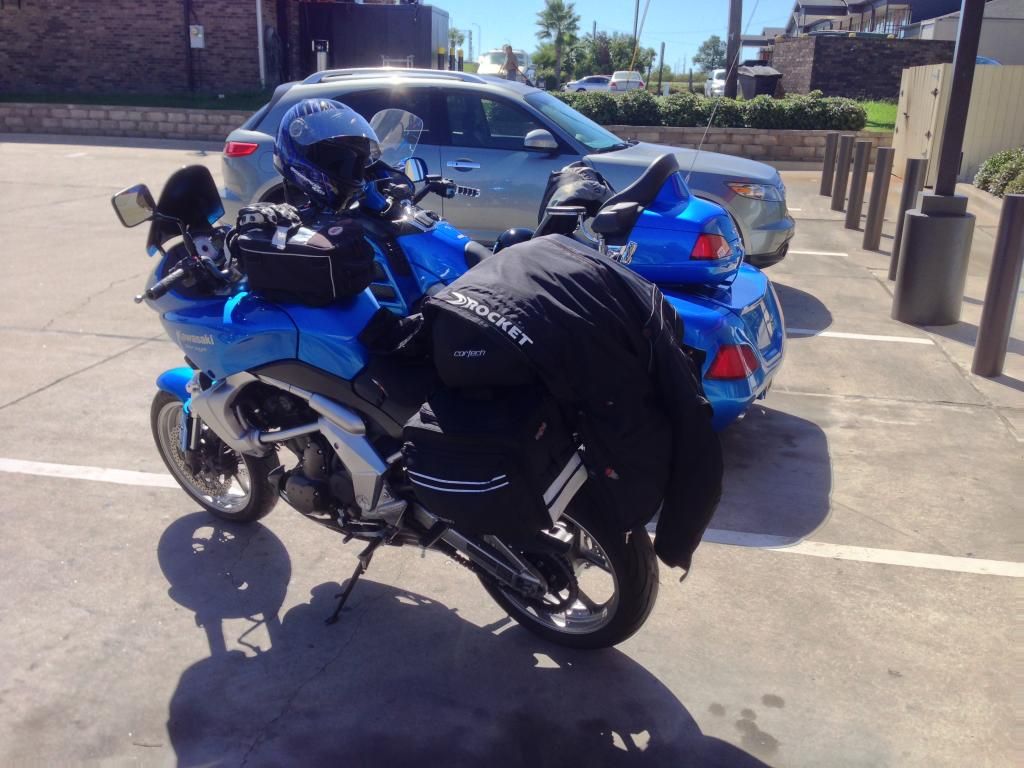 Stop for a break and a drink. Much needed.
Ok. So we see Duck Dynasty and No Si sighting. Oh well. I aint heart broke over it.
Next stop - Harley shop? Huh? Yep. Seems as though Richard wants to have his Ipod get hooked up through his stereo. Ok. I dont care. I am on vacation. Go in the shop and get a quote for the work....... $750.00 !
Now I think I can buy alot of nice earbuds for that price and after a little thought, Richard comes to his senses and passes on the work. Of course, he had to buy a T Shirt. I wont pick on him too much......
Day 4- Lets head to New Orleans!
More slab towards the Big Easy.
Made it through rush hour traffic and listened to the GPS in my ears tell me which way to Bourbon St. I was shocked at how small the streets are in that area and how rough they are! I hit one pot hole, that I think I am still feeling almost a month later. After that, I was pretty much standing and riding in those little tight streets.
Now, finding a place to park in NO is no easy task, especially for four bikes with out of state tags. Safety was a concern according to everyone we talked to and I could see why. As we pull into the parking lot area, a man approaches me and tells me that we should park the bikes in a certain aisle as he is also a rider and will watch out for them? Well that is weird? Either he's a great guy or we are walking home....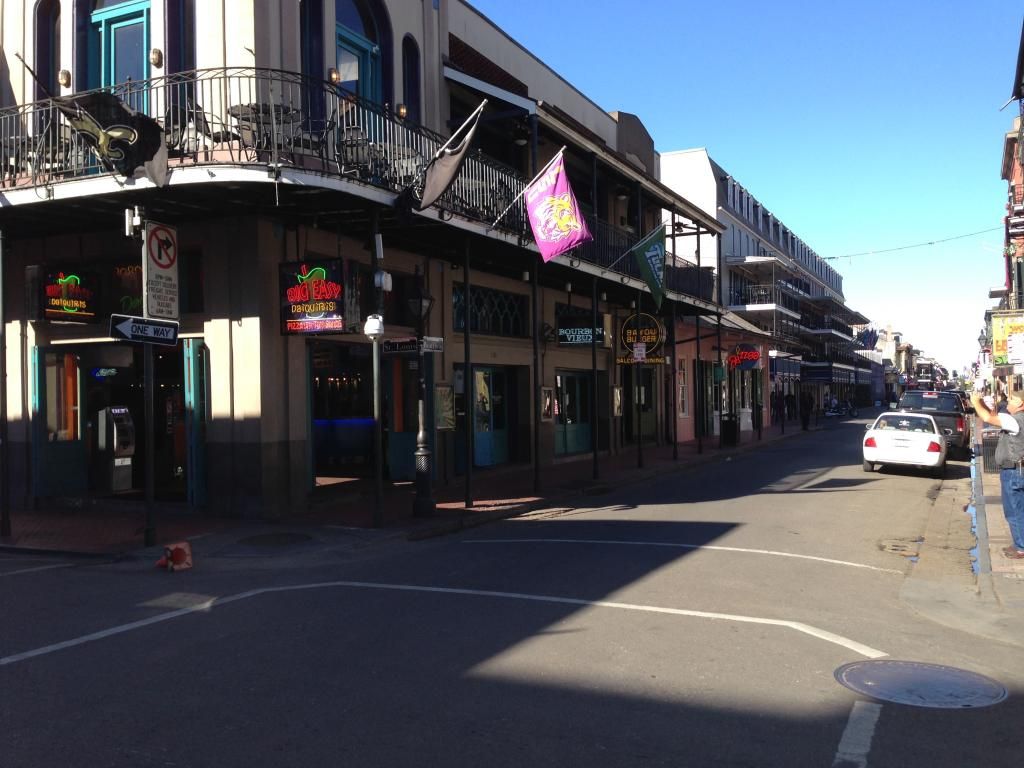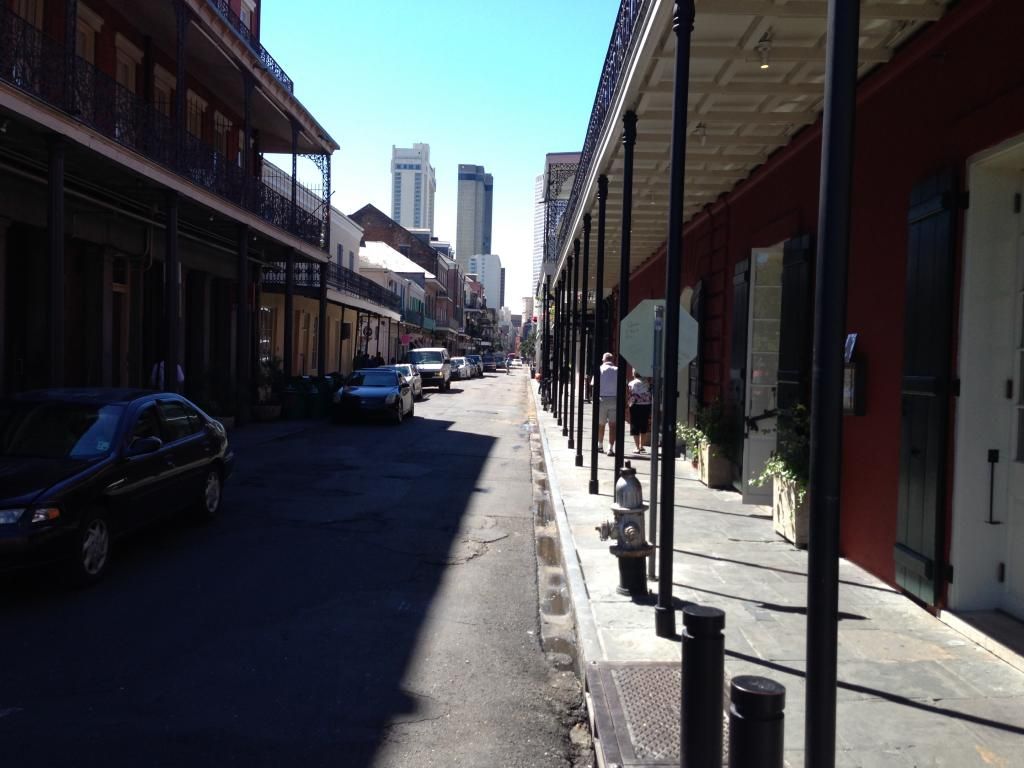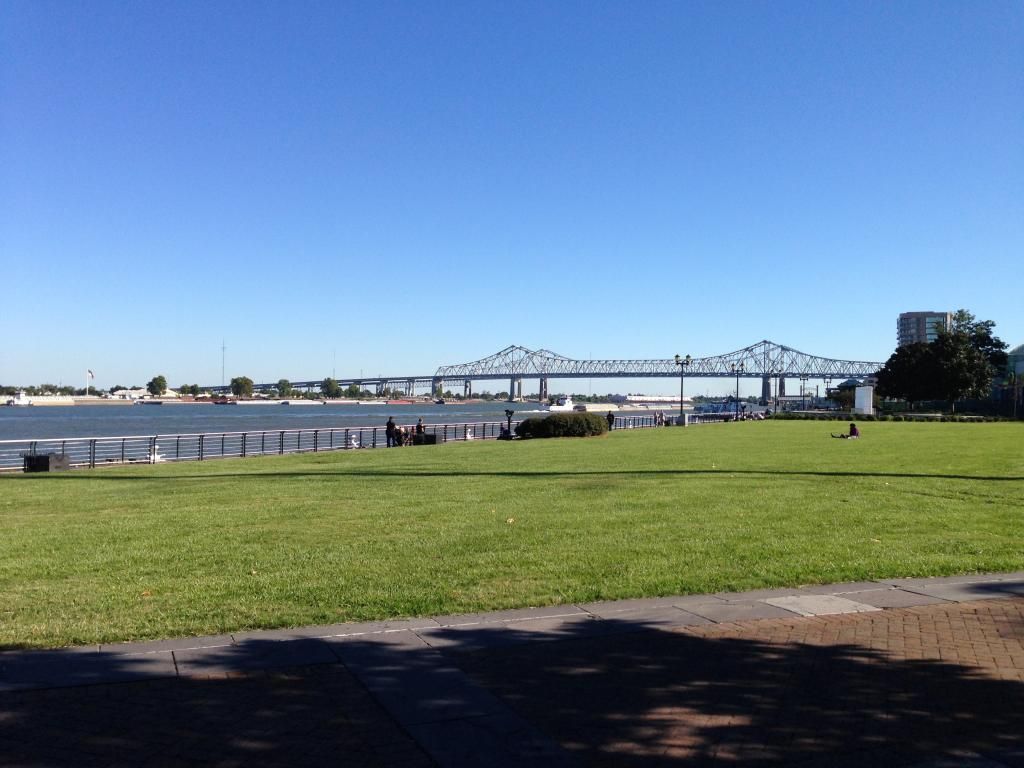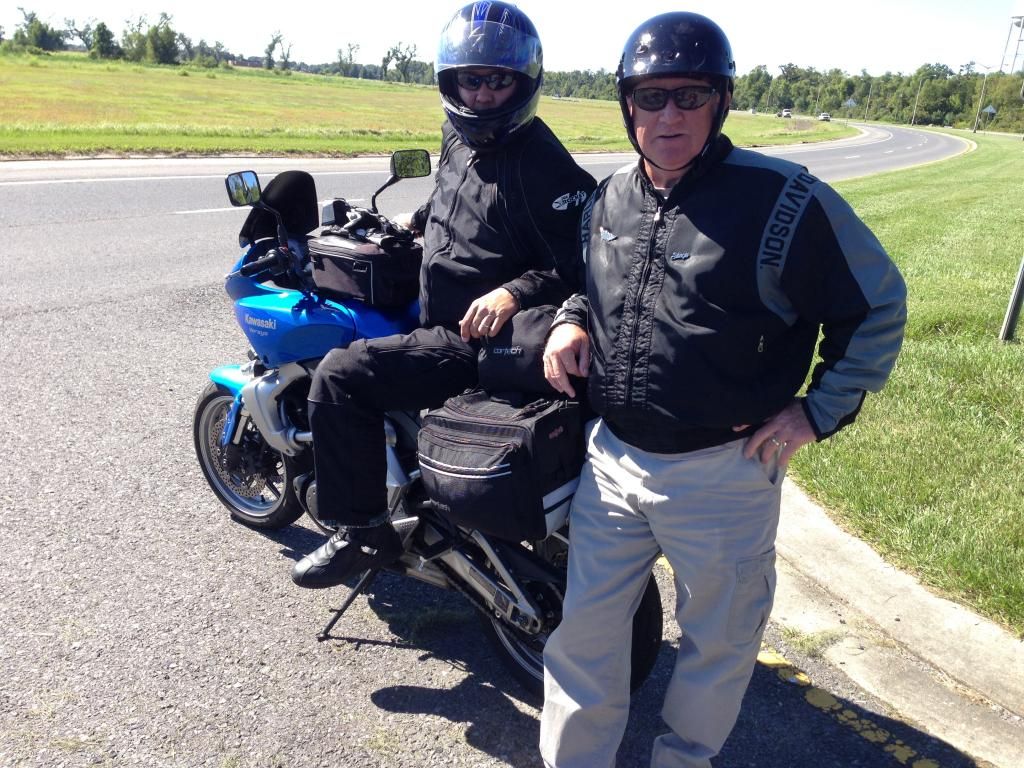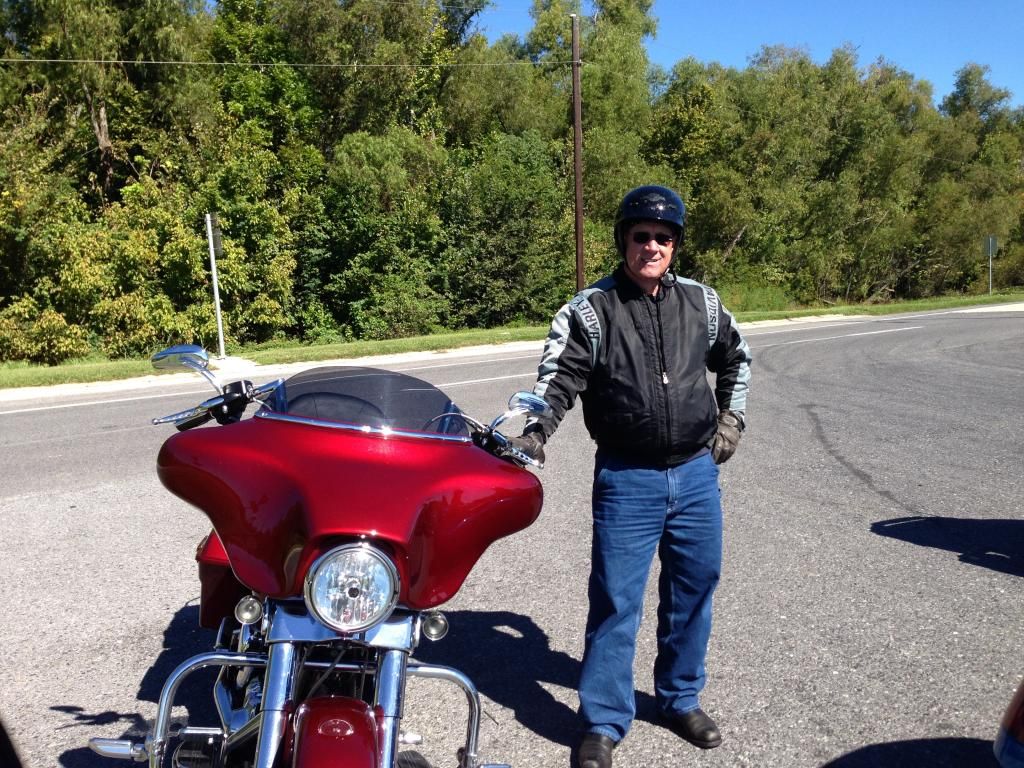 We stay in New Orleans most of the day. Including taking a bus tour of the city which was cool and I actually slept through part of it.
The whole day I have my fingers crossed to go back to the bikes and make sure we all have a ride. We get back and all is safe! What a nice guy. I was sorry to have doubted him to start! I apologize random New Orleans rider wherever you are!
Lets get out of here! We head North out of NO - leaving around 4 pm local time.
Make it to some small town and decide that we will continue on for another hour or so in the dark.
Here is a picture of my helmet after about 45 minutes at 80 MPH in the Louisiana backwoods!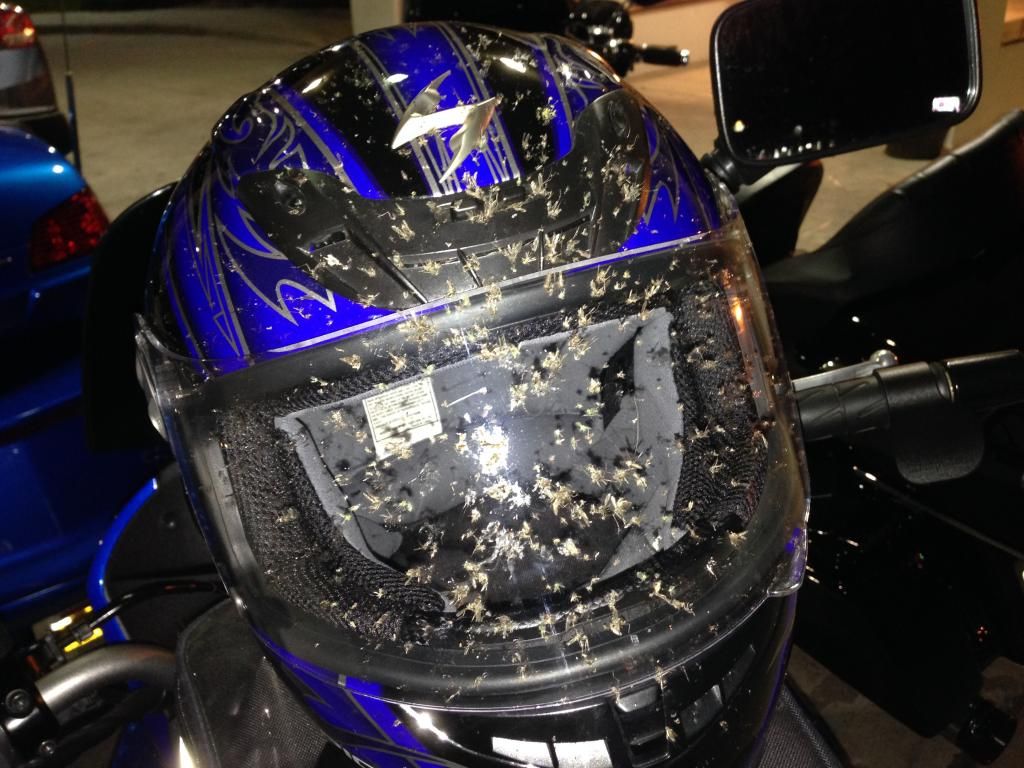 Richard's bike -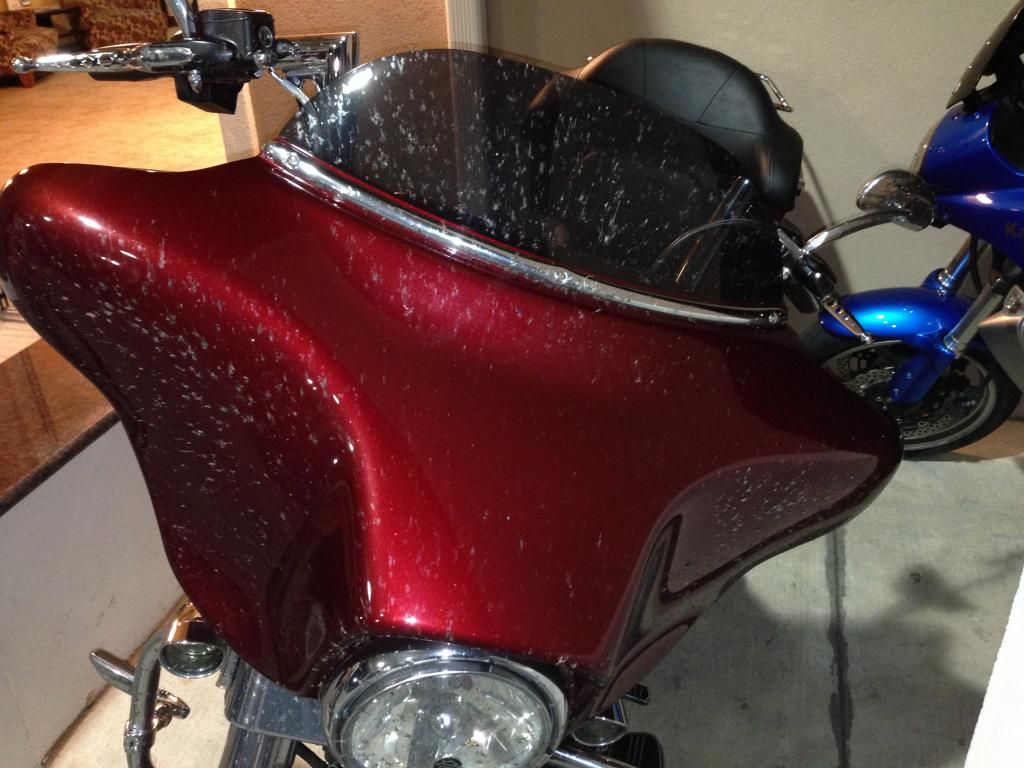 I was laughing the entire time at just the sheer amount of bugs! Decided to stop and rest for the night.
Day 5 - Mobile AL to Tallahassee FL -
This is going to be my favorite part of the ride! Riding along the Gulf Coast - I had never seen the Gulf of Mexico before - for an entire day!
The ride itself was quite straight and I had envisioned a winding road kind of like you see in California near the ocean. Well No. Pretty much straight roads and alot of small beach towns and red lights.
Stopped for a while in Navarre Beach Florida to take in the view.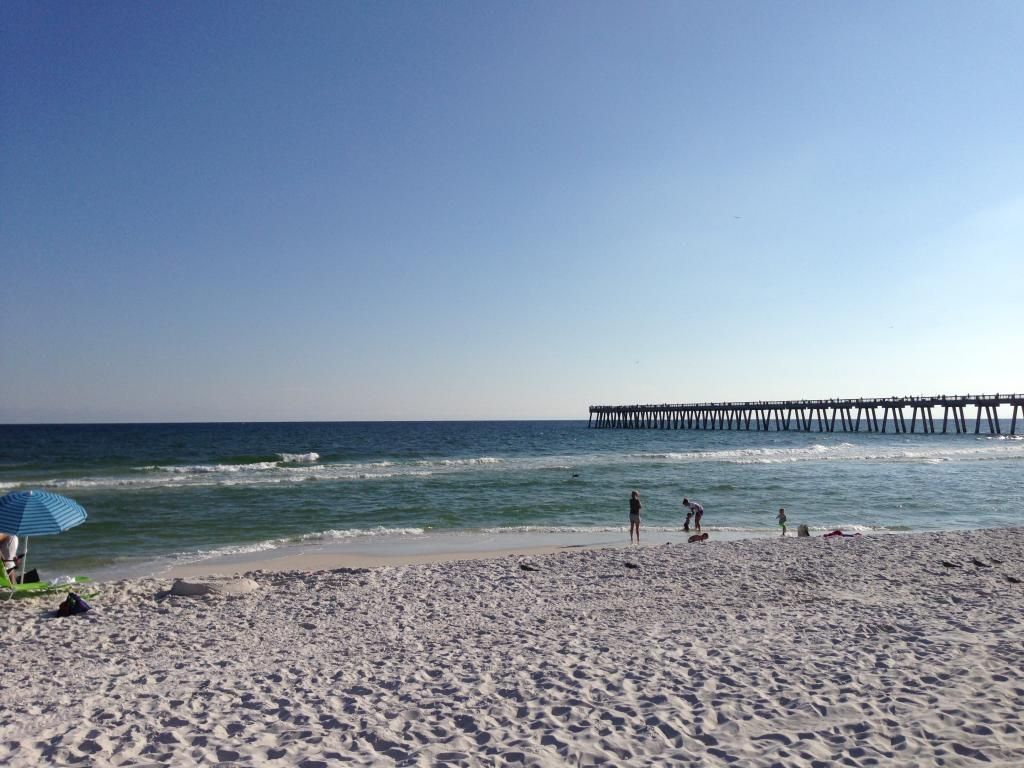 The gulf coast is beautiful. We made it through Destin and Panama City and stopped. At this point, I was tired and didn't feel like leading anymore. It kind of drains you worrying about 3 other bikes behind you and getting through stop lights, etc.
I asked Bill's son Shannon to lead for a while. He said ok and we headed East. About an hour later we realized that he missed a turn to go towards Tallahassee and we were in the middle of nowhere. I saw plenty of the gulf only it was dark and the water was as black as night, but still looked beautiful.
Ended up stopping in a town called Port St. Joe for the night at the only hotel in town. Dinner was a hot pocket out of the Hotel freezer and an assortment of vending machine snacks.
Day 6 - Port St. Joe to somewhere north towards Virginia.
I slept in and finally got moving around 9:30 AM- Hey I am on vacation.
We head North through the Florida country side towards some small town where Richard's brother is buried. He wanted to stop and pay his respects so we gladly agreed.
After visiting the grave we head north through Alabama.
I was desperate to find some two lane roads and found a great path through Alabama. This little two lane led to a smaller 4 lane road with a speed limit of 65. A little background - this entire trip we had been running these bikes hard. Cruising at 80 to 85 all day.
Well, evidently the speed limit in Alabama is just a suggestion. We were clipping along near 90 in the middle of nowhere with no traffic in site for quite some time. After a while, I see a white speck in the mirror approaching and FAST! Uh oh, COP! As the car got closer I saw no lights or markings. It looked like a white Acura?
Surely this car wasn't going to go by us while we were doing 90?
Well she did. She came up along side and I decided I was going to flog this little Versys and she what she thought about it.
At 110 I let off and she pulled away easily. It still blows my mind that she was just as relaxed as if she was doing 55. Wish I had a picture of that!
Onward North we go and get almost to Atlanta around 5:30. Now, I was perfectly fine to go around or wait or what ever to avoid the ATL rush hour.
We stop for refreshments, gas up and decide to ride close and get north of Atlanta for the ride home tomorrow.
Good thing that Versys has good brakes! That traffic sucked to put it nicely. I lived in DC for about 5 years and it was never that bad - even on its worse day. How you all do that every day and still have hair is beyond me.
I wasn't concerned about hitting someone or even someone coming over on us, but rather someone failing to stop behind us.
One close call and an hour later we were in Kennesaw GA and looking for a place to sleep and get out of that rat race. The entire loop around ATL felt like a high speed game of Frogger and I didn't like it.
Dinner was a walking distance Waffle House - Which is just as greasy as night as it is in the morning.
Day 7 - Headed Home -
Day 7 and about 220 miles in and I am officially liking this bike. It just does everything well. Nothing really great. Gets good mileage and has a good seating position.
More slab all the way home through the cold GA morning and I am home by 2 PM.
Things I learned -
1. I packed too much clothes. This is a learning experience I wont forget.
2. I needed to take more pictures and more videos.
3. Next time - skip New Orleans - Its a great town I am sure, but the stench of garbage and puke mixed together is just too over whelming.
4. Ask for time off more often - it was so nice to get away from the email and cell phone calls I deal with every day.
5. Invest in a Chatterbox or other blue tooth helmet system. My ears hurt after 8 hours of ear buds being in them.
This is my first RR so I hope I haven't bored you too much.
David