Spring has finally arrived in New York, so I decided to take a trip on the 1988 NX650. I planned this back in April, while remembering the old saying "April showers bring May flowers". We had a cold and fairly rainy April, so I figured May is guaranteed to be nice. Not exactly.
I was going to ride to Montreal with my girlfriend, and not only accomplish the longest motorcycle trip I've taken, but also drive across the border of another country, which I haven't done since I was very little. This was the planned route:
We planned on riding up to Boscobel House and Gardens with my brother on his KLR, then going the rest of the way alone. But an overnight stop in the Saratoga Springs area would be necessary to break up the ride. I could have rode straight there, but I don't think my girlfriend would enjoy spending that much time on the back. Plus this trip was about taking the scenic route, not time restraints.
We made it to Boscobel much quicker than I thought. We ate lunch in Cold Spring, and took a tour of the house and grounds.
From the house it looked like it would rain soon, so we figured we should make it to Saratoga Springs quickly to get out of the rain. My brother turned around and headed home, but got stuck in heavy rain the whole way. I was lucky that as we rode North, the sun came out again.
I had made reservations at a hotel just outside Saratoga Springs. The stay was fine, and it didn;t rain at all overnight. The hotel was pretty nice, so we thought if we took a similar route home, we would stay again. But I hate taking the same route twice.
The next day we took Route 9 up past Lake George, and took a few pictures. I can't remember if this was past or before Lake George, but it was an interesting area.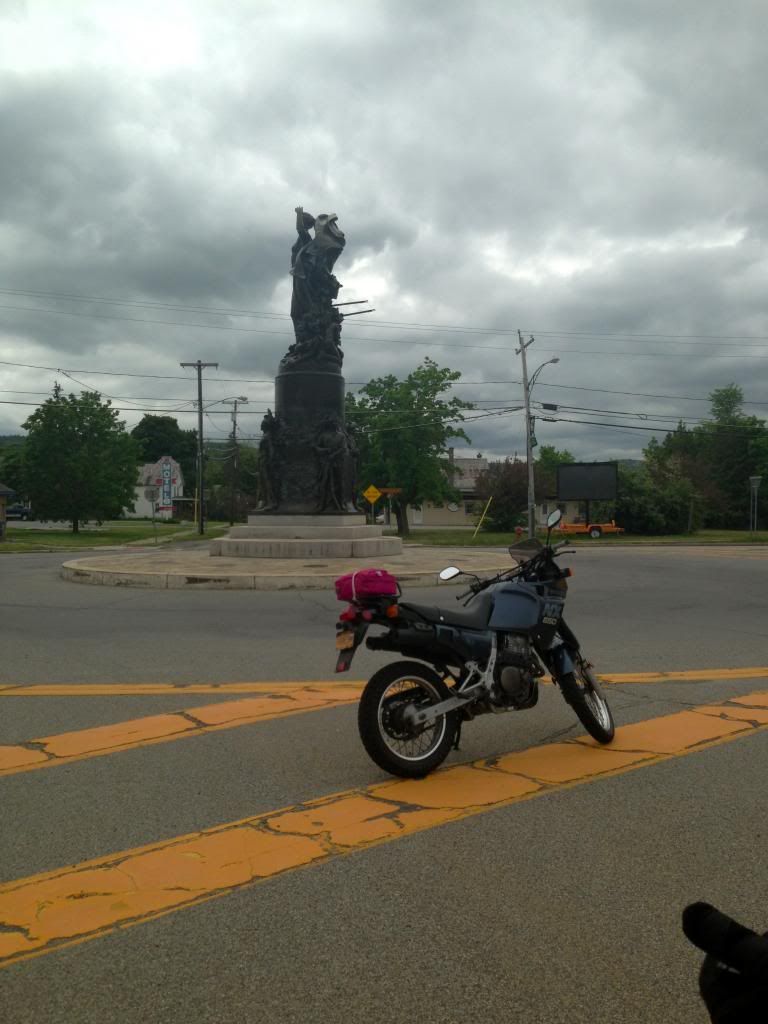 Lake George:
Closer to the border we found an old church on top of a hill. It was completely open, and no one was around. We took some pictures, and before leaving yanked on the rope and rang the bell.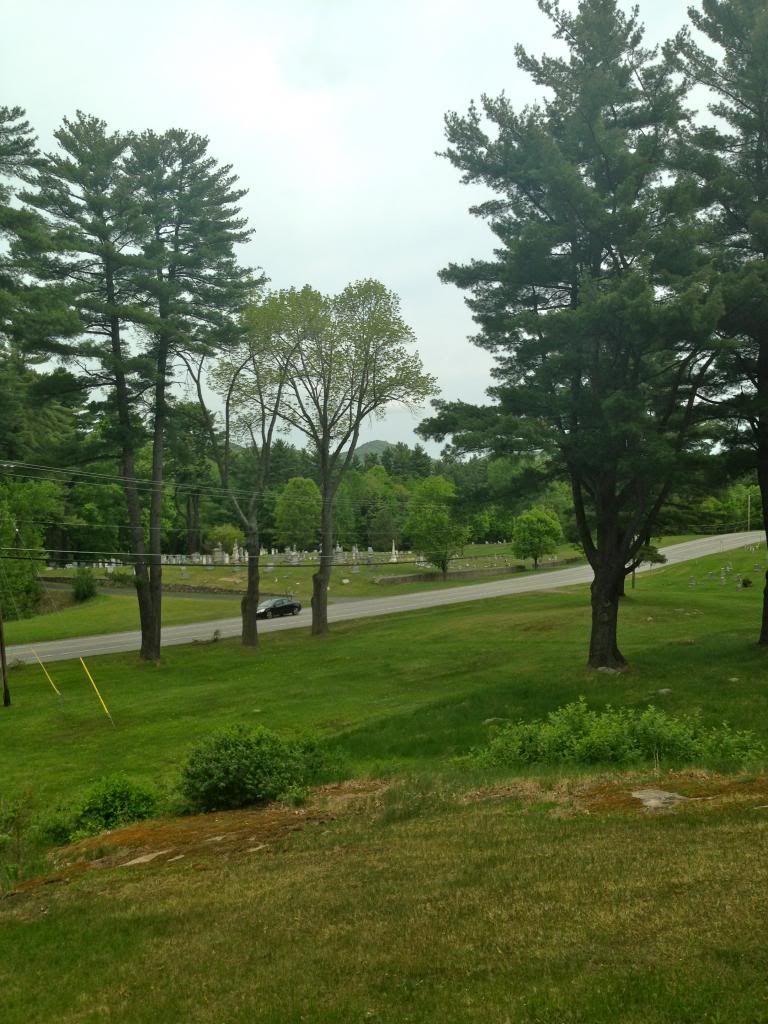 The border of Canada:
We arrived in Montreal, and guessed the area the hotel was in and were right. Only trouble was that the maps on my phone kept directing us back across the bridge to mainland Canada. I knew that couldn't be right, but we followed it anyway. We ended up in an industrial area on a dead end road. Take a look at the sign at the end of the road:
We turned around and got back to where we originally were. After some more searching we found the hotel. I parked the bike outside while my girlfriend went up to the room. They had an underground garage I parked the bike in for the night. Just in time too because it had just started to rain.
The hotel, and at the top you can see my girlfriend in our room: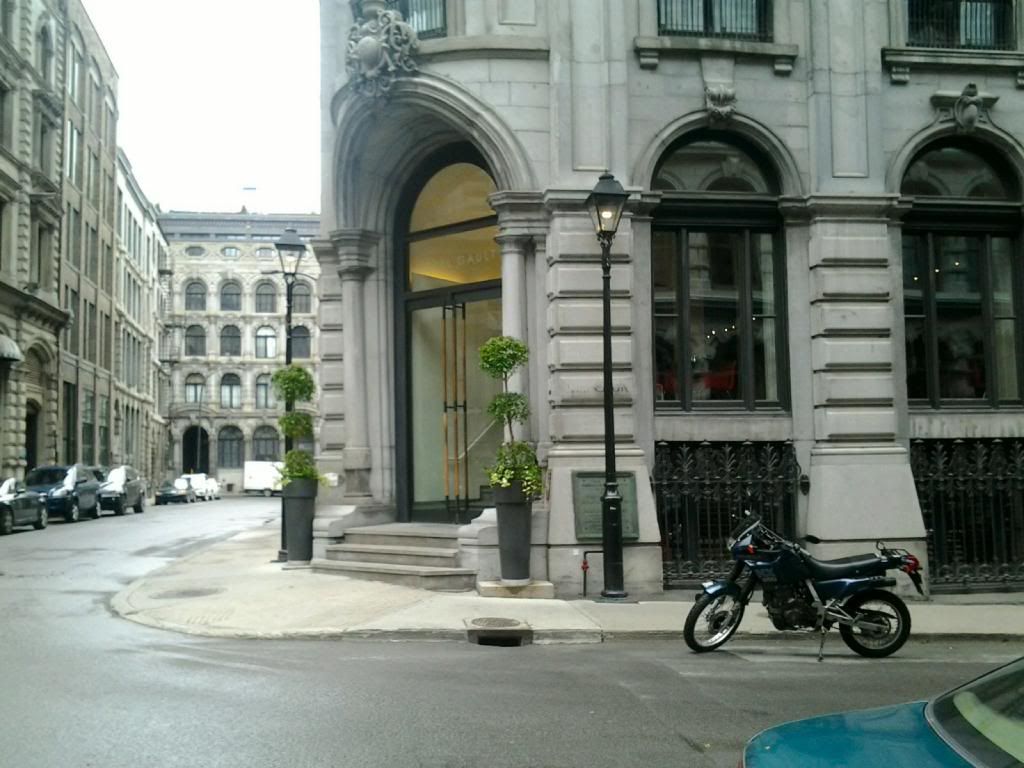 The hotel was called Hotel Gault, and it was wonderful. The staff was great, and rooms were nice, and the location was excellent. We ate at Gibbys the first night, which I believe was a 17th century stable and grounds. Now it's a steakhouse.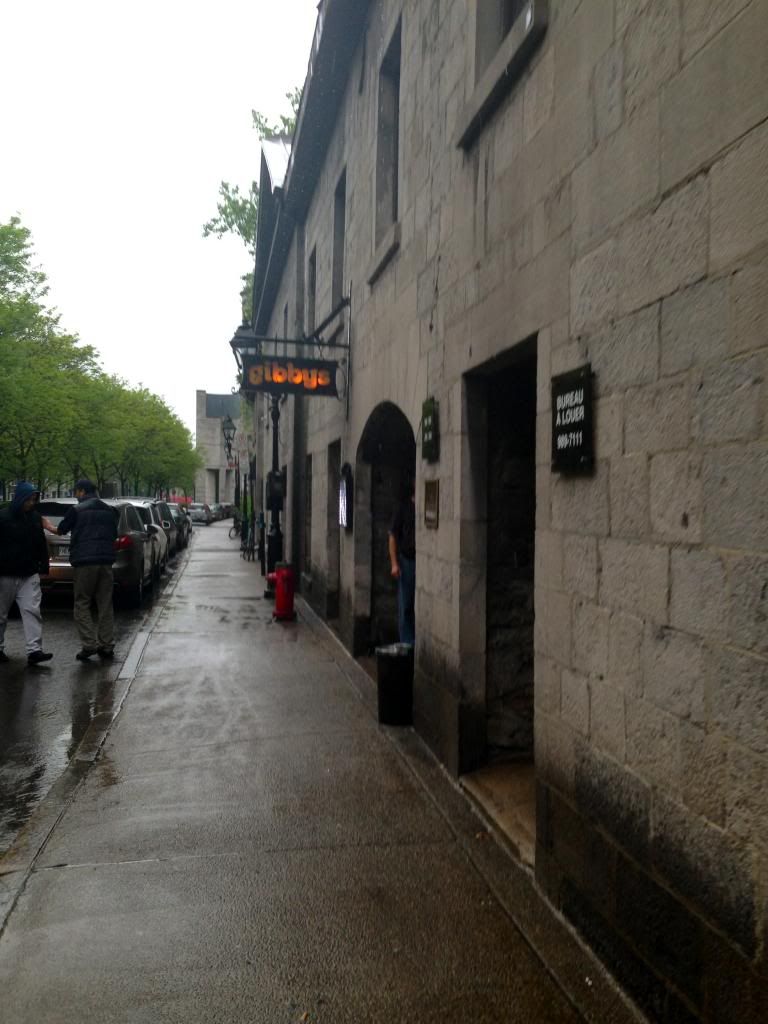 The second day there we went to the casino, and ate lunch overlooking the Formula 1 track. The track was much smaller than I thought it would be. I wish I could say we won money at the slot machines, but I'm not that lucky. My French is also not as great as I'd like it to be, so I didn't want to try my hand at any of the tables.
We tried to find a highly recommended sushi restaurant, but the map on the phone led us to a different area that was completely wrong again. We came back to the hotel area and continued walking around the city.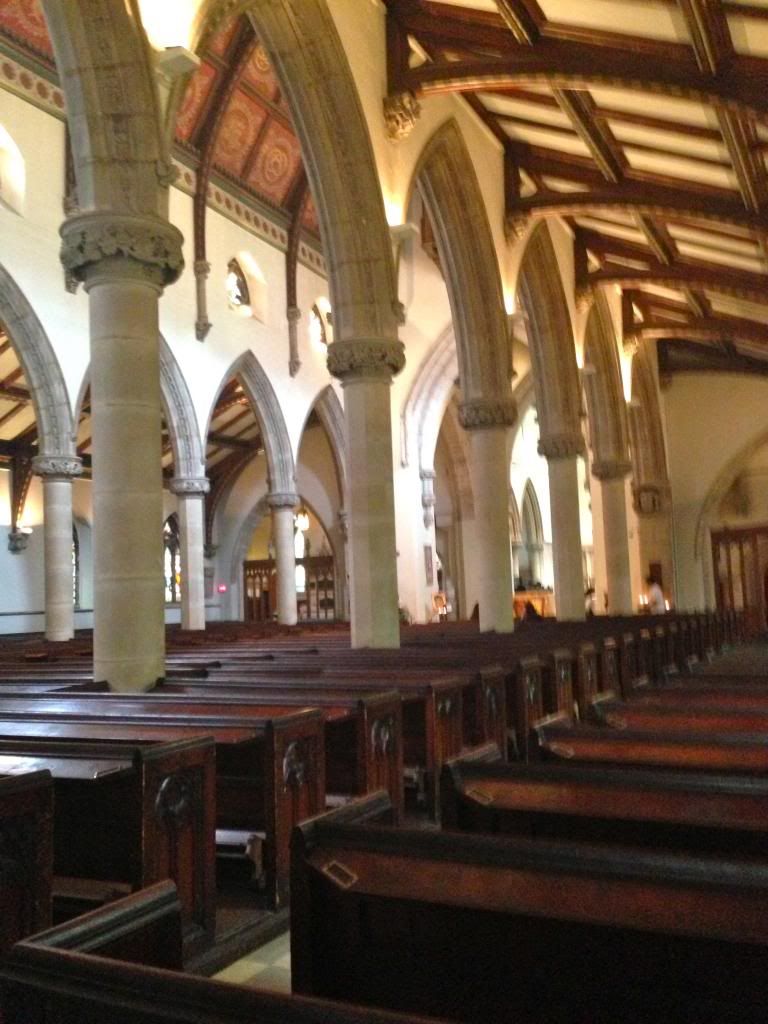 I couldn't resist taking a picture of another motorcycle I saw:
There were a lot of motorcycles around the city, and a few police on BMW's. They seemed friendly, but I forgot to get a picture. The NX650 wasn't popular in the US form some reason, but in most other countries it was a huge hit. I knew it would be a long shot, but I had my fingers crossed I'd be able to take a picture of another NX. It didn't happen unfortunately.
We ate at a very nice placed called Chez L'epicier. The food was excellent.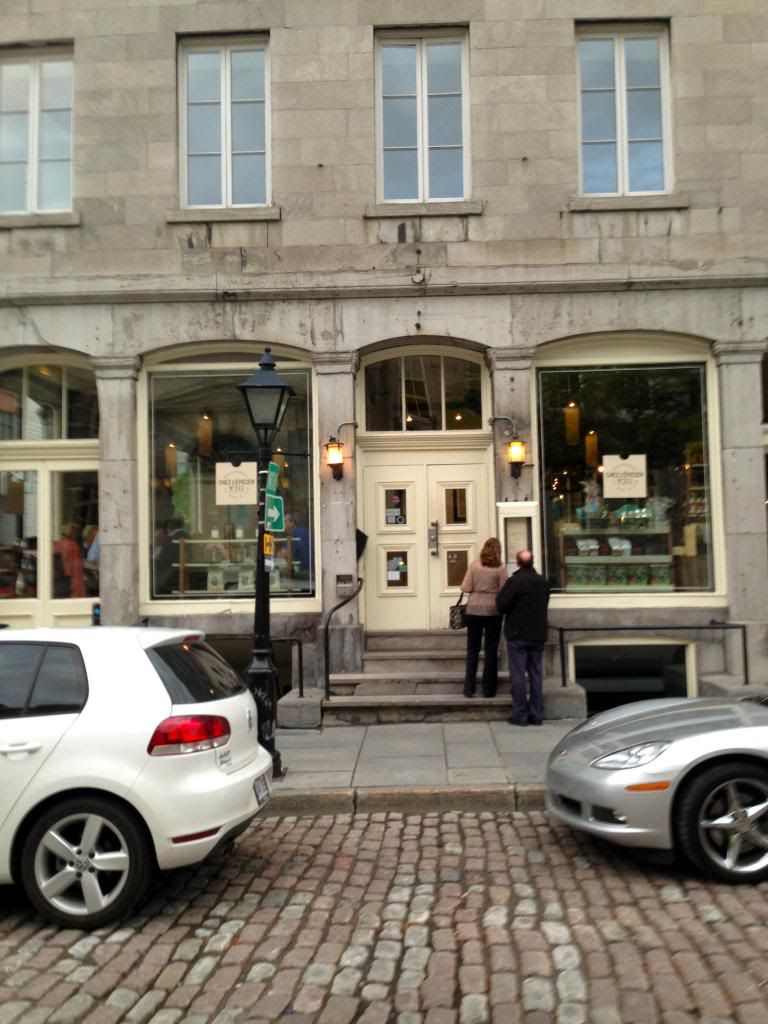 On the last day I walked the few blocks to the parking garage to pull the bike around, while my girlfriend took a picture of me pulling up to the hotel from our room.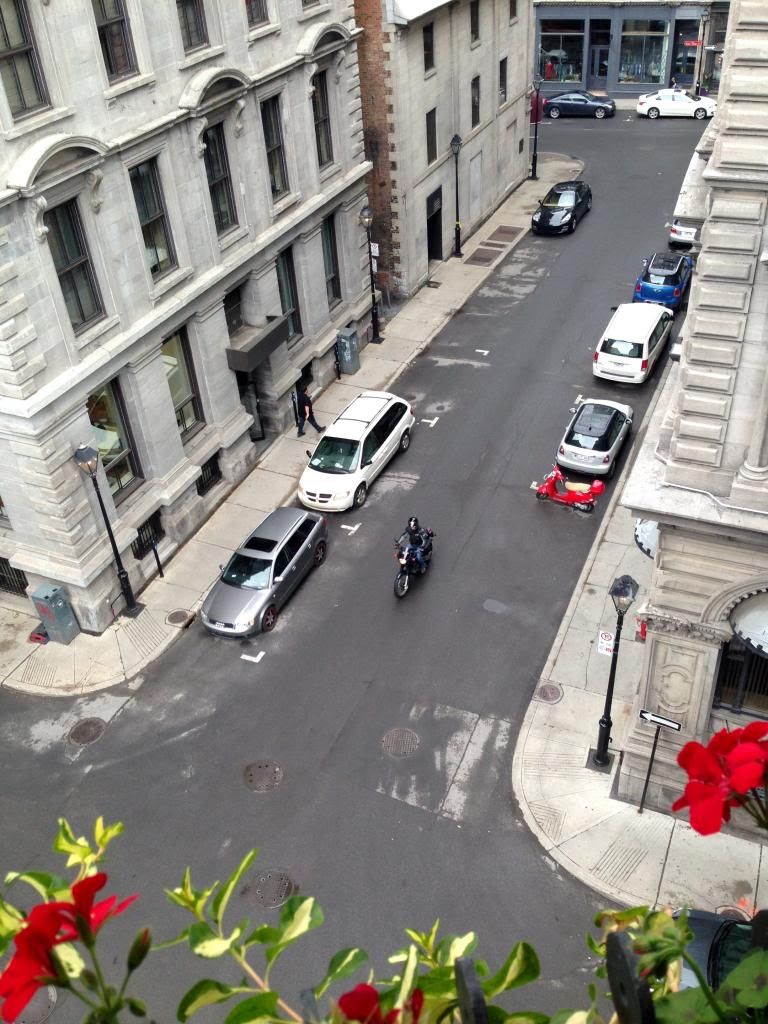 It had just rained, but was looking like it would clear up for the day. So we decided to take our time heading home, and go through Vermont. I had originally planned on going down through Vermont, through Massachusetts and Connecticut, and maybe making a stop just into New Hampshire. I wanted to count off as many states as I could on this trip, but unfortunately Vermont was the only one.
We stopped a few times along the way: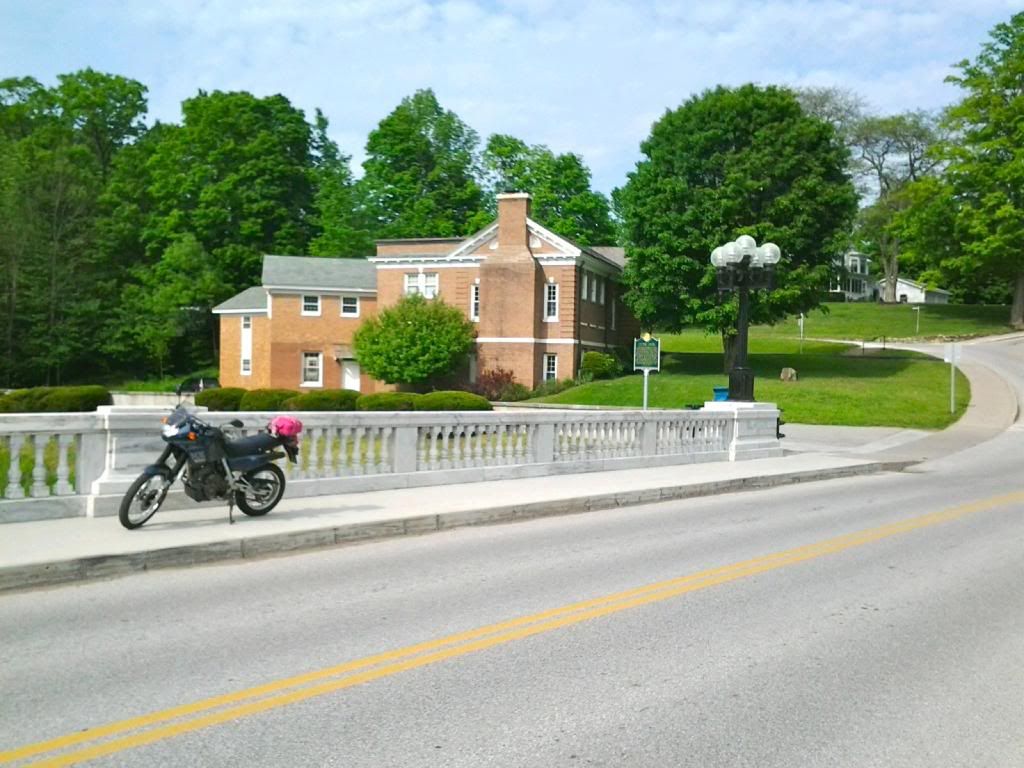 We took Route 2 to Route 7, then all the way down through Burlington, VT to Route 4, which took us back to the Saratoga Springs area and the same hotel we stayed at on the way up. As we were in the hotel room, my girlfriend noticed flashing outside. I thought it was just someone taking pictures or something, but when I looked outside I saw lightning. I ran out and moved the bike under the overhang just in time, before it started pouring. I' proud that the whole trip we never got rained on. And when we arrived home, there were tornado warnings for upstate New York.
I'm also amazed that the bike performed flawlessly, and there were no breakdowns. I expected making minor repairs to the bike along the way , and brought some tools and spare parts. But everything was fine, and we covered 961 miles. We averaged 68mpgs, despite riding two- up and with luggage.
I cleaned the bike off after I pulled into my driveway, and snapped a final pic. After 5 days on the road, it was great to be back home. The next trip might be Bar Harbor, Maine in the fall. Next time I'll be sure to take more pictures.