After too much time working on my recently purchased 2010 KLX250s, I'm finally riding in the dirt again. It's been almost 12 years since I've ridden dirt bikes. After joining the USAF in 2003 I haven't owned a dirt bike. I had a sv650 and honda 996 superhawk for a while, but got rid of those when I had my first daughter back in 2009. This was a big mistake. Don't every sell your bikes! You have been warned. I finally feel whole again!
I thought that I would share my experience working on the klx. First of all I will share a little background. The bike was beat on pretty hard. I could tell it had been used primarily as a dirt bike and less as a dual sport. Although the PO had racked up an impressive 12000 miles on it. They had recently installed a Bill Blue 351 BB Kit, fmf megabomb header, powercore muffler, and jet kit(unknown make.) The PO said that they had the parts installed by a dealer but didn't have documentation. I believed them, considering I got the idea that they didn't know much about motorcycles by talking to them. They didn't know what the valves measured after install which concerned me a little. There was a small dent in the front rim but I rode the bike on the asphalt and reached over 80 and only felt a small vibe which I wasn't even sure was the rim. There were a couple small leaks and the brakes needed some new pads. All in all, this bike felt great while riding, clearly ran like a top, had some performance goodies, and was a cosmetic nightmare. It had a "good deal" written all over it. Or so I thought.
When I get home I decided before taking long trips I should really go through this thing. So after a short bit of riding stints I get to tearing it apart and replacing everything that needs replacing. Then came time to check the valves. Well... I had two tight valves, both exhaust. Since this is a shim under bucket design the cams must be removed to adjust the valves. Well thats where I found my first surprise.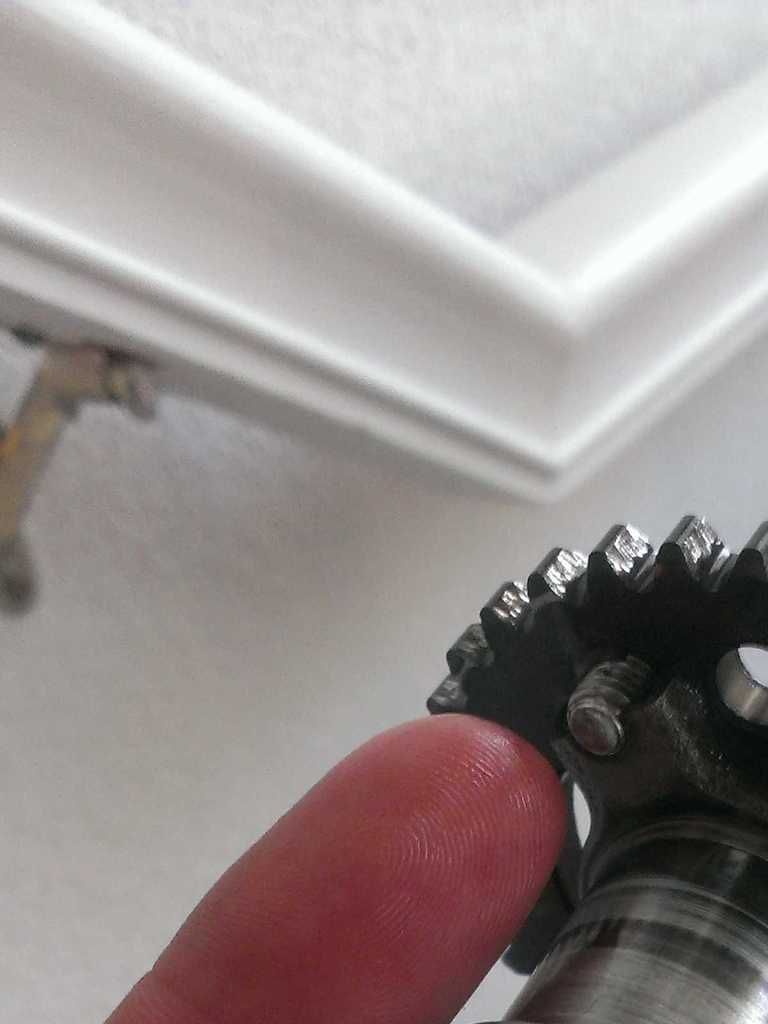 Yep, a part of my cam is missing and no doubt floating around my crankcase.I guess i need a new exhaust cam...Yay!!! Once I got the cams out I find my second surprise.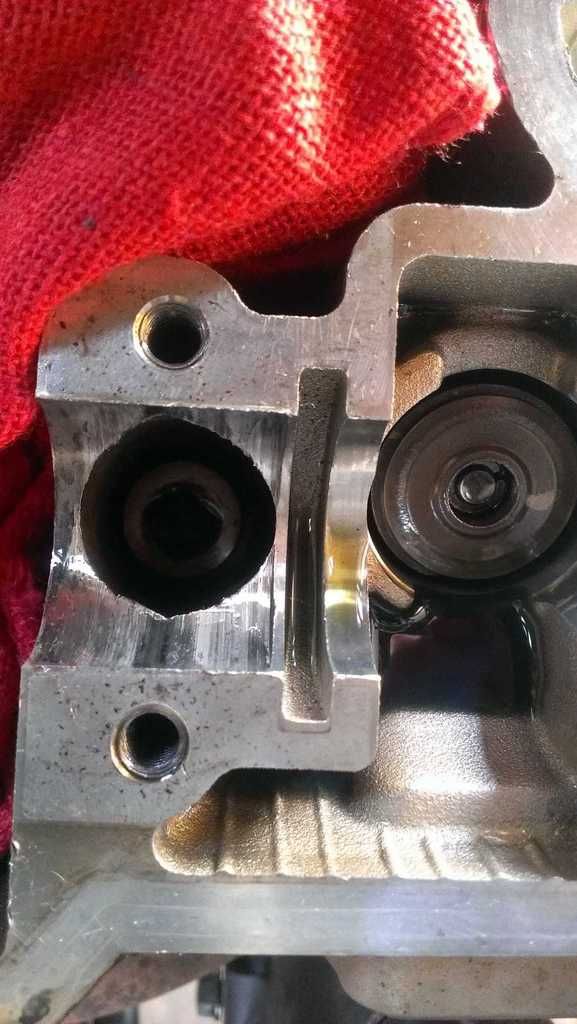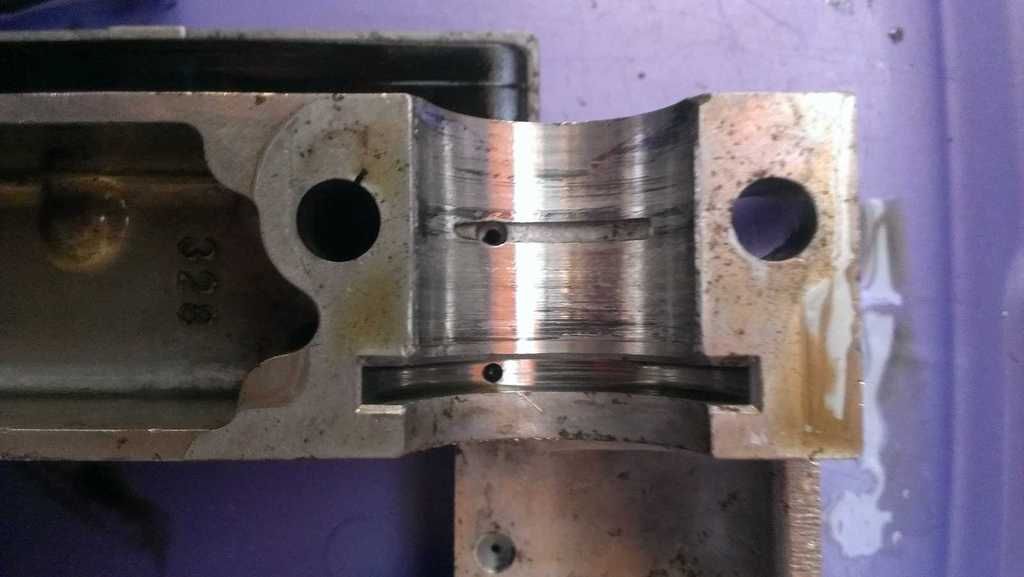 Yep thats right. Those are the cam "journals" on the head and the cam cap. They are toast. Well, guess I need an entirely new head and valvetrain! Thats where this bike stopped being a good deal. But... thats not where it ended for me...
Here is a piece of the forward cam chain guide that broke off...
and after I get the bike completely torn down I find this...
Thats right, that is cylinder wear at the piston skirt. Both skirts were wearing into the cylinder evenly(It just barely masked the crosshatching but bothered me none the less.) Well, there was some good news out of all of this mess. I found the missing pieces from my exhaust cam underneath the oil pickup screen.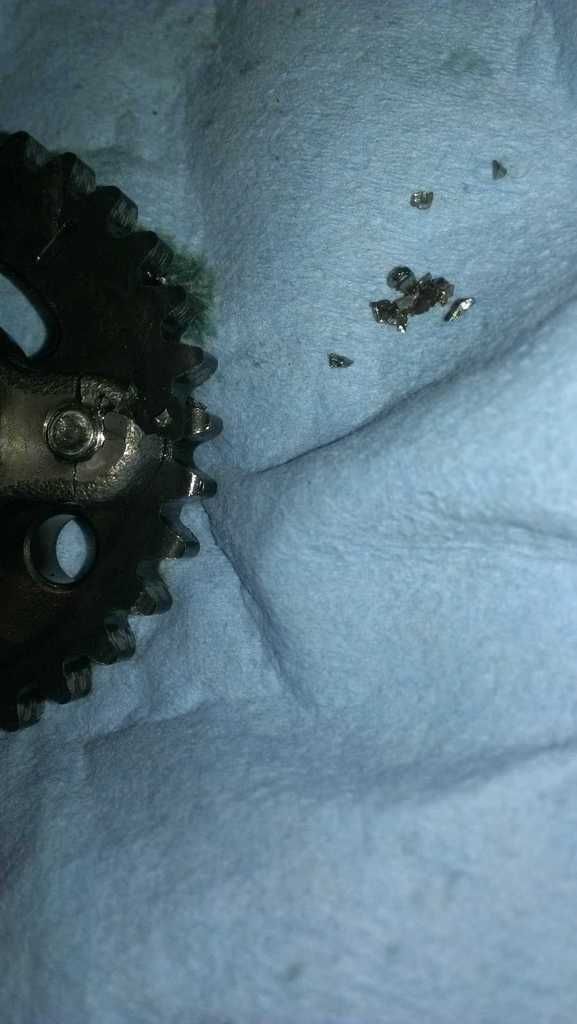 I took the piston and cylinder to a buddy of mine who drag races motorcycles and clearly knows far more about motorcycles than I do, and he said he would run it the way it is without any hesitation given my budget constraints. So with the purchase of a used complete head from ebay which cost me more than I'd like to admit, and several more pieces required for the "rebuild" I had my completed bike once again. It runs great.
I just got back from a trip to my Dad's property up by clipper mills, CA. It was a great trip and I will do a short ride report highlighting some nice discoveries I made up there in the Day Trippin Forum when I get a chance. That place is a great place to bring a dual sport whether you own property up there or not. All you need is a small camping setup and you will find plenty of areas to camp in the Plumas National Forest. Thats all for now. I hope some of you can take something away from my experience, and I would be glad to take any advice some of you may have that could have made this go easier for me. Thanks, Bill