Gnarly Adventurer
Joined: Dec 2011
Location: UK Northumberland
Oddometer: 111
Express Delivery
---
WOZZUPPP Wal2?
Last visit: Today at 08:01 PM
Private Messages: Unread 0, Total 12.

Preview
Express Delivery
---
Had an unexpected week with no work, didn't want to spend too much money......where should I go, a friend in Switzerland happened to ring.....he asks, are you still looking to sell that guitar you have lying around......yes I reply....how much, he asks......weeell, the guitar is free, but next day delivery is £150...ok, done deal

so, can a Versys get to Switzerland and back on £150 of petrol, and get there in 24 hours, 900 miles and a ferry, well, i'll just ride through the night, and stop whenever I get tired....wasn't trying for an iron butt...weather forecast was great over Europe for a week....lets go

rough plan, My place (15 mls North of Newcastle. UK) to Dover, ferry to Dunkirk, France, E40 to Brussels, E411 to Luxembourg, E25 past Strasbourg to Basel..
https://goo.gl/maps/TorFA

oiled my chain, strapped the goods on and ready



left mine at 8am...one too many coffee's and I missed the 4pm ferry (last check in at 3.15 pm) bugger...

the one that got away



had a look round Dover port




goods still ok




onto 6pm ferry, quick meal and power nap



arrive Dunkirk port (actually called Loon-Plage)



due to a couple of delays it was now (9.30 pm CET) when I disembarked.

nice warm night for riding, until you leave Liege (Belgium) then altitude increases rapidly up to Spa, got a bit chilly with my summer gear, then altitude drops as you pass Luxembourg

near Liege/Namur iirc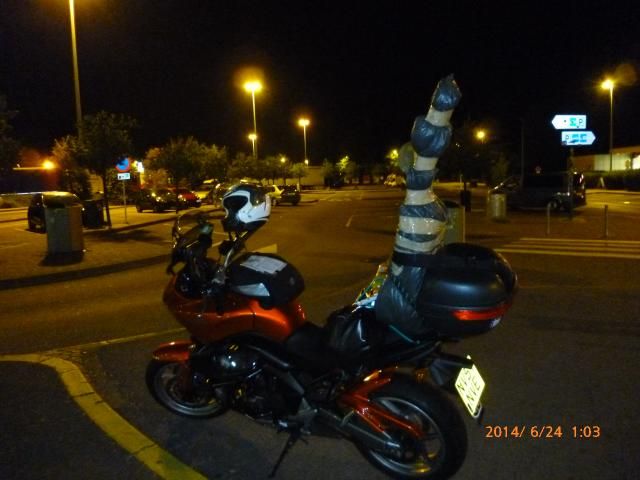 after much wasted time chatting to the night shift girls in the motorway services, and snacking and drinking coffee, I got near to Strasbourg, had a power nap sitting on a bench in my gear and helmet, woke to the sunrise, and the kind lady in the petrol station brought me a coffee...


rode the last 100 mls or so down to the Swiss border near Basel, last 10 mls in light rain, the rain gods had been kind to me, it was 8am. so I made it in 24 hrs despite all the dawdling...
stopped at Customs/Zoll/Duane for m/way Vingnette, has a smoke while chatting to the Zoll girl on duty....very chatty, very fit, and the Glock pistol only added to her charms......I bottled out of asking for a pic..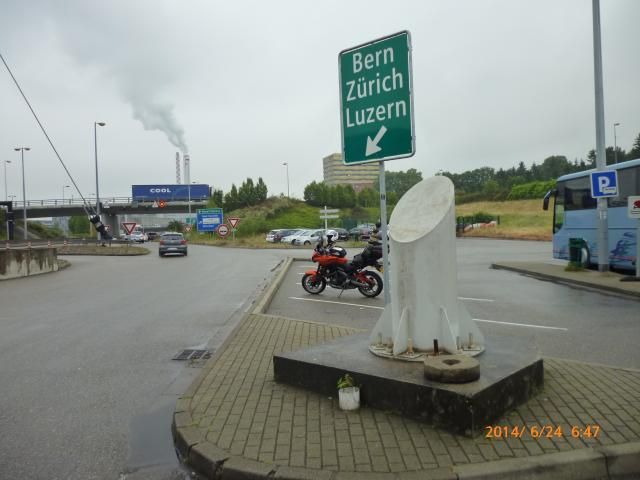 rain stopped, rode through Basel to my friends place..



so, had the rest of the week based in Basel, great weather, out every day riding mostly in the Jura mountains/area, Biel, Delemont, Porrentruy, St Ursanne....French speaking part of Switzerland
some random pics



this is where they keep Thunderbird 5 I think......they build great tunnels




St Ursanne


pic above was a rural restaurant, everything home grown, meat, home grown, killed, cured and hams smoked...delicious...ate it too quick for a pic


plenty of money in Switzerland...even an MV dealer



couple of older pics of Basel


yours truly




so , had a go on some of Daves toys, he won't ride this new fangled Jap stuff......cutting edge to him...he just got a 99 RT, mint, and his 2 favourite oldies


stood in a garage for 20 years, 25k genuine kms, he got lucky



went to a birthday party



decided to split ride home with a cheap hotel in Dunkirk, ferry at 8am next morning, managed to dodge thunderstorms most of the way home
mostly...drying out near Saarbrucken


hotel in Dunkirk


ferry next morning



and rode back up through the UK to home,

ride down and back was 1779 mls (not counting mls while down there) so didn't make it on £150, it cost £169....however, that was cruising mostly at 70-75, and a few hours at 80-85, so if i'd stuck to 70-75 all the time I would have made it on £150

and got £200 for the guitar, so ferry paid for too....
and yes it was still in tune when I got there (bottom E a tad flat)
Posting Rules
You may post new threads
You may post replies
You may post attachments
You may edit your posts

---
BB code is On
Smilies are On
[IMG] code is On
HTML code is On

---
Forum Rules
Times are GMT +1. It's 09:19 PM.