Substantial riding pants are almost impossible to find around the $100 mark. Kevlar-lined jeans can usually be found around this price, but the ones I've seen have felt absolutely flimsy (about the same as normal jeans to me) compared with real textile or leather riding pants. Maybe the armor and fancy materials help, but I don't have any experience with them.
I've bought most of my gear from Cycle Gear and had great luck with a lot of their house brand items including a 707 full-face helmet and a Frank Thomas leather jacket which I've been wearing for years. Returned lots of stuff too (mostly gloves) but never had an issue with that. Cycle Gear has been offering the Trackstar leather pants in their catalog for $99 which seemed like a huge bargain, so I swung by my local store and picked a pair up. I'm tall and lanky and usually have an issue finding pants that work with my small waist and long legs, but the size 34 fit me great. I looked for reviews online before I purchased them, but couldn't find anything substantial so I'm posting this in case anyone would like a more detailed look at them.
I've been wearing them for a while now, so they are thoroughly broken in. The cut and construction is not nearly as refined as pants from Alpinestars or the other major brands, but they are reasonably comfortable. The longest ride i've done is 300 miles and they were great -- aside from a little poking from a velcro panel on the inside. I tucked it back into the liner at a stoplight and haven't had any issues since then.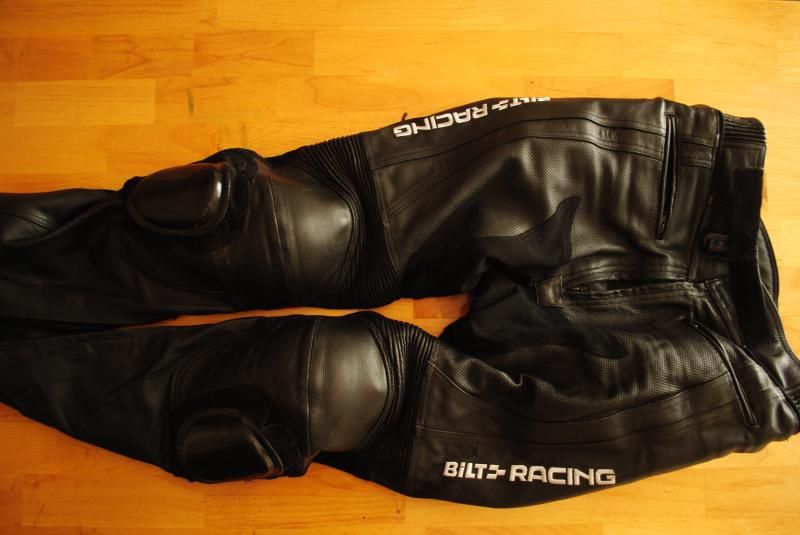 There are zippers at the base of the legs that make them easy to get in and out of and stretch panels behind the legs. They are perforated so ventilation is adequate and they are as comfortable as leather pants are going to get on 90F days. Belt adjustment is fairly crude with an adjustable velcro strap, but the pants have stretchy accordion-type material in the waste that allows them to feel snug and secure. The is good armor in the knees that stays in place and the pants fit well with my Alpinestars touring boots.
There are puck sliders that attach with velcro by the knees, but they seem like a one-time use affair. I imagine any serious riders would change these out. The inner liner isn't removable as far as I can tell. There is an embroidered BILT RACING emblem that actually looks pretty attractive (if you didn't know that it was an entry-level in-house brand)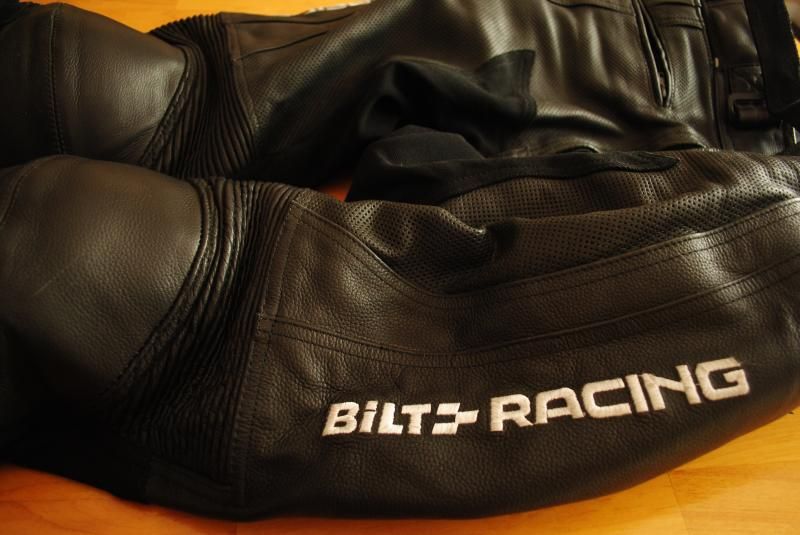 Overall, these are quality, well-built leather pants at an untouchable price point. I haven't seen any other products that come remotely close to providing the level of protection that these do for around $100. For a casual weekend rider who frequently commutes, they are perfect.