A mini-review, just in case some of you FFs actually cut your own grass.
My yard is a very hilly acre, half of which is grass. It's tough on splash-lubricated engines, and my 22 inch, 12 year old B&S powered turd is dying, so it's new mower time.
I want a 21 or 22 inch mulching/rear bagging push mower with big rear wheels. Nothing more. Maybe not Briggs and Stratton this time. Something better than a Walmart mower.
After a lot of homework I took a shot on the Husqvarna 7021P. The reviews were pretty good beyond some complaints about shipping damage. A $300 push mower
should
have good reviews. It's Honda GCV160 powered and has dual ball bearings supporting each wheel. It's orange, for you KTM types. Mine was assembled in Georgia and came from a dealer in Iowa. Brown Santa left it on the front porch yesterday afternoon.
The first thing I noticed after opening the box was that no two wheels pointed in the same direction:
Nothing an old fork tube over each axle couldn't fix, but this deck just isn't rigid enough. Time will tell, but I think it will fatigue and crack within 5 years. Moving on... Now the wheels are straight.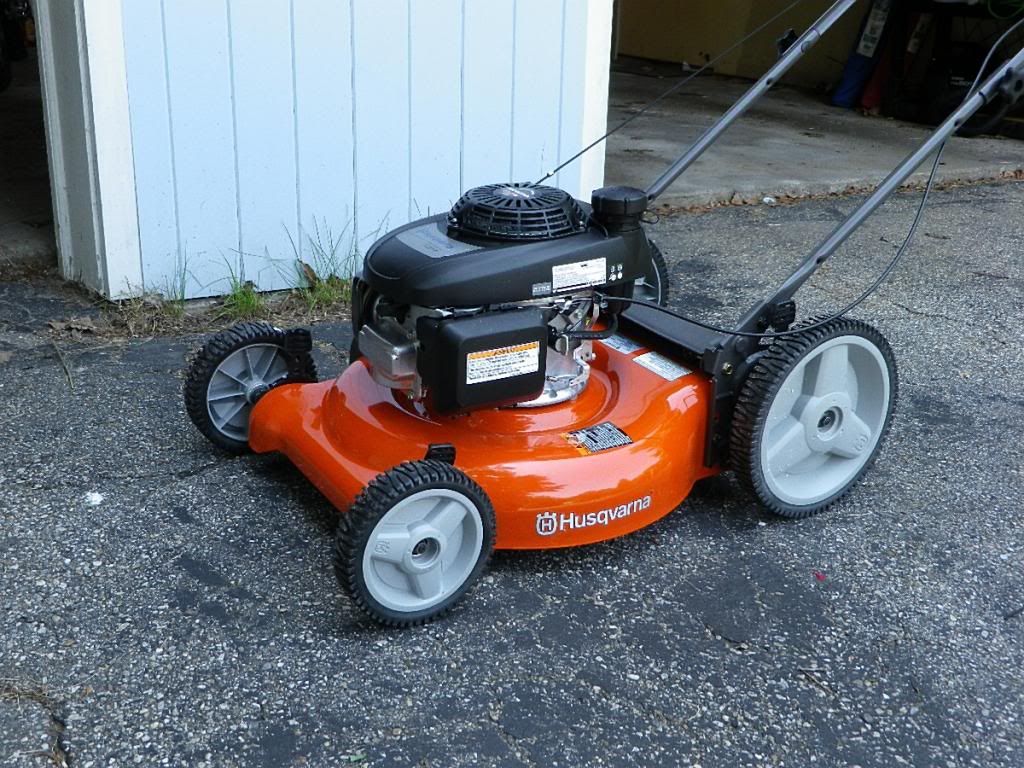 I dumped the supplied SAE30 in the crankcase, gassed it up, and in typical Honda fashion it started on the first pull. This engine is a beast. At 160cc I thought it might struggle in a tall test patch that I left unmowed for two weeks while waiting for it to arrive. It didn't even notice. This mower has half the rolling resistance of the old one, which itself has ball bearing wheels I installed 5 years ago.
I still have doubts about this deck, but for now I'll just mow.