Do our reasons to travel full-time look different now?
The Coronavirus pandemic has put a serious dent in many travelers' plans, leaving some adventure riders stranded abroad and others, stuck at home. A lot of us have been affected in various ways, including financially, and times are tough right now. However, for me personally, the Corona crisis has only proven I was on the right path before – and I can't wait to hit the road again. It's certainly not easy (but then, nothing worth doing is ever easy), especially right now. There's definitely a lot more uncertainty, and there's no telling when the international borders will be completely open again. Still, during the lockdown, I realized I wouldn't want my life any other way but on the road, so here are the ten big reasons to travel full-time:
1. Don't Stop at Dreaming
Your bucket list destinations will remain just that – a list – if you don't start planning right now. The world is developing at an incredible speed, off-road trails are being paved over, and with each passing year, there are less and less truly remote areas to explore. Make a decision, plan, then execute – the world awaits.
2. Be Your Own Boss
Being a full-time traveler means being your own boss. Your time is your own, you answer to no one, and you choose the direction you want to head towards. Again, it's not easy, but it is doable – and it is worth it. Don't take my word for it, though: here's what a guy who has been on the road for a decade has to say:
3. Train Your Mind
Traveling full-time means getting really creative when it comes to earning an income on the road, figuring out logistics, and dealing with a wide array of issues that will inevitably arise, be it overstayed visas, flat tires, or failed brakes. Living a nomadic life teaches resilience, independence, and out-of-the-box thinking like nothing else.
4. Experience the World…
…in a way no tourist ever will. Traveling by motorcycle and having an indefinite amount of time on your hands, you can truly get to know the local communities, get immersed in the local life, and learn about people and places in a deeper, more meaningful way. When you're not rushed, you can stay in different countries and regions longer, really connect with the locals, and enjoy a completely different vantage point than someone who has simply breezed past.
5. Discover Yourself
No, not in a wishy-washy "finding yourself" way twenty-somethings on their gap years are trying to figure out (not that there's anything wrong with that, though). Rather, it's about discovering just how hardy, compassionate, creative, empathetic, resilient, and curious you can be. On the road, you'll encounter challenges you never even considered, and the world will surprise you in ways you didn't expect.
6. Step Out of the Comfort Zone
Permanently living off your motorcycle means you get out of your comfort zone so often you probably don't even remember what it feels like. Always having to deal with uncertainty, you learn to adapt faster, make split-second decisions, and get yourself out of trouble no matter what happens. This is a valuable skill even if, at some point, you decide you've had enough and return home.
7. Collect Moments
Although as a society, we place a lot of importance on owning property and amassing things, the reality is that the most precious things in life aren't material at all. Memories and experiences, as an example, are among the most valuable "things" we can ever hope to have, and traveling full-time is a sure-proof way to guarantee you'll never have a shortage of those.
8. Learn to Be Alone
Unless you have an amazing partner or friends willing to take the leap with you and travel full-time together, you'll be roaming the world on your own. For plenty of people, that sounds scary. For many nomads, it's the opposite: learning to be alone means you reach a kind of peace, learn to be comfortable with yourself, and demand nothing from the world but simply appreciate it – and life itself – just as it is. Learning to be alone is one of the greatest gifts of living on the road.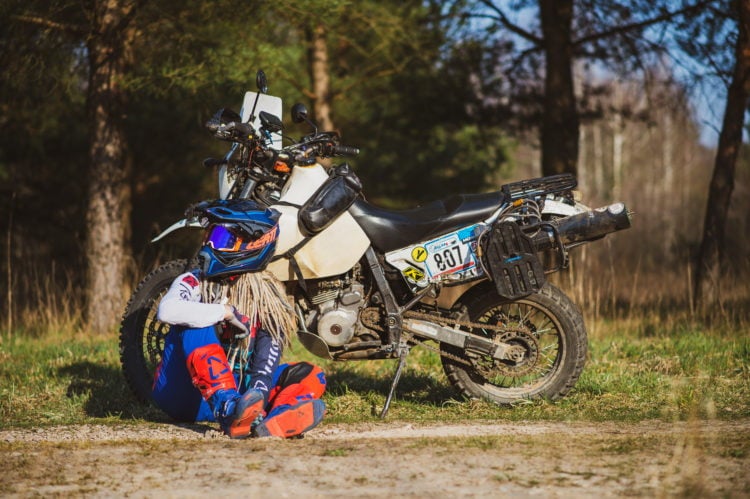 9. Share the Love
Being a nomad, you'll have countless stories to tell, so make sure you do tell them, whether it's via a blog, a YouTube channel, or around a bonfire. Stories from the road make the world a better place as we learn just how human, kind, friendly, and hospitable people are all around the globe, and how so many of our differences are either perceived or artificially constructed.
10. Have No Regrets
Living the ADV life full-time is hardly glamorous, but it is a very full life nonetheless. The old saying that we usually regret what we didn't do as opposed to what we did stands true here, too, so if traveling without a defined return date has always been your dream, it's time to go.
What are your reasons to (or not to) travel full-time? Let me know in the comments below.
Featured image: @rtwPaul