This is the second post in our 4 Sale series about interesting, unique or weird bikes for sale online. Note: This is NOT an advertisement. ADVrider is NOT affiliated in any way with either the seller or marketplace. Do you know if any unique bikes for sale? Let us know by filling in this form.
These days, there's lots of gossip about an upcoming BMW cruiser, supposedly powered by a new 1800 cc boxer twin engine. When the K1600B debuted, we thought that was the BMW bagger we'd been told to expect, but no, it seems another machine is coming, and BMW is going to great lengths to show off the engine via the custom scene.
A made-in-Germany cruiser? The foot-forward crowd is gasping in shock, but they shouldn't be so taken aback. BMW's taken at least two stabs at this idea before, including this interesting machine, the R1200C.
This particular example, found in Big Bend, Wisconsin, isn't exactly cheap, at $4,999 … but it's not scary expensive either, and it has fairly low mileage.
Still need convincing? Here's why this is a very cool bike.
Debuting in 1997, the R1200C came at a time when everyone was building cruisers. Harley-Davidson couldn't make their bikes fast enough, so all the Big Four had a strong cruiser lineup as well, and they were selling pretty well. These days, the Japanese have all but abandoned the Harley-Davidson clone market, but then, there was money in it. Victory was starting to get ready for production around that time, the reborn Excelsior-Henderson company had been making machines since 1993, and there were the usual attempts to revive Indian as well.
So it's no wonder BMW decided the time was right to build a cruiser. But, being BMW, the company went about it differently, engineering what it figured was a superior machine, starting with the engine. BMW just re-used its oilhead 1200, instead of building a V-twin for the purpose, which is what all the other companies were doing.
The flat twin engine was trustworthy and certainly had its fans, but also came with some design restrictions. Due to the placement of the cylinders, the R1200C rider's feet were placed a bit further back than you saw on other cruisers of that time period. This made for better handling, as many reviews of the time period will note.
The handling was further improved with a Telelever front suspension and Monolever rear suspension. Sure, they weren't GS-level, but they were better than a lot of the other cruiser options at the time.
Then, BMW also made ABS optional. In the late '90s, that was pretty futuristic for the cruiser scene. And thankfully, this Autotrader ad notes the seller's bike includes ABS (as well as hard locking bags, heated grips, a windshield and other geegaws that are less useful).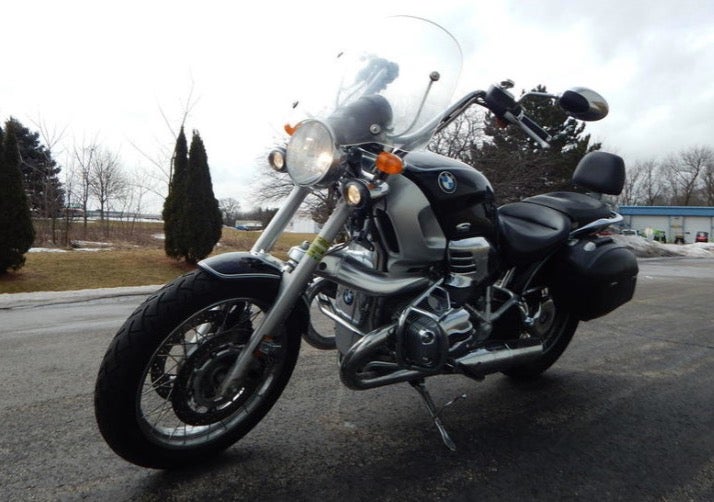 Speaking from personal experience, even later, better-equipped Harley-Davidsons have a hard time keeping up with the R1200C on a twisty backroad, thanks to the engineering BMW put into the bike.
To convince riders to buy the machine, BMW had the R1200C inserted into a chase scene in a Bond film, Tomorrow Never Dies. BMW also had a highly amusing infomercial put together, seen below. I've never heard of anyone who actually saw this on TV, so maybe it was made for internal purposes only? In any case, it's a great motivation to get out on yer Beemer and go freeeeeewheeeeeeeeellllllin!
Sorry, uh, got carried away there.
In any case, the R1200C was reckoned a sales success in its early years, but those sales tapered off and the machine was canceled from the lineup in 2004—not a short run, but not a terribly long one, either. BMW bigwigs figured the market didn't want a boxer-powered cruiser, and they were probably right. And the looks, while revolutionary, were very polarizing. Some people loved it enough to place it in the Guggenheim's Art of the Motorcycle exhibit, in 1998. Others thought it looked like an abomination, far removed from the classic lines laid out by Harley-Davidson.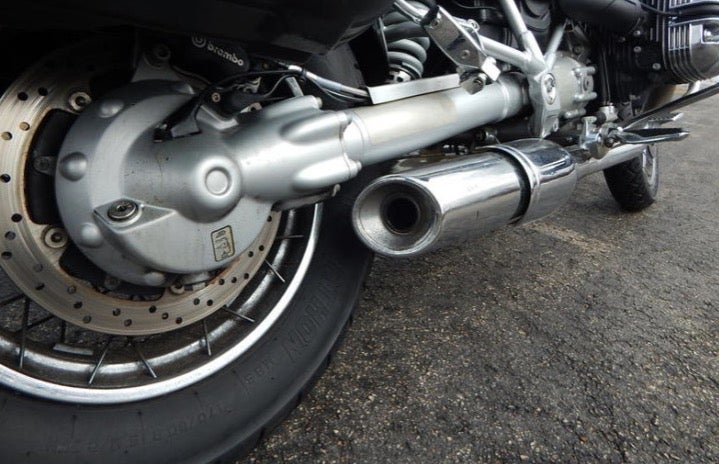 Whichever way you lean, it's still an interesting bike, and at least it made it into production, unlike the cruiser project BMW had in the late '70s, which was the cause of Hans Muth quitting BMW and going to design the Katana for Suzuki … but that's a story for another day.
If you're really interested in this R1200C, it's worth a call. At 7,058 miles, that oilhead should have a lot of life left in it; you could probably do a fly-and-ride, but the seller says they'll ship anywhere in the continental US for $400, which would definitely be more affordable.