Surprising, very surprising. Those were my first thoughts after riding the new BMW F 750 GS. I'll admit I arrived at BMW's press launch for the new 2019 BMW F 750 GS & F 850 GS with the preconceived notion that the smaller of the two adventure machines would not leave me impressed. Having now ridden the bike, I can see that my original thoughts were off. The new F 750 GS is a pretty capable performer.
The F 750 GS is a new machine and shares little of the previous model's makeup. There are many changes over the model it replaces and several of those changes are very significant.
The Elephant In The Room – An Engine Manufactured In China
So let's get the skunk out on the table and chase it around a bit. The new F 750 GS and F 850 GS engine is being built by Chinese manufacturer Loncin to BMW's specifications. It has been available in F 750 GS and F 850 GS models in Europe for quite some time, but is only now being released in North America.
When asked why there was a delay in releasing the new bike, a BMW representative said that it was the result of production backlog and some quality control concerns. Okay, let's break down BMW's "code" speak. To me, it means there were some production and quality issues that needed to be addressed.
It is fairly well known that BMW recalled a little over 1,500 F 750 & F 850 GSs sold in Europe due to an engine oil supply issue. That recall issued solved, there have not been any others to date. You could certainly understand that such an issue can give anyone pause to worry about the quality of the engine.
But, there have been thousands of motorcycle recalls in the past from other manufacturers. There will likely be many more in the future, regardless of where the motorcycle was manufactured. So let's just say that if you are afraid of or unwilling to purchase anything produced in China, this bike is not for you.
New Engine
Okay, now that we have the engine's place of manufacture out of the way, here's the scoop on its performance. Despite its name, the new F 750 GS does not have a 750cc powerplant. The new F 750 GS carries the same 853cc parallel twin engine found in the F 850 GS. A different set of intake and exhaust cams, as well as a different ECU, are the differences. BMW claims the engine puts out 77 HP at 7,500 RPM with 61 lb-ft of torque at 6,000 RPM. That's a 2 HP increase and 4 lb-ft of torque increase over the model it replaces. This is not a huge increase, but the character of the engine has been drastically changed.
With a bore of 84mm and a stroke of 77mm, the new bike's engine now uses a 270 degree firing interval with a 90 degree crank pin offset. BMW added twin counter balancers, resulting in significantly reduced engine vibration and smooth throttle response. It also has a completely different and more aggressive engine sound if that is important to you.
Chassis and Suspension
The previous tubular steel frame found on the F 700 GS has been replaced with a bridge-type steel shell monocoque setup with the engine as a stressed member. BMW claims that the new frame increases torsional rigidity over its predecessor and allows the engine to sit higher in the chassis. It definitely looks "beefier" than the previous setup. Ground clearance is up slightly to 7.5 inches from 7.4 inches.
A telescopic non-adjustable front fork uses 41 mm tubes. Front wheel travel is claimed to 151 mm (5.9 inches). The rear suspension uses a conventional spring strut on a new double sided swingarm. This new setup results in 177 mm (7 inches) of rear wheel travel.
Wheels are cast aluminum with a 19 inch front and a 17 inch rear. My bike was shod with tubeless Bridgestone Battlax Adventure tires, but the tires mounted can vary from bike to bike. BMW says that there is presently no single tire choice for the F 750 GS. Depending upon when the bike was manufactured and tire availability, the brand of tires may be different on the same BMW model.
Seat Height and Low Suspension
Adventure riders come in all sizes and shapes. Riders with short inseams can have problems simply reaching the ground on taller ADV bikes. Taller and larger riders can feel uncomfortably cramped and unable to reach controls comfortably.
BMW has been one of the manufacturers that seem to understand this. To their credit, they offer multiple ways to make their machines more accessible to a wider range of riders. Offering different height seats and low suspension options, a rider can customize their bike for a better and more comfortable fit.
This chart shows the ways to adjust seat heights for both the F 750 GS and the F 850 GS. You can adjust the seat height of the F 750 GS from 32.7 inches to 30.3 inches with the low suspension option. That's quite low for an adventure bike. However, if you choose the low suspension option you will lose some suspension travel. Front travel will drop from 5.9 inches to 5.2 inches. Rear suspension travel will also be reduced from 7 inches to 6.2 inches. BMW says their narrow seat also reduces overall seat height feel. Using a F 750 GS with the standard suspension, my 30 inch inseam allowed me to be completely flat footed while stopped.
Fuel
Although the compression ratio has been increased from 12:1 to 12.7:1, regular unleaded fuel can still be used. That's a nice feature for those times when premium fuel is not available. I find it somewhat surprising that manufacturers build adventure bike engines that require premium fuel. Don't get me wrong, I like the extra horsepower. But if you are riding on a bike to find/see less populated and more rural places, premium fuel can be a significant hassle.
The regular unleaded fuel is now carried higher in a tank where the typical fuel tank resides. BMW says that moving the tank gave the bike a better front to rear load distribution. Load is now carried 49% in the front and 51% in the rear.
The new tank holds just 4 gallons. However, BMW claims that the new machine provides 57 miles per gallon resulting in a "full to empty" range of 228 miles. In practice, range might be somewhat shorter since 100% of available fuel often is not usable. However, I would say that BMW's MPG estimate is fairly accurate. After quite a bit of very spirited riding, I saw 52 MPG on the bike's display. More normal paces may ultimately yield BMW's claimed 57 MPG.
Riding Modes and Rider Aids
The growth of electronic aids is booming and BMW has certainly incorporated technology into this bike. The F 750 GS comes standard with an anti-lock braking system (ABS) and automatic stability control (ASC). Both can be switched off at the rider's discretion.
It also features two separate riding modes, Rain and Road. As you would expect in Rain mode, throttle response is softer than Road mode.
If you are not satisfied with the two standard ride modes, BMW offers two additional ride modes for the F 750 GS; Dynamic and Enduro. Dynamic gives optimum engine performance while Enduro softens response for off road surfaces. The chart below identifies when each mode is appropriate and how it performs.
There is also a gear shift assist that gives you the opportunity to shift without using the clutch. Frankly, I didn't use it much. It may have been working without me knowing because I never missed a shift while riding it.
Finally, cruise control and a tire pressure monitoring system are available as an option.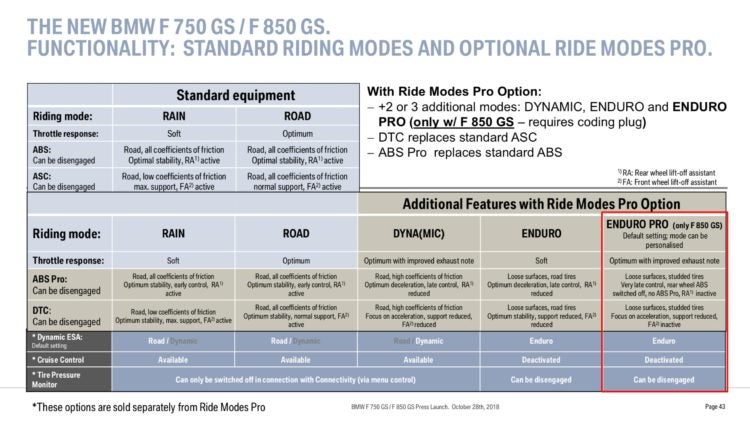 Standard and Optional Equipment
BMW's philosophy is that they are a premium brand and their machines should represent premium levels of performance, technology, quality, and riding comfort. People may differ on whether that philosophy is appropriate for adventure bikes, but it's clear that BMW has taken this philosophy very seriously. The F 750 GS has its fair share of standard equipment.
There is also a dizzying array of optional equipment and software upgrades. In fact, BMW says that there are 60 percent more options for the F 750 GS than there were for the F 700 GS and according to the chart below. I believe them.
There are two main option packages available: the Select Package, which is priced at $2,400, and the Premium Package package, which is priced at $3,450. In the above chart, the dark blue boxes indicate the options included in the Select Package. The lighter blue boxes represent all the options of the Select package as well the options in the Premium package. Finally, the clear boxes represent individual option items that are not part of any package. Depending on what you want for your machine, pricing can become a bit complicated. We'll talk more about pricing later.
Getting Ready to Ride
BMW pre-planned route of about 100 miles to give us a feel for how the bike performed. At the morning rider's briefing, they told us that there would be pavement and dirt. They also said that there was to be a single 1.5 mile sandy wash section climbing into the mountains.
When we walked outside to pick up our assigned bikes, I noticed a few things missing that would have been nice to have. Things like an adjustable windshield, some sturdy handguards, and larger footpegs would better fit the mission of this bike, but thier absecence were not a gigantic issue.
I also found that my bike was shod with smooth tread Bridgestone Battlax Adventure tires. That made me think that most of the day would be riding on the pavement. It turned out I was wrong.
Once fired up, the bike needed a bit of time to warm up and run its smoothest. My bike was fitted with the premium package with all the accessories, including keyless start, heated grips, and connectivity to a TFT color display. Information was displayed logically, and the display was easily readable in the bright sunlight.
Riding in the Dirt
After riding a couple of miles on pavement, we turned onto a dirt road and headed up into the mountains. True to BMW's promise, we started climbing. At the beginning, the road was hard packed and fast. We picked up the pace a bit, and the F 750 GS held its lines nicely and went where I pointed it. Carrying a fair amount of speed I purposefully looked for some semi buried rocks to test the suspension. The impacts were soaked up without bottoming. Although the forks were a bit on the soft side, they performed well. It would have been nice to have some adjustment, but the forks did their job and there was no drama.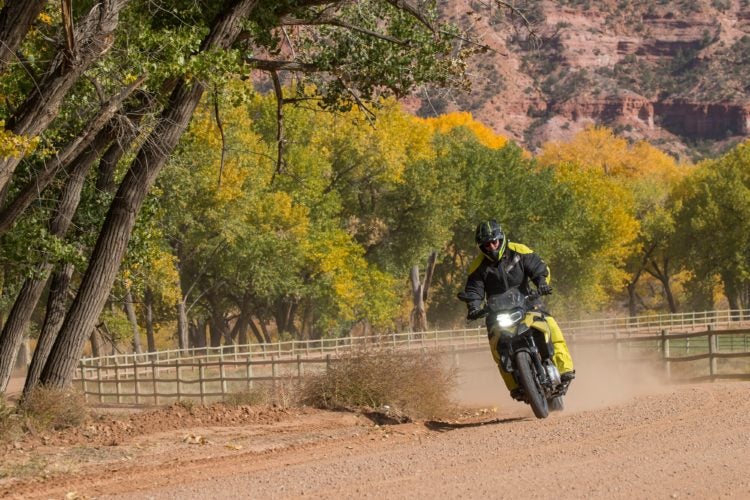 The rear shock was also up to its job and held a line well. I did not experience any hopping or significant sliding while standing straight up. Running fast over loose gravel, the bike performed well. An occasional shake of the rear was easily handled without any drama. All in all, the suspension seemed up to the job.
Rider Aid – ABS
With the bike set in Enduro mode, I left the ABS and ASC on to see how it would affect handling. Frankly, I was very surprised at how good it was. Braking was smooth and there was no hint of that delayed braking feel that some systems have when the terrain gets loose. I could feel the ABS working, but it did not hinder spirited riding.
In fact, it was actually helpful during some blind corner entrances that I entered too fast. I always felt I could get on both the front and rear brakes without having to worry about losing either end of the bike. Because of this, I didn't ever feel the need to turn the ABS off.
Rider Aid – ASC
However, with the bike set in its Enduro mode and ASC turned on, it became clear that the smooth Bridgestone Adventure rear tire really wasn't made for or ready for this type of terrain. Ascents on loose surfaces had the rear tire spinning and the back sliding around. A set of knobby tires may have alleviated this problem.
It took a lot of clutch slipping to modulate the power and keep the rear from spinning. The ASC did not seem to be sensing the tire getting ready to spin up. It may have been working in the background, but it did not seem to be doing much to keep the rear from spinning up.
This resulted in a fine line between bogging the engine in first or hitting the meat of the power band and spinning the rear. I don't fault the Enduro mode or the ASC. I truly feel that the installed smooth tires were not made for this type of terrain. If BMW were trying to prove a point that the bike could go on pretty much any type road with smooth tires, they have succeeded.
In the end, the bike was well up to the challenge of running dirt and two track roads. We did not cover any Enduro type riding and frankly, this bike would not be my choice to do so. But for maintained roads or two track, the F 750 GS performs.
Riding on Pavement
After exiting the dirt, we were back on pavement. It didn't take long for the riding to get highly spirited. Speeds may have exceeded those that would be considered safe by some. Frankly, I couldn't believe how well the F 750 GS handled with its non-adjustable front fork. It held its line immaculately. The old saying that it "felt like it was on rails" was very appropriate.
There was no sign of wobble, wandering, or unanticipated movement from the front. The rear always told you what it was up to and the only thing kept us from riding faster was common sense. Switchbacks and sweepers were dispatched with amazing ease. As you can tell, I really enjoyed the pavement riding experience the bike provided.
While the engine is very smooth, it is not a huge power monster. Remember, it only has 77 horses. So you won't feel like you are on a two wheeled missile, but you will find that those 77 horses are ready to pull when asked. The power comes on smoothly and progressively, if just a bit anti-climatically. I'm okay with that. This bike wasn't made to win races.
What's it Cost?
Pricing of the F 750 GS is highly variable. There are two option packages and multiple optional accessories. With a base price of $10,395, the final price can swell to over $13,845 if you choose the Premium package and no other options. Add a different seat, a bash plate, center stand, and more appropriate off road tires and you can be pushing $15,000. No matter how you cut it, that's a lot of money for a middleweight ADV bike.
If you think you'd like to purchase a base model bike, you may be in for a wait. BMW says the vast majority of buyers buy their bikes with option packages, so you will likely have to order a base model machine and wait for it to be delivered.
Summary
All in all, I like the new F 750 GS. Is this bike perfect? No, but it's a bike that is very good on pavement and quite competent on dirt. It can take you pretty much anywhere you want to go and do it smoothly. For all but the small percentage of adventure riders that ride Enduro type terrain on their adventure bikes, the F 750 GS is an excellent ride.