The Royal Enfield Himalayan has been out for three years now.  During that time, it's developed a cult-like following.  Some well-known riders have made the Himalayan their ride of choice, and have been able to ride the world without many issues.  At this point in time, the Himalayan has proven its mettle as a ride for traveling the world.
Himalayan improvements for 2020
But there is always room for improvement, and Royal Enfield has a few changes up its sleeve for 2020.   According to Indian outlet Gaadiwaadi, three changes are coming to the Himalayan in 2020.
New paint
One of those changes fits into the category of "bold new graphics."  In this case, Royal Enfield sold outside of the USA will have three color choices; Rock Red, Lake Blue, and Gravel Grey.    In the US, it looks like only the current color collection of  Snow (white), Granite (Black), and Sleet (Camouflage pattern Grey) is available.  Why motorcycle manufacturers and paint makers make up such frivolous names is beyond me, but that's what they call them.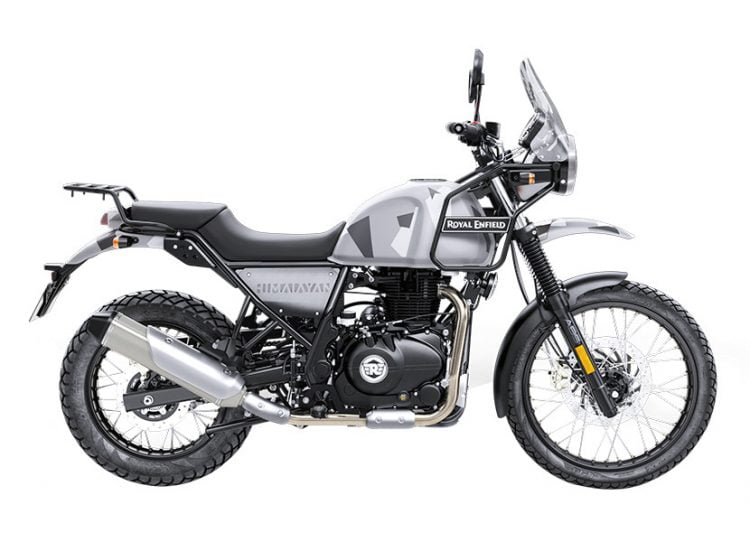 Four-way flashers
The second update is the addition of four-way flashers.  Clearly, the addition of four blinking yellow lights is not a performance enhancement.  But having the ability to trigger the "four-ways" when stopped/slow or in seriously bad weather is a useful and potentially life-saving addition.  So kudos to Royal Enfield for adding a safety update.
Switchable ABS
The last update is probably of the most interest to off-road riding Himalayan owners.  Up to this point, all Himalayans were equipped with non-switchable ABS.  That meant that when riding off-road, riders faced having the imposition of ABS designed for pavement riding.
There are ways to defeat the system, but it entails playing with electrics, which many owners prefer not to deal with.  Now, the 2020 Himalayans will be equipped with a switch that allows riders to quickly turn the ABS on and off.
With a retail price of $4749, the Royal Enfield Himalayan is one of the better bargains out there.