Hispania Rally, the first European race to kick off the rally season here, and as it claims, "the only desert rally in Europe", starts in six days. A five-day rally, the event promises Arizona-like desert scenery, interesting roadbook, and plenty of terrain surprises. According to rally organizer Domingo Aguilar, although the rally is barely three years old, it's growing fast. And thanks to Domingo, women are getting into rally races, too: when he invited me to Hispania, he asked me to bring some gal pals along and offered a discount deal on rental bikes for us all. I'm more than happy not to be going it alone like last year with Hellas: at this year's Hispania, I'm a part of an all-female crew of equally nutty amateur riders who are in it for the fun and the adventure rather than the trophy.
Having ridden mostly pavement and easy graded dirt roads since October, I feel nowhere near ready for the rally but, as there was no time or opportunity for training, I'm going for it anyway. I'll be riding a KTM450 and mostly just trying to navigate well, as this will be my first rally going completely GPS-free and relying on roadbook only.
Gabriella Linford (Australia-UK), Lauren "Kerry" Wright (Scotland), and Yael Moses (Israel) are all joining me for the Hispania Rally quest. Although I know Gabriella from last year's Bosnia Rally and riding Transylvania, I've never met Kerry or Yael before, except online. Still, we're sharing an Airbnb in Guadix, goggle lenses, and duct tape at the rally, and just hoping for the best.
Meet the three fearless adventuristas out for rally glory and bivouac beers:
Gabriella Linford
Bike: KTM450
I first met Gabriella last year at Bosnia Rally where she kicked my butt riding a Yamaha 250, gave me some great tips, and later joined me at the Transylvania enduro training tour. Gabriella owns a KTM350 EXC-F back home, and she's a beast when she switches to chase mode which I secretly envy.
Here's what Gabriella had to say about Hispania:
"I'm doing Hispania Rally because I can't bear the thought of it happening without me!  After being bitten hard by the rally bug last year in Bosnia, I couldn't turn down the opportunity to ride in one of my favourite regions in the whole world with one of my most favourite riding buddies (Egle).  I look forward to exploring this terrain by KTM450 and getting to know some new people who share the same passion.
Preparation-wise, well… I only really decided I'd be attending the rally a few weeks ago, and while I have been getting out on my bike fairly regularly, my fitness is certainly not at its peak, (I'd like to blame the British winter weather but I know that's no excuse!).  I plan to approach this rally a bit more calmly than I did my first one, ease into a steady pace, be more efficient with my energy, and focus on not getting lost!",Gabriella tells me.
Lauren "Kerry" Wright
Bike:KTM 1190
Kerry is our only hope to truly shine at Hispania. She has been riding bikes and racing motocross as a kid, so we're all hoping she'll be the one leaving others in the dust in her class. No pressure, Kerr!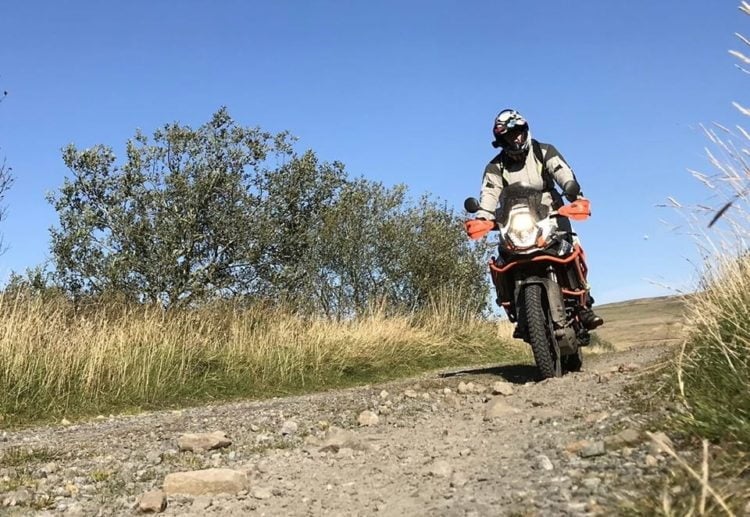 Here's what she had to say about racing at the Hispania Rally:
"I started riding when I was 4 and racing motocross at the age of 13, so racing is pretty much in my blood. This year, I saw this KTM500 EXC for sale, and I started looking at races in the UK, but for most events, you need a racing licence. Then,I started looking at rallies, but again, it seemed to me you had to be part of a team or have assistance, and that costs quite a lot. So when I saw Egle's post about trying to put a women's team together, I jumped at the oportunity. I'm going to be riding my KTM1190 from Scotland to Spain and racing Hispania on it, because that's the bike I own and love. It'll be my first rally ever, and Hispania seems great for beginners. I'm hoping to get more women into big ADV bikes, and not to feel so intimidated by them. I'm also hoping that more women will start racing at rallies. I'd love to train women to ride off-road, too", Kerry says.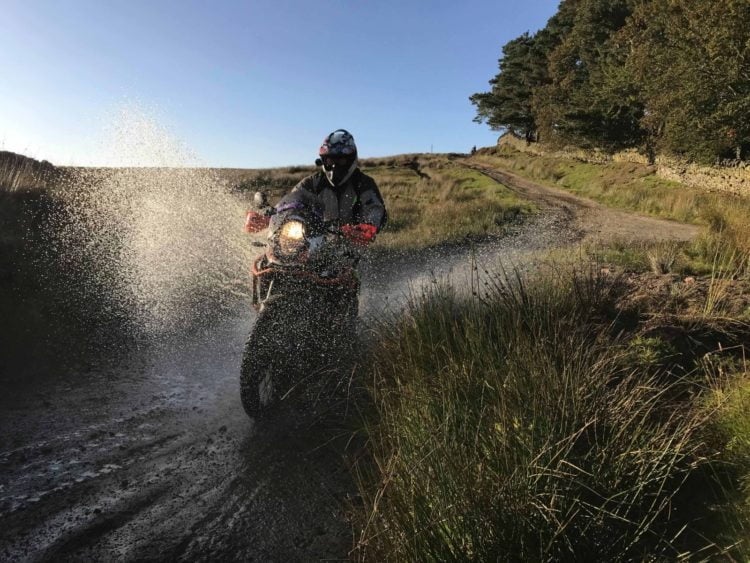 Yael Moses
Bike: Yamaha 250
Yael, an Israeli rider also doing a rally for the first time ever, was busy at work and couldn't comment, but I know she'll be an asset because she's riding the lightest bike of us all – a Yamaha 250, so chances are, I'll be staring at her back for most of the rally. Yael has told me she's nerous but very excited, and simply hopes to finish.
So here we are, the four female musketeers of Hispania: ill-prepared and inexperienced, but ready to go nonetheless.Wish us luck, and follow our rally shenanigans here live – we'll be posting video updates as we go along!