As women riders, not only we have less options and choices than our male counterparts, but fitting the gear is harder for us as women's bodies come in so many different shapes and sizes.
The good news is that gear manufacturers recognize this, however slowly, and more and more adventure gear is finally being made for women. After talking to countless female riders online and in person, I came up with these five best adventure jackets for women.
RevIt Neptune GTX
The Rev'It! Neptune GTX women's jacket is a piece of true four-season adventure gear: reinforced with Gore-Tex, sturdy protection pads and abrasion-resistant fabrics, this jacket also has a neat, minimalist look.
"It's fit is super customizable – adjustable wrists, arms, waist. The Neptune GTX has got a Gore-Tex liner so if it rains, I know I'm protected. It's customizable temperature-wise: because the fit is adjustable,  I can tailor the jacket to what layers I want to wear underneath – from a tank top on the warm days to the zip-in liner and a jacket on the colder days. Taking a layer off half way through doesn't mean I have baggy sleeves all of a sudden. It's got all the protective gear and it looks great! It's also super durable – I've had it for three years and it looks like new after a quick wash", – says Amelia Kamrad, a US rider and rally racer.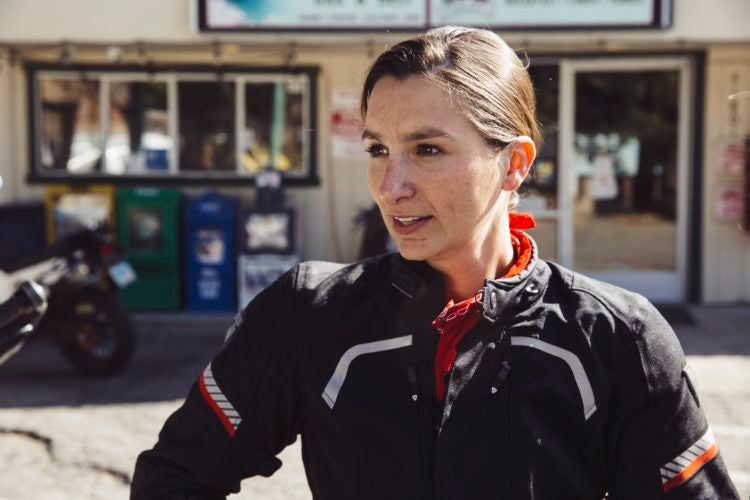 "What could be better about this jacket? It's mid-length, so those with a super long trunk might find it slightly short. For the type of off-road riding I do, it's too hot in the summer – that's when I switch to mesh. The neck can be tight when wearing a heavier neck gator. There's always going to be a trade-off between breathability (vents) for summer and protection from the wind (winter, spring, fall).
It's my go-to jacket when I wake up and see frost on the seat of my bike but know the afternoon temperatures will be pretty warm. Jackets rarely get crash-tested (if we're lucky) but they ALWAYS get comfort tested! If a jacket can keep me comfortable from 30 degrees to 70 degrees all in one day it will keep me from fussing with my gear and allow me to focus on the trail and be the safest jacket – this is that jacket!".
Klim Artemis
This one is my personal favorite. I've been practically living in my Artemis since 2017, and it's seen everything: extreme temperatures varying from Caribbean heat to Andean glacier cold, everyday wear and abuse, oil and hot coffee spills, crashes on and off the road, and it's still going strong. The best part about Klim Artemis, to me, is that this jacket finally combines it all: lots and lots of spacious pockets and vents (including booby vents, which is fantastic), Gore-Tex, function, D30 armor, durability and tough fabric as well as a great cut and fit. Waist and arms are adjustable which is great when layering up or down, there is a large back pocket suitable for anything from paper maps to thin thermals, and I love how tough and abrasion-resistant the fabric is.
I do wish it had a different collar fastener as my hair keeps getting stuck in the Velcro, and it would be cool to see it in more colors. Other than that, however, this is the perfect, RTW-ready adventure jacket for me.
Touratech Companero
Touratech was one of the first gear manufacturers to start making gear for women that were as functional and quality as men's. Touratech Companero is one of the women's adventure jacket that has a serious function, protection, and durability combined with a great fit.
"This jacket is worth the money! It's protective, yet functional and looks good. It works well in extreme heat, 100 degrees plus, and has an outer shell that is bomb-proof in wet and cold conditions. The outer shell is bulky when storing, but worth its bulkiness in gold. Love, love, love this suit!", – says US rider and off-road coach Shalmarie Wilson.
BMW Enduroguard
Another tough adventure jacket meant for serious saddle time, BMW's Enduroguard is a favorite among many female riders.
"The BMW Enduroguard is awesome, especially for riding in the cold or wet. I love it because it's chock full of safety features, fits great, and best of all, it's made from an abrasion-resistant stretchy fabric, so it's super comfortable", – explains Sarah Schilke, a US rider and aftersales manager at BMW USA.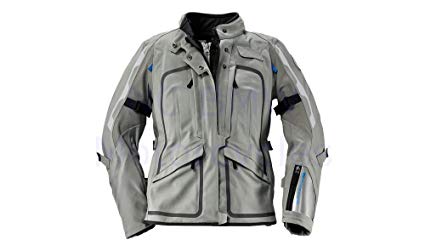 First Gear Kilimanjaro
During the gear discussions, many women brought up the Kilimanjaro jacket by First Gear – and for a good reason.
"It's got Gore-Tex type fabric. Durable, pockets, venting, adjustable snap closure at neck, D3 armor, power cord routers, waterproof, wind proof….hot and cold weather liners available. Loads of cinch spots to adjust when needed. I've done thousands of miles through every weather condition in the Kilimanjaro.
I am 5'11", 18, and have a 35" inseam. I'm a tall, plus girl. Finding things that fit isn't easy, ever! Being an Alaska girl, I ride through so many conditions from 35°f-105°f. I didn't want to have to find two types of gear and then rain gear. The Kilimanjaro jacket fit the bill. It's well constructed. Seams are rugged and well re-enforced. The D3 armor goes into a pocket but can be adjusted by attaching that pocket to soft Velcro in the right locations. All zippers are sealed, keeping water out. There are enough adjustment points for my body. In September, I had an accident. The armor and material did its job saving me from a lot more damage! I was hit head on going over the car and landing elbows, knees, and then sliding on asphalt. There isn't a scratch or a rub on the jacket! It did its job well", – says rider Johanna Noble-Govaars.