I've been on the road since 2013 including a short gap year back in Europe. I've ridden South America, Europe, North America, Cuba, South America again, and Europe again, and throughout the years, I switched from a Chinese 150cc to a Suzuki DR650, from blue jeans to second-hand gear to Klim, and from a backpack strapped to the back of the bike to Mosko Moto luggage. As I'm preparing for the next leg of my RTW and rally racing shenanigans, I've made a list of my gear favorites  – and gear letdowns – and I figured I'd share it here*.
Sleeping Bag
My Big Agnes sleeping bag has survived everything from the TAT, the Trans-Labrador Highway, and the Andes. I've had it forever, I've slept in it, used it as a picnic mat, as a cocoon for the Scary Sheet days at sketchy hostels, it's been washed countless times, and it still feels almost brand new. It can withstand cold temperatures up to about 30 F but still feels comfortable when camping in hot regions. It's basically my mobile home, and I suspect it'll be good for another five years easily.
Heated Jacket
This First Gear heated jacket is one of my most precious possessions. It has survived snow, rain, seawater, being stored away for months then taken out again and functioning perfectly for the last three years on the road. A neat feature is that you can regulate the heat level, and the wiring extends not just to your chest and back but also sleeves and neck, so you can stay toasty warm even in sub-zero temperatures. It also works as a casual jacket off the bike saving space.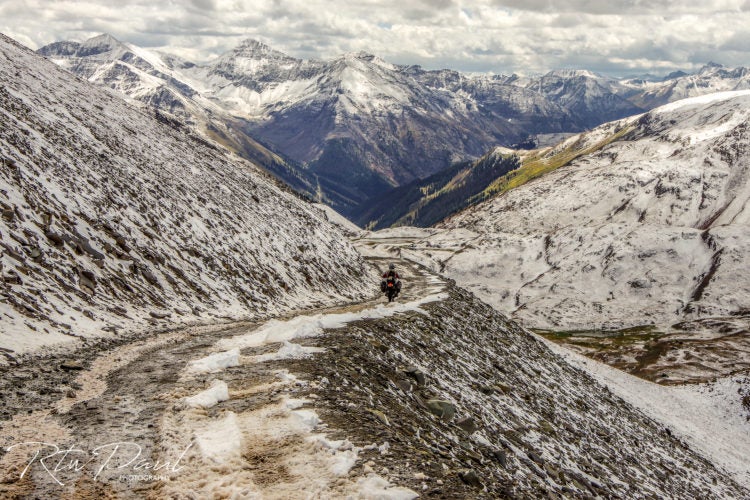 GoreTex Socks
I can't recall the brand of my GoreTex socks (purchased at an outdoors shop somewhere in Moab), but they've faithfully protected my feet from torrential downpours since 2016. If you prefer enduro/motocross boots while traveling but hate getting your feet wet, even a generic pair of Goretex socks can do wonders.
Under Armor Thermals
They're simple, practical, and functional. Easy to wash even when all you've got is a sink, soap, and some cold water. I've had the same set of Under Armor thermals since 2016 and I still use them today. Despite pretty heavy use, they still look and feel OK and I'm predicting another 3-4 years of happy wearing.
These four items are still in my panniers, and I'm not planning to swap them for anything else any time soon. On the other hand, some of the gear I initially started with has been either given or thrown away. I'm not saying it's no use for everyone – this is merely my personal take – but here's what I found disappointing in the long run:
Heated Grips
I had heated grips on my weird old Yamaha TD850 and my current bike, but in both cases, they didn't really do much for me and always drained the bike's battery more than would be justifiable. I get cold very quickly, and heated grips just never did it for me – they would never get warm enough to make a difference, and I felt I'd have to contort my hands in all sorts of odd ways to actually feel the effect. I've gotten rid of my heated grips at this point and got a pair of thick winter gloves instead. I'd be curious to test a pair of heated gloves, too. Heated grips? Never again.
Sleeping Bag Liner
I know lots of people recommend sleeping bag liners to add warmth when camping in cold conditions, to use instead of the sleeping bag when hanging out in the Amazon or a desert, or to use in hostels where cleanliness doesn't seem to be a priority. I tried a sleeping bag liner a few times and found it completely useless – for one thing, I'd get all tangled up in it and it made me feel claustrophobic; for another, my Big Agnes sleeping bag did its job just fine, so I got rid of the liner and made space for thick winter socks instead.
Adventure Boots
I started my 2015 riding season in a pair of TCX GoreTex X-Desert boots, but quickly switched to motocross/enduro boots instead. The TCX never had the durability I needed (they began leaking after about five months of almost daily wear, and started coming apart by month seven), and, as I increasingly rode more and more off-road, I decided I was happy to sacrifice the waterproof feature for more protection. Needless to say, boot choices are very individual, but I doubt I'll ever go back to adventure boots again.
What are some of your gear favorites and gear disappointments? Let me know in the comments below!
*None of the gear listed was given to me as a sponsorship, nor am I affiliated with these companies in any way.
Images: rtwPaul