As the number of women adventure riders keeps growing, more and more prominent female motorcyclists are making their mark in the world. Here are my six heroines – the most kickass ADV women to watch in 2019.
1.Jess Sjiriki Zekusn
I pretty much want to be Jess when I grow up: she rides like a winged demon, camps in subzero temperatures, and loves bikes so much she even got married while riding – with a horde of bridesmaids on bikes, of course.
Instagram: @ridingwiththewolf
2. Jocelin Snow
Another amazing rider, Jocelin is a GS Trophy competitor, adventure rider, and traveler. The way she handles her GS 1200 is mind-blowing, and she's an inspiration to thousands of women and girls out there.
Instagram: @jocelinsnow
3. Kinga Tanajewska
World-traveler Kinga Tanajewska, aka On Her Bike, has ridden Australia, Asia, Europe, and is now circumnavigating Africa on her GS 850 named Chillie. Kinga is on an indefinite RTW trip and her amazing videos will put wanderlust in anyone's soul.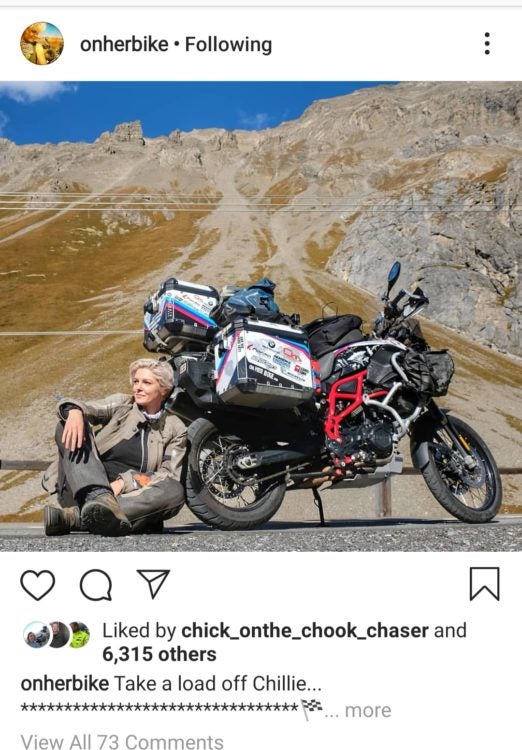 Instagram: @onherbike
4. Sinje Gottwald
I met Sinje in Peru earlier this year, chasing Rally Dakar. We hung out during the ten days of Dakar madness, and now, Sinje is continuing her travels across the Americas. Sinje has already ridden from Europe to Asia before shipping her bike to South America, and she's definitely one to watch.
Instagram: @sinje.gottwald
5. Lea Rieck
Lea has ridden around the world on her Triumph Tiger, taking stunning photos along the way. Lea's route included Europe, Asia, Australia, the Americas, and parts of Africa.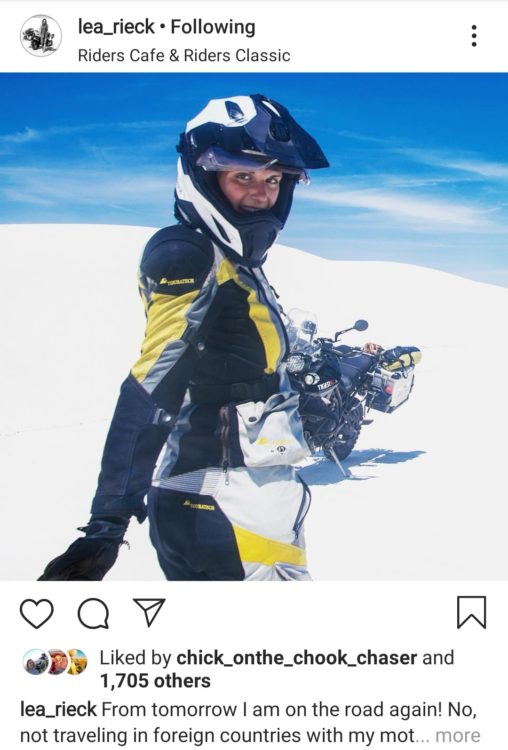 Instagram: @lea_rieck
6. Maral Yazarloo
Iranian-born, currently based in India, Maral has broken yet another social stereotype. During her round-the-world ride, for the last six months of her trip, Maral rode while pregnant. Read her fascinating story here.
Instagram: @maralyazarloo
Featured image: @ridingwiththewolf
Which ADV women would you add to this list?