Last year I got a shock courtesy of Ducati when they let me take a Diavel for 3 days. Oh my God. I felt like Harrison Ford in Blade Runner. It was like having a steamy affair: I'm supposed to be the devoted Adventure Bike guy and here I was falling head over heals with an alien from another planet.
It wasn't just me; everywhere I went people wanted to take selfies with the bike. They wanted me to start it so they could hear it roar (and did it ever with its Ducati performance exhaust). It rides like a super fast naked bike with your feet back, not like a cruiser.
When I returned it, Alex at Ducati asked if I'd like to take a new 1260 Enduro on a two week adventure. Was I dreaming? Let me think…okay, yes.
We decided to ride over the Sierras, through Death Valley, to the Adventure Rider Rally in Pahrump. We'd see if I could mix it up with the KTMs, BMWs, and Husqvarnas. If bike and I survived, then back up the Coast Highway.
First decision: Ducati asked if I prefered the OEM street tires or Pirelli Rally off-road knobbies. Hmm, given the delicious street miles ahead and Ducati's street cred, I chose street. That would be a fateful decision. My riding partner Kevin said don't do it.
Here's what my 2020 1260 Enduro looked like on my driveway with zero miles. Can't show up at an ADV rally with a bike that clean and no scars from dropping it offroad. What's that rule…? If you don't drop it in the dirt you aren't riding hard enough?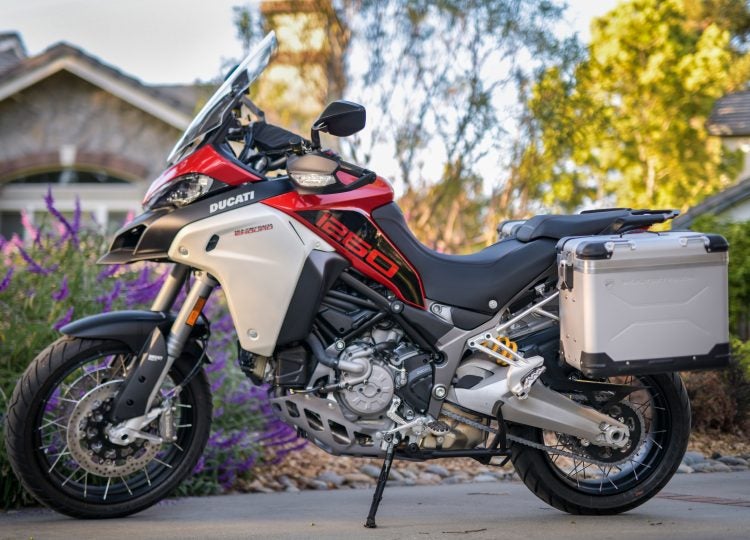 Ducati sells a mind-blowing list of accessories. If I were buying my own 1260, I'd lose the Touratech hard side cases but would add the Ducati Performance side tank protectors. After spending a couple months on a big KTM, I could tell right away I loved this scooped-out saddle over KTM's harder, higher, flatter one.
Time for some serious fun in the mountains.
I'm 6'4" and had no problem flat-footing both feet with bent legs. It was 2 hours of slabbing to get here and even at my height the stock windscreen was pretty good. It's narrow so you get wind on the arms, which I liked. I could listen to books via regular AirPods (I know, controversial…) at 80 mph without hurting my ears. If I slumped an inch, the sound got very clear.
At my height, though, I'd still opt to buy the tall version of the Tran Turismo windscreen. It gives 50mm of extra height and more aerodynamic wind protection.
As many miles and bikes as I've ridden, I've never been on one with hard side cases…
Erem, the speedo might have read 108 at one time and it was fine with the cases. I can see how convenient the cases are and I know how popular they are, but to me they made an incredibly fun bike feel big and wide. Even with loaded cases, in sport mode this bike goes like a bat out of Hell.
These are the best mirrors I ever remember riding with. No vibration, great view.
Good thing for heated grips, but even set at dark toast, my fingertips got cold riding in the mountains with temps of 15 degrees in my $250 (!!) Klim gloves. Who pays $250 for gloves?!
We rode late into the night in 40 mph crosswinds, leaning like a sailboat. Our tent flapped wildly as we pitched it in Lone Pine. But we awoke to a beautiful clear morning with Mt. Whitney behind us. Time to see what the 1260 can do on sandy roads and dirt.
From the moment I stood on the pegs, I felt comfortable on the bike. 19" front wheel, electronics for traction control, ABS, adaptive suspension. What could go wrong?
Unfortunately, in sand with street tires and a big bike, one momentary lapse…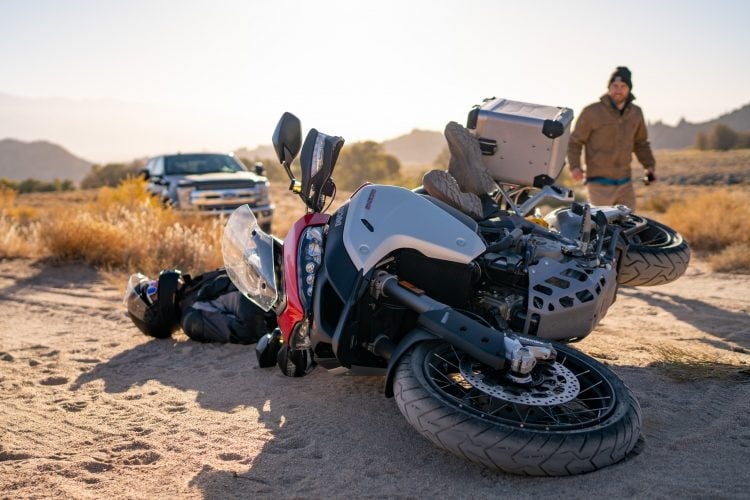 My fault, not the bike's. It was a low-speed stupid washout on a sharp turn when I wasn't paying close attention, but with big consequences. Ducati had offered off-road tires and I had declined.
I have size 14 boots and have to pay attention to prevent my toe from dropping below the front of the peg. This time my toe caught the sand going down because I wasn't paying attention, and it twisted my toe out wide and swept my leg under a side case just in time for the hard corner to come down on my fibula just above the boot. There might have been a minute of primal screaming when I saw how twisted my leg appeared to be.
Lucky, though, I was able to walk it off. When I got home a week later, my wife made me go get an X-ray:
I could still stand on the pegs. The roads to the mountains were epic and we had them all to ourselves. Here's a taste:
For awhile I blamed the hard cases and removed them. Why hadn't I done that before? Damn the bike is beautiful to my eyes.
As I rode through Death Valley and looked at those beautiful dunes, I thought " just think if Jimmy Lewis, winner of the Baja 1000, were here. He could hop on this bike and cruise through the dunes like buttah." There's a YouTube where good riders do it on this bike (fitted with knobbies).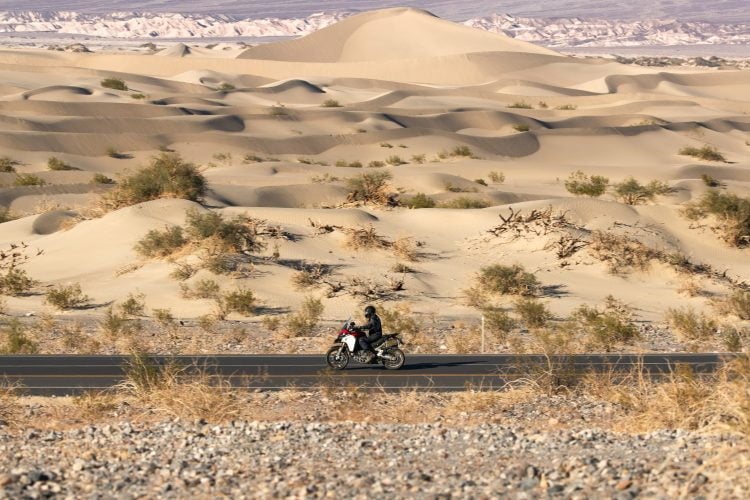 But when I limped up to Jimmy in Pahrump, this is what he said:
In Pahrump there were lots of grizzled riders who'd ridden to places like the Southern tip of Argentina. Their advice to me: "Dude, soft panniers are the only choice."
Well. If your leg is broken and you have a big bike with street tires and hard panniers, what better thing to do than getting with the knobby-clad hardcore guys on light bikes to drag race in the silt?
The traction control's yellow light flashed a lot, but I felt completely in control, even with the streets tires. It was flashing across the lake bed at 80 mph but for the video, drone pilot Kevin asked me to slow it down so he could keep up. It's funny, in all the hard miles of riding offroad in soft sand and rutted gravel, a few jumps, I never dropped the bike. Only the one time when I wasn't paying attention at low speed.
Here's what the hooligans looked like.
Everyone at the Pahrump rally wanted a ride. Inmate Carl57y is a former pro flat tracker and he was something to behold on the dry lake bed. Filming him and Jimmy Lewis on the bike would have been epic, but I had promised Ducati I'd be the sole rider. Guess I'd better buy my own and offer rides.
I really came to appreciate the 8 gallon tank and >300 miles between gas stops. There is a great thread in the forums where inmates like Yossarian describe how flawless his was riding all the way up The Dalton Highway in Alaska, even with street tires.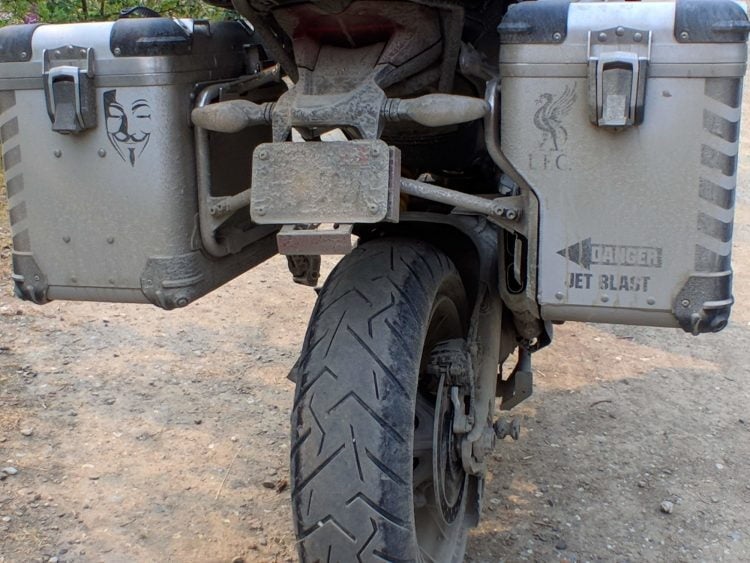 I didn't want to exaggerate how good the bike is, so I'll let inmate flyinturbo tell it. He and his buddy each bought one:
My buddy and I both have an Enduro and we both love them. We've taken them places I would have never thought a big bike could go. One rock garden in particular was super bad. First gear, trials-style riding and the bike handled it so well, I was amazed! I've since been back on that rock garden road on my dirt bike and still am amazed that we had big bikes on that trail.

Conversely, it's easy to knock down miles on pavement. We've done an 1100 mile day… while we were both tired, we both could have kept riding. The Enduro truly is a swiss army knife of the bike world. Where it really shines is for the aggressive road rider that wants to camp and do a bit of off roading. It'll jump speed bumps in a parking lot and cattle crossing equally as well. It'll support 2 up for date night or date trip and has the room in the panniers for both people. It has enough power to embarrass most bikes. It has handling that allows you to carve corners along with much 'sportier' bikes, surprising them at the end of the canyon. Yet it still returns 45ish mpg and casual road manners that allow you to arrive at a classy restaurant or a backwood camp site in equal amounts of 'yes, I belong right here'. We're both crazy happy with the performance, comfort and reliability of our hot italian GFs.
I loved the instruments, btw. They're bright, clear as a bell to read even in direct sun, and totally intuitive. I was constantly switching between enduro, touring and sport modes and feeling the suspension change, among a whole long list of things for each mode.
Returning home to the redwood forests just a few miles from my home reminded me of how much fun this bike is in the twists. All I could think was we live in a golden age of adventure motorcycling.
That gorgeous drone footage and many of the stills? My buddy Kevin, great photographer and dirt bike rider. He's making a YouTube of the whole adventure.