The start of our RTW adventures
Daryl and I left Malta, our home country in September of 2017.  We got ferries to Sicily, Italy and another to Greece and traveled overland from there onwards. The other countries we covered are Turkey, Iran, Pakistan, India, and Nepal.  In total, we clocked a total of 28,000 miles (45,000 km). One of the biggest considerations when doing a long trip like this is the budget.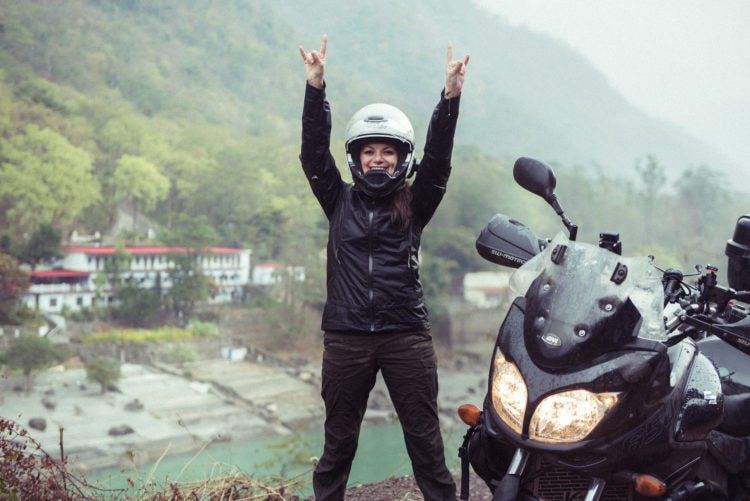 We started our trip with a budget calculated for approximately a year of travels from Malta to Australia. However, we travel slow and after a year on the road, we still had a lot to cover from our initial itinerary.  As soon as we realized that we needed to stretch it, we started living with half the budget and made some necessary changes.
This is what we spent in our first year on the road:
| | |
| --- | --- |
| Food & Daily Needs | $3383 (25%) |
| Fuel | $2435 (18%) |
| Health & Medical | $2165 (16%) |
| Visas & Required Moto Documents | $2030 (15%) |
| Motorcycle Parts & Repairs | $1759 (13%) |
| Accommodation | $1082 (8%) |
| Transportation & Tolls | $541 (4%) |
| Permits & Sightseeing | $135 (1%) |
| | $13 530 (100%) |
Learning to live with less
Food
We left home without a cooking kit, but after a couple of months, we realized this was a big mistake. Luckily, we managed to get a multi-fuel stove while on the road. Having our own stove allows us to cook more, and save money from having to eat out all the time. To give an example, a simple coffee costs a lot more from a restaurant other than doing it yourself. Even though this may sound silly, when you add up everyday savings, they make a big difference!
When we eat out, we avoid restaurants and look for local food. Most of the time, if a place is packed with locals, the prices are reasonable even if we pay the white man's tax here and there!
Even though we really enjoy a drink and a cigarette, especially after a long day of riding, these are an occasional treat for us, and we only buy them when we are in a place where they are cheap.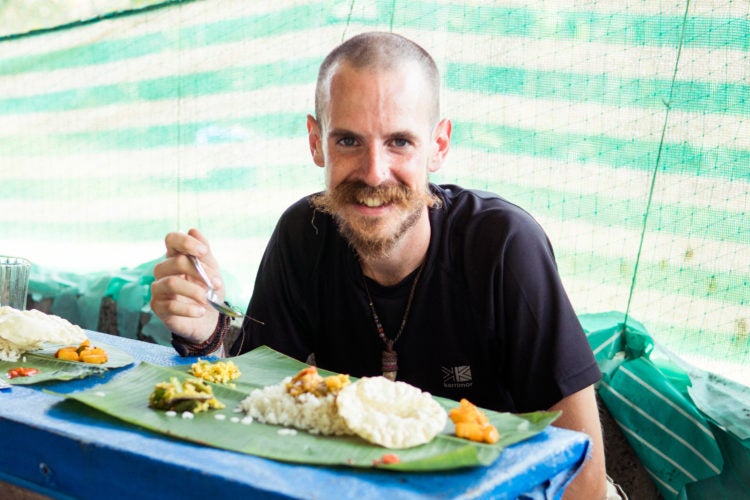 Fuel
We rode a total of 28 000 miles. The V-Strom's (650cc) fuel economy averages between 40 to 47 miles/gallon. Obviously, the fuel cost depends on the bike, the load you carry, the style of riding and the type of terrain.  The amount you spend on fuel also depends on how fast you travel.  If you travel slow, what you spend on fuel is spread over a greater number of days, and the savings can really add up.
Health & Medical
Getting travel insurance from our home country was too expensive.  Moreover, traveling on a bike with a cc larger than 125 complicates matters even more.  After some research, World Nomads was the best all-rounder and we got a one year cover.
Visas and required moto-documents
Our itinerary required us to get a Carnet de Passage. This amount doesn't include the deposit on the bike that we had to pay for having this issued (€3000 for the V-Strom – also varies according to the bike)
There's nothing you can do when it comes to Visas – rates are fixed.  The only thing you can do is proper research before it is too late, especially when traveling on your own motorcycle.  To give an example, it is almost always cheaper to get a visa from another country other than on arrival at borders.
Motorcycle Parts & Repairs
The biggest chunk of this sum is the cost of a new rear shock which we had to replace during the trip. We chose to get a Wilbers Products GmbH Type 641 shock and even though it took a big chunk of our budget, it was the best thing, we invested in for this trip.  This made us aware that despite the daily budget, we should always be cautious about what to spend as anything can happen to the bike, and when it does, it means bucks! It is hard to budget for out of blue expenses, but some emergency money should be budgeted.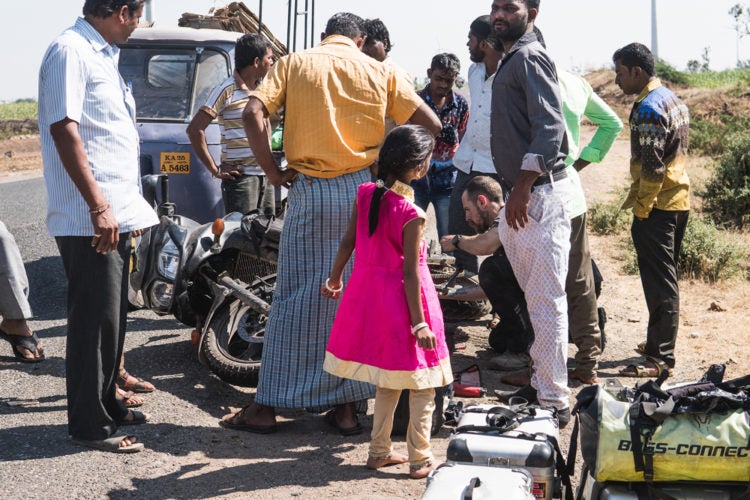 Accommodation
We go for super budget lodging that is not always as nice, clean or comfortable as we would wish for. However, our priority is keeping our expenses low and our travels going. We camp when we can and even though we don't use couch surfing, we have been lucky to be hosted by a good number of awesome people.  Traveling in tourist destinations in high seasons can be tricky so it might be wise to adjust your itinerary when possible!
Transportation and Tolls
This is what we spent in ferries, mainly from Malta to Greece and some tolls in between.  In Asia, motorcyclists don't pay tolls in many places we rode through.  Otherwise, these are charges you cannot really avoid.
Permits & Sightseeing
We try not to miss big highlights but are very picky on which paid sights to go for.  Unfortunately, the cost for certain sites for tourists is ten times the price for locals in certain countries.  We usually research beforehand to see if it appeals to us enough to pay for it.
What budget do you usually travel with?