For some strange reason, it took me years to figure out what the perfect adventure boot is. I started out six years ago in Peru, wearing a pair of simple CAT construction boots. Those lasted till about Tierra del Fuego, and I have since tried:
A pair of Bolivian handmade leather boots
A pair of steel-capped toe construction boots
No-name brand off-road boots which I bought used and which disintegrated in about 4 months
TCX X-Desert GoreTex adventure boots which were very comfortable but began leaking water after 6 months of mild abuse on the Trans Canada Trail
Pair of mining boots, hoping that they would be comfy and walkable enough but also protective enough. I had to ditch the mining boots about four days in because they felt like cement casts on my feet resulting in raw heels and blisters.
Pair of Gaerne SG12 motocross boots, which lasted from Mexico to South America to Europe without fail, but became increasingly uncomfortable to walk in or stand on the pegs for a long time. They offered great protection, but seriously lacked in comfort. It might be because they were men's and so slightly too big for me.
Currently, I wear Sidi Crossfire 3 SRS, boots recommended by Dakar riders and so far, I'm loving them. I have tried and tested them in a three-day cross country navigation rally in Portugal, and they were both very comfortable and protective. Waterproof? No, but that's what GoreTex socks are for.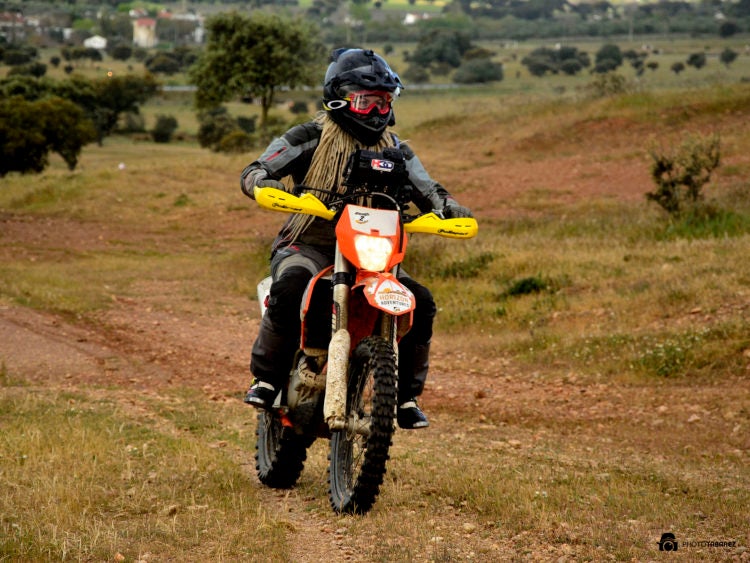 Curious about what other people wear, I asked around. Here's what some other RTW travelers had to say:
Kinga Tanajewska, On Her Bike
A Polish Australia-based round-the-world rider Kinga is currently riding around Africa solo after having circumnavigated Australia and ridden from Vladivostok to Europe. Here's what Kinga had to say about boots:
"My favourite boots are Forma Tera Evo because they are the right combination of comfort, protection, weight and importantly, they are waterproof. The sole is flexible so I can walk naturally but strong enough to feel comfortable while standing up off road. They're fitted with plastic shinguard to absorb the impact and ankle protectors and hinge mechanism in the ankle to prevent the boot from sagging. They are perfect boots for on-road/off-road long distance riding! They fit like a glove and they provide great protection for my type of riding. I wear them nearly every day, all day".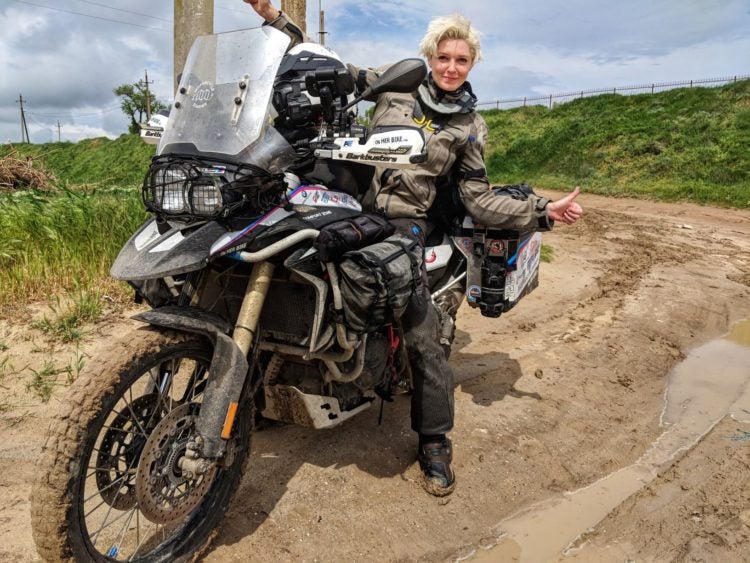 Paul Arcaria, Life Unloaded RTW
Paul Arcaria of LifeUnloadedRTW has ridden the Americas as the first part of his RTW trip and is currently riding across Europe. Paul wears Alpinestars Toucan Gore-Tex.
"There is a small squeak when I walk, but other than that, I love these boots. They're super comfy, you can walk in them, and they protect well. Had them since Brazil and couldn't be happier!".
Michnus Olivier, PikiPikiOverland
Michnus and Elsebie Olivier from South Africa have been on the road for, um, ever. They've ridden Africa and the Americas and don't feel like going home just yet. During their seven years on the road, they've tested tons of gear, and here's what Michnus had to say about boots:
"Adventure boots are a bit of a black art. They have to be so much to so many it is a kind of sorcery how motorcycle boot companies are able to balance all we need in adventure boots. We need them to be waterproof, comfortable to walk in and live in when traveling for weeks, months or years. And then, of course, they need to offer a high level of protection when riding off-road.
With modern fabrics and manufacturing processes, there are much better protection levels for riders these days.  We have used multiple brands in the last 12-25 years, and before that, we just had leather boots. MX off-road boots we have discounted to use due to their weight and most are not waterproof. Besides, they are not really made to walk in or live in for long-term traveling.
BMW and Sidi were among the first boots companies that used proper Gore-Tex as a breathing and waterproof membrane in their boots. It made a massive difference when riding days on end in the pouring rain. Our worst brand was Falco Avantour which claimed to have their own version of Gore-Tex but only lasted a few months before they began getting completely soaked in water when riding in the rain.
Eventually, we stuck with Sidi Adventure Gore-Tex boots as they also offered additional ankle protection with their hinge-type system support. This is to limit twisting ankles. Boots are a personal thing and it's very important how they fit. For an all-rounder boot, having in mind cost vs how long they last and fit, these boots have served us well so far".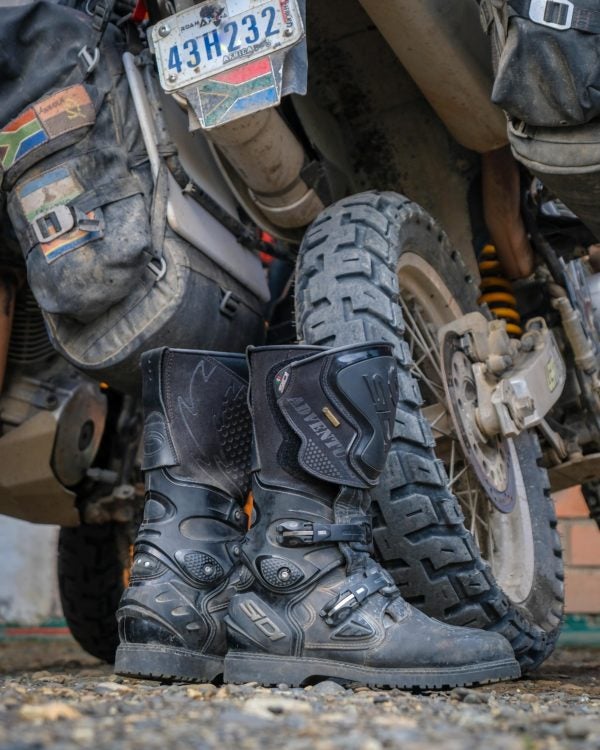 Which adventure boots do you wear and love, and why?
Featured image: PikiPiki Overland