Do adventure and rally tires exist? I knew I found the perfect ADV tire with MotoZ, as their tires last for tens of thousands of kilometers and offer enough stability on the road as well as good grip off-road. MotoZ Tractionator GPS is durable, universal, and more or less puncture-resistant, and it's been great for traveling South America. It lasted all the way from Colombia to Chile and from Poland to Greece, which is a fair bit of distance, riding about 70% on road and 30% off-road.
This year, however, I added even more stress on the bike and tires by wetting my toes in the rally racing world. On an amateur level, of course, but still, a multi-day cross-country rally racing differs from adventure riding and off-road riding in intensity, diversity of terrain, and speed. A race like the Hellas Rally Raid, as an example, is a seven-day roadbook navigation ride spanning seven days, varying tracks (dirt, gravel, rocks, river crossings, forest trails), and different altitude. A four-day Bosnia Rally threw riverbeds, wet grasslands, single track, and steep hill climbs at me in addition to being distance-intense. Rally racing is, in essence, a concentrated version of dual sport riding, and while the terrain and surface may be similar to your regular BDR or TAT riding, everything is a lot more intense as the daily distances are long and there is a speed element added.
Hellas Rally: Golden Tyre and Mitas E-09
In an ideal world, you'd want to ride to a rally, buy enduro tires, then swap them out again to your adventure tires once the rally's finished and you're ready to hit the road again. In my case, my budget simply wouldn't allow it, so my tires now had to endure not two but three different scenarios: road, off-road, and rally.
For Hellas, I chose a front Golden Tyre GT723R and a rear Mitas E-09.
Mitas was the only tire I could find for my DR650 among the sea of KTM 450's at the Hellas bivoauc, and to be honest, it did quite well during the rally. I had my regular tubes so I could ride both special and liaison stages without worrying about the mousses melting, and I never got a flat tire during the whole rally. Since this was my first real rally race, I was only hoping to survive and finish it rather than place anywhere, so my speed wasn't high.
I'd say, in essence, my Hellas Rally debut was more like trail riding with a roadbook rather than a fast-paced, breakneck-speed race. Still, the daily distances ranged from 250 to 350 km, and the terrain was very varied. The Golden Tyre performed very well, while Mitas felt a tad unsteady in mud and very fine gravel. On the other hand, Mitas felt pretty grippy on gravel, forest tracks, river crossings, and dirt roads.
Once the rally was over, the Golden Tyre looked unscathed, and Mitas was worn about mid-way, so I figured I could use both a little longer. I rode from Karpenissi, Greece to Sarajevo, Bosnia on road, and that's where I realized Mitas needed to go. The Golden Tyre front felt and looked great, but Mitas felt unsteady and slippy on pavement.
Even though it still had a decent amount of tread left, I decided to get rid of the Mitas tire and get a new one before my next rally.
Bosnia Rally: Golden Tyre & Pirelli Rallycross
In Sarajevo, finding tires for a DR650 was again a bit of a difficult task, but with the help of a local rider, I finally found a Pirelli Rallycross rear tire. Again, the Golden Tyre front still looked good, so I only changed out the rear.
Pirelli Rallycross felt great on pavement on the short ride from Sarajevo to Kupres where the Bosnia Rally was going to take place. It performed so well on the tarmac that I actually began wondering whether it would be a lot worse off-road.  Mitas E-09 was OK off-road, unstable on pavement; Pirelli Rallycross was great on pavement, so I feared it would be too slippy on dirt.
It wasn't. In fact, it performed just as well on a variety of different surfaces including shale, riverbed pebbles, forest tracks, water crossings, grasslands, rocks, and babyhead rocks. I had enough grip throughout the whole rally despite now riding faster and having more difficult terrain to deal with.
To top it off, the Rallycross then survived a thousand-kilometer ride to Transylvania on pavement and another tarmac sprint from Brasov, Romania to Warsaw, Poland. There, the tread was just about gone, and I'll need a new rear tire now.
The Golden Tyre front, however, still looks like it could do either another rally or a thousand kilometers on pavement.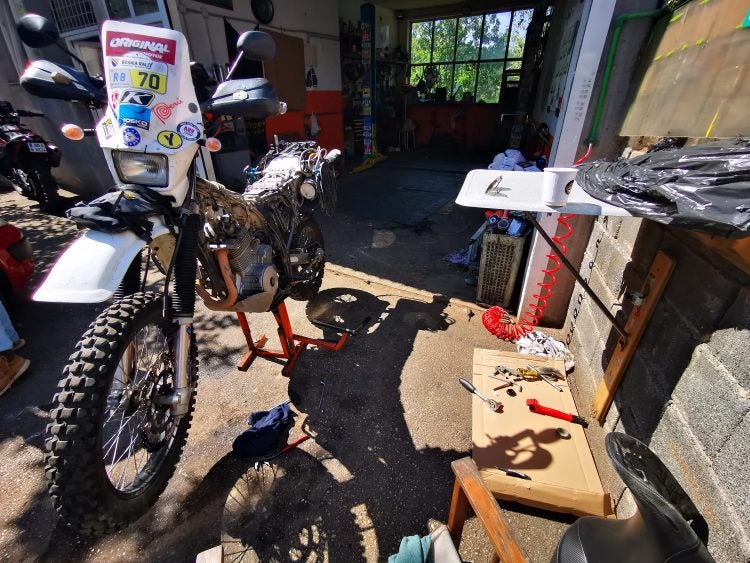 The Conclusion
So what's the verdict? Golden Tyre certainly earns my respect, as it survived two rallies and a couple of thousand kilometers on pavement. Mitas E-09 was fine off-road, not so much on road, but then, that's what it says on their page: the tire is meant for 80% off road and 20% on road, and it did the 80% job OK. Pirelli Rallycross (in the description, it's marketed as a rally tire that's also capable of touring on pavement) was an excellent rally tire, and it also performed well on pavement, but lasted less than the Mitas.
Now that I'm prepping to chase the Africa Eco Race from Monaco to Senegal, then enter more rallies, I'm still undecided about tires. I loved the Golden Tyre and the Pirelli Rallycross, but I'm also curious whether MotoZ would do well in these conditions.
What could be the ideal adventure and rally tire for a DR650, in your opinion? Let me know in the comments below.
Featured image: Reinhold Wenzel