The ADVrider Inmate Interview series will be a weekly feature highlighting some well known (and some not so well known) riders that inspire others with their travels, tales, attitude, photography, humility, bikes, and general ups and downs of life on the road. They may be inmates who ride a few days, weeks, months, or even years and tell their stories their way. The Inmate Series will let you get to know them and will inspire you to read their Ride Reports. And maybe you'll follow in their tire tracks.
This week's rider is jlevers, an 18-year-old student who rode cross-country on a 40-year-old motorcycle. He met some amazing people thanks to the forum, and along the way was an inspiration for baldy and his new venture – Cake.
It was 2 am, and Jesse was wrestling his engine back into his bike by himself. He was supposed to leave on his long-awaited cross-country trip in 3 days, but his 1979 Honda CX500 wasn't cooperating.
He bought it a year earlier, knowing nothing about motorcycles other than the fact that he wanted one. Since then, every time he walked into his garage he wondered if he'd just bought a massive paperweight. YouTube was his best friend and taught him more in a few short weeks than a Clymer manual ever could have.
He had just begun a gap year after high school, and what better way to start it off than by riding his decrepit motorcycle from the Atlantic to the Pacific, and everywhere in between? He knew it would be a challenge, but he was up for it, even with barely any miles under his belt
He found ADVrider while researching for his trip, and it became his favorite place on the Internet, filling him with inspiration while he waited for parts to arrive. As the bike neared completion and began looking like a bike again, he found himself spending more and more time on ADVrider. He felt that there was one tweak that might make it even better. He made a browser extension to make reading ride reports more enjoyable, but more on that later.
After getting lots of advice, he decided on a route that took him more than 7,500 winding miles. He stuck to as many back roads as possible (and mixed in the occasional stretch of dirt), riding through 23 states, from Massachusetts to Georgia to Colorado to Washington. His goal was to hit as many great roads and amazing natural places as possible, and his route definitely checked both of those boxes. He rode on the Blue Ridge Parkway, through Zion and Yosemite, and many places in between.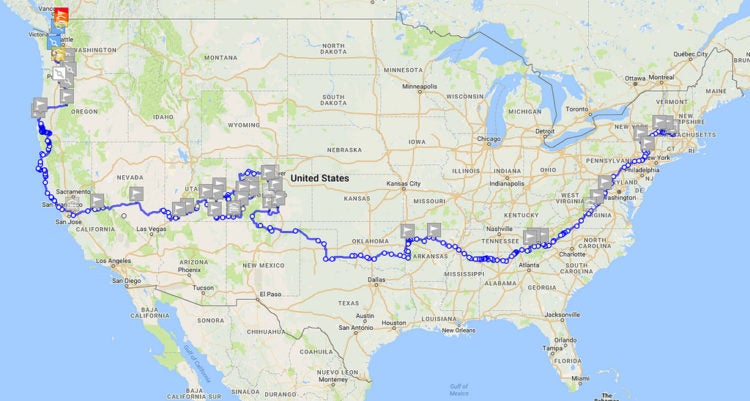 Delays happened, as they inevitably do. A month behind schedule, he was finally hitting the road! He was insanely excited and a little nervous. He said goodbye to his parents, did a burnout down his driveway, and he was off! He spent the first hour grinning and yelling into his helmet.
The ride itself was, of course, amazing. The scenery and roads were awe-inspiring. He rode and camped in weather varying from 105-degree desert heat to 45-degree rain (and some unexpected snow).
His mechanical knowledge increased with every mile that he covered, as throughout the ride he replaced or repaired damn near every part of his bike. It's an experience that'll stick with him for the rest of his life.
His motorcycle trip taught him about himself and the country he lives in, but the story of his ride isn't just about him. It's about the amazing people and the generosity that he encountered during his coast-to-coast ride.
Before leaving, he started a thread on ADVrider asking for advice and was blown away by how helpful and friendly everyone was. He was given more route advice, free gear, and encouragement than he ever expected.
After being on the road for a few weeks, he made the cardinal error of riding in the dark on the Blue Ridge Parkway. Failing to see a bump in the road from the poor lighting of his 40-year-old headlight, his phone bounced out of his tank bag. He stopped to search for it but had no joy, and so he carried on a half pound lighter. He arrived unannounced at the home of some old family friends in Asheville, North Carolina.
They were pretty surprised when he knocked on their door at 10 pm. They hadn't seen him in years, so it took them a few minutes to recognize him, I guess he'd grown! The amazing hospitality they showed him would be repeated over and over throughout his trip.
With a new phone and an unexpectedly smaller budget, he rode out of Asheville full of confidence. He made it about two miles before he saw coolant spraying out of his engine!
10 minutes later as he's tearing into his bike in a parking lot, he hears a voice behind him, "You need a hand?" The man introduced himself as Nick and offered Jesse his garage to work on his bike. Nick had a passion for motorcycles and had the tools to work on them. He was the proud owner of a collection of vintage bikes. With his help, Jesse was back on the road in a few hours.
Many miles, states, and nights of wild camping later, Jesse met Rick, Don, Jerry, and Mark in Colorado. They were really fun to ride with, and didn't even give him a hard time about how slow his bike was at altitude! They were together for all of 36 hours, and in that time, they gave him  tools and gear, insisted on buying every meal he ate, and paid for the only hotel room of his trip.
Eventually reaching Sacramento, California, he pulled into the driveway of the man, the myth, the legend that is Larry Cargill, a man who knows more about the CX500 than Honda. When Jesse arrived, Larry took one look at his bike, smiled, and said, "Unpack your stuff kid, we're gonna be here a while."
They spent two and a half days fixing Jesse's bike, and when he left, it was a new machine. Larry dropped everything to help a kid he'd never met get back on the road. Larry and Jesse still talk often.
The motorcycle community is amazing in other ways, too. Fast-forward six months: Jesse was checking out @Baldy's new site Cake, and he'd received an email from him asking to set up a call. Whoa! Okay, sure! During the call, Baldy told Jesse that Cake's panel-style discussions were partly inspired by the browser extension Jesse had made (which allows you to view only the original poster's posts in a thread). Jesse is honored that Baldy found his idea meaningful. Jesse told me, "it feels pretty wild, as some random teenager, to have influenced the product of someone who worked alongside Steve Jobs."
All of this goes to show that the ADVrider community is one of the best groups of people out there. So if you're reading this and you're nervous about taking a long ride, don't be! The community here will give you all the help and encouragement you could ever need.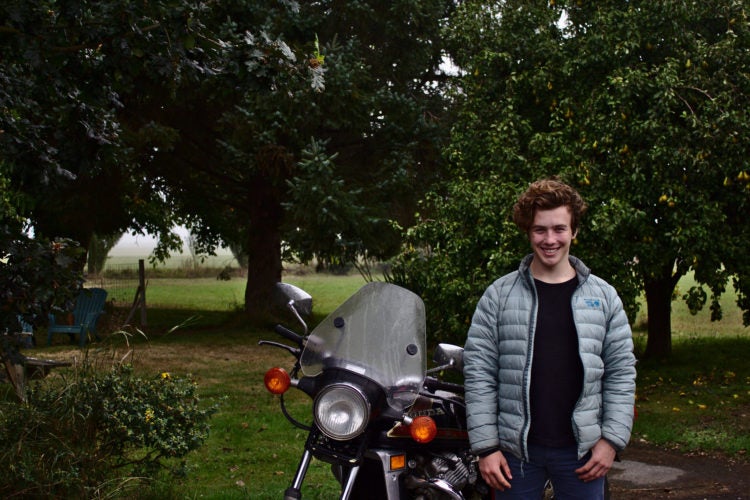 If you want to read more about jlevers ride, the full report is here. There are links to both the Chrome and Firefox versions of the browser extension that he created in this thread on ADVrider. (It's free, and there are no ads.)
Jesse is currently studying Computer Engineering and Computer Science at Northeastern University and will graduate in 2022. You can find him @jesse.evers on Instagram, email him at jesse27999@gmail.com, or just send him a PM here on ADVrider.
If you are unfamiliar with Cake, @Baldy's new website, click here, sign up, and join in on a few conversations. You might see a few familiar faces.
It was great talking with Jesse. I hope he is an inspiration to other riders to get out there and fulfill their dreams, rtwPaul