As the Africa Eco Race 2020 is about to begin tomorrow, I chatted with one of the riders to find out what the vibe is like aboard the ferry to Morocco. Australian rider Andrew Houlihan is taking the AER challenge for the first time, hoping for a finish.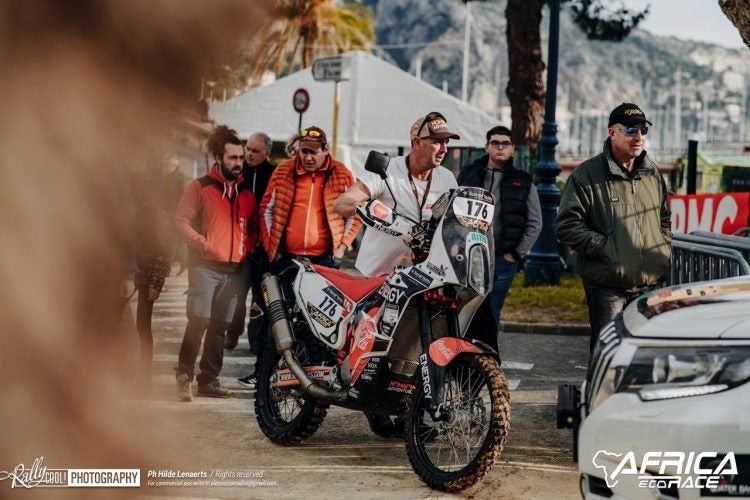 "We're all still on the ship. We've had our final briefing and received our roadbook for tomorrow's 754km day. My start time in the morning is 7.43am. We are all excited and also a little nervous and can't wait to get on the bikes. We're expecting some very cold temperatures in the morning and also as we cross through the Atlas Mountains later in the day. Looks like we will have a night time ride into the bivouac tomorrow night", Andrew told me.
The Africa Eco Race 2020 kicks off with a short, 24-kilometre prologue day, although the overall distance is almost 800 kilometers.
"I'm feeling good, I haven't had a chance to ride my rally bike yet and get it set up properly, so tomorrow's long day will be a good introduction for me. I don't really have any expectations at this stage other than to make it to day 7 with no problems or accidents. After Day 7, the race gets serious, but my main goal is to just get to the finish line in Dakar. There are many very good riders this year that chose the AER over Dakar Rally so even to get in the top 25-30 will be difficult", Andrew said. According to him, the toughest competition will likely be between Lyndon Poskitt, Alessandro Botturi, and Anders Pal Ullevalseter.
"The vibe on the ship is very positive, everyone is here for the same reason: To finish on the beach in Dakar! This is the real race to Dakar through the massive Mauritanian dunes and I know it's going to be very challenging", Andrew added.
Follow the race results live here.
Follow Andrew Houlihan on his website and social media.
Images: AER