The name Jesse is synonymous with Adventure Riding and ADVrider, but before ADVrider, before Touratech, before GPS, before TKC80's riders were crisscrossing the globe.
One of these riders was Al Jesse, he didn't just arrive on the scene and become an aluminum luggage manufacturer before Jesse Luggage existed  he worked as a motorcycle mechanic and made time to travel the world by motorcycle whenever and wherever he could
Al is a man of many talents, and storytelling is one of them…
When did you do your first trip of significant length? 
One of my first trips in the early '80s was to Australia.  I had originally planned for about a month but that turned into more than 3 months exploring the fringes and the outback of Australia.  I went planning to buy a bike there for my trip, went to a pub in Melbourne and met up with another rider.  We made a bet on which one of us could get to Darwin (2000 miles away) on the least amount of money.  We bet $50.
I bought a Suzuki Titan 500 (a street bike) for about $200 US and put 16,000 miles on it.  That bike took me to Normanton via Carpentaria and Burketown following the Gulf of Carpentaria.  I had a 400 KM stretch with no fuel availability.  This bike got me to the tip of Cape York via the two-lane sand track called the Telegraph route.
Back in the early 80's, there was no bridge over the crocodile-infested Jardine River, and the sport was to "float" your bike over before ending at the top of Cape York.  In order to do this, I need to create a bubble or air space within the bike.  I sealed off my saddlebags, pulled off the carbs and put a plastic bag between the intake and the carb, and then sealed off my crankcase breather.  I also put a plastic bag in my gas tank which created another air space.  And the tires and front forks added some extra air space too.
After doing all this, my 500 lb bike felt like 75 pounds.  The front wheel would be touching the bottom of the river at about 4' of water and the back end of my bike was just happily bobbing along behind me.  It took a little effort on the other side to make sure the bike was dry where it needed to be, but it got me over.
I won the bet but never got my $50.
I had the bug for motorcycle travel – but always did my trips in shorter segments.  I would travel in time frames of 3-10 months and saw more than 50 countries over a period of 14 years.
Do you have any unique ways to fund your travels?
I was a motorcycle mechanic by trade, so I had skills I could use on the road and I had the luxury of taking off when I wanted.
I always felt one of the best ways to get to know a country was to actually work there. I would get a feeling from someone I met or really like an area and decide to spend some time. Then I'd go look for a job.
As an experienced mechanic, I knew that every shop had bikes in the corners that no one wanted to work on. I would tell the shop owner I'd work for free but I wanted a percentage of whatever he made off of those bikes.
This way there was no risk for the owner and I could always score some good used take-off tires and other parts that were still good.
A traveler is always looking for tires. Several times I would go to a wrecking yard or junkyard and ask for the tires off a junker bike. My foreign accent got me several good used tires that way!
Along the way over those years I worked in motorbike shops, in restaurants, I worked as a landscaper in Australia, I mined opal in Coober Pedy for 8 weeks, I picked apples for a day, and I worked as a motorcycle tour guide in Europe and New Zealand.
I didn't really have any sponsors, but I did work with a shipping company for reduced rates on bike shipping and I did get one set of tires for free from Metzler!
When I ran out of money on the road, I knew I had a good job back in California that would fill my pockets quickly for the next trip. Twice I came back from travels with a mere $20 to my name! It never stopped me from going out again.
How did you meet Chris Scott?
***(For those of you who don't know Chris, he is the one to coin the phrase, "adventure motorcycling" and writer of one of the most read books ever on the subject Adventure Motorcycling Handbook, now in its seventh reprint since first being published, and the author of a number of other books)***
I was on a 10 month trip through Africa in 1985/1986. I was following the Paris Dakar route that year so spending a lot of time in the Sahara desert.
In Africa, you don't throw away anything you have cause you never know when you might need something. Even if it's flat.
I was at the border crossing between Mali and Senegal and had to fix a flat front tire. As the locals were pumping air into my flat tire, I walked around the building and I saw this guy on an XT 600 but missing a rear tire. He was riding on his rim. I offered him a spare tire that I was carrying (and should have tossed about 2000 miles earlier) – he said he had only about 600 km to go so he thought he would be fine. He couldn't really believe I had a spare tire that I would let go.
After we put that old tire on his XT he asked if I would take some photos of the end of the Dakar as he was not going to be able to stay in Africa. Then he just took off. At the time I had no idea I had run into the guy who had just published the bible on traveling the Sahara.
When I got back home to the States I sent him the photos I had taken. We corresponded over the years – once I got a letter from him on the only paper he had available – an old map of Mali that he was no longer using.
A short accidental meeting like this can turn into a lifelong friendship. This happens more than people can appreciate. It's one of the blessings of travel.
***Chris two years ago
How about that time you were the first motorcycle to cross the finish line of the Dakar but not be a competitor in the race?
I was traveling the Sahara two-up on a BMW R80ST with street tires for much of the trip. My partner and I took 3 ½ months to follow the route that the racers took 22 days to complete.
It was really hard!
On our worst day, we did 4 miles of sand track and it took us 10 hours. We ate a lot of dates, couscous, and curry, because there was not much else available. We washed our dishes with sand and once we went a month between showers. The first day we could do 50 miles in a day we were absolutely ecstatic!
We had met up with other travelers who had helped us identify where we could find clean water, food, and gas and we had those spots marked on our map.
There was no GPS.
Along the way, we went through many small villages. The locals all knew the race was coming and they assumed we were one of the teams. In Niamey, we found a very nice hotel with a pool – the first clear water we had seen in a long while.
We were of course very dusty and tired, and the waiters thought we were part of a race team and were eager to serve us the beers we ordered. Everyone thought we were the first racers – we were about 4 or 5 days ahead of the race at this point in time.
As we were enjoying our very cold beers in our very dusty riding gear in this very nice hotel, one of the managers came up to us and very quietly talked us out of jumping into the pool.
He did not want to make a scene but politely asked us to finish our beers and leave. He knew we were not part of the race.
We were in Dakar about a day and a half before the racers and rented a little hut in Lac Rose, which is where the race actually ended.
As the organizers were setting up the official finish line I had a wild idea that I wanted to be the first to cross the line that year.
About 2-3 hours before the first racer came in I was playing near the finish line track heading towards the banner. By the time I was 200 meters away from the finish line, I was going about 70 mph. The folks on the podium saw the motorbike coming at speed and scattered – the photographers were just setting up and had to start shooting. I heard all the cameras clicking away madly, this was the days of film remember. After I crossed the line I just kept going, past all the angry photographers and not understanding the French words they were shouting at me.
After this, I blended into the crowd and watched the actual finish of the race.
I met Gaston Rahier and he was so very gracious as to sign my bike tank. Luckily I have a picture of him signing my tank as I had to paint over it several years later.
What unique modifications and fixes did you do on your bike?
As I was planning my two-up Saharan trip with a large tank and enough food and water to carry us through the thin times, I knew I needed an improved suspension. While working in Sweden I built a second shock parallel behind the original. With all the gear we were carrying at the time, this was a much-needed modification.
When I was in Guatemala I realized that the fruits were very inexpensive, and I basically lived on mangos, oranges, bananas, and papayas. But I needed a way to make them into smoothies (this was way before smoothies were popular). So I made a blender that ran off the end of my crankshaft. I had a 50 hp blender for my smoothies. I only used it for a year because a 6000 rpm puree cycle was too hard on my bike motor!
I updated this the following year with a Honda Goldwing starter motor and I turned my blender in a 12v electric blender.
I also installed an oven using a stainless box that went into a hollow cavity I built into the exhaust collector underneath the transmission. I did this because I found that putting a burrito in this oven about 15 minutes before I stopped to camp would yield me a nice warm and perfectly cooked burrito for dinner. It also worked well for cookies but you had to stop to take them out as soon as you could smell them or they would burn…
What is your current bike? Do you have a dream bike?
I currently ride a BMW F800GS. I also have an X-Challenge for trail riding.
I always wanted to own a Britton but Julie won't let me have it in the house.
Actually, I am very happy with my F800 – it does everything I want it to do!
What is your dream location to ride that you have not ridden yet?
I really want to take a Royal Enfield up into the Himalayan mountains. If it will make it to the top….
What are your three favorite countries to ride?
New Zealand should be the top of the list – there is so much diversity there in the landscape and the people are so very friendly and helpful to travelers. In one day you can go coast to coast, from mountains to beaches, from sunny to wet, from fjords to glaciers. New Zealand has it all.
Norway – the road systems here are second to none. Also the salmon fishing is pretty good.
The Dolomites – hidden little villages on the smallest of roads make this area so very interesting. The history here is incredible and there are great restaurants in every little town.
One particular road that stands out?
I have more than one that I can think of, but I will just mention the Creb track or Telegraph route to Cape York in Australia.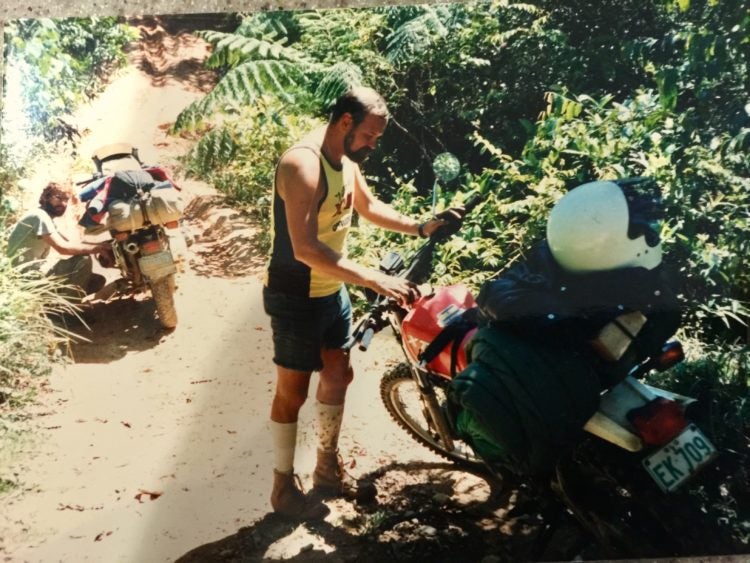 This is 1000 miles of single track that starts in the jungle, goes through the outback and ends at the coast in Cape York.
It was challenging not only because of the sand and the water crossings that required me to float my bike, but also for the very visible crocodiles and kangaroos on the trail.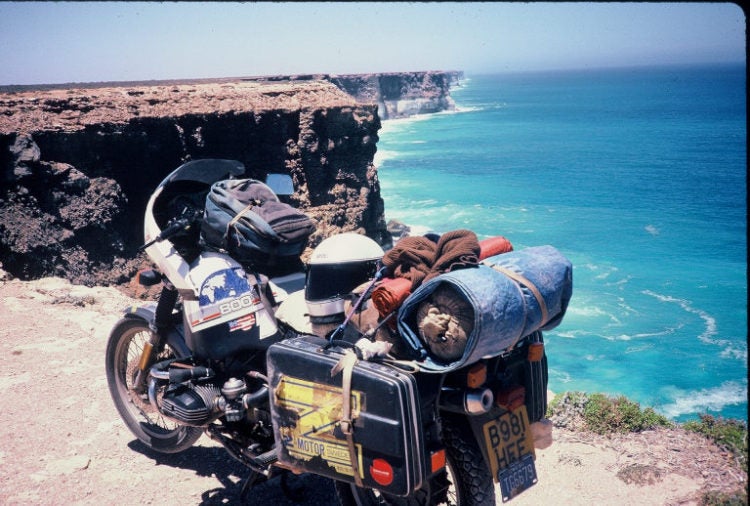 Also, it was dang hot so that made it memorable. In Australia you see everyone doing the Australian wave – the flies are thick and people are constantly waving them away from their faces.
Do you think more people should travel and why?
Travel opens your eyes to the world.
I think the way other countries like Australia and NZ encourage their kids to travel before they settle down into college or a job is a great idea.
Whenever I came back from a trip, especially a difficult one, I came back to the US with a fresh perspective. I knew I was incredibly lucky to live the life I had and I saw that other people did not have the same appreciation. I think travel opens the mind and exposes the traveler to different ways of seeing the world.
Top three tips for a new rider
Take your time. Spend time slowing down. Stop – do not hurry to the next place.
Challenge your comfort zone.
It doesn't matter if you are on a $300 bike or a $30,000 bike, you can enjoy the ride, the landscape, and the people. Let things happen.
Most memorable/scariest moments
I had a lot of memorable moments riding through Africa. Every border check involved pulling out my passport and in many towns, they asked for it as well. Every time you show your passport, you learn to expect a bribe will have to be negotiated.
Now, this was before the internet so there was no communication between villages on what the going rate should be. As we were nearing the end of our trip we were low on bribes, but luckily a pen or pencil would usually be sufficient.
When I got to Dakar I needed to get my Senegal stamp – the police chief behind the desk wanted $70 US for the stamp. At the time, locals made about $20 US per month, so this was a pretty steep bribe. I said no thank you and walked away, but he knew he was the only game in town and that I would have to come back to him. As I wandered around town asking about this, I was told over and over again to go back to the same person. No way – I knew he would want even more this time!
I went to the organizers of the Paris Dakar race and explained my situation – they had no problem getting my passport stamped. Easy-peasy!
I had made arrangements to fly the R80ST from Dakar to New York – it would leave a day before me. My carnet required that the bike always be in my possession while in the country and that I would not sell it while in the country – not that I would sell it anywhere in Senegal at the time as it was valued at $30,000. Who would buy it?
While I was having dinner at my favorite Lebanese restaurant the night before the bike was scheduled to fly, I was approached by a couple of plainclothes local police (they were pretty easy to spot). They asked if the bike was for sale and I played along and said yes. We arranged for a meeting to finalize the deal the following afternoon.
The next morning, I put the bike on a pallet, loaded it on the plane and watched it take off for New York – I had mixed feelings watching that plane go away with without me. I had spent 10 months in Africa on that bike and it had become a part of me.
So my flight was supposed to take off in the morning – and I had arranged to meet those police officers in the afternoon.
Pretty smart, right? Well, this was Africa so things like flight schedules were really just suggestions. As my delay stretched from 2 hours to 6 hours to 8 hours, I could only think that the police chief knew I had arranged to sell my bike and I never had my passport stamped by him so he could collect his bribe.
He was on the lookout for me, that's for sure. As I was waiting for my plane to show, I couldn't help but scan for the police about every 2 minutes. I did not have possession of my bike and he was pissed for missing on a hefty bribe – I envisioned spending some time in a Senegalese jail.
Finally, after a 10-hour delay, I finally took off without being arrested! I had been so stressed that I fell asleep as soon as the plane took off and didn't wake up again until the Statue of Liberty was out the window.
What an end to my Africa trip!
What trips do you have planned now?
Last year saw us in Scotland and this year already we have explored Okinawa Japan. Later this year we plan to visit Croatia and surrounding areas.
When you aren't riding what is your job?
I sold Jesse Luggage a while ago but I love the motorcycle industry so to still be involved I started a new company called MotoManufacturing – a company that makes innovative motorcycle accessories.
Our first products are MirrorLok and Moto Dock, but we are developing new products all the time for motorcycle enthusiasts. Any questions drop us an email and we'll call you back, we love to talk about motorcycles and travel
You can find more about Al at –
Instagram – @motomanufacturing
==================================================================================
For more interviews and a small look into the life of some inmates make sure you check out the Interview Series in the forum that has been running since 2007 – you can find it here