There are two things that you probably don't know about Iceland. The first is that Icelanders were never Vikings. A young lady I encountered in a bar in Reykjavik informed me of this in no uncertain tone. "They were farmers and tax evaders," she said, "they came here where the king couldn't make them pay up. And they never wore horns on their helmets!"
That latter point is not the second thing you don't know, although it might be the third. The second thing is that there is an excellent and not so little motorcycle museum in Akureyri, which is a town on your way when you're riding around the island. It's a bit of a tech-head place and also has industry and aeronautical museums.
As well as that, Akureyri is the place where Icelandic authorities detain polar bears until they can be repatriated to Greenland. Yes, if you're riding in northern and western Iceland it's quite possible – if unlikely – that you will encounter one of these white, furry giants. On average it's fewer than one bear a year that makes it to shore from its ice floe, but I thought I'd better let you know. Other travel guides tend not to pass on these kinds of vital if esoteric details.
Due to the warming Gulf Stream, Iceland is not as cold as its location near the Arctic Circle might suggest. As well as that, it has nearly 24 hours of daylight in the middle of summer, which makes for a lot of riding time. An excellent network of roads helps, too. They're not all sealed, but even the graded roads tend to be in good shape. In the middle of the island you'll find quite a few river crossings, and it pays to check the depth before you tackle them; a lot of water flows down from the highlands, as the many spectacular waterfalls confirm.
Perhaps as a result of the light and the roads, there are some 15,000 motorcyclists in Iceland – nearly 5% of the population. That's roughly the same proportion as in Australia, which is pretty impressive. The motorcycle museum makes it clear that most riders in Iceland stick to the roads, which can be partly explained by the official restrictions on off-road riding. The landscape might be rugged, but it is quite sensitive and easily defaced by tire tracks.
Most motorcycle museums except those dedicated to a single marque concentrate on bikes that are exceptional in some way. They might be famous race or speed record bikes, prototypes or highly modified custom machines. Some, like E Hayes and Sons in Invercargill, NZ, were even created around one very special machine – in their case, the original Burt Munro 'World's Fastest Indian'.
The Motorcycle Museum of Iceland, on the other hand, was founded in memory of local biker Heidar Johannsson who died in 2006 after a motorcycle crash. His collection of 23 bikes formed the core of the collection. Fortunately, it included a Triumph X-75 Hurricane. Why fortunately? Well, not many people know this (my goodness, aren't you learning a lot?) but by an internationally-recognised convention, all motorcycle museums around the world must include a Hurricane unless the bike is specifically excluded by the collection's concept.
That's why there isn't one in the Harley-Davidson museum in Milwaukee, but it was a close thing.
Johannsson's family and friends have added to the collection and it now occupies a very smart-looking, purpose-build two-story structure which displays more than 100 motorcycles. Its focus is unusual: it concentrates on bikes ridden by ordinary Icelanders over the past century, and memorabilia linked to that. Mind you, a rare and lovingly restored Henderson from 1919 has pride of place. One of the other old motorcycles on display, a Triumph, is also almost exactly a century old. The museum traces developments in Iceland since then.
There is quite an interesting selection of mainly German-built 1950s mopeds, which must have been a big hit here. Along with the everyday bikes on show there are some oddments like a lacquered wooden 'BMW' and a chopper with unfeasibly long forks. I discovered on a walk around Reykjavik that chopper-building is quite a popular pastime in Iceland. I suppose it make sense considering the long hours of darkness in winter, but who knew?
To be honest, motorcycles are motorcycles and you can see almost all of these bikes in other places. What you won't see elsewhere is the wonderful collection of photos on the walls. Ranging from the shot of Iceland's biggest women's motorcycle club to a classic photo of the 1919 Henderson with its nattily-dressed rider aboard, they offer a fascinating insight into motorcycling life in the island. Captions are in Icelandic, but much of the information has been translated into English. Iceland hosted a reasonably big British and then American military presence for quite a few years, which might explain the prevalence of English.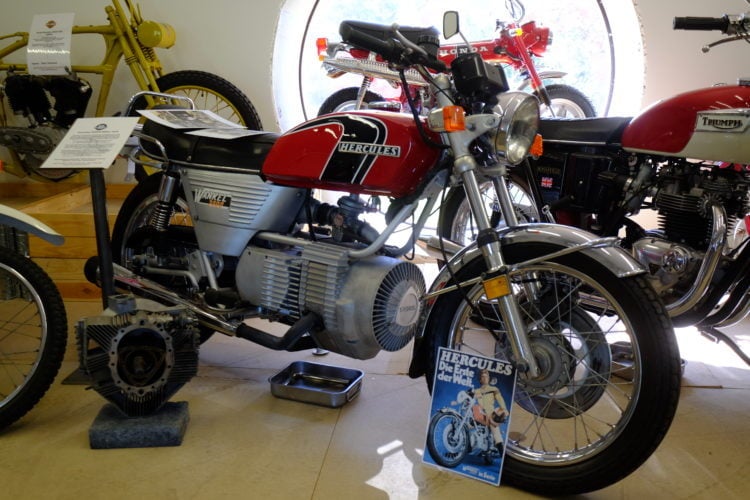 The museum is on the main road just outside town and is open daily from the beginning of June to the end of August from noon to 6pm and the rest of the year on Saturdays from 3pm to 6pm or by appointment. For more information see http://www.motorhjolasafn.is or call +354) 466 3510.
(Photos The Bear)