Are Adventure/ Offroad Pegs Really Worth The Money? Where do they get the price from?
Firstly look at a few comparisons:
DR650 stock peg  vs ProMoto Billet Adventure Pegs:
…. DR650 stock peg vs Warp9 Racing Adventure Peg:
… or these smaller pegs also by ProMotoBillet:
… or maybe these additions from ZipTy Racing that use the stock pegs as a base:
Maybe you prefer BlackDog Cycle Works: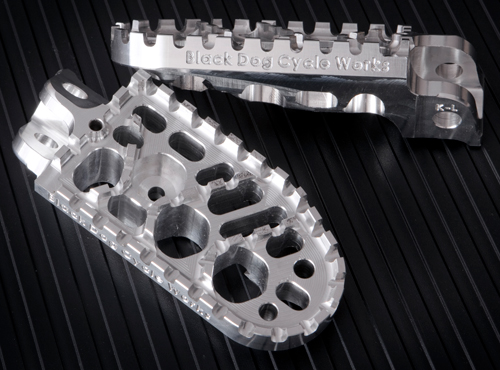 There are stainless and titanium options too, like these ones from Hammerhead:
… or these from Pivot Pegz:
Now the prices, $150 and up, you are buying quality items that need to support your weight over thousands of miles and hours of travel, they are made of CNC'd billet aluminum most of the time but as you see above also stainless and titanium offers.
I read a lot of opinions about they should be $20 or $30, really – These company put out top quality products, not cast or pot metal or weaker combinations of metals that will rust and fail over time under your weight.
Think about this, to make these not only do you have to have a CNC machine, or Lazer Jet or Waterjet or EDM machine all of which cost in excess of $100,000 some upwards of $500,000, you also need the person to run it, the person to write the program, then R&D, quality control, possibly anodizing or powder coating, liability insurance, a premises to work from, taxes, delivery, advertising and maybe a patent. Do your $30 pegs get that treatment?
So that pair of $150+ pegs were brought to you by a person who made a commitment to make a huge personal investment to start a company to bring you a product so we can be more little comfortable and stable when we ride. Please support the companies that support you…pun intended
So from me, this is a huge thank you for your products and your dedication to this crazy sport of motorcycling that we all love.
https://promotobillet.com/fastway