Tell us about ATLAS, what were your humble beginnings?
The idea came to me while riding through a downpour in the Catlins, New Zealand. It was back in 2010 during our RTW trip.
My wife and I were 2-up on a 2006 KTM 640 Adventure and the current throttle lock I was using was awkward to engage. Not to mention, my wife's helmet would smash into my helmet every time I disengaged the thing.
I thought to myself, "why isn't there a thumb-activated throttle-lock out there?
Something that would rotate with your throttle hand, engage and disengage without causing the bike to lurch and something I could swap to my next bike?"
We completed our trip at the end of 2012. Once home, I started prototyping. The very first prototype was made out of a plastic cutting board that I cut up with a Dremel. It included bits of cut-up credit cards and was screwed together with glasses screws.
Once we could see that it work, we made a 3D print. At the time, we were pretty broke and a $50 3D print seemed like a huge deal. It felt like a gamble but we knew we needed to pursue it. We made a few changes and a few more prints and felt like we were onto something.
By this point, at the end of 2013, we moved out of our apartment and into our 1984 VW Westfalia van. Hopping from Walmart Resort to Walmart Resort, and everywhere in between, while traveling around the US really gave us the time and headspace we needed to focus on the ATLAS and how we were going to manufacture it.
We interviewed a few companies and moved forward with our first prototype. It cost us $3000 and was CNC'ed.
They said it would be done in 6 weeks and it took 6 months.
It was frustrating and costly and in the end, they said they wouldn't be able to manufacture it because the tolerances were too tight and it was too small and complicated.
We got a second opinion from a laser shop and they assured me the product would be manufacturable if it was laser cut.
Thankfully, that prototype was enough to get our Kickstarter off the ground and show proof of concept while we honed in on the design and manufacturing process.
How long does it take to get from an idea, to design, to prototype, to the final product on the shelf?
The idea came at the end of 2010.
I made the first prototype at the beginning of 2013.
We launched the Kickstarter in the fall of 2014
I started fulfilling orders by the spring of 2015.
So we were nearly 5 years into this thing when customers were receiving the very first ATLAS Throttle Locks.
Our first-generation units went through 37 iterations. Then, in the summer of 2017, we launched our second-generation unit based on the feedback from the first design. The second generation took another 35 iterations to create.
You did a Kickstarter campaign. Was that a good experience and would you still be in business if that hadn't been funded?
The Kickstarter campaign was proof that the market was ready for a change. I would recommend Kickstarter to anyone looking to launch a new product.
There are many benefits, but the top few that come to mind are instant SEO rankings for your Kickstarter page, instant feedback from your market on whether to move forward or not, and funds to start your business.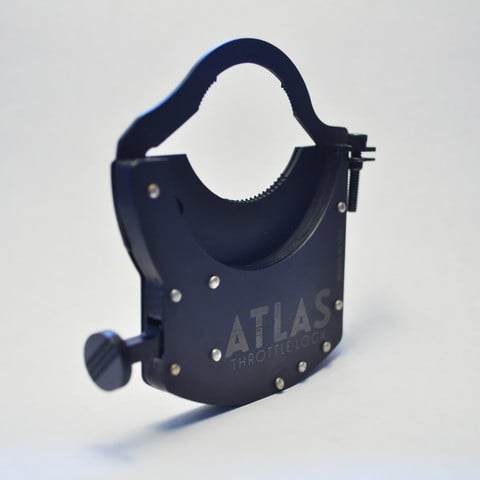 Starting a business isn't simply about capital, it's about the end consumer and if they are willing to hand over their credit card details in exchange for your product/service.
We probably wouldn't be in business if the campaign had failed. If the market says no, then why keep pushing something?
Thankfully ours was 150% funded. But, if it had failed, I'd want to know if it failed because the market said no or if it failed because we didn't get it in front of enough people.
To springboard our launch, my wife, Heidi and I rode to Horizons Unlimited California to teach other riders what we learned on our RTW trip.
We had 5 long classes scheduled over the weekend and at the very end of each class, we would pitch the Kickstarter. This really helped us get riders, bloggers, and authors on board with the idea.
After the event, I spent most of my time on forums and social media explaining the product to people. We even offered a 30-day money-back guarantee, which I'd never seen done on Kickstarter.
That was one of the scariest parts of our campaign.
If no one liked the product, then I'd have to pay everyone back and go into debt for all the manufacturing costs. We still have the same guarantee today.
How long have you been in business?
The website went live February 2015 for pre-orders so we have been going at this for a solid 5 years now (not counting the 5 years it took to get to that point).
Can you give us a basic shop tour? 
When we first started out, everything was manufactured in the US. That sounds great but what it really meant was that our parts were cut in Washington, then shipped to us in San Diego where we had to physically inspect everything ourselves (there were always quality control issues) before shipping the parts to a shop to black oxide all the parts.
While that was happening we sent our buttons to another guy who sandblasted out the logo on the button heads.
Then we'd get the parts back and send the cover sheet to yet another guy who laser etched our logo on the face of it.
Once we finally had everything back, we would lay them out on the kitchen table with all the internal components that we ordered individually.
My wife, Heidi, was in charge of assembling the units and then she would pass them off to me on the kitchen counter with my drill press and I would rivet them all shut.
Then the next day we would build out our packaging, test each product, box them up and make daily runs to the post office. The whole process was not sustainable, extremely costly and, quite frankly, the quality was not consistent which was very frustrating.
In the spring of 2018, I flew out to tour a European owned shop in Vietnam that came highly recommended by some friends in the industry.
We moved our manufacturing over there and since then we have been very pleased with the quality and consistency of the product. The move also allowed us to start growing as we could now afford to sell to dealers.
Is there only one version of the Atlas Throttle Lock?
The ATLAS started out as a single design but we now have two versions. We offer a Top Kit and a Bottom Kit.
That just means that the body piece of the ATLAS is either sitting up above your grip or hanging down below your grip. Both versions are very universal and can be switched from bike to bike but you may find that your particular bike/set up is going to require one or the other due to interferences like the location of a heated grip wire or lack of space between the tank and the bars at a hard right turn.
We have a very detailed fitment chart on our website:
Fitment Chart Link where you can look your bike up to see what would be the best fit.
What's the difference between a throttle lock and cruise control?
The main differences are price, fitment limitations and most importantly, function.
Installing cruise control on a motorcycle is typically going to cost you hundreds of dollars and the installation is very labor-intensive. Most motorcycles don't have cruise control as an option from the factory or aftermarket.
Now, please forgive me for geeking out on this stuff but I'd like to dive a little deeper into the function of the ATLAS Throttle Lock. vs an electric cruise control.
I'll briefly explain electric cruise control first. When a motorcycle is traveling at a specific speed the rider can press a button which will tell your bike that you'd like to stay at that speed until you turn it off or hit your brake or clutch – at which point it shuts off and needs to be reset.
You must press the + or – buttons to adjust your speed because rotating the throttle will shut it off.
For the most part, this is a functionality brought over from the automobile industry, but isn't ideal for motorcycles. There is nothing intuitive about pressing a button to change your speed on a bike.
This system is fine for the long boring roads where no one wants to ride, and is quite nice to have, but it is completely ineffective on the roads us motorcyclists actually want to ride.
Imagine riding a sweeping canyon road, coastal road or mountain roads. These environments require regular throttle and brake input from the rider, which would turn off your cruise control.
The ATLAS Throttle Lock, on the other hand, holds a throttle position when engaged – not a speed. You are working with physics on the road since it is mechanical. The beauty of the ATLAS is that if you need a little more throttle to get up a hill, you just rotate your throttle and the ATLAS will hold the new position.
If you need to slow down around a sweeping bend, just roll off the throttle manually around the bend and bring it back up to a cruising position once you're cruising again. You can do all of this without the ATLAS kicking off so you don't have to keep tinkering with it.
Engaging the ATLAS on a ride is similar to removing the throttle return spring for a time. This prevents forearm pump, numbness, and cramping in the lower arm. All good things.
Even though your throttle maintains the ability to rotate fully when the ATLAS is engaged, we don't recommend using the ATLAS on tight turns or in traffic. Just be smart.
How do you test your products before offering them for sale, any unique methods?
We get a priest to bless every unit. Then we hand it off to a couple of monkeys who will bite the metal and test the Rockwell rating. If it passes, we throw the units down a staircase, package them up then ship them out!
Ha! On a more serious note, we test fitment on over 100 motorcycles, new and old. Our manufacturer tests all the stainless steel, internal parts, cut tolerances, etc. similar to an aerospace parts manufacturer.
We have an extensive quality control process with a dedicated team working year-round exclusively on the ATLAS.
Where do you get your inspiration, your thoughts, and ideas, do you accept suggestions from customers/ friends?
To be honest, I'm most inspired by travel. The ideas are forced upon you when you're exploring parts of the world you've never seen before. It's exhilarating.
Now, when it comes to feedback, nothing is better than hearing from our customers. We love hearing from our customers and we do our best to show them our appreciation. There are so many people with more experience and brains than me, it would be a shame to not hear them out.
I pursued a few key people during the development of the ATLAS. One of those was Tom Myers, the owner of Touratech USA. I could go into depth, but I'll just say that if you're developing a product, don't hide it out of fear that someone will rip you off — share it with as many trustworthy people as you can.
How many different unique products do you sell/ make?
Right now, we are 100% throttle lock. However, we have a couple of projects in the pipeline that we hope to announce sometime this year.
Which model bike generates the most sales?
The beauty of the ATLAS is that it is so universal and every rider at some point has experienced a moment when they wish they could use their right hand for something other than the throttle — even if just for a moment.
We sell the ATLAS to every category of motorcycles. Heck, we even sold one to a guy with an amphibious quad who wanted to lock the throttle open to cross a large lake!
Could you say that all or a large part of your product line is US made?
As I mentioned earlier, everything used to be made in the US and was labeled as such. I do not regret the change in manufacturing one bit. Sadly, our country just isn't as equipped as it used to be since the majority of manufacturing went overseas quite some time ago. The big jump in tariffs on stainless steel coming into the US also hurt us.
Do ADVrider and its inmates play a big part in your business, do you offer any kind of incentive or discount for inmates? (what is your user name and main vendor thread link)
ADVrider has been a huge part of our personal lives and our business' origin story, growth and success. Because of that, from the very beginning, we have offered inmates $10 off the ATLAS.
We relied on ADVrider while we were planning our RTW trip and used it to connect with riders all over the globe. When we launched the Kickstarter, we announced it first on ADVrider and had a lot of inmates support us from the outset.
We are so grateful to be a part of such an incredible and caring riding community.
If you want the ADVrider discount, post on our vendor thread and either myself @Mud$hooter or Josh @Somewhere Far Beyond will send you the goods.
Vendor thread in the forum
=============================================================
Find us at these events in 2020 (more to be announced later this year):
May 15-17 Overland Expo, Flagstaff, AZ
June 2-7 Americade, Lake George, NY
June 25-28 Touratech Rally, Plain, WA
June 25-28 MOA Rally, Great Falls, MT
July 10-12 Adventure Bike Rider Festival, Warwickshire, United Kingdom
Follow them on their social media for more updates
Instagram – @atlasthrottlelock
FaceBook – ATLAS Throttle Lock
Website – atlasthrottlelock.com