Kinga "On Her Bike" Tanajewska, a Polish-Australian rider, is probably one of the most beloved ADV travelers out there. Her YouTube videos and posts on social media all have one thing in common; it's hard to describe and impossible to fake. A healthy mix of honesty, genuine curiosity, and a hilarious sense of humor? I've only met Kinga once, but we periodically chat online about everything and nothing, and if Gianna Velarde made the Awesome Human series because of her lionheart determination, Kinga, to me, pretty much defines what adventure riding is all about.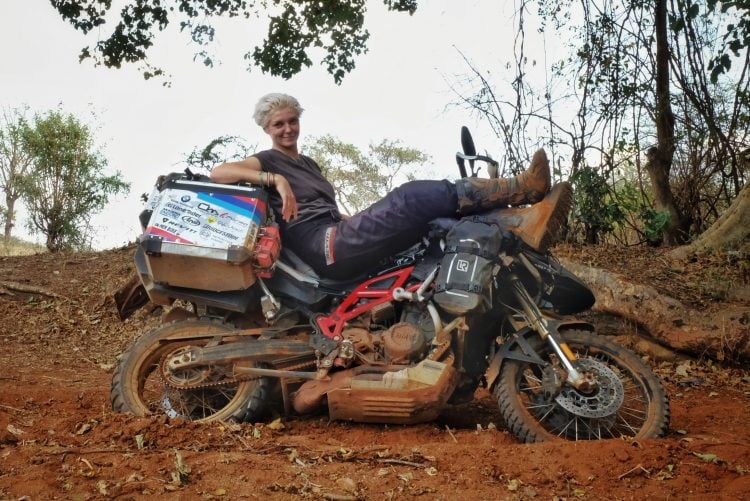 She has been riding RTW for three years now, having left Australia and crossed Russia, Mongolia, Central Asia, Europe, and the Middle East. 2019 marked a new adventure for Kinga: she set out to ride around the whole African continent, starting in Egypt. After riding through Egypt, Sudan, Ethiopia, Kenya, Malawi, and Mozambique aboard her BMW F800GS named "Chillie", she is now in South Africa enjoying some downtime and prepping for the next leg of the journey.
Riding Africa: Myth vs Reality
Kinga admits that at first, she was somewhat reluctant to set foot – or rather, tire – in Africa. "I thought Africa was going to be hard, difficult, and challenging. Honestly, I didn't even want to go, in a way, because you hear all those stories about Africa being tough and dangerous… But then, when I was planning my RTW, I always knew I would include Africa. And since I was in Europe, it kind of made sense to head to Africa instead of shipping my bike to the Americas. So I kind of made myself do it", Kinda told me. Now, she says, she doesn't want to leave.
"I decided to start with the East Coast, as I've heard it was easier, more populated, and more touristy than the West Coast. I thought I'd do it in 6-8 months, but it's been almost a year! I was planning to ride the East Coast to South Africa, then ship my bike to South America from Cape Town.
But now that I'm here, I've changed that plan. Africa is like a drug. I want to keep going and do the West Coast, too, before I move on to the Americas. It'll be a while, though – I think for the next six months or so, I'll just be riding around South Africa, Zimbabwe, Namibia, Botswana… then up the West Coast, eventually. So I may end up spending another year or two in Africa".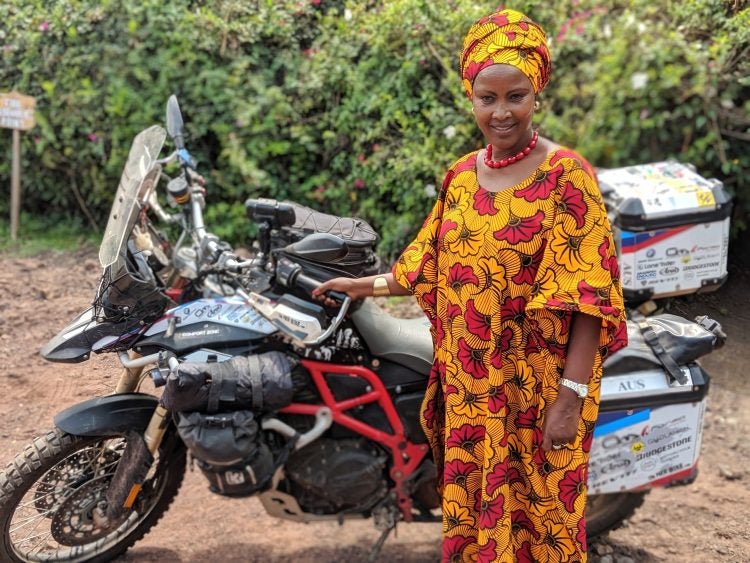 According to Kinga, this continent is like no other. "Africa is just unlike anywhere else. The time slows down here, there's no stress, no depression, everyone just lives for the moment. TIA ("This Is Africa"), you know?  In the West, we're so stressed out and freaked out about everything, always running around, always busy, we have so much social pressure to squeeze ourselves into the same standard – finish university, get job, get mortgage, get partner, get kids, get new car…Here in Africa, people are more present, more focused on the now, on their community, their family. Of course, at the same time,  there's so much poverty, HIV, malaria, and so on… but people make it work. And I just know I want to spend more time here", Kinga says.
How Safe is Sudan?
As weird luck would have it, after riding across Egypt, Kinga entered Sudan during the revolution. "At first, I was really almost afraid of Africa, I thought it was going to be so dangerous, so difficult. But maybe that's actually a good mode to enter Africa because when you expect the worst, with every little thing that's good you're like, wow, it's amazing!
I think the worst was probably Egyptian bureaucracy – after that, everything was a breeze. I entered Sudan during the time of the revolution, and I was seriously concerned, because things could have gone bad, I got so many messages from my Egyptian friends telling me to get out. But I was already there, and honestly, the protests I saw were peaceful, the people were singing and dancing, there were no weapons or violence that I witnessed. Sudanese people were the nicest people on my RTW trip. Iranians are very kind and hospitable, but the Sudanese are just exceptional! They really respect your space, they're quite shy because I guess they don't see that many tourists in their country, but seriously, the Sudanese people have kindness in their genes. I remember I camped on the banks of River Nile a couple of times and ran out of water; locals were always there to help out and look after me. I had no issues with my personal safety at any point.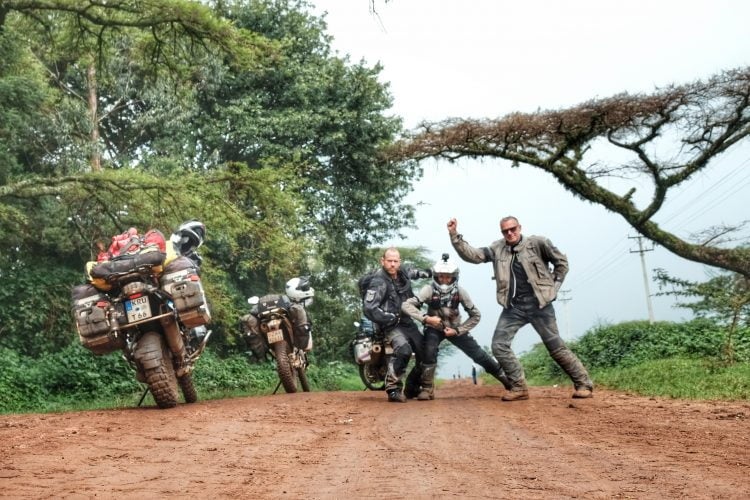 Of course, Sudan is mostly desert, so you need some common sense. I chose not to ride deep sandy tracks at 44 degrees Celsius, for example. In Sudan, I mostly stuck to the main paved highways. But the people, I'll just never forget how amazing they were. Sudan is truly a special place."
Riding Ethiopia
Ethiopia sounds like another far-flung place that most travellers either avoid or struggle to travel through. For Kinga, however, it became another favorite.
"Ethiopia was quite different, people are a lot more curious here – my bike would get surrounded by some twenty locals within seconds sometimes. They are also really poor, like sometimes they'd have to walk for miles just to get fresh water… On the roads (which are good quality, by the way), you barely see any cars, the traffic is mostly people walking, herds of animals, kids. Your bike is pretty much the only motorized vehicle for miles and miles.
I'd heard all these horror stories about Ethiopia, but for me, it was so amazing. You can do a hundred kilometres and you'll see three completely different regions: the houses, people's clothes and hairstyles, everything changes so suddenly and so significantly. People just don't have the means to travel, nobody can afford buses or cars or even horses, so I guess maybe that's part of the reason why each new region is so wildly different from the last.
I've heard from several travellers how they hated Ethiopia, how people would throw rocks at them. But the thing is… It usually comes from male travellers, whereas women and couples have the best of time. Partly, I think, it's because white men have a really bad rep in Ethiopia because sadly so many of them come here for sex tourism. And so locals aren't very friendly towards Western males. Me, I had zero issues, people were really friendly and welcoming towards me.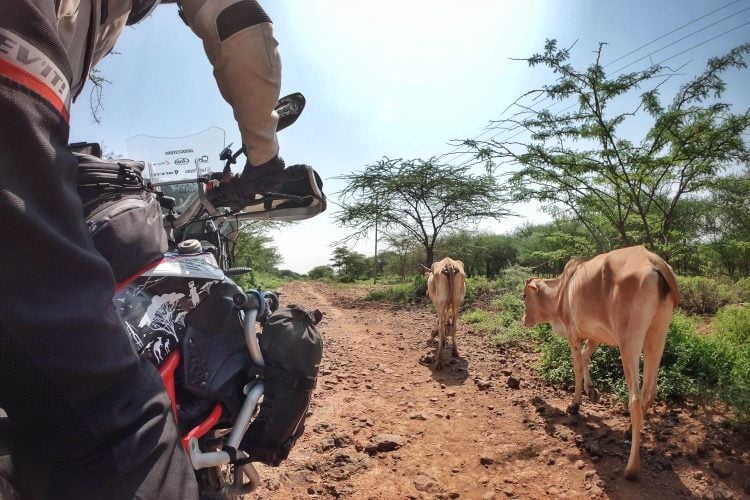 Another thing is, as I said, people in Ethiopia are really poor and there's barely any traffic on the roads. So often, especially in smaller villages, kids get killed – they play in the road and then if there's a fast-moving vehicle all of a sudden… So that's partly why kids throw rocks at riders. I mean, imagine, you're in your tiny village, you've not seen any cars or any other motorized vehicles in days, and all of a sudden there's a group of motorcycles speeding towards you. So I'd say, perhaps if riders would slow down in those villages, were more aware, tried to look at it from the locals' perspective… It's so easy to get frustrated with things like that. But we are guests in these countries, and we can't behave like the world owes us something".
Lessons on the Road
For Kinga, riding Kenya, Tanzania, Malawi, Mozambique, and South Africa felt much easier. However, she says she'd experienced road fatigue and burn out, and changed her way of riding as a result.
"Traveling Africa, I learned patience, for sure. For some reason, I kind of rushed to get to South Africa, so I kept speeding up, I kept thinking, I have to get to the next country, and the next… But this deadline was self-imposed deadline and it lead to a burnout. So now, I'm slowing way down and not rushing anywhere anymore. I'll hang out in Southern Africa for a good while.
I think adventures are awesome, but rest is very important. About every four months, I find myself tired, I realize I'm not waving back at kids anymore, not chatting to the locals, I just start feeling grumpy and fatigued. And I know then that it's time to stop. I rest, reset, recharge, maybe even fly out to Poland to see my friends and family. And then I can't wait to get back on the bike again, I'm grinning from ear to ear again when I hit the road. But I think this is something you can only learn from experience: slowing down, refusing to stress, relaxing – you can tell that to people over and over, but they'll only get it when they experience it.
Africa has taught me gratitude, big time… Sometimes, I'd be riding with tears in my eyes because the extreme poverty, the conditions some of the locals live in, lack of education, stories of child abuse, it's all so sad and there's nothing you can do, you can just observe. I "adopted" a child in Malawi, which means I'm sponsoring his school now; that's just to give something back. And you can do that. But it's so little, and you can't do that for everyone… So yeah, traveling Africa makes you very, very grateful for what you have. How incredibly lucky we are!".
Kinga has no plans of returning home in the near future. For the first two years, she travelled using her savings. Recently, to be able to keep riding, she'd sold her apartment in Sydney.
"Sometimes people say, but what about Plan B, what if this happens or that happens.  Look, I've had a "normal" life once. I've been there, done the uni-job-mortgage-marriage thing. But those standards and stereotypes were not my own. I just want to live my life the way I want to live. Who knows how long we have? And if it comes to that, hey, I can always go back to my old job in Australia, it's not like I have no skills or education. But right now, this lifestyle makes me happy. I don't see myself doing anything else. I can't imagine doing anything else, not anytime soon, anyway", Kinga said.
Follow Kinga on her YouTube and Instagram
Big shout out to Kinga's sponsors Motorcycle Diaries, Rev'It, Bridgestone, Arai, Forma Boots, and Lone Rider.
If you'd like to support Kinga's travels, check out her Etsy Shop online.
Images: On Her Bike