I first met Robin Parkinson, a Scottish rider from Aberdeen, at the Hellas Rally Raid bivouac in 2019. Back then, he told me all he wanted was to have fun and finish the rally, so, being a complete newbie myself, I mistook him for a rally first-timer.
I was dead wrong. Like so many rally racing vets, Robin was simply being modest: he's been racing roadbook navigation rallies for almost a decade now, and this year, he completed the Africa Eco Race, one of the toughest desert rallies in the world.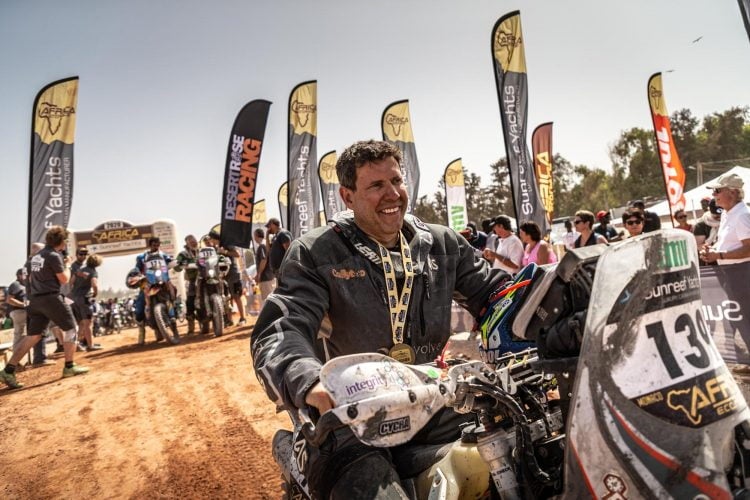 At the same time, Robin isn't a pro racer or a factory rider: when he's not racing rallies or traveling on his Africa Twin, he takes care of his family and his business back in Scotland. "I always had a passion for motorcycles. As a kid, I'd buy these awful, cheap, beat-up thirty-euro bikes and try to resurrect them. When I began working, I got myself a CR125 and I'd go to local hare and hound races, enduro type events, and I remember I always had this fascination with the Paris-Dakar race. I suppose it's the only thing that I saw that was really adventurous. Adventure motorcycling wasn't really a thing back then, it's become much more of a thing now… But back then, yeah, the only thing I saw was Paris-Dakar and the Camel Trophy, these awesome events out there in the desert, in the middle of nowhere. So I always wanted to try that", Robin tells me.
His first rally was the Trans-Siberia some ten years ago, and ever since, Robin's been hooked. "When it comes to rally racing, I love how it's all about adventure but also safety, I mean, it's a controlled environment with a very well-defined structure, there's lots of medical coverage; I also really enjoy the navigation part. When I got into the rally world, I realized it's not all about the fastest rider, it's a very strong community as a whole. I do enjoy the racing too, though. Beating my own record, getting better at this, it's a great feeling. But this is not about big egos. I enjoy racing and being part of it, I'm doing the best I can, and I have high expectations of myself but I'm also well aware of where I fit in in this world. I hope to do well, but I know there are so many moving parts – rallies are never linear".
Having completed different rally races including the Baja Rally and Hellas Rally Raid throughout the years, Robin decided to go for the big one in 2020 – the Africa Eco Race which follows the original route to Dakar. Over 6,000 kms, twelve gruelling days of racing, large expanses of desert and dunes, long special and liaison stages, and complex navigation is what makes the Africa Eco Race the biggest desert rally after the Rally Dakar.
"I chose the AER over Rally Dakar because frankly, I guess I just wasn't entirely comfortable with the human rights record of Saudi Arabia. Besides, I really wanted to do the original Paris-Dakar route. Thierry Sabine's idea was all about freedom and adventure, this intercontinental odyssey that provided an opportunity for all, and I think that whole spirit is still there at the Africa Eco Race for me as a hobbyist", Robin explains.
Africa Eco Race Prep
Right after the Hellas Rally, Robin made the decision to enter the Africa Eco Race. According to him, the preparation took almost eight months. "The AER is an FIM event, so I did a lot of fitness training and had to get medical tests to obtain the FIM racing license. There were lots of riding gear adjustments with the help of Adventure Spec; in Scotland, you're not allowed to ride off-road so my choices were dirt bike bootcamps or going abroad. I was in Morocco for a week and went to Iceland for a few days, but apart from that, I didn't do much in terms of riding training. I'm self-taught, I've had some dirt riding boot camp experiences with Patsy Quick, as well as a little desert and sand training, but mostly it's just about going for it. I'm a family guy and a business owner, and that's a serious commitment, so I can't ride full-time or take off for months. I just do it whenever I can. I did do a lot of running and cycling though, but as for riding, the last time I was on a bike before the Africa Eco Race start was September".
Robin says he chose the wrong bike for the AER. "I was on a KTM 500 EXC, and it felt like a good idea because I expected the Mauritanian stages later in the rally to be soft sand and technical and the EXC is great for that. It suits 99% of the rallies I do, but when it came to the AER… What I didn't appreciate was how long the flat-out sections in the AER would be, it's a sustained duress on the EXC.  And it just melted the pistons and rings. So that was a mistake; I did discuss it beforehand with the support team and we all just thought the bike was nimble and good enough on technical sections, so I thought it would work great. But the thing is, the Africa Eco Race is a true desert rally where fuel autonomy is critical and the stages very fast, so I would say a KTM 450 rally replica would have been a better choice for it in hindsight".
Out in the Desert
Robin says being at the start line of the Africa Eco Race felt surreal. "The AER was my biggest rally so far. It was a bit surreal at times, and the long liaison and special stages gave me lots of food for thought. The riding, the desert, the landscape, the camaraderie, it all felt very much in the spirit of the original Paris-Dakar.
At the same time, it was fairly relentless. You're often dealing with 500km+ days, which in many rallies is a marathon day but, in the AER, that's the norm. It's a lot of distance, if you choose to ride it all (in some of the liaison stages, you could put the bike on the service truck), and you're already fatigued before you start the special. There's not a lot of time to do anything else but ride, do your roadbook, get some food and rest and do it all over again. In the AER, you're pitching and packing up your tent daily, you're feeding and hydrating yourself, there are roadbook modifications every day, so there's so much going on over two weeks.
The mental part is probably the most important. Fatigue, bruises, exhaustion, all of it adds up; dropping the bike, complex sand dune riding, camel grass… It's easy to get caught out. Some days, I chose to ride off-piste as it was often a better strategy, but it was more dangerous – I went over the bars a couple of times. It's a spiral of fatigue, mental and physical, as well as a strain on the equipment. I tried very hard to maintain the bike and the body, but little by little it ebbs away at you, your handguards are tired because they've been bashed around, your roadbook isn't scrolling well, your bootclips, your zips, everything has sand in it, everything is getting loose and fatigued from being in this very harsh environment… In Morocco we had sub-zero temperatures, in Mauritania we had over 33 degrees Celsius, so it's constantly going from one extreme to another. You get numb hands, pins and needles from the vibrations of the bike, your hands get weaker, it's harder and harder to ride.
I had a few lows during the race, for sure. I was almost in tears one day: I was so tired, and when I hit the last dune network, I kept dropping the bike and said to myself, "I just can't drop it again because I'm so exhausted" and of course the next moment, I dropped it again… yeah, that was definitely a soul-searching moment! Another time I had trouble with fuel and the bike simply stopped, and I was just gutted. There's a lot of time for reflection out there in the desert, that's for sure".
Crossing the Finish Line
Africa Eco race is definitely no walk in the park. So why do it? Why put yourself through hell?
"It's a feeling of achievement, I guess, when you finally cross that finish line in Dakar. I also think you need to know pain to know pleasure. Exposing yourself to these harsh environments, seeing how other people live, all of it just kind of levels me, makes me appreciate life more, appreciate my family, my health more, there's certainly more gratitude. I love the connection with other nationalities and cultures that happens naturally during a desert rally like the AER. And, yes, I do get a total kick out of the race, the adrenaline, the excitement – when you're racing, you're so present and so fully in the moment. It's a bit selfish, I guess, but it's an awesome feeling. Luckily, my wife Lynne is an Iron Man marathon competitor, so she gets it, she gets me and why I do this.
When I crossed the Africa Eco Race finish line, I felt a lot of relief because there are lots of things out there to get you – the terrain, the mechanical issues, your health – so I was excited and relieved to get to the end. The atmosphere at Lac Rose was really cool, there were so many Senegalese fans around, your fellow riders and competitors – it was awesome. A great deal of pleasure, for sure. I would absolutely love to do it again!", Robin says.
He is also considering entering Rally Dakar one day. "I mean, the AER follows in its footsteps, but at the end of the day, Rally Dakar is Rally Dakar. And who knows, perhaps the event can help the Saudi society to become a little more liberal in some way? I'm aware of some of the issues with Western Sahara as well, it's not like the Africa Eco Race is a hundred percent perfect, either. I try to be respectful to all of those things, I think as rally competitors, we are, in a way, ambassadors of the sport, of our own countries, so we need to be aware and respectful. But yes, the Dakar is on my mind. Of course, it's a huge commitment, and I'd love to race the AER again to beat my own record and to avoid some of the mechanical issues I had this year. For now, though, I've got to spend some time at home, fix my bike, perhaps do some of the European rallies over the summer, and then we'll see. The Silk Way Rally is on my radar, too".
The Bivouac Camaraderie
According to Robin, he admires every single rider at the Africa Eco Race, not just the top racers. "Of course, the factory riders are amazing. Alessandro Botturi, as an example, is a great advocate for the sport – he's always smiling and chatting to other riders. He's an amazing navigator, I have a huge amount of respect for him. Nicola Dutto is a true winner in my eyes – I mean, the AER is so tough for all of us able-bodied riders, so his finish is truly spectacular. He's such an inspiration. But to me, a lot of the privateers are incredible, too. A huge amount a respect for everyone actually, I love people for what they are".
Africa Eco Race Tips
As Robin is recovering and resting up, he's planning to do a detailed account of what you need to race the AER. "I love helping people get into rally racing, and honestly, you don't need much to start. Sure, the big desert rallies like the AER or the Dakar are expensive, there's no way around it, and there are so many moving parts. But to start out, there are so many options. Just do lots of off road, trail riding, get a smaller, lighter dirt bike, perhaps do a dirt riding boot camp or some dirt training. Sure, you can take a big adventure bike to a rally raid class if you want to but dropping a big GS on your leg is not the same as dropping a dirt bike. So I'd say, just get some strong, sturdy off-road gear, a dirt bike, and do some trail riding. When it comes to navigation – which adds a whole new dimension to the riding – if you're into that, do a roadbook course, that could be useful. But even without the training, you can definitely do a raid class, for example, just to see what it's like, and learn on the go. Do your research, and then just go for it. A lot of the raid classes are very supportive, so you can start there. Rallies like Hellas are great for beginners, as well as some rally training events like Ilyria Rally Raid.
When it comes to bikes, you can do it on whatever you own. You might not want to bash up a really nice adventure bike, and you can pick up or rent dirt bikes quite cheaply; that's good enough for a first rally. A rally bike is basically a dirt bike with the roadbook navigation equipment on. So it's really up to you, you don't need to invest a lot in a rally replica bike at first.
If you're serious about it and you're aiming for the AER or the Dakar, I think European rallies like Serres and Hellas are great events to begin. You're in a managed environment, the roadbook is spot-on, the bivouac doesn't move which cuts down the logistics and complications; a desert rally with a moving bivouac might be a bit too much as your first rally.
Doing a desert riding bootcamp, or perhaps some training tours in the desert, all of that would help as well. Do get some sand experience, because the desert is a much more intimidating place: large expanses of nothingness, long distances, massive sand dunes, hot temperatures… You need to be comfortable with all of that when you're racing, so get some experience first. You want to take the fear away from all the complexity, otherwise it might be too overwhelming", Robin explains.
Want to know more about the Africa Eco race or ask for some tips? Contact and follow Robin on his Instagram account.
Images: Rally Cool
Robin would like to thank: Integrity XL, Simon Motorsport, Total Endurance, Adventure Spec.