Although most of Europe is now borderless thanks to the Schengen Zone and EU, there still are a few countries with borders, most of them in the Balkans. On my mad dash to get to the Hellas Rally in Greece, I had to cross Bosnia and Herzegovina, Montenegro, and Albania. If you need to get to Greece and don't want to go through the Balkans, there is a simple solution: a ferry from Italy. A ferry trip for one person and one motorcycle from Bari, Italy to Patras, Greece is about $150 without a cabin and about $350 with a cabin with Anneke Lines (prices may vary depending on the season, departure/destination ports, and ferry lines). I wanted to see Croatia and the Balkans though, however briefly, so I opted to just ride through. While most Balkan border crossings were pretty painless, there is the issue of insurance, and different countries treat it differently.
Bosnia and Hercegovina
Since Bosnia is not in the EU, the EU Green Card insurance for your motorcycle isn't valid here.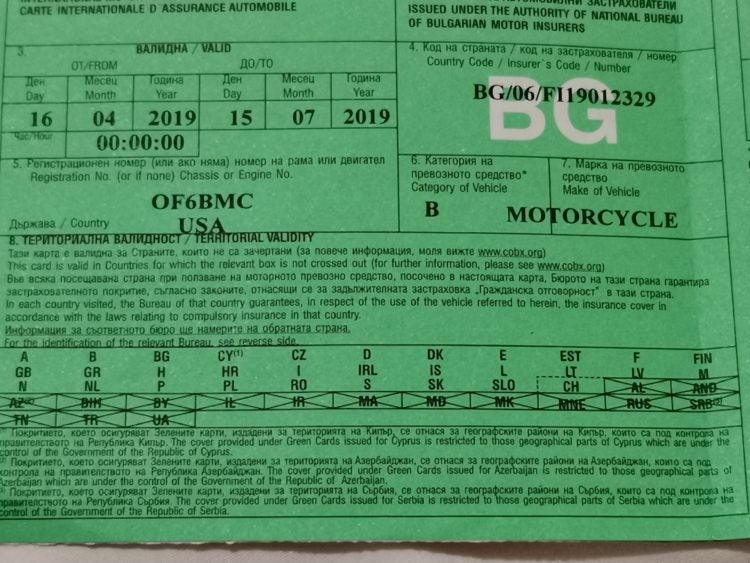 As you can see, Bosnia (BIH), Albania (AL) and Montenegro (MNE) are crossed out in my policy. If you are getting your EU Green Card insurance for Europe, chances are, your policy looks exactly the same. (If you are on a US/Canada plated bike and need Green Card, contact Lesley from Stara Elena – she arranges EU bike insurance for 120 euros for three months).
If you're riding to Bosnia, you need to purchase Bosnian insurance on the border. Trouble is, not all borders sell insurance; I've heard people have even been turned away at the border because they didn't have local insurance. It sounds like this varies from border to border and depends on what mood the border officials are in.
Since I couldn't find how to buy Bosnian insurance online and had to cross about 15km of Bosnia trying to get to Dubrovnik, Croatia (there is a tiny gap of Bosnia between the Croatian towns of Klek and Dubrovnik on the Adriatic coast), I figured I'd just go and see if I can get insurance on the border. After all, I only needed it for about fifteen minutes to cross that sliver of Bosnia and get back into Croatia. Worst case scenario, I could turn back and hop on a ferry from Ploce to Trpanj and ride the peninsula avoiding Bosnia altogether.
However, when I rolled up to the border, the officials only wanted to see my passport and waved me through. I'm assuming it's because it's such a short distance and most people go straight back into Croatia, but I could have, in theory, turned inland and toured Bosnia as an insurance-less outlaw. Either way, they didn't ask, so I crossed into Bosnia in about two minutes, filled up my tank with cheaper Bosnian gas in Neum, and headed towards the Croatian border again. Here, nobody wanted to see bike papers, either. Quick scan of my passport and I was waved back into Croatia, hassle-free.
To me, Bosnians seemed very friendly, border officials and gas station attendants spoke English, and the Adriatic coast was beautiful as ever. If I survive Hellas, I'll be back to explore Bosnia some more.
Montenegro
Montenegro, same as Bosnia, requires local insurance, and they mean business. At the Montenegro border, officials wanted to see my passport and my bike papers, including insurance. At the sight of my Green Card, the officer shook his head and pointed at a small building nearby. "Get your insurance there, then come back for your passport". Fair enough.
The procedure took about 5 minutes, and for 12 euros, I was now a proud owner of this fine looking document: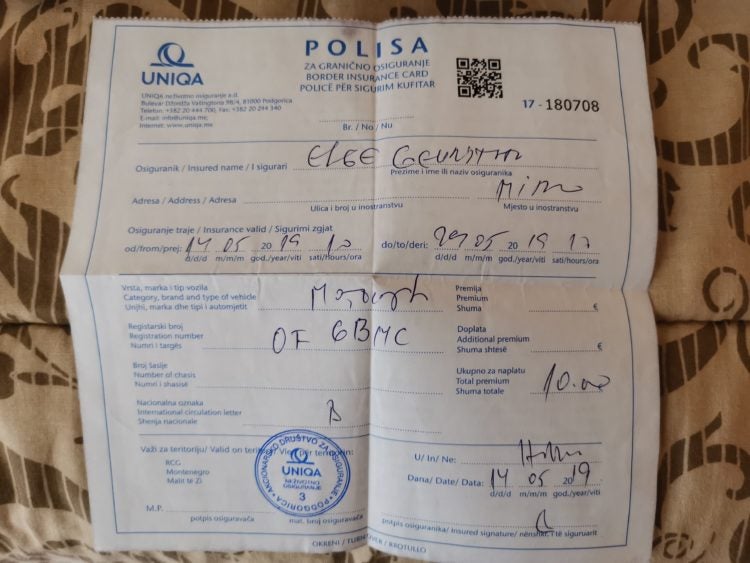 The insurance agent clearly gave up on trying to write out my name, but I can't really hold that against him. After getting my Montenegro insurance, I went back to the border officer, showed him this piece of paper, got my passport back, and was waived through.
The views were worth it: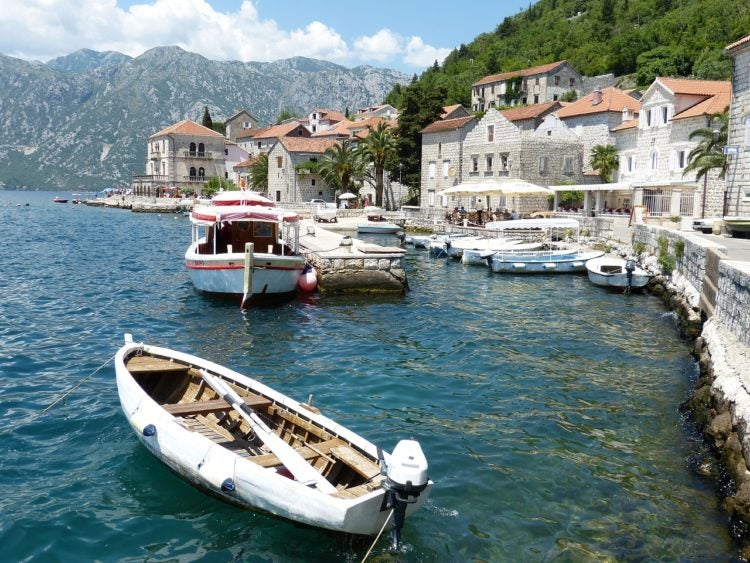 Albania
This was my last Balkan country before Greece. I expected a similar procedure of buying local insurance as in Montenegro but entering Albania, they only asked for my passport, and I was waived through. Since I only planned to spend one day in the country, I didn't insist on getting Albanian insurance, although technically I should have. Either way, I crossed most of Albania in one day and ended up in Saranda, a beautiful beach town 40km away from the Greek border.
Leaving Albania was as hassle-free as entering. The border guard asked for my passport, then told me to get off the bike and hand him the bike papers. After a quick look at my registration, he poked at my panniers but didn't ask to open them or search them, and a few minutes later, I was good to go to Greece.
Albania is an incredibly beautiful country, especially inland where the mountains are a little like the Scottish highlands. There's plenty of road and off-road riding, great food, and the people love tourists. The roads are somewhat empty but don't be tempted to open the throttle too wide as often, there are sheep and cows on the road with their shepherds sitting on the ground and playing Candy Crush Saga on their phones. Albanians told me local hotels are overwhelmed as travelers are now discovering that the Adriatic coast is just as beautiful here as in Croatia, but twice cheaper. I also learned to say "thank you" in Albanian ("faleminderit" – probably the longest word for "thanks" I know!).
At the Greek border, I expected to just show my passport and breeze through, but the guards asked me to park the bike and get off. Uh oh, I thought, will they want to search my stuff because I'm coming in from Albania?..
"We couldn't figure out whether this was a DR or a KLR, so we had to stop you", they said, looking at the bike. Whew. After a short discussion about KLRs and DRs – turns out, Greek border officers all ride Honda XT660's and large Safari tanks confuse them – I got a "welcome to Greece" and was on my way south.
So there you have it: Balkan border crossings aren't scary, sketchy, or long at all. Ideally, you should have local insurance for each country, but since I was just passing through and wasn't asked for it in Bosnia and Albania, I didn't go out of my way to buy it. To me, Albania was the most beautiful and interesting of them all, and I'll probably be back soon as the tourist season hasn't kicked in yet, leaving the roads empty and hotel prices low.