Editor's Note: Our Adventure Riding in Ecuador series was kindly sponsored by Court and his team at Ecuador Freedom Bike Rental in Quito. Ecuador Freedom offers Bike and 4×4 Rentals, Self-Guided Tours of Ecuador as well as all-inclusive Guided Tours.  Egle will be guiding a Special Woman's Tour of the Ecuadorian Andes with Ecuador Freedom later this year. 
If you've been dreaming of riding South America but don't have the time to explore the entire continent, Ecuador is your best bet. This small Andean country is a mini-version of all that South America has to offer: high mountains passes and glaciers, the Amazon basin, pristine nature, and fascinating wildlife, meandering Pacific routes and snow-capped volcanoes – and the best part is, everything is only a short riding distance away. To top it all off, the local cuisine is as diverse as it is delicious, the country's official currency is the US dollar, the gas is cheap, and the people are friendly and welcoming. Ecuador has excellent paved twisties and numerous off-road tracks and trails crisscrossing the country, so there is something here for every rider.
To help you plan your two-wheeled tour below the equator, here are some of the best ADV routes in Ecuador.
The Guitar Route
The Guitar Route is one of Ecuador's best-kept secrets. Ecuador is known for its highly skilled indigenous craftsmen ranging from leather tanners and saddle makers to the virtuoso guitar-making masters in Southern Ecuador. Here, guitars and charangos are carefully made by hand using traditional wood carving techniques and family secrets to produce the best sounds. Some of South America's most prominent guitarists such as the Argentinean virtuoso Erick Diaz come to Ecuador to have their guitars made here.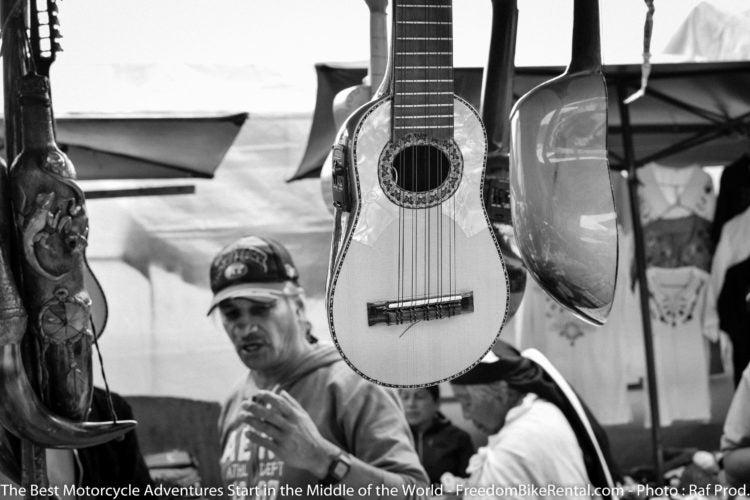 To explore the Guitar route, start off in Cuenca and head south-east on Route 594 towards San Bartolomé  and Sigsig. Along the way, you will notice signs pointing you to various communities and villages along the way where you can see the guitar-making process up close. Local guitar makers welcome visitors to their workshops where you can observe them working. If you happen to be in Cuenca in May, check out the annual Guitar Festival which attracts guitar makers and musicians from all over South America. The festival begins on the 28th of May. For more ideas on that to do while in Cuenca, see this post with some more tips and recommendations.
Quilotoa Loop
Quilotoa, an emerald green (or bright admiral blue, depending on the light and time of day!) crater lake in the Ecuadorian Andes is a must-see when you're traveling here. This ancient three-kilometer-wide lake is surrounded by the otherworldly mountain landscape but is a short distance from Ecuador's capital, Quito. There are plenty of smaller routes around lake Quilotoa including both paved roads and off-road tracks, as well as numerous hiking trails. Small villages and communities are scattered around the area, and life feels frozen in time here.
While exploring Quilotoa, you can either stay at one of the little hotels right at the rim of the crater lake, or ride to Latacunga for more options. From there, the Cotopaxi National Park is just a stone's throw away offering more excellent riding and hiking trails around one of Ecuador's most beautiful volcanoes.
The Ambato – Chimborazo – Riobamba Canyon Road
This stunning route branches off of the Avenida de los Volcanes, the Volcano Avenue, and is one of the best motorcycling roads in Ecuador. Connecting the city of Ambato, the mighty Chimborazo volcano, and the city of Riobamba, this canyon road offers breath-taking Andean views and some serious mountain twisties. Along the way, you'll meet local llama and alpaca herders, have lunch in the small eateries of local villages and enjoy the magnificent highland scenery.
Once you travel the entire route, you may turn back south at Riobamba and head for Baños via Route 490 to see Tungurahua, an active volcano that still smolders and grumbles from time to time. Baños is a small but colorful town right at the border of the Amazon rainforest, making it a perfect getaway for the adventure and outdoors lovers.
The Coastal Route
The road from Bahia de Caráquez to Puerto Lopez is a less visited route where you can still feel like you're riding across a dreamy, remote country seemingly forgotten by the rest of the world. Bahia de Caráquez has ten miles of wild, undeveloped beach where you can ride your bike – just make sure to ask the locals when is the best time to avoid the tide.
You'll come out of the beach at San Clemente, a small, quiet fishing village where the seafood is to die for. From there, continue south towards Puerto Lopez and go on a whale watching tour or simply enjoy some peace and quiet at the white sand beach.
Make sure to combine as many of these routes as you can to get a real feel of Ecuador and its incredibly diverse nature and culture, as well as the local hospitality. For more off-road and off the beaten path places and routes, see this post.