Colombia is the perfect adventure destination on two wheels, but not just because of all the great riding, Andean trails, Amazonian cuisine, and paradise Caribbean islands. Colombia is all about hospitality: most travelers who have crossed South America will tell you that Colombians are easily the nicest, friendliest, and most hospitable people in the whole continent.
Colombia also has a vibrant motorcycle culture, and bikes are everywhere. Whether it's busy cities or small mountain villages, everyone rides a bike, and motorcyclists are especially welcome here. However, to make sure your bike is always safe and secure, stay in hotels that provide parking, or camp out next to your loyal steed.
Here's a list of our favorite motorcycle-friendly stays in Colombia.
Northern Colombia: Tayrona National Park
Tayrona National Park is a must-see in Colombia: coastal lagoons, mysterious ruins, wild rainforest, and rich local history is more than worth the ride.
There are several camping options around Arrecifes, Cabo San Juan and Playa Brava. If you also plan to stay in Cartagena, check out the Casa Mara Hostal. They have room for motorcycles around their swimming pool, which means you can probably park it right outside your window – it doesn't get any safer than that!
If you're going to the Lost City (Ciudad Pérdida) southeast to Tayrona, check out Miradores del Oso Perezoso (which means "View of the Lazy Bear" as there are sloths in the area). It is located in El Campano, 5 miles from Minca (some 15 miles from Taganga Bay). Lazy Bear is a green paradise hidden away in the jungle, offering small cabins for accommodation. There is a restaurant on-site, secure parking for bikes, a shared kitchen and, you guessed it, sloths.
Central Colombia: Barichara – San Gil – Bogota
The Barichara – San Gil region, including the beautiful Chicamocha Canyon, is Colombia's adventure capital. There's plenty of great riding in the area, both on and off the road, and you'll find small hotels and guest houses in any town along the way.
If you're headed to Barichara, stay at the Tinto Hostel with secure parking, clean bathrooms, and excellent views. In San Gil, stop at La Pacha Hostel with free parking, original accommodation and an on-site restaurant, based in Vereda la Flora and surrounded by natural scenery. However, keep in mind that both Barichara and San Gil are pretty touristy, so some places might be booked out. Check booking.com for best prices or get an AirBnB.
If you are going to Bogotá from San Gil, make a quick stop in a weird but wonderful town of Zipaquirá featuring an underground salt mine which has been transformed into a cathedral.  Stay at Hotel Colonial (address: Calle 3 No 6-57/43) offering secure motorcycle parking and central location.
In Bogotá, the Tip Top Backpackers is the cheapest hostel in the historical center with an indoor parking space. It's extremely popular among motorcyclists.
The Coffee Region
Medellin is a great city to spend a few days, maintain your bike, have some fantastic coffee, and have a wander around. Get an AirBnB in El Poblado, Medellin's fancy urban district, or stay at the Arcadia Hostel. It's reasonably priced and has a large garage that can store up to 6 bikes.
From Medellin, do a day trip to Guatape, a special little town situated on the shores of a large beautiful lake and famous for El Penon – a humongous vertical rock sticking out of the ground and providing breath-taking views of the area (you can climb on the top of El Penon using a stair system). Guatape is usually quite crowded with tourists, so try to book accommodation ahead.
After Medellin, head south towards Salento to enjoy Colombia's Coffee Region. Lush green rolling hills and coffee farms around Salento feel like a real-life Garden of Eden. Make sure to stay at Steel Horse near Filandia – a spacious ranch owned by two British motorcyclists. Steel Horse has become an iconic stop for motorcycle travelers in Colombia, so drop by and chill out – you'll probably meet a bunch of like-minded souls without ever leaving the property.
Tatacoa Desert
Tatacoa Desert is a small but impressive desert area, known for the starriest skies in Colombia when the night falls. Riding across Tatacoa is a must if you're headed south, and especially if you enjoy riding off-road.
There are numerous campsites, hostels, and hotels in and around Tatacoa, so you're sure to find something according to your taste and budget.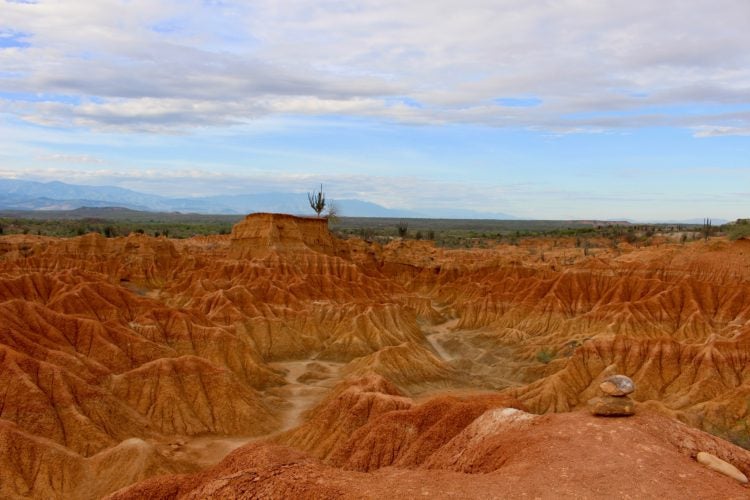 Past Tatacoa, stick to Booking.com and AirBnB to find the best deals and stays offering secure motorcycle parking. More often than not, local hotel owners will let you park your bike in the lobby if they don't have a garage, so you should be just fine anywhere you go. Camping is usually only offered in more touristy areas along the Caribbean coast and Tatacoa, but if you want to wild-camp, there's usually no problem to do so – just ask the locals first and stay safe.
Thanks to Colombia Moto Adventures for sponsoring this post and making it possible to bring you South American adventure content. Jeff Cremer, an award-winning wildlife photographer, and his team provide motorcycle rentals and breath-taking tours of Colombia.