This is the 8th post in a series focused on riding in Colombia. A special Thanks to Colombia Moto Adventures for sponsoring this post and making it possible to bring you South American adventure content.  Jeff Cremer, an award-winning wildlife photographer, and his team provide motorcycle rentals in Medellín and Colombia motorcycle tours.
Colombia has some amazing paved roads, especially the dizzying twisties in the Andes and some of the coastal routes. And if you want to take your bike off road, Colombia also has a huge network of dirt roads and trails – enough to last for a year or more. But even if you only have a couple of weeks in this country, check out these best kept off-road riding secrets in Colombia.
For off the beaten path rides near Medellin, check out this helpful post.
Chicamocha Canyon, Santander
The Department of Santander is a true off-road riding wonderland. Spanning an area of over 11,000 square miles, Santander lies in the central northern part of Colombia including a large Andean region. Santander is famous for its hospitality, local cuisine like the Arepa Santandereana – corn cake with salted pork – and of course, aguardiente: local white rum.
The best way to explore Santander off-road is to head for Cepitá, a small village in the heart of the Chicamocha Canyon. Rugged peaks of the Andes, plenty of dirt trails along the Umpala river, and some great dirt roads leading to nearby towns of San Andres, San Mateo and Guacamayas – it's ideal for both day-trips and longer stays. Fuel and motorcycle-friendly accommodation are available in all the little towns along the way, although Cepitá is best for a base camp as hotels there have pools and hot springs. The people of these villages and towns are remarkably friendly and welcoming. On your way, make sure to try a local delicacy, mamoncillo – a small green fruit usually sold straight from the branch. Mamoncillo looks like lime and tastes like a melon and lychee hybrid, perfect for a dessert on a hot day.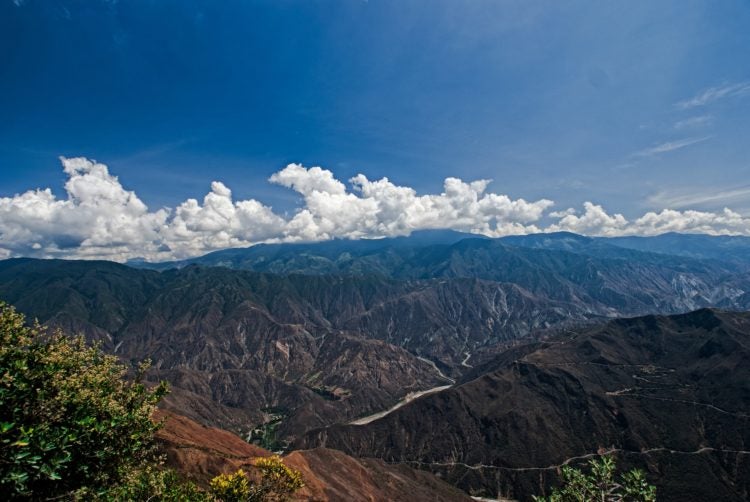 Villa de Leyva and Barichara,Boyacá 
Boyacá is another fantastic region of Colombia to ride off-road. Although a little more touristy than Cepitá and the surrounding villages, Boyacá is awesome for added comfort and delicious local cuisine. Villa de Leyva and Barichara are both beautiful colonial towns surrounded by wild, jaw-dropping Andean vistas. You can base yourself in either town (plenty of accommodation with secure parking for bikes) and explore the numerous dirt trails nearby.
In Villa de Leyva, try your hand at tejo, a local Colombian sport that involves throwing rocks at exploding targets. The rules are simple: you throw a smooth, heavy stone at a clay target and if you hit a small, dynamite-filled envelope stuck to it, you get a certain number of points. You don't have to pay to play, but you must buy at least half a case of beer from the proprietor of the tejo hall. For an awesome tejo night, check out the "Cancha de Tejo" bar in Villa de Leyva.
Tatacoa Desert, Huila
Just north of Neiva lies the Tatacoa Desert, an otherworldly, arid wasteland littered with red and yellow rocks and buttes. It looks a little like a smaller, compact version of Bryce Canyon in the US; you can ride straight across the desert using a graded dirt road, and go off the main track to explore smaller dirt tracks. The desert itself, despite being a beloved spot for Colombian weekend holidaymakers, feels empty most of the time, but both luxury hotels and budget stays are available in the area. If you have the time, be sure to stay the night: Tatacoa has the starriest night skies in the whole of Colombia.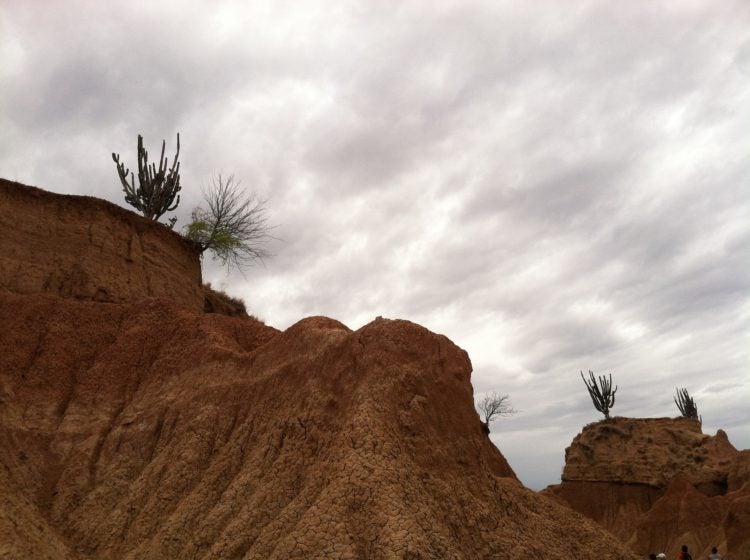 Caño Cristales: Rainbow River, Meta
Caño Cristales has been christened a "liquid rainbow". Due to curious local river plants, Caño Cristales water appears to be blue, purple, red and green. It's an amazing sight to see:
Nearly two decades ago, the river was off-limits to tourists due to a heavy presence of Colombian guerrillas. Now, however, the region is completely safe to explore. According to local riders, there are three ways to see the Rainbow River:
San Vicente del Caguán – La Macarena
From San Vicente del Caguán, ride the dirt road towards La Macarena (distance:100miles).
San Jose del Guaviare – La Macarena
Ride the dirt trails across the beautiful Caño Canoas National Park.
Mesetas –  La Julia – Tinigua – Cristalina de Lozada –  La Macarena
This route is invisible on Google Earth. Formerly a guerrilla road, this track leads straight across thick jungle and can be difficult for less experienced riders, especially during the rainy season. The track gets very muddy and there are numerous water crossings along the way.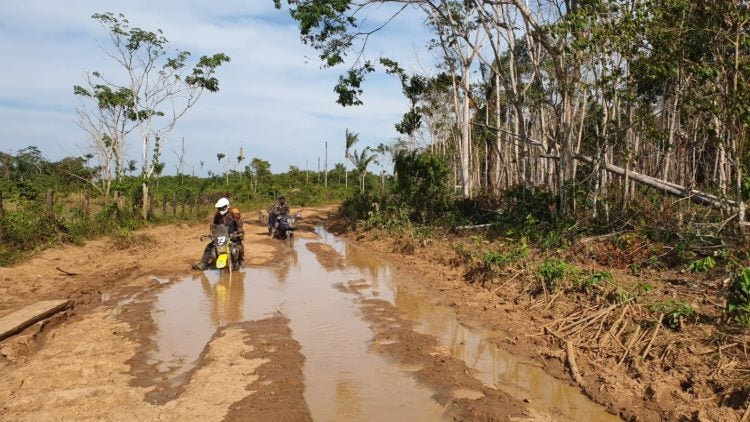 The amazing part about riding Colombia off-road is that even in small, relatively remote villages and towns, there's always a gas station and at least two different options for accommodation plus delicious food. Wild camping is permitted in most areas, but double-check with the locals just in case and make sure you're not camping on someone's private land.
For more ideas on must-ride Colombian destinations, see this post.
Images: Jeff Cremer, A2Ruedas & Juan Canizales