Technically, the best gear for adventure riding should be adventure gear – and for most cases, it is. But we're all different, and sometimes, it's a good idea to mix and match motocross/enduro and adventure gear for the best comfort and protection depending on how much off-road riding you do, which climate zone you are in, and whether you're on the road for long periods of time.
I pretty much live on the road, trying to ride off road as much as I can and this season, planning to try my hand (well, wheels) at enduro rallies. So for me, what matters most is decent crash protection, durability, waterproof features, layers, light weight and minimalism. If it sounds like an impossible combination, that's because it is, but here is how I manage: mixing ADV and motocross gear for adventure riding.
Riding Boots
I've tried so many different riding boot options I feel like I should be an expert on the subject.
First came cheapo Forma boots that I bought used. They didn't last very long and were too big and leaky. Lesson learned: second hand boots are a bad, bad idea.
Then, I splurged on a pair of brand-new TCX X-Desert GoreTex boots. They felt like heaven at first – super comfortable to ride and walk in and completely waterproof. However, they started leaking water after less than six months of use, the Italian customer service reps informed me they were on holiday for a month and couldn't help me, and when I finally got a replacement from TXC USA some two months later, I'd had more than enough. Besides, while comfy, these adventure boots were quite short and the protection felt a tad flimsy, so when I switched to more off-road riding, they just didn't seem like enough.
After that, trying to be clever, I tried mining boots figuring that miners had to: a) walk in them a lot, b) have sturdy protection, c) have waterproof features. The reasoning was, I'd have solid, waterproof riding boots that I could also hike in when off the bike, because carrying a pair of big hiking boots around the world just wasn't an option.
While the idea of mining boots seemed genius at the time, it turned out to be a complete disaster. The boots were heavy and felt like my feet were encased in cement; I had raw blisters on my heels by day two, and by day three, it was obvious I wouldn't get far in them.
My current pair of Gaerne SG12's meant for motocross riding feels like a decent solution: these boots are incredibly sturdy and offer great protection. I have crashed on a cobblestone path with the bike landing on top of me trapping my ankle between a rock and the bike, and I didn't even feel it; similarly, I didn't get so much as a bruise when I crashed on pavement and slid a dozen or so meters with the bike still on top. I love my Gaernes for saving my feet and ankles, and I love how durable they are.
What they aren't, however, is waterproof, and they're not the most comfortable boots for longer walks. Getting of the bike and walking around for ten minutes or getting a coffee? Sure. Going for a short hike, or wearing the boots during your international flights to save on luggage cost? Hell no. Still, the pros outweigh the cons, and for right now, the Gaerne SG12 feels like a great solution
Gloves
Hand protection, both from the weather and crashes, is something that we all care about, and if you have enough pannier space, do carry spare winter gloves that will offer more warmth and protection during the cold months or when riding through high altitude regions.
I still carry my waterproof Klim winter gloves, too, but I have to confess, I haven't taken them out of my panniers since 2018. That's because for me, their Dakar Pro gloves are a perfect fit on any terrain, any bike, and in any weather.
Yes, they're primarily motocross gloves, but at the same time, they offer just enough protection for the occasional tarmac ride and they're great in any weather. They're not waterproof, but they dry very quickly, and I love the level of comfort and durability of the Dakar Pro.
Goggles
Visor, goggles, or both? I rarely use my visor because I feel that goggles protect my eyes better, especially riding off road. As a contact lenses wearer, I have to take extra care of my eyes, and my Klim Viper Pro Off Road has been my best bet so far – I don't get dust in my eyes even when riding bulldust or sand or find myself in a sandstorm or very windy weather.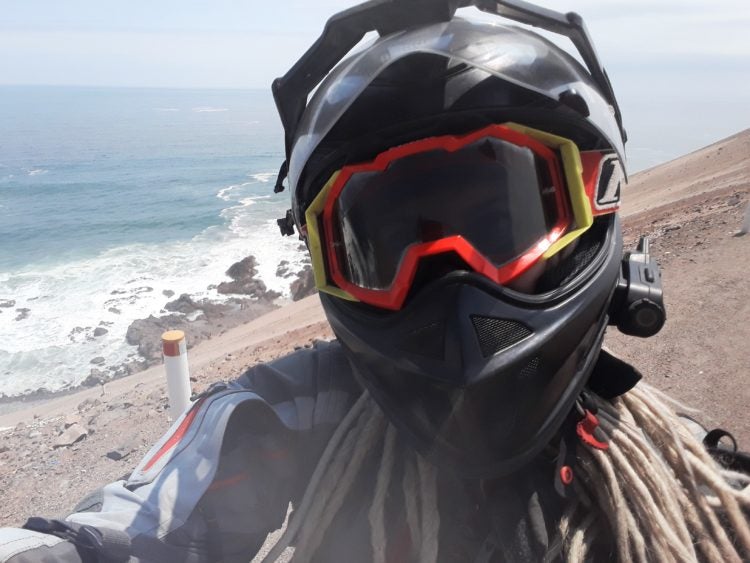 Even when it's overcast, I wear the goggles with tinted red or golden lenses because the world just looks better this way, and when the sun comes out, the red/gold tint protects my eyes just enough. The only trouble is that when it gets dark, I'm forced to use my visor – of course, I could stop and change the goggle lenses out, but most of the time, it's much easier to just pull the visor down. I try to avoid riding in the dark as much as I can, so it's not a huge issue, and goggles still offer optimum comfort and protection for me.
What's your favorite motocross gear for adventure riding? Let me know in the comments below!