Off-road riding is illegal in many parts and countries in Europe. But not all! So if you want to take your bike off the tarmac, keep these best off-road rides in Europe in mind:
The Carpathian Mountains, Romania
Romania is one of the best riding destinations in Europe, on or off the road. The Carpathian mountains offer an endless playground for off-road riders, and the region's famous Transfagarasan and Transalpina roads are perfect if you need a short break on paved twisties. Add the mystery of Transylvania, friendly locals, and the Redbull Romaniacs, and you can see why Romania is one of the best off-road rides in Europe!
Island of Crete, Greece
Crete is Greece's best-kept secret when it comes to off-road riding. Hundreds of tracks crisscross the island of Crete, heading in and out of the mountains, some towards the wild beaches and some carving through magnificent gorges and canyons. Fantastic food, incredibly hospitable locals and stunning scenery make Crete an unforgettable off-road ride.
Pyrenees, Spain
Spain is an adventure riding paradise for both on and off-road riders. But if you long for some solitude and wilderness, head for the Pyrenees: one of the most beautiful mountain ranges in Europe, the Pyrenees offer some seriously awesome riding.
Scotland, the UK
Many adventure riders agree that Scotland is one of the most scenic places to discover on two wheels. Its unique landscape makes for a perfect getaway, so start packing and head North – and don't forget to sample local delicacies like the haggis and of course, some Scottish whiskey!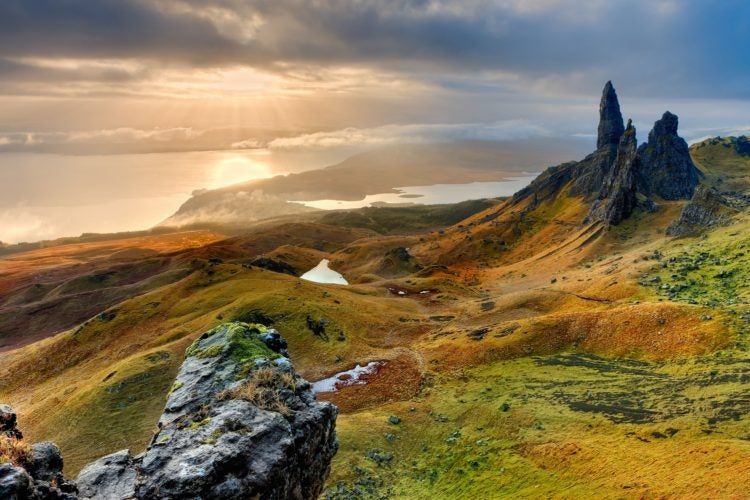 When riding off-road in Europe, always make sure that the trails are legal and respect local signs and laws. The best way to ensure you're riding legally is to check out the Trans Euro Trail.