If you, like me, followed Jammin on his ride back home in Epic Ride Reports "Jammin thru the Global South" will most likely be interested in his new book about his adventure – Riding Towards Me
Riding Towards Me is the epic adventure story of Jay Kannaiyan (@Jammin) who dropped everything he had in the US to ride his motorcycle back home to India by the longest possible route.

The journey took him three years and three months as he rode through Latin America, Europe, and Africa, finally reaching New Delhi in 2013. Jay and his motorcycle, sanDRina, encountered mechanical meltdowns, remote Mayan villages, weeks of high-altitude desert isolation, Caribbean and Atlantic voyages, humility and friendship.

The book explores what it means to have an identity in today's world. Jay's go-with-the-flow attitude mixed with whatever-it-takes resolve brought him fame amongst the overland traveling community.

This account of Jay's extraordinary escapades, which almost destroyed his bike and spirit, makes for a riveting read.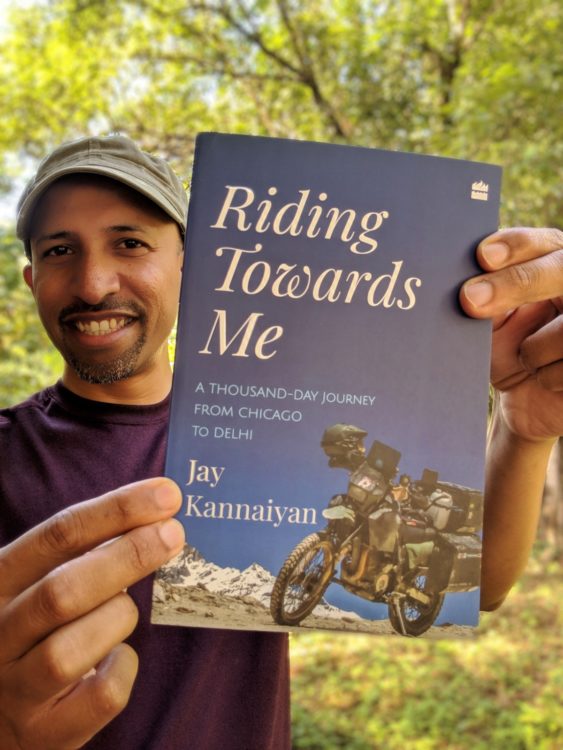 The book is available on Amazon in both print and Kindle formats – HERE
For a little background on Jay, he tells me this
Growing up in Zambia and India, Jay started seeking adventure from an early age. In pursuit of the American dream, he set off to the US where he lived, worked and squeezed in as much motorcycle travel as possible.

In 2010, he pointed his front wheel away from America and embarked on a three-year motorcycle journey that took him to India, where he started another journey in entrepreneurship. Jay now lives with his wife in Austin, Texas.
We wish him the best with his new book and hope you look forward to reading it as much as we do
Look for an interview with 'Jammin' coming soon
All images Jay Kannaiyan