Crossing the Bosnia Rally finish line feels almost as surreal as completing Hellas. I can't feel my hands, my legs are black and blue, my back is on fire, and the bike is all banged up – fried clutch and mangled levers – yet, I can't wipe the biggest grin off my face. After yesterday's 350- kilometer stage, today was going to be an easier, fun day… and it turned out to be anything but easy, at least for me and Lucy.
Kicking the last rally day off with a mass convoy to the start line, we started on some flowing forest tracks and gravel roads. Then, the going got tough: rally riders were sent up a slippery mountainside. We got thrown right into the deep end negotiating a steep, deeply rutted single track littered with loose rocks and babyhead boulders. I barely made it up the first incline, and I could feel the clutch wasn't doing too good. Then, after dumping the bike on the rocks for the third or fourth time, I couldn't get it started again. Poor Lucy was coughing and spluttering, but the engine just wouldn't tick over. I thought that was the end of my rally: stuck on a single track somewhere on a mountain with a dead bike.
Then it dawned on me that since I'd dropped the bike several times already, I might have flooded the airbox. Sure enough, when I took the cover off, a good half a liter of petrol poured out. I dried the airbox out, wrung out the air filter, and the bike started right up – at that moment, the roar of Lucy's engine was the most beautiful sound on Earth. Huge thanks to Nick, the South African – German rider who came back to see if I was OK, helped me push the bike off the track, and stuck around for morale while I caught my breath and figured out the airbox deal!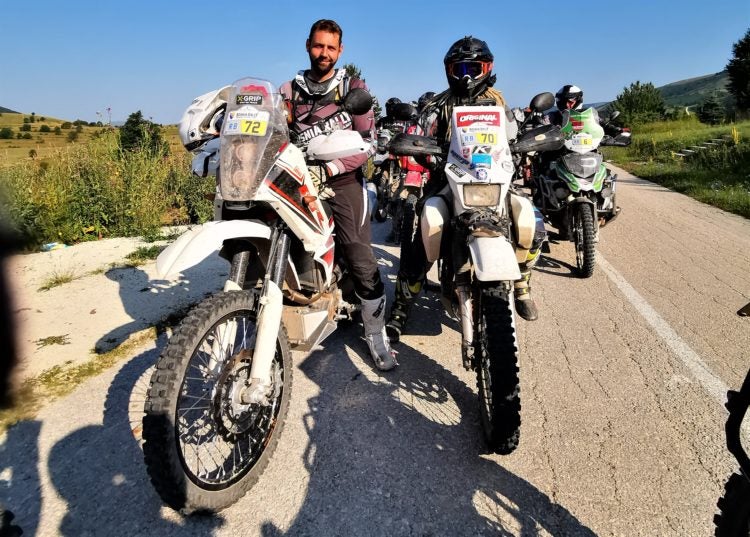 The clutch was just about done, however, so I decided to skip Stage 2 and bail mid-way. I still have to make it to Sarajevo tomorrow, and being stranded in the tiny Bosnian town of Kupres just didn't seem like a great idea.
Coming back to the bivoauc, I handed my time card in, parked the bike, and realized it was all over. It's always a strange feeling after completing a rally – on the one hand, you're happy you survived; on the other, it's almost like the rally blues are already setting in as you watch the bivouac mechanics pack up and other riders leave one by one.
I still can't wrap my head around how insanely beautiful Bosnia is, and how lucky I am to have had the opportunity to ride the Bosnia Rally. It's not for the faint of heart, it pushes you way, way out of your comfort zone, it rewards you with stunning views and, most importantly, amazing company.
Till next time, Bosnia Rally.