Arriving in Sarajevo a week ago, I only planned to stay for a few days before heading North to prepare for the Bosnia Rally. I ended up staying longer because Sarajevo exceeded all expectations, but also because I was having trouble finding a rear tire for my bike. Senad Hasanovic, a local Bosnian rider, generously came to my aid.
It turned out Senad, owner of the famous Pub in Sarajevo (called simply, The Pub), had just come back from a two-month trip across Turkey, Georgia, Central Asia, Mongolia, and Russia on his BMW GS 1200. Still jetlagged (Senad shipped the bike home from Vladivostok and flew back after a short visit to Japan), Senad was already planning another trip to Alaska and possibly, South America. Sipping Bosnian coffee that can raise the dead at The Pub, we chatted about motorcycle travel and what it's like to ride from Sarajevo to Vladivostok.
-Senad, what was your first bike and how did you end up going on this big trip?
A 50cc scooter! At the time, it simply was a cheap means of transport, but frankly, I loved that thing so much I actually rode it to Croatia and back. I kept buying bigger and bigger scooters, eventually ending up with an Aprilia 850, then transitioned to motorcycles. That was about 18 years ago.
I traveled all over Europe – Norway, the UK, Greece, Switzerland… At some point, though, Europe started to look too crowded and too familiar, so I began researching routes to Russia and Mongolia.
-Why did you go alone?
It's really hard to find somebody who can take 2-3 months off, people have jobs, careers, it's just not something people can do, especially on short notice. I'm lucky to have a partner who can take care of the business while I'm away.
I did hesitate a little, though, but then, as I was researching the routes I wanted to ride, I came across Kinga Tanajewska's blog, On Her Bike. She was the one who gave me that final push; I thought, if she can go at it alone, then surely I can get to Vladivostok on my own, too. I found tons of useful info on her blog and even used the same guy, Yuri, to ship my bike from Vladivostok back to Europe.
As I traveled, I posted a lot, too, because people back home really appreciated it, they told me it was like they were traveling with me. I'm thinking of putting a short movie and maybe even a book together just to show other people that's it's achievable.
-What were the most memorable parts of the trip?
Certainly the Pamir mountains, I felt like I was on another planet. Nature is just so mind-blowingly beautiful there, it's hard to describe. Kyrgyzstan and Tajikistan were definitely the highlights.
The Altai Mountains in Russia are breath-taking, too, and then, of course, Siberia – just the fact that's it's so remote and so vast. You just don't see that in Europe, here, everything's packed, there are people everywhere. In Mongolia and Russia, you've got these incredible, vast open spaces and it's something to behold. Mongolia was a bit tricky for me because the tracks were sometimes really challenging for my heavily loaded bike, and it's a shame because you concentrate on the riding so much you don't have the time to appreciate where you are. I really loved Russia, Russian people are just the best!
-What was the most challenging during the journey?
I guess bad roads in Mongolia, mostly. There was one sketchy section in Kazakhstan, the road was just roadworks after roadworks with these huge trucks kicking up insane amounts of dust, and I got a flat tire. Now I have the tools with me, but I'm not very good at using them, I'm not a mechanic and usually, I just have my bike serviced at the BMW shop, that's it. I'd never changed a tire before, and now here I was, on a dusty, sketchy Kazakh road with a flat. I tried plugging it but it only lasted for some ten kilometers. Luckily, I'd just bought a pair of new tires that I was carrying, to be changed at my next destination. I enlisted the help of some local teenagers who were just hanging around; one of them went into the village and got me some tire irons, and then some other guy helped me change the tire. I felt very accomplished! I realized later that I'd put the tire in the wrong direction and had it re-mounted in the next city, but I was so, so happy that I managed to change the tire on the side of the road. I got to the hotel past 1 am that night, I think that was easily one of the tougher days on the trip.
Other than a flat tire, I never had any bike issues at all. The GS always felt very reliable and I didn't have any breakdowns.
-The fact that you weren't mechanically minded didn't stop you from going?
You know, if you start thinking about all the things you don't have or don't know, you'll never leave. I don't know how to fix a motorcycle, but I have the tools, so even if I don't know how to use them, I can find somebody who does. If you start thinking about all the "what ifs", it can get out of hand quickly. I carried a Garmin InReach satellite tracker with me, but that's it.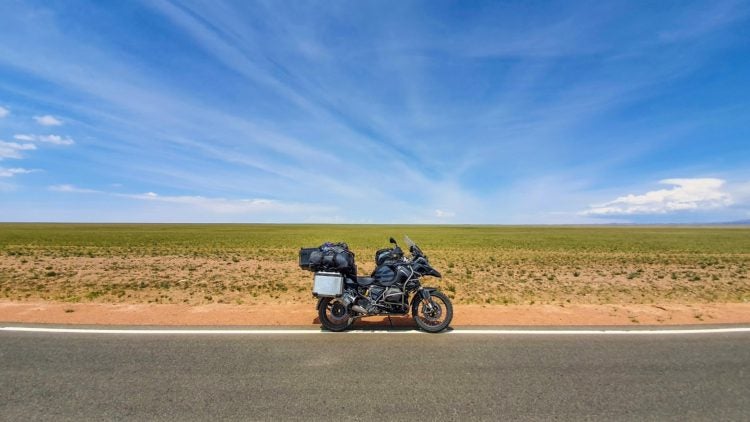 -Did you camp a lot along the way?
Not once. Funny, I bought a very expensive tent, sleeping bag, and sleeping pad kit, and I never even opened that bag once. For one thing, I didn't really see many wild camping spots along the way that I'd actually enjoy staying at, and for another, with my heavy GS, I didn't feel like going off main roads or tracks into the bush to seek out good places to camp. On a lighter enduro bike, sure, but on the overloaded GS, I just felt it wasn't the best idea. Surprisingly, it was actually pretty easy to find accommodation everywhere along my route, including Siberia. I'd book a hotel in advance using Booking.com, arrive in town, park the bike, jump in the shower, and go explore. I simply didn't want the hassle of arriving somewhere, then spending an hour or so just riding about looking for a place to stay. It was much easier to book in advance. I only had limited time for this trip and I wanted to use it to see things, not to worry about accommodation.
-If you were to do the same trip again, what would you do differently?
Leave a bunch of stuff at home! I'd definitely leave the camping gear, probably half of my clothes, and the drone. It's cumbersome and heavy and you can't use it in some countries anyway. I would keep my blender and my coffee pot and thermos, though. People smile when they hear I carry a blender with me but I love making these big breakfast smoothies, and I usually make one for the road, too – it's a great source of energy and nutrition when there are no snacks available. And it's better for you than RedBull. Same with coffee, I just have to have my coffee and I usually make some for the road and carry it in a thermos. Some folks love going out to restaurants when they travel; I love finding a beautiful spot somewhere on the side of the road and just enjoy the view sipping my coffee.
-Tell me a little about Bosnia. I've seen some TET riders here, but do you generally see many foreigners traveling in Bosnia?
Yeah, I think now, there are more and more riders exploring the Balkans. I'm sure the stereotype that Bosnia is unsafe still lingers, but in reality, the unrest is well in the past and Bosnia now is a very safe and easy country to travel. Land mines are not an issue, either. There still might be some active land mines in the mountains but you will never come across one on the road or off-road track or trail, that just doesn't happen. Bosnia is open to travelers and we've got some really cool roads and places.
-What are some must-see places in Bosnia for motorcycle travelers?
Bosnia is kind of perfect for adventure riders because we've got so many mountains, the roads are beautiful and we've got so many awesome off-road tracks, too. You'll see wild horses in the mountains, gorgeous rivers and streams, nature here is among the most pristine in Europe. Mostar,  Bihac, Kupres – definitely add them to your route. And when you get to Sarajevo, be sure to visit The Pub – beer's on me!
Images: The Bosnian Rider