Yamaha first announced as the T7 concept at the 2016 EICMA with an anticipated product launch in 2018.
We all know that time came and went, the promotion of the motorcycle has been a very long process. Multiple advertising campaigns in multiple countries had riders salivating to buy, only for the release date to be stalled over and over again.
There were more than a few riders that said they could wait no longer and moved on, then there were the ones who were willing to wait to be able to see it in the flesh and make a purchase once it hit dealers in the U.S., the caveat to that statement, 'if the price is right!'
Well, that time is now, Yamaha are opening their site very soon for preorders and the release date is now official, well an approximate one.
As a picture speaks more than a thousand words, this is direct from the Yamaha Marketing Department, the price color options and release, ahem…season
Marketing photos are always very polished so here are a few new ones, but they all seem a little familiar at this point.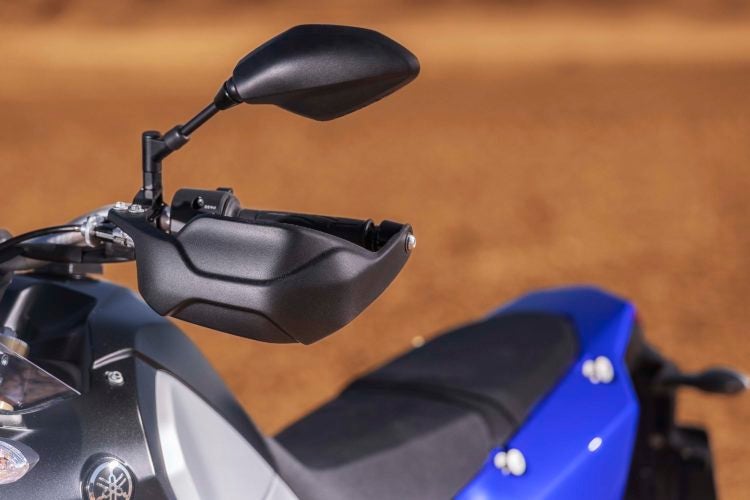 The key features they want you to know about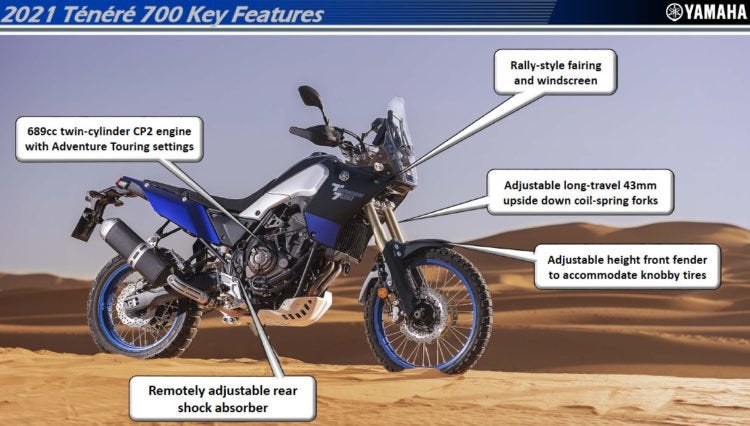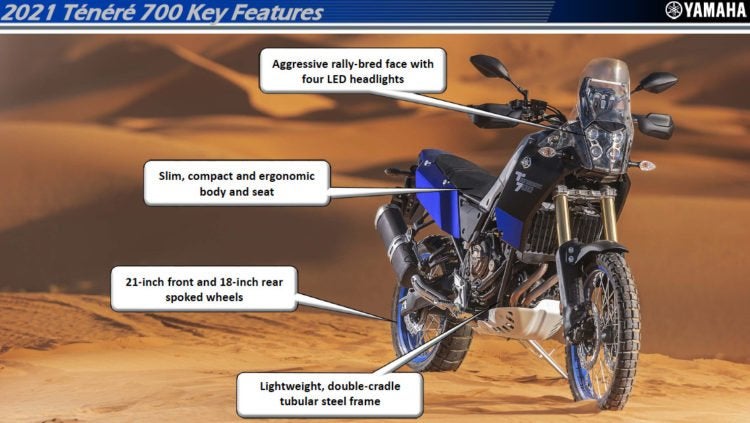 That's all the official info on the details of the bike, but how do you get one? Yamaha have made it easy, click this link and sign up for updates and get inline
https://www.yamahamotorsports.com/tenere-700-ims
Official info is great but what about the real world?
The bike in front of me, in real life, looks like this
and with all the upgrades, it looks like this
lifting it off its stand holding the weight and sitting on it, it feels all of its 450lbs. At 6'1″, with a 32″inseam it didn't find it an overly tall bike.
Will it be reliable?
Yamaha claims the CP2 engine to be the most reliable motorcycle engine on the market.

Yamaha claims third-party published data in Germany puts the CP2 powerplant of the Yamaha MT-07 at the top of the reliability list.
I'm sure real-world tests will show its true capabilities, for now, opinions are flying, as expected.
There is a T7 being positioned in the booth, definitely ridden, and still loaded for what looks like a very lightweight adventure.
I knew the T7 in front of me seemed familiar, maybe you've seen this bike already in a few short videos, but who's riding it?
While I'm in the booth before the official opening, I look up and see my old friend Nick Sanders. A Yamaha Ambassador, and for now, he has one of the highest mileage T7's in the world.
So we had a quick chat, he has literally two minutes to answer my questions before a quick official 5-minute talk for Yamaha then a line up of photographers were anxiously poised to take his photo and the second he'd finished talking there would obviously be a barrage of reporters waiting to ask their questions, then Nick would be wheeling the bike out of the Long Beach Convention Center, to fire it up and to head onwards.
How long have you had the bike?
I got it this year and did a quick test run from the UK to Morocco
As a previous owner of the XT660 and the Xt1200, how does this compare as a bike in the middle, or does it?
riding it, its is noticably heavier than the 660, but as that was a thumper, the T7 is a twin, it is a lot smoother and feels easier to ride, and especially over longer distances, it's not as tiring, so more like the Super Tenere in that regard

I own the Yamaha Tracer which shares the same engine, so the T7 feels like a more nimble one of those
Where do you plan to take your T7?
I'll be riding it Round the World, I'm estimating the journey to take around 8 months, which is a long time for me
***Nick has ridden round the world in 19 days before
Anything negative to report so far?
Everybody seems to like to hear bad stuff nowadays, but no, the bike has been great, not a single issue to date, jump on to my website so you can see how it all works out.
He was about to be announced so we said our farewells and will most likely meet somewhere in Russia as I'll be heading East next year myself, and can follow this up with photos and another quick interview if we happen to be on the same track, time will tell
his planned route, he heads to Mexico after leaving the US to give you a sense of direction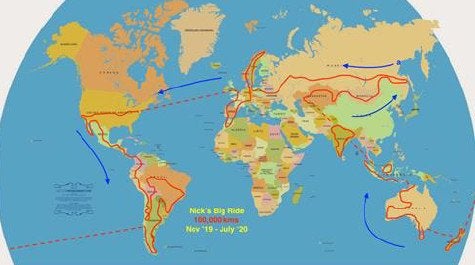 If you are still on the fence about buying a T7 you could follow Nicks exploits because as he is completing his RTW, the T7 will be close to being released in the US.
At that point, he will have a substantial mileage count and that might give you a good feeling (or not) to buy the bike
Nick's exploits, Yamaha are saying will be on the Euro site @YahamaMotorEU, I struggled to find much information but Nick's personal site has a lot more information https://www.nicksanders.com/blog-1 as he told me he'll try and do updates as often as possible.