Breeann Poland started out in the motorcycle industry when she was just eighteen years old, working as an umbrella girl in professional road racing. Now, she is Royal Enfield's Lead Marketing & Communications for the Americas, which covers everything from Canada and all the way down to Argentina. To top it off, Bree travels and rides around the world, including places like Brazil and India. We connected with Bree to chat about her adventures, her role at Royal Enfield, and her experience in the motorcycle industry.
-Bree, what's the story behind you joining Royal Enfield?
For me, working as an umbrella girl soon escalated to managing hospitality and PR, as well as overall marketing, for the team I was with. After five or so years, I ended up becoming the Team Manager for another team and eventually running my own team. When road racing lost live TV coverage and sponsors were becoming harder to find, I eventually signed over the team to my title sponsor at the time. I stayed on as the Manager for about a year. After that, I went to Spain to work with Melissa Paris (professional road racer and overall badass!). She was racing in the Spanish CEV championship. I was there to help her out with whatever was needed. While I was there I received a call from my future boss (he is no longer with the company) asking me if I would be interested in working with Royal Enfield as they were about to open up offices here in the US. Well, that was 5 years ago this month, and currently, I have five full-time team members and two contractors. We are small but mighty!
-What was it about the Royal Enfield brand that made you say "yes" to the job?
I love the history and heritage of Royal Enfield. RE has been in continuous production since 1901. How many other brands can say that? The Bullet is the oldest motorcycle in production in the world. 8 decades! That is inspiring that a motorcycle or any product can retain its value for that long. There are literal shrines built for the Bullet.
I never pictured myself working for an OEM. I always thought I would end up having a motorcycle event promotion and marketing company. But I am glad I did. I love being behind the scenes and developing initiatives to engage new consumers, to highlight current ones and everything in between. We have the chance to help Royal Enfield truly become a global company. And I think we're doing quite well. We have surpassed our sales goals in most markets across Americas –  rebuilding/introducing a brand doesn't just happen with a flick of the switch. We spent the first 3 or so years hiring our teams, establishing processes, bringing on valuable partners, and so on. Last year we really were able to do some great things and release some amazing products. The Himalayan and Twins have helped us tremendously. For the first few years, we only had the 500's to offer and it limited our potential audience. The future is even brighter, there are new products coming, new programs and the teams are growing.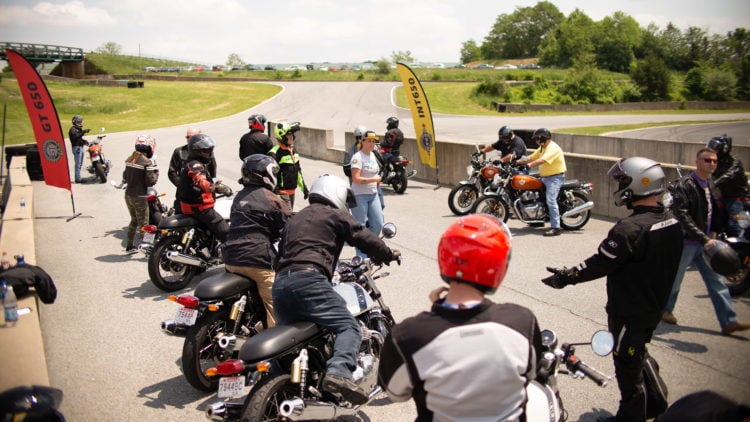 – What's the most challenging part of your job?
Internally? Is explaining marketing activations to folks that aren't marketers. To be able to adapt or change a plan within a moment's notice. Externally, it's when we launch a new product, a new campaign, or anything consumer-facing and if one potential consumer has something negative to say about it. I realize RE may not be everyone's cup of tea or preferred motorcycle but what I don't get is why someone would need to be negative. Just ignore what we are doing if you aren't into it. The challenge for me is to not take it too personally and overcome me. Staying ahead of the times can also be challenging; you need to be up on market trends, create new ones, and be constantly on the go.
– What's the best part about your job?
Waking up every day and being passionate about the company and brand I work for. Cheesy, I know! I am helping create a larger RE family of riders. Anytime I see a new post about a new customer on a forum or anywhere I get so excited and feel like myself and my team helped in a small way to make that happen.
– What would be your advice to someone who's dreaming of making it in the moto industry?
Get connected to someone or something – a lot of it is about how visible you make yourself and how determined you are to get there.
– You're an avid rider and traveler yourself. What has been the most interesting discovery on the road for you so far, as a person and as a rider?
I have been afforded so many amazing opportunities to travel and ride all around the world but for me, what sticks out the most is my first riding experience in India. No one can properly prepare you for that adventure. I started my ride a few days later while waiting for a friend from the states to arrive. RE had the motorcycles delivered to our hotel in Mumbai. The next day we walked out front and our guide Praveen was ready and waiting. RE had given me a Continental GT 535 to ride. Our journey would take us from Mumbai and down into Vagator Goa for an event we have called Rider Mania.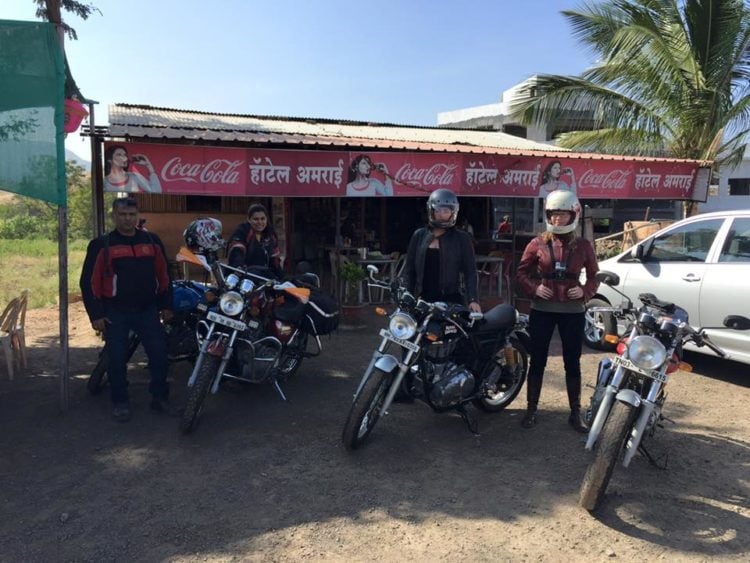 We left fairly early that morning and tried to avoid as much traffic as possible leading out of the city. Getting out of the city on motorcycles was a feat within itself. There is no set traffic pattern- no one pays attention to what would be the normal rules of driving/riding. We were lane splitting, we were making our lanes, we were dodging obstacles left and right. I let out a big sigh of relief after we made it out, but I should've waited.
Around 75km outside of Mumbai I could see a cow standing in the middle of the road. I was the last rider out of the group of 3. My guide got past the cow, my friend glided right by and that's when Mr. Cow decided he didn't want to stand in that place anymore and started in the same direction I was heading. Screaming inside my helmet wondering what my fate would be, suddenly I was able to avoid taking myself and Mr. Cow down. Arms and legs shaking – cows are sacred in India and the last thing I wanted to do was take one down. We encountered so many situations during this 1.5-day ride! Somewhere, we lost my friend in what I would call a not so safe area for two white girls  heavily tattooed. When the guide Praveen realized where we were he said we have to leave Bree. This by the way only happened after 2 hours of frantically riding around trying to locate her. My guide and I rode to the gates that separate two states and we entered Goa and sat by the gates hoping she would find her way to us. She did! Another crisis handled. I ended up crashing uphill at some point and don't even recall how that could even happen. I had to ride the rest of the way without a left footpeg. In the end, all 3 of us made it to Rider Mania unscathed!
What I learned from myself as a rider and as a person is to expect the unexpected. To never assume you know how things go and to always carry a spare part or two just in case.
Images: Bree Poland