Unless you live under a rock, you must have heard about BRP – Billet Racing Products, or seen their products on other riders bike, if you've been to any motorcycle events in the last 25 years chances are you've seen or spoken to Jimmy Rios, BRP's charismatic owner.
Tell us about BRP, what were your humble beginnings?
In the early 90's I was working as a shop foreman in a small machine shop. I was racing in Southern California D-37 Desert.
I started making chain guides and shark fins and a few other billet accessories. I would race and then put my backpack on and go from camp to camp selling my guards and accessories. This helped fund my racing and put a little extra cash in my pocket.
I later saw that there was a need to be able to mount a Scotts Steering Stabilizer more easily. There were kits available from Scotts but during that time most bikes came with 7/8" handlebars and cast triple clamps.
The integration of a Scotts Steering Stabilizer and the use of oversized (1-1/8") handlebars was a difficult thing which required a lot of filing, grinding and modifications to use a Scotts Bar Clamp with an aftermarket triple clamp that really was not designed to be used with a Scotts Steering Stabilizer.
We came up with a triple clamp that would accommodate mounting oversized (1-1/8") handlebars and the provisions to mount a Scotts Steering Stabilizer that would be an easy bolt-on application with no modifications at all. This is when I started working with Scotts Performance and selling their products.
How long have you been in business?
We officially started our business in 1994.
Why do you make parts for motorcycles, what inspired the passion?
I have been riding dirt bikes for as long as I can remember and to be honest it started out as a hobby that turned into a life-altering career. I had no idea when I started that I would be doing what I love, let alone 25 plus years later.
Can you give us a basic shop tour?
Here's a look behind the scenes of the BRP operation
What was your first product, and do you still make it/ sell it or something like it?
Our first products were our chain guides, shark fins, and peg extensions. We still make our chain guides and shark fins but with the evolution of pegs and so many great companies making awesome pegs, it was a product that was discontinued.
How do you test your products before offering them for sale, any unique methods?
We do a lot of testing with pro riders and we also do some in house stress testing to ensure our products will endure the abuse of off-road and last for years to come.
 Where do you get your inspiration, your thoughts, and ideas, do you accept suggestions from customers/ friends?
Many of our product ideas come from countless sleepless nights and simply seeing voids in the market that we feel have a demand. We do get a lot of feedback from customers and friends and we are always open to suggestions and ideas.
We are always open to this sort of feedback or suggestions, after all these people are what have made us who we are today. So we would be foolish not to listen to them.
Do you have a product in your line that you feel is genius, but the public doesn't buy too many of but you feel they should, could you highlight that? 
Honestly, there are some products that we think: "Okay this is going to set the world on fire" and some that we are not very optimistic about and sometimes there are some products that just take a little time for people to wrap their heads around them and then they take off.
All in all, I am pretty pleased with the response we have had on most of our products but there actually is one product that I think is pretty cool and serves a great purpose but for some reason, they don't sell as well as I think they should. This –BRP SCOTTS STABILIZER – HANDGUARD MOUNT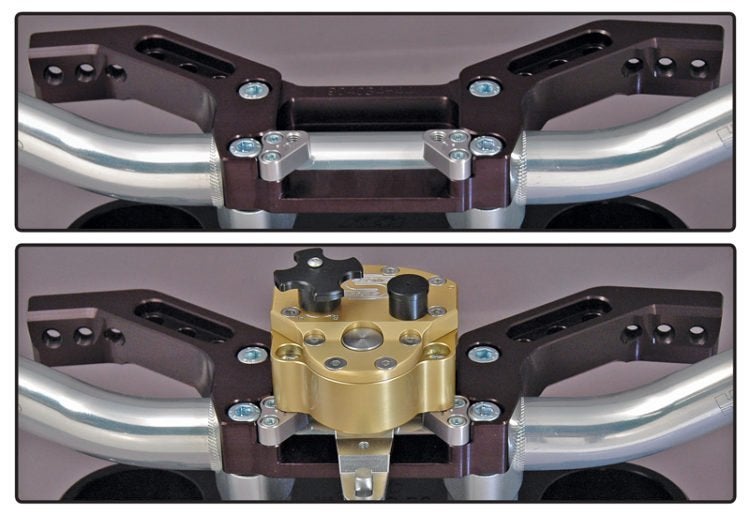 You are the biggest seller of Scotts Steering Stabilizers, can you explain what they are, what they do and what kind of rider would benefit from using one?
Essentially a Scotts Steering Stabilizer is like a steering shock absorber. It absorbs wheel deflection and prevents head shake and reduces fatigue by allowing the rider to hold on a little lighter without death gripping the bars because you no longer have the need to hold on for dear life.
This allows the rider to use less energy and ride harder and longer without getting arm pump and fatigue.
Steering Stabilizer – How it works, functions, and features – Jimmy gives us an explanation
How to install a Scotts Steering Stabilizer
Your handlebar mounts offer vibration damping, how does that work?
We use a Poly-Urethane Bushing to isolate the handlebar mounts from the motorcycle which in turn reduces vibration and transfer less energy and the harsh spike associated with hitting rocks and square edge bumps.
Your handguard mounts are a little different from other companies and mount to the bar clamp, not the bar, why is this?
About 15 years ago we came up with a handguard mount that basically took the place of the top handlebar clamp.
The conventional handguard mounts bolted directly to the handlebar and they would tend to spin or slip when you crashed. Our handguard mounts can't spin and thus offer a much more solid and reliable mounting solution for mounting handguards.
How many different unique products do you sell/ make?
We probably have well over 70-80 unique products that equate to well over 2,500 SKU's for all of the different models and applications.
Which product is your best seller? (which brand of motorcycle makes the most sales)
I would have to say that our RSA (Rubber SUB Mount) is our hottest seller. The RSA mounts a Scotts Stabilizer under the handlebars and utilizes 8 Poly-Urethane Bushings to isolate vibration and absorb square-edge bumps. The KTM applications are probably about 80% of our sales.
Could you say that all or a large part of your product line is made in the U.S.?
All of our products are designed and manufactured in-house right here in Colorado Springs, Colorado USA. The only thing that is not made here is our hardware (bolts, nuts, and washers).
How long does it take from an idea, to design, to prototype, to the final product on the shelf?
It really depends on the product but this process can take anywhere from a couple of days to several weeks. We have some products that have been in the design stage for weeks or even months.
Do you have any new products coming out for the 2020 bikes that are unique, interesting or has been a challenge?
I do have some products that we are working on but they are still under wraps until we can get them a little further along in the design stage. To be honest, with some models changing every year we are often busy trying to redesign and manufacture applications for the new bikes and that can sometimes keep us pretty busy.
Do ADVrider and its inmates play a big part in your business, do you offer any kind of incentive or discount for inmates? 
The ADV Rider group is a great community and they are awesome at spreading the word about our products. Sadly we are not able to offer discounts or incentives to our retail customers directly from BRP.
We have nearly a thousand dealers across the US and several distributors out of the country and they have the option to offer discounts from time to time to our customers.
Nowadays I rarely get on ADVrider as much as I'd like, I'm more of a lurker and let our vendors do the talking on our behalf, while I keep their shelves stocked
If you want to keep up to date with everything that's happening from BRP you can follow them in a few places
Website: Billet Racing Products
Facebook: @brpmoto
Instagram: @billet_racing_products
Youtube: Billet Racing Products
images/ videos – BRP, Cycle News, rtwPaul